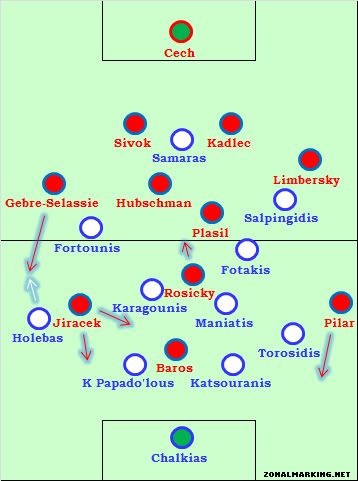 The Czech Republic had a very good first ten minutes, and that was enough to put themselves in a commanding position.
Both coaches made changes to their starting line-ups, moving their XI closer to the side that finished their opening matches. Michal Bilek started holding midfielder Tomas Hubschman, with Petr Jiracek on the left of midfield. At the back, Michael Kadlec moved into the middle from the left-back position he looked uncomfortable in against Russia, so David Limbersky came into the side at left-back.
Fernando Santos went with the forward trio that ended the 1-1 draw against Poland, so Giorgos Samaras started in the centre, with Dimitris Salpingidis on the right, and Kostas Fortounis deeper on the left. Santos was without both first-choice centre-backs, so Kyriakos Papadopoulos and Kostas Katsouranis played there, with Giorgos Fotakis starting in the centre of midfield.
This wasn't a high quality match – the Czech Republic raced into a 2-0 lead and then sat back, preserving their lead, conserving their energy. Like in the first game, Greece improved after half-time, but were still disappointingly tame in the final third. Read more »