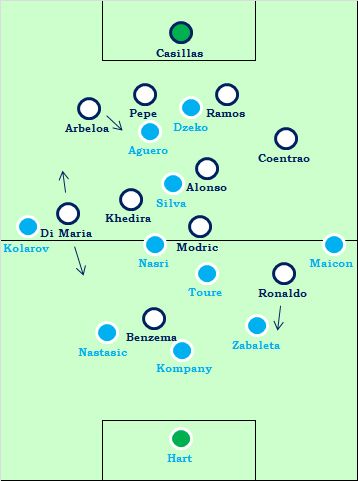 Roberto Mancini started with a back three, then moved to a back four, but Manchester City couldn't find a second goal.
Mancini decided to start with a similar XI to the second half shape against Tottenham, when they looked good with a back three. Nine of the 11 players were the same, with the exception of Matija Nastasic coming in for the injured Gael Clichy, and Samir Nasri (ill for the Spurs game) starting in the centre alongside Yaya Toure, an extremely attack-minded midfield.
Jose Mourinho named his expected side with one small exception – Luka Modric was at the head of the midfield triangle, rather than Mesut Ozil.
The shots statistics were interesting in this match. After 17 minutes, Real Madrid had attempted 7 shots, with 5 on target – whereas City hadn't had a single attempt. Read more »