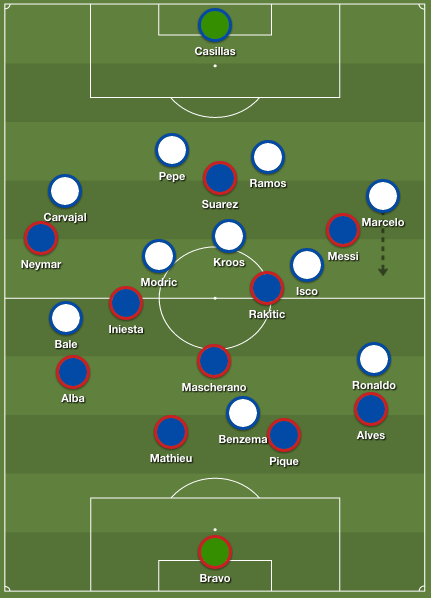 Barcelona moved four points  clear at the top of La Liga thanks to Luis Suarez's winner.
Barcelona selection
Sergio Busquets was only fit enough for the bench, so Javier Mascherano played in the holding role, with Jeremy Mathieu the left-sided centre-back.
Otherwise, the team was as expected. Xavi Hernandez had surprisingly started over Ivan Rakitic in the reverse fixture, but Luis Enrique didn't replicate that error, so we had the unusual sight of Barcelona without either Busquets or Xavi, the two players who usually control this game.
Real Madrid
Real were also as expected. James Rodriguez is still out, although Luka Modric has regained full fitness and continued in midfield alongside Isco.
Toni Kroos was recalled by Carlo Ancelotti, having been rested for the first time this season the previous weekend.
Match summary
The sides were evenly matched here. Both teams had good spells but this game wasn't decided one particular zone, or because either side did much better than their opponents – aside from finishing. Read more »