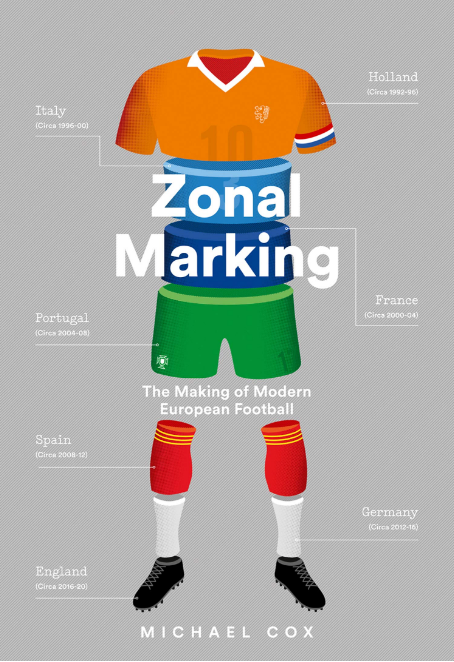 Here is an extract from Zonal Marking which is out today in hardback, ebook and audiobook and can be bought here
The Netherlands, by its very nature, is based around the concept of space. A country whose name literally means 'lower countries' is a remarkable construct, gradually reclaimed from the sea through the revolutionary use of dikes. 17% of the Netherlands' landmass should be underwater, and only around 50% of the country is more than one metre above sea level.
The Netherlands is also Europe's most densely-populated major country (excluding smaller countries like Malta, San Marino and Monaco) and worldwide, only South Korea, Bangladesh and Taiwan boast bigger populations and higher population density. The history of the Netherlands, then, is about increasing the perimeters of the nation, and then about desperately trying to find space within those perimeters.
This is, of course, reflected in Dutch football. It's through the prism of the Netherlands' geography that David Winner explains Total Football in his seminal book, Brilliant Orange. "Total Football was built on a new theory of flexible space," he begins. "Just as Cornelis Lely in the nineteenth century conceived and exercised the idea of creating new polders, so Rinus Michels and Johan Cruyff exploited the capacities of a new breed of players to change the dimensions of the football pitch."
It was Michels who introduced the ideas, and Cruyff who both epitomised them and explained them most poetically. He outlined the importance of space in two separate situations: with possession, and without possession. "Michels left an indelible mark on how I understood the game," Cruyff said. "When you've got possession of the ball, you have to ensure that you have as much space as possible, and when you lose the ball you must minimise the space your opponent has. In fact, everything in football is a function of distance." This became the default Dutch footballing mentality, ensuring everything was considered in terms of positioning and shape. Some nations considered the characteristics of footballers most important ('strong and fast'), some focused upon specific type of events ('win fifty-fifty balls'), others only considered what to do with the ball ('get it forward quickly'). But, from the Total Football era onwards, Dutch football was about space, and gradually other European nations copied the Dutch approach. Read more »