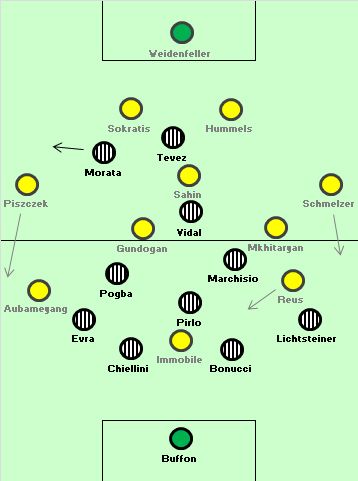 Juventus saw little of possession, but attacked clinically to take a one-goal lead into the second leg.
Juventus selection
Max Allegri named his expected side in a 4-4-2 diamond system.
Andrea Pirlo limped off midway through the first half, however, with Roberto Perreyra replacing him, and Claudio Marchisio dropping back into the deep midfield position.
Dortmund selection
Jurgen Klopp decided to pick Henrikh Mkhitaryan rather than Shinji Kagawa, which made sense when it became apparent he was tucking into a 4-3-3 system, rather than playing as the number ten in a 4-2-3-1, Dortmund's more customary shape.
Right-back Lukasz Piszczek was another injury casualty, with Matthias Ginter replacing him and Soktatis Papastathopoulous moving right.
Match summary
Dortmund had plenty of possession but rarely created clear-cut chances, while Juve sat deep and counter-attacked quickly through their front two. Read more »