Chelsea 4-1 Arsenal: all the action down the same flank
Reminder that my book Zonal Marking is out now!
Chelsea won the Europa League thanks to a 20-minute spell at the start of the second half where they dominated down their left.
Maurizio Sarri was able to call upon N'Golo Kante, who was declared fit to start. Andreas Christensen continued in place of the injured Antonio Rudiger, Mateo Kovacic played instead of Ross Barkley, while Olivier Giroud started upfront.
Unai Emery used Petr Cech against his former club, in his final game before retirement. Otherwise, the side was as expected.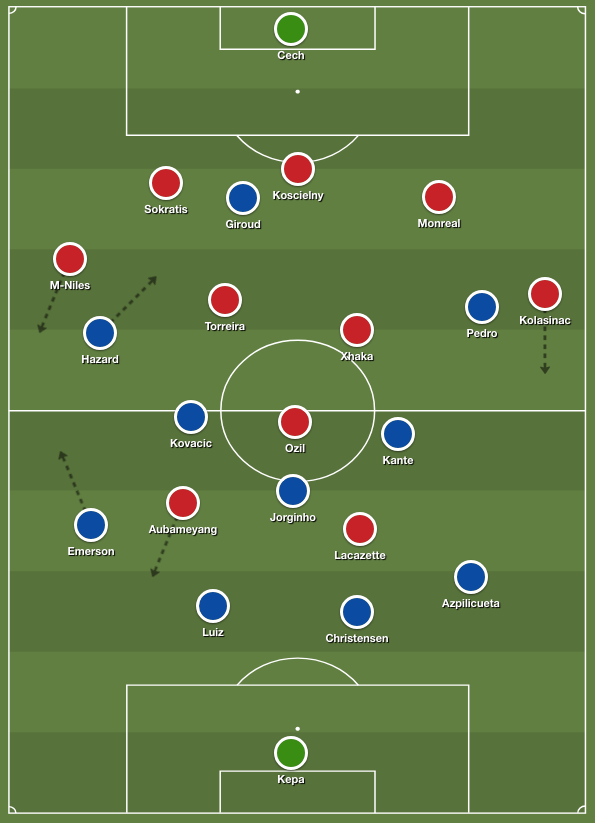 Maitland-Niles and Aubameyang threaten
The first half was relatively tame affair, not helped by the complete lack of atmosphere from the stands in Baku. Arsenal's Mesut Ozil was tracking Jorginho but finding it difficult to influence the game in an attacking sense. Chelsea's Eden Hazard was quickly crowded out when he received possession, with Lucas Torreira under strict instructions to move out and help Ainsley Maitland-Niles, with Sokratis Papastathopoulos also keeping a close eye on the Belgian. With Ozil and Hazard quiet in the first period, both sides struggled for creativity.
Arsenal were marginally the better side, however, primarily because their wing-backs were able to overlap freely. Both Sead Kolasinac and Maitland-Niles got in behind the Chelsea defence twice in the first half, although couldn't provide a decisive pass to create a clear goalscoring chance. Arsenal were threatening, in particular, down their right flank – Emerson would often get dragged forward towards Maitland-Niles, which opened up space for Pierre-Emerick Aubameyang in the channel.
The game's first notable incident resulted from this situation. Maitland-Niles got the ball in space, Emerson half-closed him down, so Maitland-Niles knocked the ball past him for Aubameyang. He, in turn, released Maitland-Niles on the overlap, his cross forced Kepa Arrizabalaga to slightly awkwardly punch the ball away, and Aubameyang should have done better with the rebound, only skewing it awkwardly wide. Later, there was a similar incident when Aubameyang exploited space on the outside of David Luiz and stood up a good cross to the far post, where Cesar Azpilicueta headed away from in front of Kolasinac.
Emerson becomes a force
The flip side, however, was that when Arsenal retreated into a back five, and Maitland-Niles was concerned by Hazard, Emerson had space to push forward into. He motored into the box for Chelsea's first serious attempt of the game, a drive saved by Cech, after 33 minutes. Their other good first-half attempt was somewhat out of keeping with their approach, when Jorginho burst through, distracting the Arsenal defenders and opening up space for Giroud, who didn't quite catch his shot properly.
And Emerson's freedom proved crucial in Chelsea's breakthrough. It was a simple goal – after Chelsea had a throw on the right flank, they switched the ball across the pitch to Emerson, who had time and space. He crossed for Giroud, making the type of near-post run he became famed for at Arsenal, and his excellent header beat Cech at the near post.
Chelsea dominate the left flank
The second goal came from the same flank. Maitland-Niles dribbled out of defence and went to ground, expecting a free-kick, but play continued. Kovacic and Hazard exploited the gap on the right of Arsenal's defence, Hazard played a cut-back and Pedro Rodriguez swept the ball home.
The pattern continued. For the third goal, Maitland-Niles again found himself too high and wide, and when attempting to quickly recover his position and get goalside of Giroud as the Frenchman received a pass from Pedro, he barged him to the floor. Hazard converted the penalty.
At 3-0, it was pretty much game over. Emery pointedly brought on youngster Chris Willock for the misfiring Ozil, although it was another sub, Alex Iwobi, who produced a stunning long-range drive to make it 3-1.
But Chelsea quickly re-established their third goal lead in fitting circumstances: Maitland-Niles overlapped Aubameyang, who was dispossessed, and yet again Arsenal's right flank was bare. Giroud exploited that space, Hazard used him for a wall pass, and finished his return pass from close range.
My book Zonal Marking – about the development of modern European football – is out now!
Related articles on Zonal Marking: