Ajax 2-3 Tottenham: Plan B Llorente frees up Plan A Lucas to score hattrick
Reminder that my book Zonal Marking is out tomorrow!
Just like Liverpool the previous evening, Tottenham came back from 3-0 down in the tie, to set up an all-English Champions League final.
Eric ten Hag was without David Neres, and therefore switched Dusan Tadic to the left flank, with Kasper Dolberg upfront.
Mauricio Pochettino was still without Harry Kane, and the absence of Davinson Sanchez meant a three-man defence was less likely. He instead used 4-2-3-1, with Lucas Moura upfront and Fernando Llorente on the bench.
Right-back issues
The major theme of the first half was the struggles of both sides' right-backs, which had particularly disastrous consequences for Tottenham. Kieran Trippier has endured a difficult campaign – after a good World Cup – and was exposed again throughout this first half. Ajax's system looked less fluid with Tadic playing on the left rather than upfront, from where he's linked play brilliantly this season, but he nevertheless caused Trippier serious problems.
The first warning sign came after two minutes when Trippier overlapped and Moussa Sissoko filled in at right-back. Trippier retreated back into his position when a move broke down, but nevertheless was caught out by a ball into Tadic, as Ajax launched the game's first major attack. Two minutes later, after a corner won from a separate incident, Matthijs De Ligt crashed home a header. It was Trippier who had stopped marking him, almost inexplicably.
The key feature of Ajax's Champions League campaign, at least in the knockout stages, has been their tendency to overload one flank by bringing a winger across to the opposite side, often supported by a couple of central midfielders. And, with Trippier clearly struggling, it wasn't a great surprise when Hakim Ziyech moved from the right flank to the left, received a pass from Tadic and swept the ball into the far corner. It wasn't simply that the goal came from Trippier's zone, but that he'd also conceded possession in the first place, allowing Ajax to build their attack.
Bright moments for Spurs
The consolation for Tottenham, albeit a meagre one at 3-0 down in the tie, was that Ajax right-back Noussair Mazraoui was struggling too. Son Heung-min, possibly deployed on the left flank specifically to test Mazraoui, had dribbled down the outside of him, and struck the near post from a tight angle. On another occasion, Dele Alli found himself wide on the left, Mazraoui was attracted to him, and Danny Rose overlapped dangerously. Ajax's wingers' tendency to stray from their natural positions has meant they've sometimes switched off and failed to track opposition full-backs.
Spurs had players capable of breaching Ajax's high defensive line, too. Lucas came deep and threaded a ball through to Alli, which forced Frenkie De Jong – the perfect type of player for matching Alli's runs, as a midfielder accustomed to dropping into defence – to make an excellent sliding tackle. Then Alli played in Son, who poked a decent effort which was saved by Andre Onana. Spurs' interplay and movement in the final third was often very good, although they also conceded possession too cheaply when pressed, and resorted to hopeful long balls.
Plan B
And if you're resorting to long balls, it's a decent idea to bring on your classic Plan B – a tall striker capable of winning balls in the air. Llorente was summoned in place of defensive midfielder Victor Wanyama – a bold, all-or-nothing move from Pochettino which could easily have backfired. Ajax did have counter-attacking chances in the second half, particularly through Ziyech, who twice came close. More pertinently, though, Llorente proved hugely effective.
Logically, Llorente almost exclusively played to the right, placing himself up against Daley Blind, who is considerably less adept in the air than his centre-back colleague De Ligt. Perhaps the most crucial part of Llorente's introduction was the fact it completely transformed Trippier – who, having struggled desperately in the first half, now found himself with an aerial target for long passes and crosses. Within two minutes of the second half, Trippier played a long pass into Llorente, who dinked it over the top of the defence with the outside of his right foot, and De Ligt sliced behind his own goal to prevent Alli getting through. Alli looked happier after half-time, constantly making runs in behind Llorente. He went close when Eriksen crossed from the channel – a familiar combination for Spurs – and his forward running created Spurs' first goal, rounded off by Lucas.
Llorente, though, was now the main threat – and it's difficult to overstate the importance of his introduction. Ajax looked utterly incapable of dealing with him, to the extent that Llorente got his head to no fewer than four right-wing corners in the second half – sometimes to no great effect, but he was always a target. Spurs were now happier going wide – at one point centre-back Toby Alderweireld overlapped Trippier to work a crossing situation, and later it was Trippier's low ball into Llorente, a chance he should have gobbled up, which created the scramble in the box which allowed Lucas to convert after some brilliant quick footwork. 2-2 on the night, 3-2 on aggregate.
Llorente was still causing major problems. Straight after Spurs' second goal, Trippier knocked a hopeful ball into the channel, Llorente won the loose ball, then shot waywardly from 25 yards. It was a poor attempt, but it was positive sign – he was in the mood. He won almost every aerial battle – one flick-on fell to Alli, who nearly found Son running in behind. Another one bounced against Alli's heel as he attempted to gather the loose ball. A long diagonal from Jan Vertonghen was met with Llorente's fine chest control, but he was penalised for throwing an elbow into the face of Blind, who was struggling with the aerial bombardment.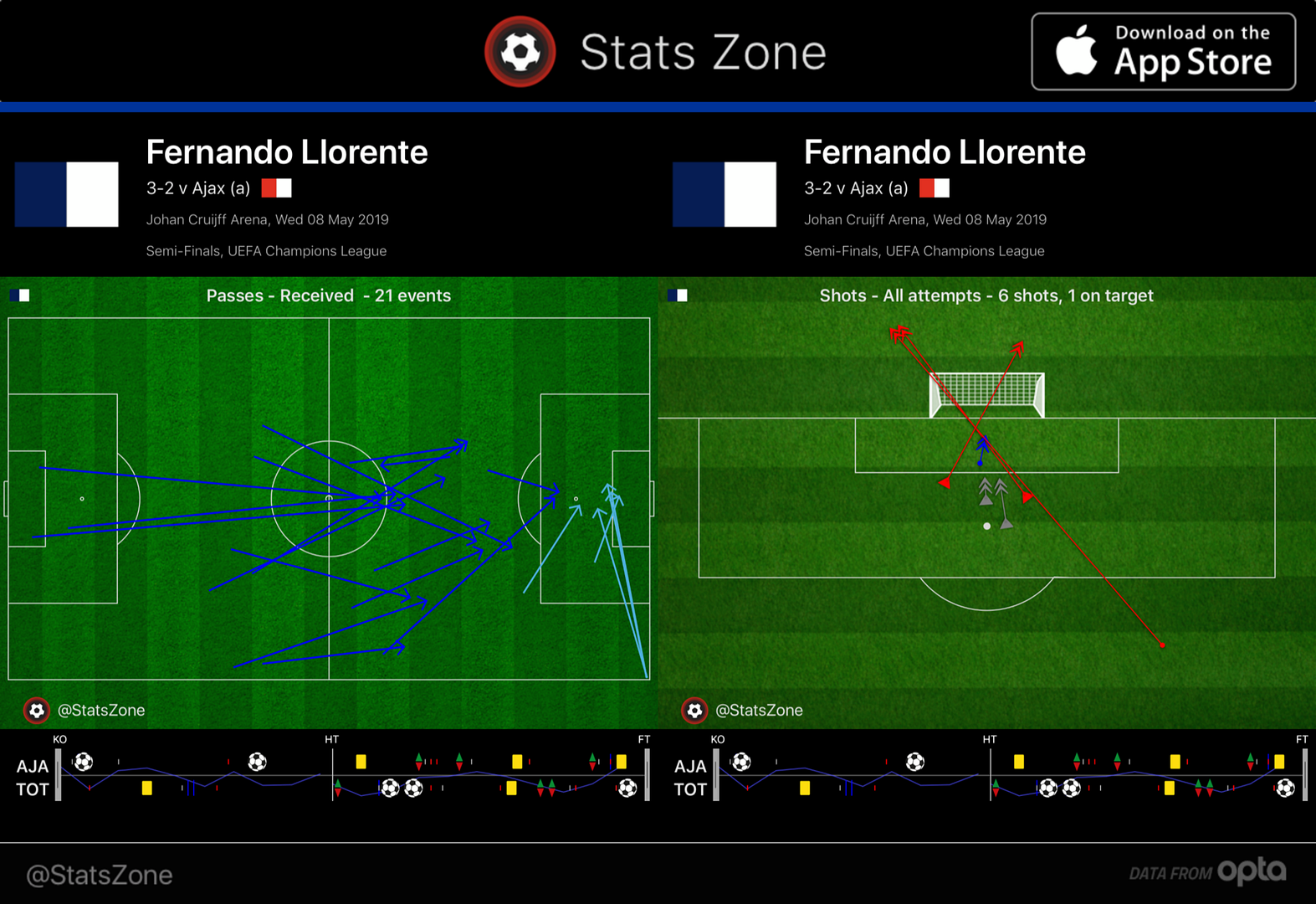 Ajax turn to defensive reinforcements
Ajax's usual approach in this situation is to keep on playing the Ajax way: keep possession and take the game to the opposition, but here they realised they were under siege. Ten Hag introduced Joel Veltman, a centre-back by trade, in place of midfielder Lasse Schone. Mazraoui moved into midfield, with Veltman playing right-back.
Spurs kept on playing direct. Erik Lamela was summoned in place of Trippier, with Sissoko moving to right-back, and Alli joining Eriksen in the engine room. Lamela's task was simple – get on the end of Llorente's knock-downs. He did so within 30 seconds, albeit without much consequence. The next long ball to Llorente saw him crowded out by no fewer than four Ajax defenders, one of whom cleared. It summarised their desperation to cope with Llorente, and inevitably meant more space for other attackers. But Spurs had basically placed all their eggs in their Llorente basket: another right-wing corner found the Spaniard, he flicked the ball on, and Vertonghen's header produced a brilliant save from Onana,
As the game ticked over into stoppage time, Ten Hag introduced an extra centre-back for the second time, as Lisandro Magallan replaced midfielder Donny van de Beek, with Blind moving into midfield. It was, clearly, an attempt to cope with the long balls. Two of Ajax's starting defenders were now central midfield colleagues. Spurs' final long ball, though, saw Llorente challenging De Ligt, who got his foot to the ball. But it bounced to Alli and crucially, Magallán slipped and was slow to get out to him. This allowed Alli an extra split-second to play in the onrushing Lucas, who swept the ball into the far corner to complete a hattrick scored entirely with his weaker left foot.
Ajax had only a couple of minutes to respond, and inevitably went long. From kick-off, Veltman thumped a ball downfield. Llorente headed it away. After a spell of pressure, De Ligt sliced a cross towards the box. Llorente headed it away. It was a fitting end to an incredible match.
My book Zonal Marking – about the development of modern European football – is out tomorrow!
Related articles on Zonal Marking: