Liverpool 4-0 Barcelona: sloppy set-piece defending and full-back positioning
Reminder that my book Zonal Marking is out this week…
Liverpool produced a remarkable comeback to defeat Barcelona in the Champions League semi-final, having lost the first leg 3-0 at the Camp Nou. As always with Liverpool's European victories at Anfield, the win was credited to emotion, atmosphere and history. While those factors are certainly relevant, this was also a very interesting game tactically.
Arguably the most surprising thing about the turnaround was the fact Jurgen Klopp was without both Mohamed Salah and Roberto Firmino, two of his first-choice front three. Divock Origi and Xherdan Shaqiri played instead, while James Milner was in midfield with Gini Wijnaldum on the bench – until half-time.
Barcelona were unchanged from the first leg – and another point of interest is that Ernesto Valverde had the luxury of rotating his entire side for the La Liga fixture between the two games, as Barca had already wrapped up the title. The rest didn't seem to help.
The style of this contest was clear from the opening minute. Liverpool won two loose balls and Arturo Vidal played a pass straight to Milner, who launched a counter-attack, which ended with Liverpool winning a corner. It took Barcelona around 25 minutes in the first half, and then around 20 minutes in the second half, to exert any kind of control through their usual possession play. This is a fairly typical pattern in big matches involving Klopp's sides, as his sides often press most effectively at the start of both halves.
Messi
Liverpool's defeat in the Camp Nou was attributed to their inability to stop Leo Messi, who scored twice. To progress here, they needed to stop Messi, and they almost certainly needed to keep a clean sheet. The latter was achieved, but Messi's influence wasn't quite as meagre as the scoreline would suggest. In fact, there's a good argument that, while not close to his best, he was still the game's outstanding player. He created three excellent chances, for Philippe Coutinho, Jordi Alba and Luis Suarez, who wasted the opportunity. The man tasked with stopping Messi, Fabinho, had been cautioned inside the first 10 minutes for a strong tackle on Suarez, and from then was reluctant to tackle Messi.
Messi's combination play with Alba over the past two seasons, in particular, has been exceptional and those two repeatedly combined here. After 13 minutes, Alba's cut-back prompted Messi to unleash a powerful shot, tipped over by Alisson. Two minutes later, a pass from Sergio Busquets got Alba running in behind Trent Alexander-Arnold, his cut-back found Messi for a clear goalscoring chance, but he attempted to switch the ball onto his left foot, and he was dispossessed by Joel Matip. In fairness, the offside flag was up.
Messi and Alba combined again in the final minute of the first half. Barcelona were defending a corner, Alba was occupying a zone on the edge of the box, and when the corner was cleared, he sprinted through onto Messi's through-ball, but took a heavy touch which made the chance difficult, with Alisson making a relatively comfortable save.
"Set-piece transitions"
That incident, with Alba running through on goal, was particularly significant in the context of Liverpool's opener, which had come in the 7th minute. Liverpool had a left-wing corner and Alba was defending the edge of the box. When the ball was cleared, Alba sprinted forward in the expectation of a counter-attack, but when Liverpool retained possession in defence, he remained in a centre-forward position and ended up pressing Milner, who was in Liverpool's right-back position. Alba was then forced to retreat towards his usual left-back role as Liverpool's passing move developed, but wasn't fully back in position when Matip attempted to launch a long diagonal in behind him. Matip's pass was underhit, but Alba found himself disorientated, running back towards his regular position, and could only awkwardly head the ball straight to Sadio Mane, who played the ball onto the onrushing Jordan Henderson, whose shot was saved and Origi bundled home the rebound.
Football places a lot of emphasis upon the transition between defensive and attacking structures, but that opener was an example of Barcelona not quite carrying out a transition between their 'defensive set-piece' structure, and their 'defensive open play' structure. (Incidentally, Liverpool get into their usual structure much quicker after defending a corner, although because Andy Robertson always defends the near post, and Alexander-Arnold the far, after defending left-wing corners they simply remain in the corresponding full-back position, which means Liverpool play the next couple of minutes with, effectively, inverted full-backs.)
Crossing
When their full-backs were on the correct sides, however, Liverpool caused serious problems. Henderson and, in particular, Milner would often drift into wider positions to combine with the full-backs and wingers, creating three-against-two situations down the flanks. Barcelona seemed unsure of how to cope with this. Often, Vidal would shut down Robertson, and then Sergi Roberto would push forward onto Milner, but this meant Mane found space on the outside of Gerard Pique. Liverpool looked to find Mane quickly, particularly through diagonal passes from Virgil van Dijk – the same combination that produced a memorable goal away at Bayern earlier in the competition.
Klopp was forced into a half-time substitution, with Robertson unable to continue. Wijnaldum was brought onto replace him, with Milner dropping to left-back. And, in this crazy, unpredictable game, that enforced substitution proved crucial. While Wijnaldum drifted out wide less frequently than Milner had from that position, he made more runs into the box, and found himself in the right position to score Liverpool's second and third goals. Throughout the second half, Liverpool switched play between the flanks regularly.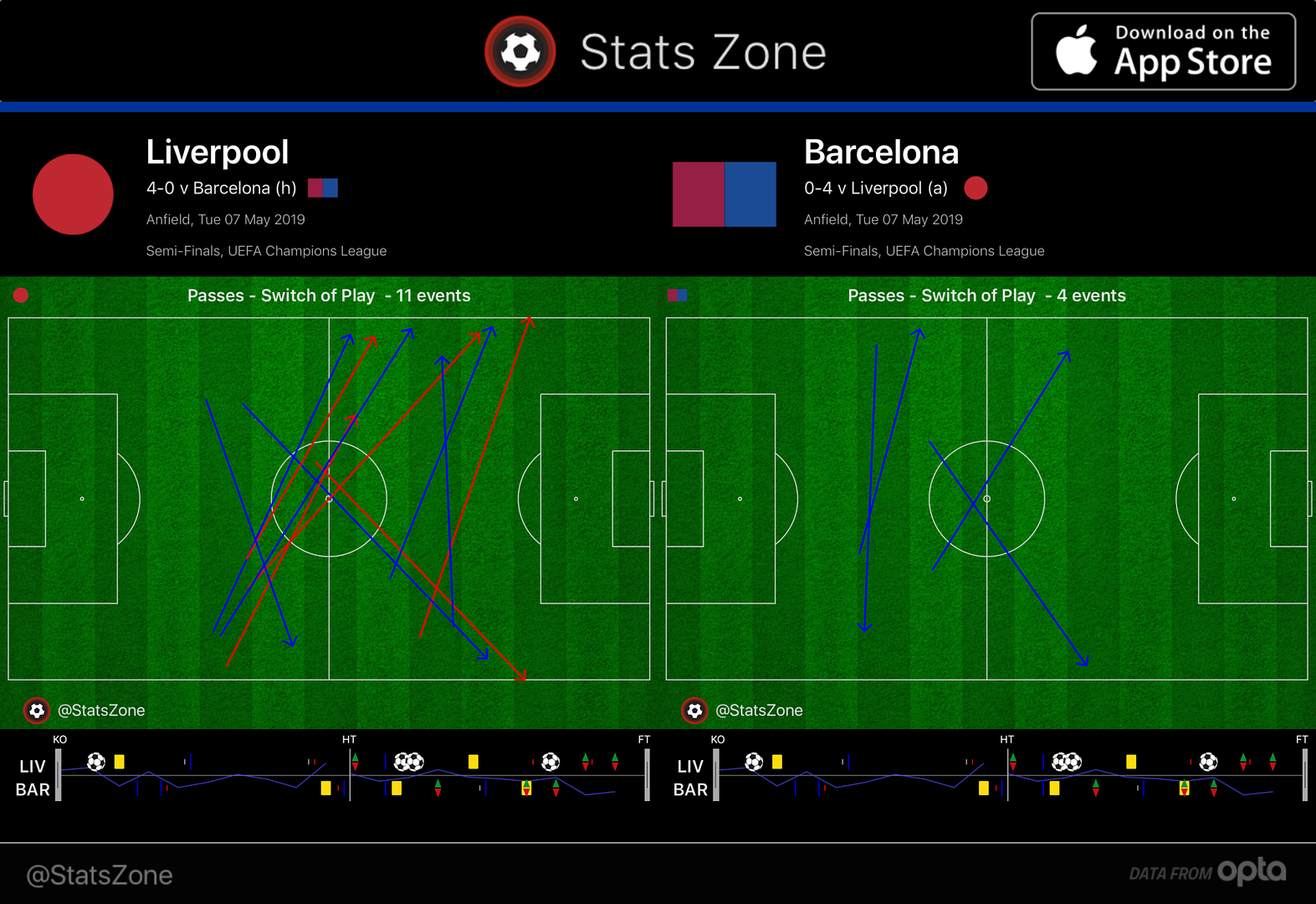 Counter-pressing
Liverpool's second and third goals were interesting. The cross for the second was provided by Alexander-Arnold after Mane switched play to the right. It was more complex than that, though – Alexander-Arnold's header was wayward, and he nodded the ball straight to Ivan Rakitic. But that concession of possession allowed Liverpool to launch their counter-press – Alexander-Arnold, Henderson and Origi were all in close proximity. Rakitic passed to Alba, who was under pressure, Alexander-Arnold tackled him, drove forward, and his deflected cross was finished by Wijnaldum. The assist came from Alexander-Arnold's cross, the cross came because Alexander-Arnold had won a tackle, and the tackle came because Alexander-Arnold had lost possession. It was the perfect example of Klopp's emphasis upon counter-pressing, regaining the ball quickly.
The third was more straightforward, although it's notable that, since Liverpool no longer offered a natural left-footed crosser from left-back now Milner was playing there, the cross was actually provided by Shaqiri, who briefly found himself on the left wing. Again, substitute Wijnaldum headed home.
At this point, the natural inclination is to think is that Barcelona were stunned and could no longer cope with the pressure. The truth is somewhat different: Valverde brought on Nelson Semedo for Coutinho, as he had in the first leg. Semedo, a natural right-back, played on the right of midfield and Vidal moved to the left, and Barca now had a decent ten-minute period where they covered the flanks well, protected their defence better and enjoyed a decent spell of possession. Messi also started to influence play again, going on a mazy dribble before being brought down by Matip, and having another shot saved by Alisson from a tight angle on the right. Far from buckling under the pressure, Barca actually had their most stable period of the game.
The winner, though, came from another Alexander-Arnold ball – this time a corner, and an absolutely brilliant corner. He was stood over the ball but then walked away, seemingly leaving it for Shaqiri to take, before looking up and glancing that Origi was unmarked in the middle – with Barca under the impression they had a few seconds to organise themselves for Shaqiri's delivery. Instead, Alexander-Arnold pivoted, swept in the corner and Origi finished first-time into the far corner. It was so slick that it seemed like a training ground routine. Alexander-Arnold said the move was "just instinctive", although there were also suggestions that Liverpool's video analysts had identified that Barcelona often took too long to organise themselves when defending set-pieces.
It bookended the scoring nicely – Liverpool's first goal came when Barcelona didn't move away from their set-piece structure quickly enough, and their final goal came when Barcelona didn't get into their set-piece structure quickly enough.
My book Zonal Marking – about the development of modern European football – is out this week!
Related articles on Zonal Marking: