Real Madrid 3-1 Liverpool: freak goals hand Real their third straight European Cup
Two crazy goalkeeping mistakes and an all-time great goal from substitute Gareth Bale earned Zinedine Zidane his third European Cup in three attempts.
Zidane decided to use his diamond midfield here, meaning Isco started instead of Bale, with Karim Benzema leading the line.
Jurgen Klopp's side was as expected – injury problems meant he didn't really have any selection dilemmas.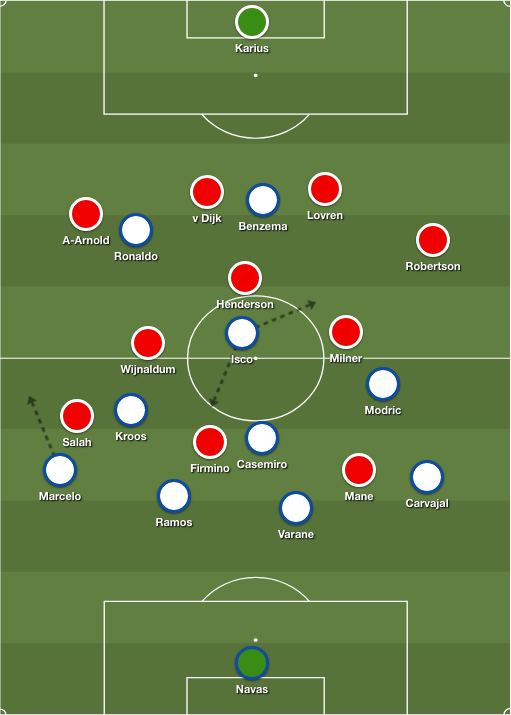 Isco in
Zidane's key decision was deploying Isco rather than Bale, which meant Real Madrid lined up with a midfield diamond rather than a 4-3-3. This had a significant impact upon the shape of the game: it meant Real played very narrow and offered absolutely no width down the right flank throughout the first half, meaning Liverpool left-back Andy Robertson was generally the out-ball whenever Klopp's midfielders assessed their options.
Zidane was clearly keen to overload the midfield and ensure Real Madrid had a numerical superiority in midfield, although it's questionable whether this made sense against Liverpool's energetic midfield press. In the early stages it rather played into the hands of Liverpool, who were able to press in a relatively small area rather than being forced to work across the pitch. Isco's presence in this Real system is peculiar: he unquestionably adds extra passing quality and offers tremendous trickery in tight positions, but he also ends up playing on top of Real's other midfielders which harms the structure of the team and meant they struggled to bypass Liverpool's midfield press. The extent of Isco's free role is outlined in his passes received and played. He was wandering all across the pitch, almost always playing safe backwards balls rather than penetrative passes.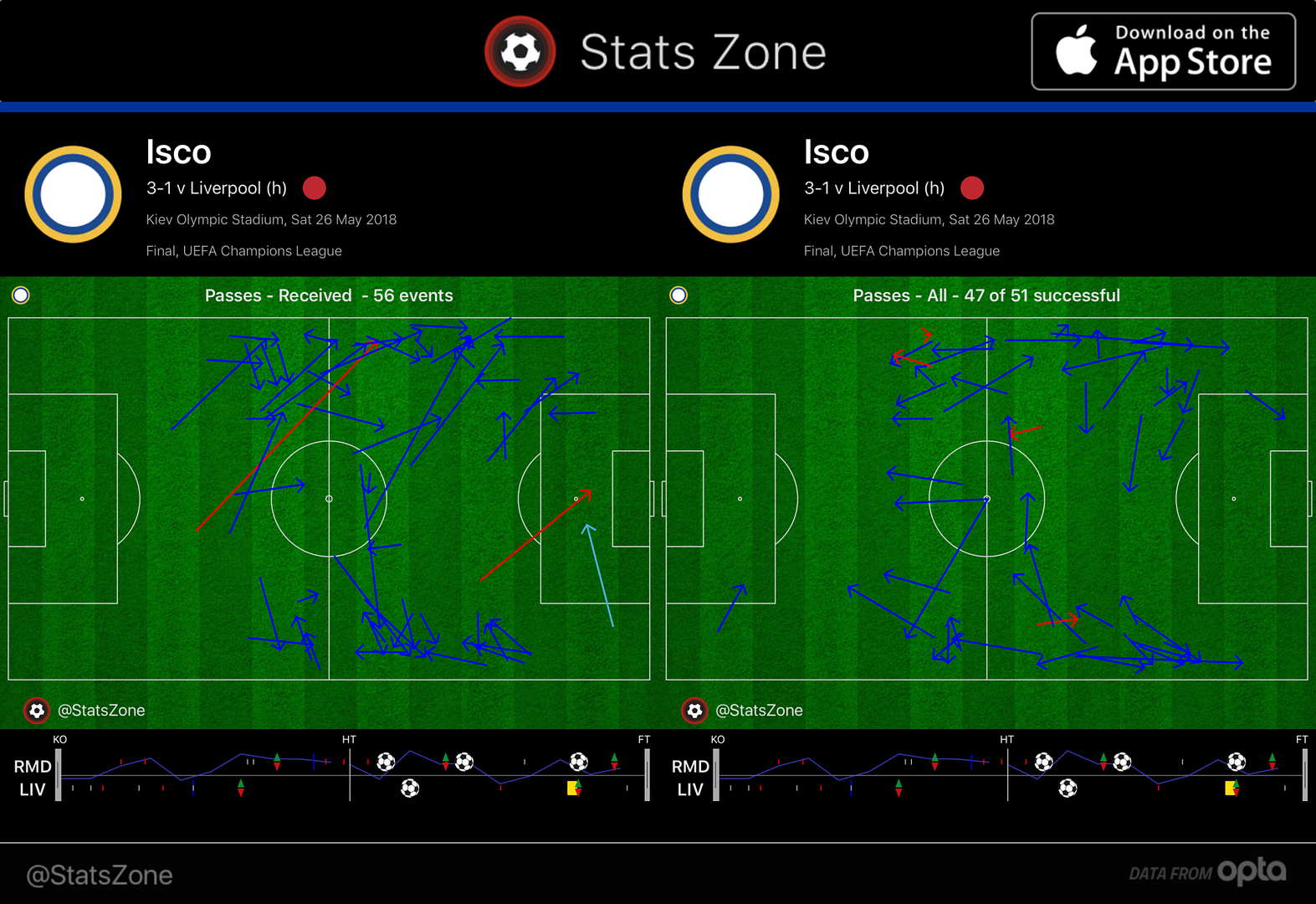 Liverpool press
Liverpool's pressing was more considered and cautious than we've witnessed in previous matches – they tended to stand off and attempt to win the ball inside the middle third, rather than on the edge of the opposition area, although there were some exceptions in counter-pressing situations, with Roberto Firmino typically excellent at working backwards to pressure Casemiro.
Real seemed rather unsure how to play against this press in the opening stages. Whereas other side would launch the ball forward to bypass the press, Real were largely concerned with making their numerical advantage in the centre of the pitch count. So they repeatedly attempted to play slow passes through Toni Kroos and Luka Modric, while Isco and Benzema also came deep to overload the centre. But Liverpool snapped into action quickly, boxing Real in towards the flanks with the winger on the opposite side of the pitch pushing inside to pressure one of Real's centre-backs. Real's full-back on the far side was often free, but they rarely located him with crossfield balls in the opening stages.
Liverpool forced spells of pressure and had some decent half-chances, but you sensed that Klopp's side needed to score in the first 20 minutes, to justify their early exertions and to allow themselves to play on the counter-attack. The longer the game continued, the more Real's possession play would tire Liverpool.
Salah off
That expected pattern played out almost perfectly, albeit influenced heavily by the departure through injury of Mohamed Salah after he was flattened by Sergio Ramos. Salah's departure robbed Liverpool of their most dangerous attacking unit – he'd already breezed past Marcelo twice – and meant Klopp had to summon Adam Lallana, who is a very different type of player, and has struggled badly in terms of fitness this season. Mane moved into Salah's position with Lallana playing from the left. Shortly afterwards, Dani Carvajal limped off and Nacho came onto replace him. Klopp might have considered moving Mane back to the left, to target Nacho – a good defender, but not a natural full-back. Instead he continued down the right, and offered Liverpool's main threat.
Now, however, Real started to dominate. Kroos and Modric drifted into wider positions – see below – enjoyed more time in possession, and Real started moving the ball laterally across the pitch between the full-backs, forcing Liverpool to work harder without possession. Now Liverpool struggled to get the ball into the opposition half, and Real steadily increased the pressure. Isco now used his free role to find space in dangerous positions, and from his cross, Cristiano Ronaldo's header was saved, and Benzema's foll0w-up was ruled out for offside.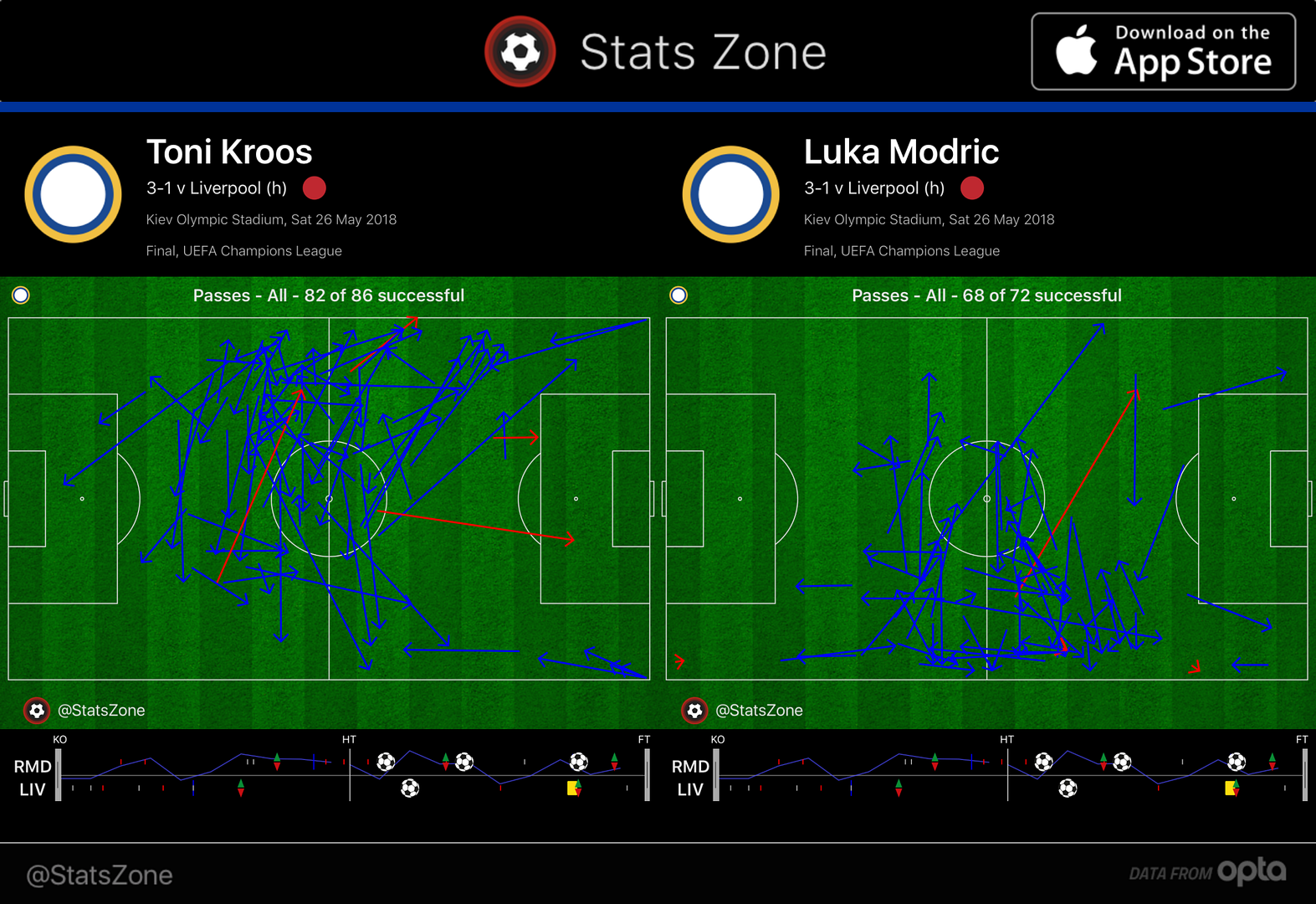 Second half
Isco was again heavily involved at the start of the second half, hitting the bar after Ramos had surged forward. But then things changed dramatically with Karius' astonishing error for Benzema's opener, seemingly putting Real in control. Liverpool, however, responded impressively, forcing a spell of pressure and Mane grabbing a close-range equaliser from a set-piece.
Now the game opened out, and Zidane decided to remove Isco – a curious decision considering he was heavily involved at this stage – and introduce Bale. While Bale largely played from the right flank, making Real's system more 4-3-3, he covets Isco's free role and soon wandered into more central positions. After just two minutes on the pitch, produced the outrageous bicycle kick to put Real ahead. It stemmed from a long spell of Real possession, an apt summary of the situation throughout the second half.
Liverpool, by this point, seemed exhausted and Klopp had no serious game-changing options from the bench, certainly nothing in the mould of Bale. Emre Can, another who has suffered from injury recently, was introduced in place of Milner but had little impact, because in the same minute Bale's long-range shot was inexplicably spilled into the net from Karius. Another Bale goal, another Karius mistake, another Marcelo assist, another Real Madrid European Cup win.
Conclusion
This game was about individual moments rather than the tactical battle: Salah's early departure was a devastating blow for Liverpool, and Real's three goals consisted of two goalkeeping howlers and a moment of individual magic. That's maybe the best way to summarise Real's recent European Cup triumphs: their wins often defy logic, they have often found themselves outmanoeuvred and Zidane's tactics have been questionable, but they've consistently found a way through in the final third.
Real's early struggles were arguably because Zidane didn't play Bale wide in a 4-3-3, and they took command after he switched to that system. Isco was both a help and a hinderance. Ronaldo increasingly offers little if he's not scoring and was largely anonymous here – although finishing as this competition's top goalscorer six times in a row is an incredible achievement.
From Liverpool's perspective, it felt like they needed to score in that opening period of high-tempo football – they were always likely to suffer when Real's possession football took charge during the middle period, and when Real's superior substitutes were introduced in the closing stages. But ultimately it's impossible to ignore Salah's injury, or Karius' mistakes.
I've written a book about the tactical development of the Premier League over its first 25 years. You can buy it here!

Related articles on Zonal Marking: