Liverpool 3-0 Man City: City's system & Liverpool's pressing bring three goals in 30 mins
Liverpool blitzed Manchester City in the opening half hour and take a massive lead to the Etihad next week.
Jurgen Klopp's starting XI was as expected, with Loris Karius in goal and Dejan Lovren alongside Virgil van Dijk.
Sergio Aguero was injured. Pep Guardiola surprisingly omitted Raheem Sterling, perhaps as he's previously performed poorly against his old club. Ilkay Gundogan was used instead, which hinted at an unusual system…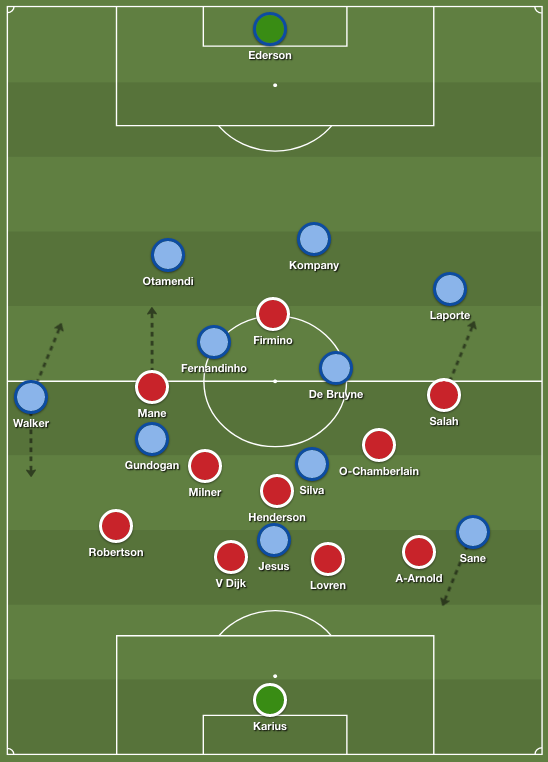 City's shape
In City's last meeting against Liverpool, a 4-3 defeat, they were overrun by midfield pressing, and therefore it was understandable that Guardiola wanted an extra man to create a 4 v 3 in the middle. The obvious solution seemed to be using Sterling as a false nine, as Guardiola did successfully at Old Trafford this season, with Aguero's enforced absence making this an even easier option.
But Guardiola instead created an extra man by using two deep midfielders and two advanced midfielders, almost in a midfield square. This resulted in Kyle Walker playing high to compensate for the lack of a right-winger, Leroy Sane providing more aggressive width on the left, and a lopsided three-man defence. It wasn't entirely different from what Manchester City had done in the 3-1 weekend victory across Stanley Park at Everton, but leaving space in defensive areas felt more risky against a Liverpool side with this counter-attacking ability. It was also surprising that Guardiola used Gundogan high, and Kevin De Bruyne alongside Fernandinho. He presumably wanted the Belgian's passing quality in a deeper zone, but it robbed City of De Bruyne's brilliant incisive balls from an inside-right position, which would have been particularly useful in the absence of a proper a right-winger.
Liverpool response
While City dominated possession in the first 10 minutes, Liverpool didn't appear particularly stretched. Klopp allowed his players to compete in the centre by asking Sadio Mane and Mohamed Salah to play both deeper and narrower than usual, sometimes providing six men in midfield, with Roberto Firmino pressing 'backwards' well, close to Fernandinho.
The most interesting example was six minutes in, when Kyle Walker had a throw-in midway inside City's half. The two deep midfielders, Fernandinho and De Bruyne, were briefly man-marked by Mane and Salah, who found themselves in number 10 positions. This meant James Milner and Alex Oxlade-Chamberlain could remain deep and support Jordan Henderson against Gundogan and David Silva, and neatly summarised how Liverpool were coping in midfield. Walker, without any obvious options, spent 20 seconds with the ball in his hands, lacking options, before hopefully hurling it down the line. In open play, though, Walker was City's out-ball. With Mane dragged inside, he had plenty of space out wide.
Pressing and goals
Liverpool went ahead with a goal largely unrelated to the battle of systems – a counter-attack from a City corner. City threw their three centre-backs forward, but then played a short corner and Sane conceded possession cheaply, allowing Liverpool to motor forward and score through Salah. Considering Liverpool's threat on the break this season, the most memorable example being a goal away at West Ham that saw Mane and Salah combining, it's surprising that teams continue to leave their defence so undermanned when attacking set-pieces.
After they went 1-0 up, Liverpool's pressing started to become more of a factor. The forwards continued to shut down the passing options of City midfielders. Oxlade-Chamberlain and Milner stayed tight to Henderson, who was never left alone in front of the defence. Milner, in particular, was crucial with his ball-winning ability: for the second goal, he flew into a tackle to quickly win possession, and the ball broke to Oxlade-Chamberlain, who smashed it home from 25 yards. Both the first two goals, in different ways, were very simple: a tackle, then a shot. No passes involved, simply regaining possession and striking immediately. It was the perfect demonstration of Klopp's gegenpressing philosophy.
The third goal, too, stemmed from a Milner tackle after Nicolas Otamendi dangerously dribbled out of defence. Liverpool regained possession and, with City's defence still organised, Salah crossed to the far post, where Liverpool had a 3 v 2 situation, and Mane headed home.
Sane v Alexander-Arnold
That was only half an hour in, but relatively little of note happened afterwards. Manchester City's main approach – perhaps their only approach – was using Sane in a very advanced position, high up against Trent Alexander-Arnold, and repeatedly hitting long diagonal passes into that zone. It was a logical approach: Sane has been in fine form, Alexander-Arnold has struggled in the last couple of weeks.
Here, however, Alexander-Arnold was absolutely outstanding. It wasn't simply that he won nearly every individual battle against Sane, it was that he also showed great intelligence in less familiar situations. At 1-0, for example, City launched a counter-attack after a Liverpool corner through Sane, and briefly worked a 3 v 2 situation on the break. Alexander-Arnold was in a difficult position but played the situation expertly, backing off to force Sane to delay his decision, while also positioning himself to discourage a pass into De Bruyne. Sane eventually shot wastefully. Five minutes into the second half, meanwhile, City crossed dangerously from the right flank and the ball appeared to be heading straight to Silva, making a late run into a goalscoring position. He would have had a tap-in. But Alexander-Arnold had the presence of mind to narrow his position, cover behind his centre-backs and make a crucial intervention. Considering City were so obviously targeting him, and he was engaged in such a clear 1 v 1 battle, it would have been easy to focus solely upon Sane – but he helped out in central positions too. City thought he was Liverpool's weak link, instead he was the game's best player.
Subs
That said, Klopp might have offered him more protection after Salah departed through injury. He was replaced by Georginio Wijnaldum, with Oxlade-Chamberlain moving to the right. He surely should have sat deeper than Salah had, helping to prevent passes into Sane and make it more difficult for him to shift inside. Alternatively, Milner could have been moved to that flank to help out. For all Alexander-Arnold's excellence, there was no need for Liverpool to leave him quite so exposed considering City seemingly only had one plan.
Guardiola's substitutions felt like an admission he'd got things wrong, as he gradually changed everything towards City's usual system. He swapped De Bruyne and Gundogan, he moved to more of a 4-3-3, and then finally he introduced Sterling in place of Gundogan. But City didn't manage a single shot on target all night, and the lack of an away goal makes life very difficult for Guardiola next week.
Conclusion
For all Guardiola's unquestionable brilliance, he's has suffered some huge losses in the Champions League knockout stages. This was reminiscent of his Bayern side's 5-0 aggregate defeat to Real Madrid in 2014, and the following season he played a hugely risky system away at Barcelona and lost 3-0 in the first leg. There was some logic in Guardiola's approach, attempting to gain control of the midfield zone, but the system hampered City's attacking approach and their play in the final third was very one-dimensional.
This was Liverpool's best performance under Klopp, a perfect demonstration of counter-pressing and counter-attacking. Beyond the usual approach, though, Liverpool reacted well to City's tactical surprise. Mane and Salah helped Liverpool remain compact and played their part in defensive responsibilities, as well as providing decisive moments in attack too.
-
I've written a book about the tactical development of the Premier League over its first 25 years. You can buy it here!

Related articles on Zonal Marking: