Chelsea 0-1 Manchester City: Guardiola uses his full-backs & wingers to get De Bruyne into space
Chelsea came into this game on the back of a midweek victory at Atletico Madrid, probably the tactical performance of the season so far – they showed defensive discipline, midfield control and completely outwitted Diego Simeone's usually-formidable Atletico.
The key was Antonio Conte's use of 3-5-2, a modification upon the 3-4-3 that won Chelsea the league last season. This 3-5-2 allowed Eden Hazard to play centrally, and means Cesc Fabregas can be used in central midfield without Conte having to sacrifice one of his two disciplined defensive midfielders. Two big advantages.
But the 3-5-2 also has more of a weakness than the 3-4-3 – by increasing numbers in central positions, it means Chelsea have fewer men down the flanks. The wing-backs have to cover the flanks themselves – and it's this weakness which Pep Guardiola exploited here, where City dominated from start to finish.
Space out wide
The natural approach to City exploiting Chelsea's weakness out wide would be simple – pushing their full-backs, Kyle Walker and Fabian Delph, forward to combine with Leroy Sane and Raheem Sterling and overload Chelsea's wing-backs, Marcos Alonso and Cesar Azpilicueta. But there are a few problems with this approach. First, it may then depend upon crossing – Gabriel Jesus isn't the most natural target man, and he would be up against three Chelsea centre-backs who defend crosses excellently. Second, it would open up City to counter-attacks, and with the speed of Eden Hazard and Alvaro Morata on the break, running into channels as they did in Madrid, that could be dangerous. Third, and most pertinently, why put so much emphasis upon Walker and Delph to create chances, when you have two of the best creators in the league, Kevin De Bruyne and David Silva?
So that was Guardiola's plan – the space was out wide, and De Bruyne and Silva, the central midfielders, were to exploit it.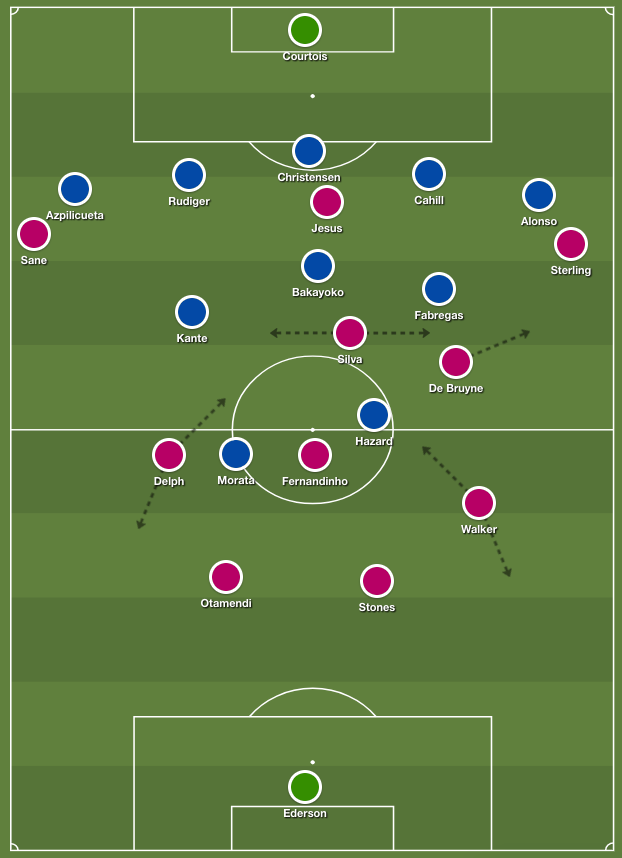 Full-back roles
This unusual tactic depended upon other players performing very specific roles.
First, Sane and Sterling stayed high and wide, pushing back Alonso and Azpilicueta into a back five, and ensuring they couldn't come forward to shut down anyone else down the flanks. Sane, Sterling and centre-forward Jesus were almost used like pawns in a game of chess – the most advanced players, but there to occupy their opponents to make room for the truly dangerous pieces behind.
Second, City couldn't simply let Silva and De Bruyne wander, empty the midfield, and leave Fernandinho isolated against three players. Therefore, notional full-backs Walker and Delph pushed into central positions – the latter, of course, is a central midfielder anyway – to ensure City still had bodies centrally. This was the most obvious positional change, and it's something Guardiola has done several times before, both with Bayern and City.
It was a very obvious change. This shows the positions of City's full-back duo in the win over Shakhtar in midweek: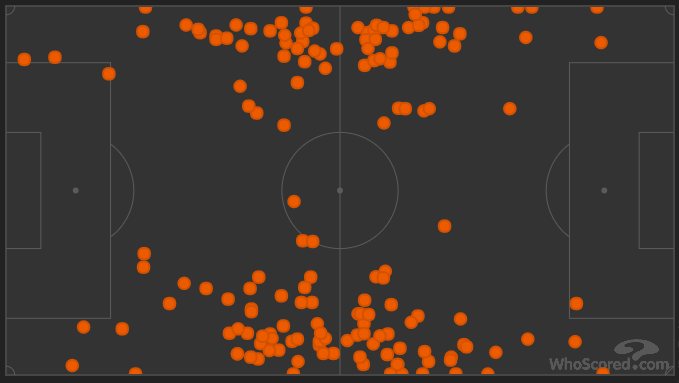 And here were the touches in this game. They went from overlapping down the touchlines, to drifting inside.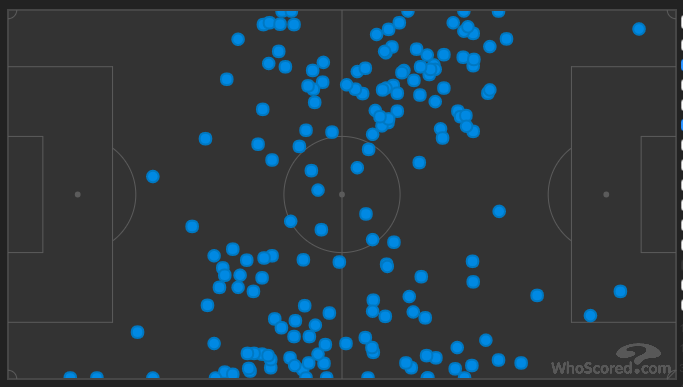 De Bruyne and Silva drift wide
But while the full-backs were the players used in the most unusual roles, they were not the key men. De Bruyne and Silva were.
De Bruyne spent the majority of the game drifting right, from where he delivers absolutely superb cross-cum-through-balls. He did that in the opening fixture between these sides last year – another fascinating tactical battle. Here, his touches took place more on the right flank than in the centre.
De Bruyne ran the game from this position. Chelsea didn't know how to cope – first Fabregas started following him to that flank, but this increased the gaps in Chelsea's midfield and allowed Silva space. Conte, as he did against Atletico, then swapped Fabregas and Tiemoue Bakayoko, realising that the defensive task against De Bruyne needed a more tactically aware player. But De Bruyne was still finding space, and was involved in City's best play. Walker exchanged a good one-two with him, and found himself driving towards goal in a central position. Sterling combined with him for a dangerous counter-attack. He played another of his classic driven, arcing crosses. City, in truth, weren't creating many chances. But they were completely outmanoeuvring Chelsea, and their most dangerous player was controlling the game.
Maybe the most interesting thing, though, was that Silva – who might have been expected to do the same thing on the opposite flank – increasingly drifted to the right as well, despite nominally playing as the left-centre midfielder. Silva has made a career out of drifting across to the opposite flank – as long ago as City's historic 6-1 victory at Old Trafford this was City's trump card – but it was still incredible to see Silva and De Bruyne, two central midfielders, both drifting to the same flank and combining so frequently. Silva was a central midfielder yet never touched the ball in a number 10 position, and was almost always involved towards the flanks.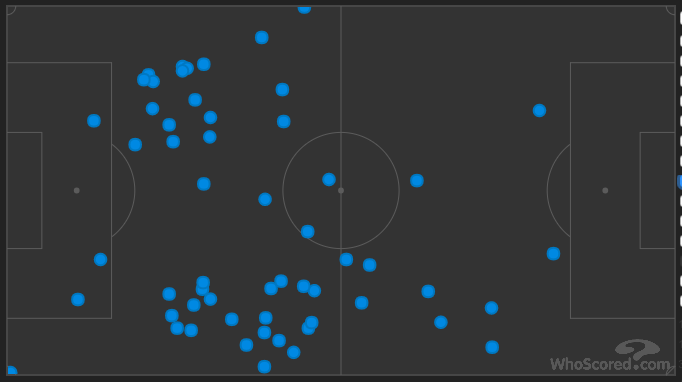 Chelsea couldn't really cope with City's dynamic dominance of the midfield, although largely remained solid defensively.
Chelsea counter-attacks
City's system was not without risks, however, and Chelsea's main threat actually came from the wing-backs.
Because City attempted to press in very advanced positions – twice causing Thibaut Courtois problems with his kicking – this meant that Sane and Sterling had to shut down Chelsea's centre-backs, leaving the wing-backs free. With Silva and De Bruyne returning to conventional midfield positions without possession, but City's full-backs generally very narrow, Alonso and Azpilicueta could race forward unnmarked on the overlap.
There were several examples of them finding space on the far side, but teammates not quite locating them. Azpilicueta found space in the early stages on two occasions, and on the second occasion combined with Kante to create an early headed chance for Morata. It happened a little later, when Fabregas couldn't quite find space for a diagonal ball to Azpilicueta. The same thing happened on the opposite flank, when Alonso wasn't found, and then substitute Willian (on for the injured Morata in the first half, Conte summoning an extra midfielder rather than a striker) nearly threaded a ball through for Azpilicueta on the edge of the box. Chelsea did offer a threat. Even when 1-0 down, their best passage of play came when they switched play to Alonso, and then to Azpilicueta, whose cross was played straight to Ederson.
Conte can't switch tactics successfully
Conte was clearly concerned by his side's inability to engage with City in midfield.
After half-time, rather than sitting back and defending 5 v 3 and being dominated in midfield, Conte changed things. First, Chelsea spent longer in a 5-4-1 system, with Willian moving to the right. This meant City had less space down the flanks. Second, Chelsea tried to defend more aggressively. Whereas Azpilicueta and Alonso had previously tracked City's wingers at the centre-backs had stayed at home, now there was more movement. In the first five minutes of the second half, Antonio Rudiger came forward to shut down Silva. Then Cahill came down to shut down De Bruyne. This hadn't happened in the first half. Space was now opening up in the Chelsea defence, and now City were creating chances. The best example came on 64 minutes. Cahill came forward to close down De Bruyne again, which left a gaping hole in the Chelsea defence. Walker played a through-ball into that space between Alonso and Andreas Christensen, Sterling raced onto the ball, and played a cut-back to Silva. His shot was blocked.
And then came the winner, scored by De Bruyne, although it was slightly out of keeping with the tactical battle – because he found space centrally. Still, it showed him causing Chelsea problems with his movement, and dragging Cahill forward from the back, before bypassing him with a one-two with Jesus and firing home. De Bruyne was unquestionably the star here: first he put City in charge of the game, and then won the game, from two very different positions.
-
I've written a book about the tactical development of the Premier League over its first 25 years. You can buy it here!

Related articles on Zonal Marking: