Dortmund 1-0 Bayern: Tuchel surprises Bayern with a 3-3-2-2 shape
Dortmund triumphed in the Bundesliga's showpiece game, courtesy of a first-half goal from Pierre-Emerick Aubameyang.
Thomas Tuchel is no stranger to a three-man defence, having played that system the previous weekend against Hamburg in a 5-2 victory. But this was a different shape in midfield, and featured very different personnel too. Julian Weigl, Marcel Schmelzer, Mario Gotze, Andre Schurrle and Adrian Ramos all came into the side having been omitted last weekend, which presumably surprised Bayern.
Carlo Ancelotti, meanwhile, played a system that looked like a cross between a 4-4-2 and a 4-3-3, a compromise he often used at Real Madrid. Here, Thomas Muller was half-forward and half-winger, Frank Ribery was half-winger and half-wide midfielder, and Joshua Kimmich tucked inside as half-central midfielder, half-wide midfielder. It was slightly confused, but it did cause Dortmund problems.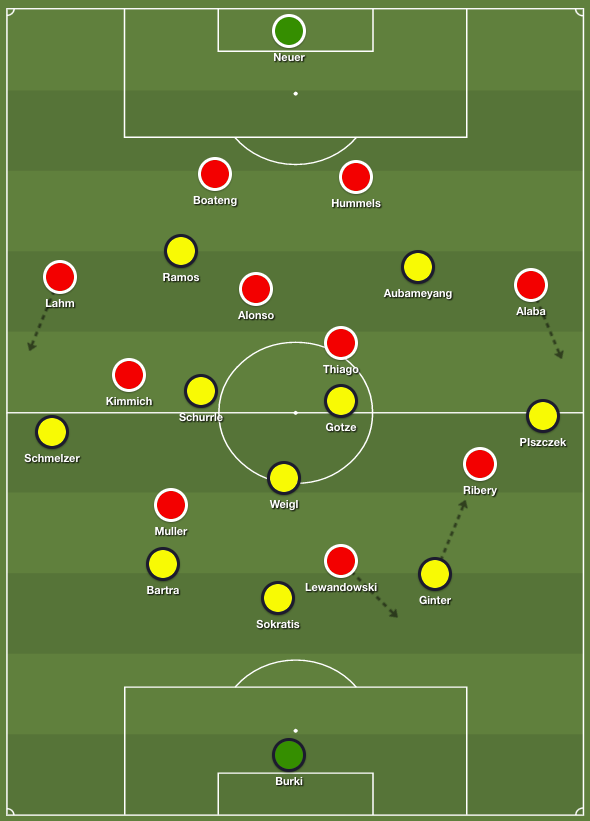 Dortmund system
The more interesting system, however, was clearly Dortmund's. In simple terms this was a 5-3-2 or a 3-5-2 depending upon the positioning of the wing-backs, but it's significant that the two more advanced players were Schurrle, a natural winger, and Gotze, a number 10. They pushed forward into very advanced positions, and often drifted into wide zones when Adrian Ramos and Aubameyang moved into the middle.
It often looked like Dortmund were playing with six defensive players – the full-backs pushed forward sporadically – and four attackers, which means 3-3-2-2 feels more appropriate.
Dortmund attacks
Dortmund made inroads down the right in the first half. Part of Bayern's problem was Ribery not tracking Piszczek (who played a more attacking role than Schmelzer on the opposite side) although the movement of Gotze to the outside also caused some issues. Indeed, the opener stemmed from Gotze crossing from a right-sided position, and after the ball was half-cleared, he drifted infield to supply a low pass that Aubemeyang prodded home.
Dortmund started the game at an extremely high tempo, and dominated because of their pressing. Xabi Alonso was closed down quickly by both Schurrle and, in particular, Gotze. The Bayern full-backs were shut down by the Dortmund wing-backs, while the two forwards drifted into wider areas to provide a threat on the break in the channels
Ribery
The problem for Dortmund, however, was Ribery in that floating role. On the opposite side, Muller moved inside and was watched by Marc Bartra, while Kimmich played too deep and narrow to offer a real attacking threat, and was sometimes closed down by Schmelzer.
But with Piszczek usually concentrating on David Alaba, it meant Ribery was the responsibility of Matthias Ginter, who stuck very tight and prevented the Frenchman from turning. However, the knock-on effect was a huge space to the right of Dortmund's defence, effectively leaving half the pitch bare. When Bayern had the ball in defence, Dortmund kept a high offside line, and Lewandowski repeatedly made runs towards the left to expose Dortmund's lopsided defensive line. One long ball from Mats Hummels, in particular, showed how Dortmund were vulnerable in that zone, and there was a marginal offside call that could have gone the other way.
Later, Thiago also pushed forward into that position to run in behind Ginter. Meanwhile, Lewandowski drifted towards the opposite side towards the end of the first half. Bartra was on a booking, and was a little fortunate not to be cautioned again when hauling down the Polish striker.
Second half
Towards the end of the first half Dortmund were forced back by Bayern's pressure, but in the second half it felt like they used a more deliberate defensive approach: their defensive line sat considerably deeper and the wing-backs were part of a more obvious back five. Equally crucially, Tuchel switched to a 5-4-1 system. Ramos was moved into a left-midfield role, with Schurrle playing from the right. Dortmund now had equal numbers down the flanks.
The second half was a typical game between a possession side and a counter-attacking side – Bayern chasing an equaliser, Dortmund sporadically trying to strike on the break and put the game to bed. For all Bayern's pressure, Dortmund had the clearer chances: Aubameyang twice should have sealed the game, once because of an awful Alonso error. But he showed little composure in front of goal, and Bayern kept coming.
There was only one significant change from Ancelotti. Douglas Costa replaced Kimmich and played a more extreme wide role, hugging the right touchline even when the ball was on the opposite flank. He and Ribery stretched the play, and Bayern almost exclusively went down the flanks, rather than through the centre. Costa was considered so dangerous that Tuchel brought on Erik Durm, essentially a second left-back to sit ahead of Schmelzer. Schurrle departed, with Ramos switching flanks.
For all Bayern's pressure and possession, it's difficult to identify any clear-cut chances – the closest they came was an extraordinary long-range Alonso effort which struck the woodwork. Their approach felt slightly predictable, with lots of crosses towards Muller and Lewandowski – although, in fairness, that has proved a very useful Plan B before.
Conclusion
This first meeting between Ancelotti and Tuchel showed their approaches perfectly. Ancelotti played a lopsided system designed entirely to get his best players in their favoured positions, a formation which arguably lacked balance. Tuchel, on the other hand, played a system with key players out of position to suit the tactical demands of the game. Ancelotti is players-first, Tuchel is system-first.
The first goal felt particularly crucial, allowing Dortmund to play on the counter-attack for the remainder of the game. While Dortmund's overall performance was very impressive, there were problems in the first half with the positioning of Ginter and Bartra's fouls, and the home side looked more comfortable in the second half when sitting deeper with the full-backs a clear part of the defensive line.
Related articles on Zonal Marking: