Portugal 1-0 France: Eder's introduction proves decisive
Portugal won their first-ever major tournament courtesy of Eder's stunning long-range strike in extra-time, after a defensive-minded first 90 minutes.
Fernando Santos brought back Pepe after injury, and William Carvalho after suspension, so Bruno Alves and Danilo dropped to the bench. Cristiano Ronaldo didn't make it to half-time until being replaced by Ricardo Quaresma.
Didier Deschamps named an unchanged XI, meaning no return for N'Golo Kante.
Overall this was a disappointing match, shaped heavily by the early departure of its best player, Ronaldo. The graphic below illustrates the line-ups after his departure. France had the better of the opening 90 minutes, but Portugal pushed forward impressively in extra-time.
Opening
In formation terms, it was as expected from the outset. Both teams were arguably in 4-4-2 systems, with some nuance: Portugal's midfield looked more like a diamond at times, in keeping with their previous performances, with Adrien Silva shuttling forward and leaving Carvalho minding the defence. When France had long periods of possession, Portugal's diamond squashed into a flat four-man shape.
France's system is arguably more 4-2-3-1 than 4-4-2, but Antoine Griezmann played high up the pitch, more of a second striker than a number ten. With Carvalho sticking tight to him, Griezmann generally had his brightest moments when running in advance of him, rather than dropping deep.
France press
The match started at a good tempo, with France pressing high up the pitch and forcing the Portuguese defence into some mistakes in possession. Pepe, who would eventually become the game's outstanding performer, looked particularly uncomfortable in the early stages, as Portugal struggled to work the ball forward into midfield. Portugal had the first good chance of the game, however, with Cedric Soares playing a long ball over France's high defensive line to Nani, who blasted over.
France's determination to close down quickly created their first chance chance, and caused the game's key moment. For the chance, Olivier Giroud closed down Pepe, who slipped, with the ball falling to Dimitri Payet. His chipped ball into the box was headed towards goal by Griezmann, forcing Rui Patricio into a fine save. The game's key moment, meanwhile, was Ronaldo's injury. Payet pressed him very aggressively, winning the ball but colliding with Ronaldo. After two attempts to continue, he was replaced by Quaresma.
Post-Ronaldo
This changed the game completely. For a start, France's early momentum wasn lost – with the start-stop next 15 minutes largely based around whether Ronaldo could continue. Portugal, meanwhile, changed system after Quaresma's introduction and switched to a 4-3-3 system, with Nani playing upfront alone, Quaresma on the right, Renato Sanches tucking inside and Joao Mario pushing forward.
It would be ludicrous to suggest Ronaldo's injury actually helped Portugal, but it's certainly true that it affected France's rhythm and allowed Portugal to slow the tempo, which suited them better.
Sissoko
The first half's best performer was a player slightly fortunate to have played his way into the XI. Moussa Sissoko was only starting as a consequence of Deschamps sacrificing Kante in order to play Griezmann in his favoured central position, but he was very dangerous throughout the first half by playing in a narrow right-sided midfield role.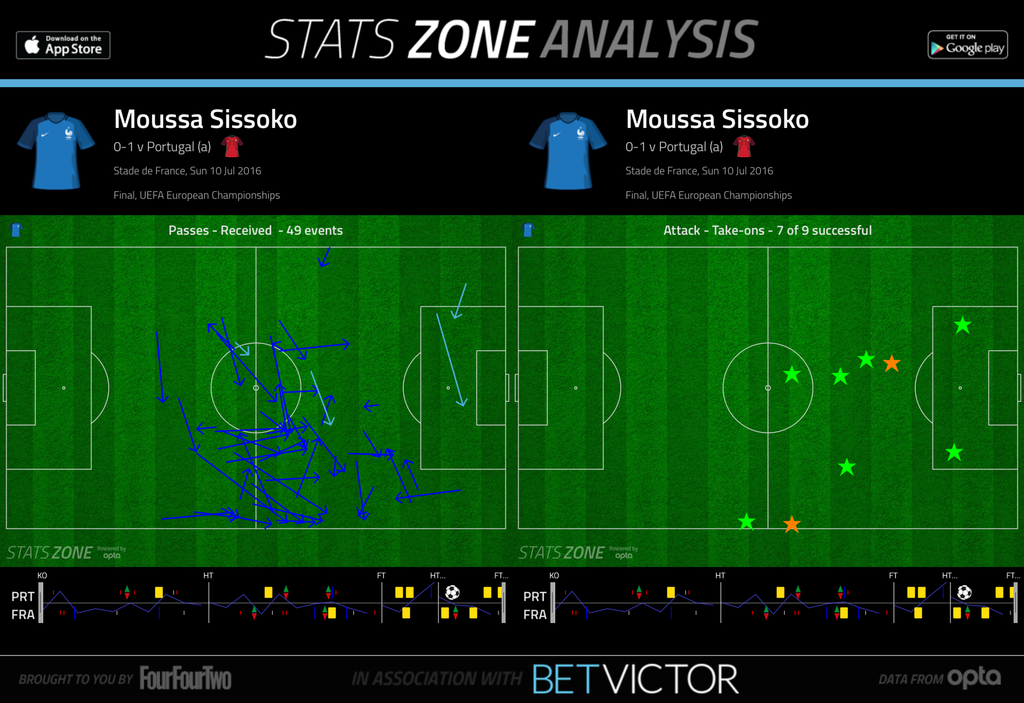 No-one really knew how to stop Sissoko – Silva and Sanches were concentrating on Paul Pogba, who was quiet in possession, and Blaise Matuidi, who was very good in a defensive sense but offered little going forward. Raphael Guerreiro stayed in his left-sided zone rather than moving inside to stop Sissoko, so he was often able to burst past opponents and into space. His end product was inconsistent, but he was the only player attempting to beat opponents.
France dominate down left
However, France's best moves came down the left – and this was the game's defining feature. As the graphic of France's 'chances created' and 'shots' demonstrates, there was a heavy emphasis upon working the ball down the left flank.
There were two reasons for this. For the first hour, Portugal right-back Cedric Soares often stuck too tight to Payet, which opened up space in the inside-left channel for both Giroud and Griezmann to run into. Two of France's best attempts were hit by those two strikers from almost identical positions, both saved by the impressive Rui Patricio. Patrice Evra was also sporadically exploiting the space on the overlap.
Second, Deschamps replaced Payet after an hour, introducing Kingsley Coman. The Bayern winger showed his usual directness in possession, dribbling at Soares and creating chances when turning inside, most notably for another Griezmann chance in the air, which he headed over.
Substitutes
Substitutes proved crucial here. Santos brought on Joao Moutinho in place of Silva, meaning Portugal moved the ball more intelligently towards the flanks, and started to compete on even terms with France for the first time in midfield.
Most crucially, however, both managers sent on a striker with ten minutes of normal time remaining. Andre-Pierre Gignac replaced Giroud, while Eder came on for Sanches, with Joao Mario moving inside and Nani switching to a wide role. These players would be crucial. Gignac was nearly the hero, receiving a low cross from Evra, turning past Pepe, and scuffing a shot against the near post.
Portugal, however, were the better side after these strikers' introduction. Eder gave Portugal an entirely different option upfront, and was brilliant at holding up play, outmuscling the French centre-back pairing and continually winning free-kicks. He enabled Portugal to get up the pitch and spend long spells in the opposition half.
The initial solution to Ronaldo's departure, using Nani upfront, plainly didn't work, but Eder's introduction made Portugal cohesive again. With ten minutes of exta-time remaining, Eder received a short pass from Moutinho, turned past Laurent Koscielny, and smashed in the winner from 25 yards. In the contest of extra-time, he was a fitting matchwinner.
Conclusion
The most important goal in Portuguese football history has been scored by a strong, back-to-goal number nine. That's bizarre considering Portugal's lack of a proper centre-forward has been their primary weakness for years, and even more peculiar considering Santos had determinedly built a system without a proper striker, such was his lack of faith in Eder.
Indeed, this is a stange Portuguese side overall. Santos built a team that is defensively disciplined despite being unusually fluid in midfield, and a team that lacked proper width despite its best attackers being natural wingers. It has somehow come together nicely, and is a testament to the importance of not losing – in 90 minutes, Portugal's record in this competition is W1 D6 L0. Portugal only conceded one goal during the knockout stage, and this is the fourth consecutive European Championships where the best defence has won the trophy. Greece in 2004, and Spain in 2008 and 2012, didn't concede a single knockout goal. It's difficult to pinpoint Portugal's true attacking style, although both Ronaldo and Nani – as well as Eder, eventually – provided decisive moments in the box.
Deschamps will be criticised for his uncertainty throughout this competition, rarely finding his best system and often having to correct things midway through matches. He failed to find a system which used his two star players, Antoine Griezmann and Paul Pogba, in their optimum roles – Greizmann needed the 4-4-2 / 4-2-3-1 to play off Giroud, Pogba needed a 4-3-3 to drive forward from midfield. But these tournaments come down to very fine margins, and Deschamps' decision to select the system which benefited Griezmann made sense considering his form in this competition – and ultimately, Deschamps can't be blamed for the tournament's top scorer being unable to convert good chances in the final.
Related articles on Zonal Marking: