France 2-0 Germany: formation decisions enable Germany to dominate
Germany completely dominated the first half – but two individual mistakes means France progress to Sunday's semi-final.
Didier Deschamps continued with the team which had defeated Iceland 5-2. That meant Samuel Umtiti kept his place at the back, and Moussa Sissoko remained on the right despite N'Golo Kante's availability – therefore, France started in their 4-2-3-1 / 4-4-2 shape, rather than the 4-3-3.
Joachim Low was without the suspended Mats Hummels and the injured Sami Khedira and Mario Gomez. He surprisingly selected Emre Can for the first time in the competition, with Julian Draxler back in the side, in a 4-3-3 formation.
In the first half, Germany played arguably the best spell of football Euro 2016 has witnessed – but they couldn't find the breakthrough.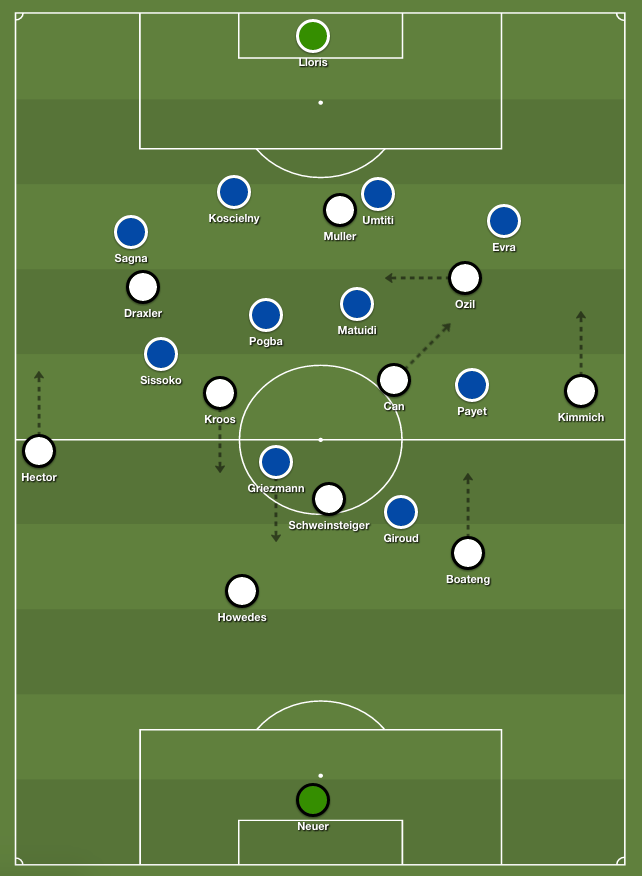 Formations
Unusually for this tournament, the formation decisions of both managers proved crucial in determining the pattern of the game. Deschamps' preference for continuing with the system that defeated Iceland was understandable, although it was a huge risk to play without a natural holding midfielder against a side of Germany's quality, especially with Mesut Ozil and Julian Draxler capable of drifting between the lines. This key decision, despite the victory, backfired based upon the nature of the first half.
Low's formation decision was equally crucial. He had previously played a 4-2-3-1 or a 3-4-2-1 (against Italy) so far in this competition, and therefore the switch to 4-3-3, which Germany used in the latter stages of their World Cup win, was a big surprise. Can was presumably selected for his energy and physicality against Paul Pogba and Blaise Matuidi. Bastian Schweinsteiger played very deep, almost as an extra centre-back at times, which gave Germany support against France's front two, and allowed the centre-backs to push forward when required.
France dominated the opening 5-10 minutes when the game was extremely frantic, but once things settled down, Germany were clearly on top. They dominated the midfield, and the movement of their attacking players, particularly down the right, continually dragged France out of shape. The difference in 'final third' passes tells the story nicely.
France system
France struggled to regain possession in the 4-4-2, partly as forwards contributed extremely little out of possession. They weren't pressing the centre-backs, or even looking to stop Jerome Boateng moving forward on the ball – he was again outstanding in this respect – but they weren't looking to get back quickly and keep France compact, either. Only when Germany had extremely long spells of possession did France retreat into their own third en masse, and for long spells they simply looked like a flat 4-4-2 with too much space between the lines. It was a fine example of why that sort of system has fallen out of favour unless the forward play as extra midfielders.
In particular, France didn't have an obvious plan for stopping Toni Kroos, who turned in another wonderful performance. Italy had worked hard to put their strikers on him to nullify his influence, but Griezmann simply didn't have the energy to perform this task: although he contributed both goals and continually offered acceleration at turnovers, it's clear he is exhausted. Kroos dropped into the zone Griezmann should really have been defending to collect short balls from the back, and started passing moves. When Paul Pogba moved forward to press him, it created space for Draxler and Mesut Ozil between the lines.
Boateng and Kroos, in particular, were given freedom to orchestrate play.
Germany movement down the right
The advanced positioning of Germany's full-backs created, at times, a 2-3-5 system which inevitably caused both of France's wide midfielders problems, but it was a particular struggle for Dimitri Payet, who simply isn't as good defensively as Moussa Sissoko.
The dominance down the right was mainly, however, because of good German movement. Mesut Ozil's drifts inside meant Patrice Evra took up narrower positions, which then opened up space for Joshua Kimmich to bomb forward. Crucially, however, Emre Can also made a shuttling run into the opposition left-back zone, the type of movement he made for Liverpool when playing on the outside of a 4-3-2-1 system in Jurgen Klopp's first few games (albeit on the opposite flank).
This completely flummoxed France, who had no plan for stopping this type of movement. Can's good cross from that flank towards Thomas Muller was one of Germany's first significant sights of goal, and it was surprising Can didn't make more runs out to that side, especially with Kroos controlling the midfield so effectively, and Ozil becoming the third central midfielder. Indeed, it's a surprise we haven't seen more of this type of run in the competition overall – teams have protected the centre of the pitch excellently, but have been much more open down the flanks. Movement from central positions out wide is difficult to contain.
What Germany lacked, of course, was the finishing touch. Muller has badly struggled throughout this competition – his movement has been poor, and his touch often clumsy. It's a simplistic analysis, but it feels like with an in-form centre-forward, Germany would have run away with this game in the first half. Deschamps must have been considering a change in system, such was Germany's dominance.
France breaks
France were forced to play on the counter-attacks, although there were few signs they were particularly good at transitions. Their best counter-attacking chance fell to Giroud after a long clearance downfield, which saw the striker leaping above Boateng to put himself through on goal. He didn't have the speed to get away from the German defence, with Benedikt Howedes making a fine covering tackle.
Griezmann was the main threat. Although his overall performance suggested tiredness, he bursts into life a couple of times during the first half in the inside-left channel – particularly when he combined with Matuidi early on, before slightly scuffing his shot at Manuel Neuer.
The opening goal changed everything. It came out of nothing – Schweinsteiger was adjudged to have handballed from a right-wing corner, and Griezmann converted the penalty on the stroke of half-time.
Second half
Low changed little for the second half, however, and told Germany to continue playing the same way, while France remained in their 4-4-2 shape but sat deeper, the forwards protecting the midfield more. Germany continued to dominate possession, but now they weren't dragging France out of position so much, as the opposition were staying close to their own penalty box in a solid, compact shape. Germany's task of breaking down France had become trickier.
Kroos continued to hit good passes into the final third and Ozil was similarly dangerous – one ball over the defence to Jonas Hector was nearly perfect. But Germany were starting to struggle – and Boateng departing through injury didn't help.
Low's second change saw Mario Gotze introduced in place of Emre Can, pushing Germany to more of a 4-2-3-1 with Ozil central. Four minutes later Deschamps responded by bringing on Kante to sit in front of the defence. Surprisingly, Matuidi moved left, rather than France switching to 4-3-3 / 4-1-4-1.
Almost immediately, however, France scored the second goal. Again, it rather came out of nothing, featuring Kimmich dawdling on the ball in his own box and Neuer making an error when trying to pluck Pogba's cross out of the sky, with Griezmann stabbing the ball home. But France had, unusually, pressed in numbers high up the pitch to force the turnover, and were rewarded for their adventure. The scoreline didn't reflect the balance of play.
Conclusion
France won the game, but Low got the better of Deschamps here. His surprise decision to switch to 4-3-3 meant Germany dominated midfield and made inroads down the right flank. Only a completely unenforced error allowed France to take charge, and meant they could drop deeper where their system was exposed less frequently.
For long spells of the first half Germany played their best football of the tournament. Kroos' command of the midfield zone was remarkable, with Ozil also excellent with his drifts inside from the left. The lack of a dangerous centre-forward, though, has cost them badly.
Has Deschamps figured out his best XI yet? The 4-4-2 worked against Iceland but wasn't suited to this challenge. Against a Portugal side that features three players drifting between the lines, he might consider reverting to the 4-3-3.
Related articles on Zonal Marking: