Portugal 2-0 Wales: Wales struggle to penetrate Portugal's block, then Ronaldo and Nani pounce
Portugal defeated Wales in an unspectacular but efficient manner, in a low-key semi-final.
Fernando Santos was without suspended holding midfielder William Carvalho, so played Danilo in his place. Bruno Alves replaced the injured Pepe, while Raphael Guerrero came on for Eliseu at left-back. The shape of the side, however, was unchanged.
Chris Coleman had two suspensions to cope with. Ben Davies was replaced by James Collins, with James Chester moving from the right-sided centre-back to the left-sided position. More importantly, Aaron Ramsey also missed out, with Andy King chosen over Jonny Williams in that box-to-box midfield role.
Portugal played defensively, while Wales were disappointing in possession. Ronaldo and Nani were clinical in the box, which won the game.
Portugal approach
Portugal were favourites here, but treated the game as if they were underdogs. They refused to press at all in the opposition half – which had initially been their gameplan against Poland too – and dropped back into their own half. Their defence, however, didn't drop particularly deep, and therefore Portugal were extremely compact, creating a solid midfield block when Wales tried to build play from the back.
Portugal's main concern was deep in midfield, where the inexperienced Danilo was often isolated against Gareth Bale, who had freedom to drift across the pitch. Portugal usually defended as a rough diamond shape, although eventually Adrien Silva would drop back alongside Danilo, and Portugal would look more like a flat midfield four. This helped Danilo, who was only badly exposed by Bale once – when the Real Madrid man launched a counter-attack from the right-back zone midway through the first half – but Portugal looked more solid with two players shielding the back four.
Portugal were theoretically playing on the counter-attack, although they were rarely threatening in this situation until they were ahead. They played a surprising number of long balls in the opening stages, as did Wales.
Wales possession play
The game's major feature was Wales' disappointing possession play. They've excelled on the counter-attack throughout this tournament, but have appeared more limited when the opposition have men behind the ball. Here, Wales lacked the structure or the individual creativity to open up Portugal.
Ramsey's absence was clearly an enormous blow. Against Belgium he was crucial because of his sheer energy, shuttling forward between the deep midfielders and Bale relentlessly, and also because of his technical quality in the final third – he created three chances in open play, and three more from set-plays.
King tended to position himself as a third deep midfielder (more than a second number 10) when Wales were building play. Joe Allen and Joe Ledley had started nervously, with Allen conceding possession twice in the opening minutes, so King's deep position was understandable at that stage. Once Wales had gained control of midfield, though, they needed another player attempting to receive passes between the lines, encouraging Allen and Ledley to play forward. The comparison with Ramsey's performance against Belgium is telling – King barely played any passes in the final third.
King didn't do much wrong individually – this is just the type of player he is – but it was disappointing Coleman didn't select Jonny Williams, who was outstanding against Slovakia, instead. The pace of this game would have suited him, and Williams is capable of slaloming past opponents and creating space for teammates, exactly what Wales needed.
Bale
Bale struggled to see much of the ball between the lines, so dropped into deeper positions in search of service. It wasn't unusual to see him pop up on the left flank, or in deep midfield positions (which made the next pass even more difficult, with no-one between the lines) and as Wales chased the game at 2-0 down, he dropped between his own centre-backs to receive the ball under no pressure.
Bale really needs space to drive into, though. He only had one counter-attacking moment here, when he breezed past Danilo in his own right-back zone, before dribbling 70 yards and hitting a tame shot at Rui Patricio. His other dangerous moments came when Portugal's full-backs were attracted too high up the pitch towards Wales' wing-backs, which created space for Bale to drift into – one dangerous near-post cross from the left, when Cedric Soares was drawn to Neil Taylor, was reminiscent of his 'assist' for Gareth McAuley's own goal in the second round against Northern Ireland.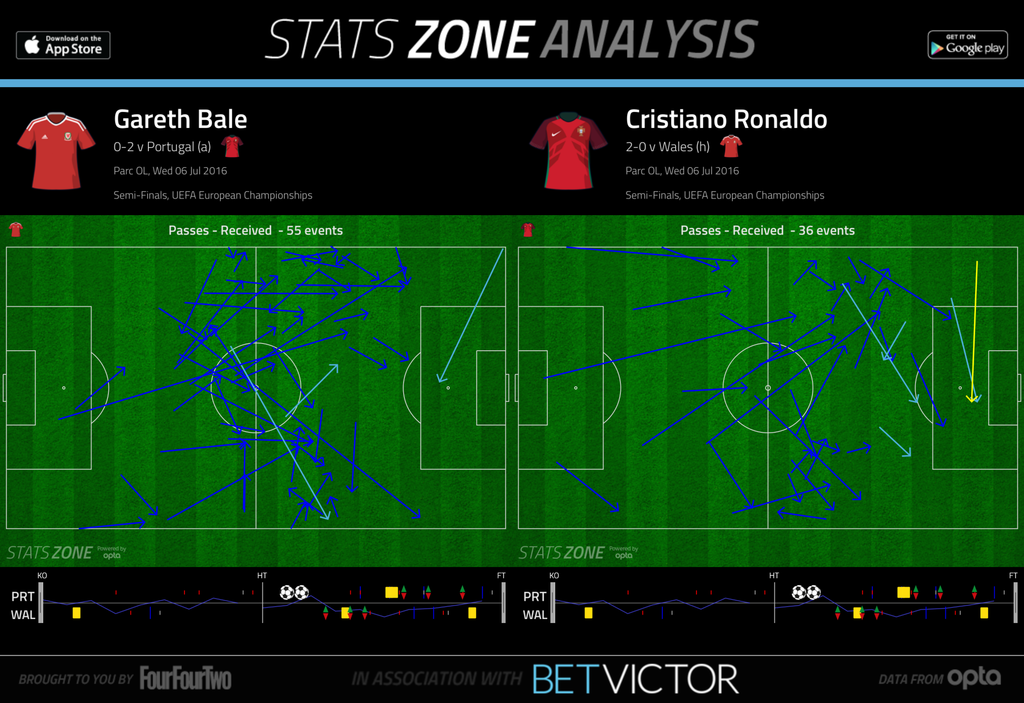 Ronaldo and Nani
Bale was more influential in open play than Ronaldo, who stayed upfront in a centre-forward position. Ronaldo, though, was more of a goal threat. Early on, Collins beat him to a high ball which prompted Portugal to shout for a penalty, then towards the end of the first half Ronaldo had a headed opportunity when Silva drifted towards the left and stabbed in a cross. In open play, Wales were just about coping.
Surprisingly, however, they were exposed at a set-piece shortly after half-time, with Ronaldo outjumping James Chester to head home. It was strange to see Chester, not as powerful in the air as Ashley Williams or Collins, picking up Ronaldo – especially as Collins had been tracking him at the previous set-piece. It was, however, a brilliant header.
Portugal doubled their lead in slightly fortunate circumstances shortly afterwards, with Nani poking in Ronaldo's scuffed shot. But Nani deserves great praise for adapting to this centre-forward role – this was his third goal of the tournament, and Santos will feel his decision to create a strikerless system has been justified.
Coleman responded with three quick changes – Simon Church, Sam Vokes and Jonny Williams – two strikers and a creative midfielder – on for Hal Robson-Kanu, Joe Ledley and James Collins. Wales went all-out-attack, and probably turned to long balls earlier than required. Portugal looked the more threatening on the counter-attack, and never seemed likely to let this game slip.
Conclusion
A relatively uninteresting game which was shaped largely by Portugal's defensiveness, Ramsey's absence harming Wales' possession play and the fact both sides played without a natural centre-forward, playing two wingers upfront. Portugal have reached the final with that approach, while Wales are eliminated but have exceeded expectations in a hugely impressive tournament.
Portugal's defensive shape is reasonably impressive but they still lack any kind of creativity in open play, despite fielding three attacking midfield players together. There was more structure to the midfield than against Poland, although they still don't produce dangerous passing combinations in the final third. They will presumably play on the counter-attack again in Sunday's final.
Wales' tournament has been outstanding. Coleman created an unusual system which got the best from his two best players, Aaron Ramsey and Gareth Bale, while the use of wing-backs caused opponents – particularly Belgium – problems. Hal Robson-Kanu and Sam Vokes were used at the right moments too. Coleman's only regret might be Ramsey's suspension, and the way Wales reshaped without him. There was never going to be an ideal replacement, but Williams' invention might have changed the shape of this game.
Related articles on Zonal Marking: