Real Madrid 1-1 Atletico Madrid: Real victorious on penalties
Atletico Madrid started poorly – but Diego Simeone's half-time switch put them in charge.
Zinedine Zidane named his expected starting XI. There were few selection decisions to make – Cristiano Ronaldo was doubtful but assured of his starting place, even if not 100% fit. Indeed, the more the match continued, the more it became obvious Ronaldo wasn't playing at his physical peak.
Simeone made one selection decision of note, preferring Stefan Savic at centre-back in place of Jose Gimenez. Although Savic has played only half as much as Gimenez this season, he's generally looked more commanding and authoritative – and, significantly, less error-prone.
Real played roughly as expected, but Atletico were surprisingly sloppy in the early stages.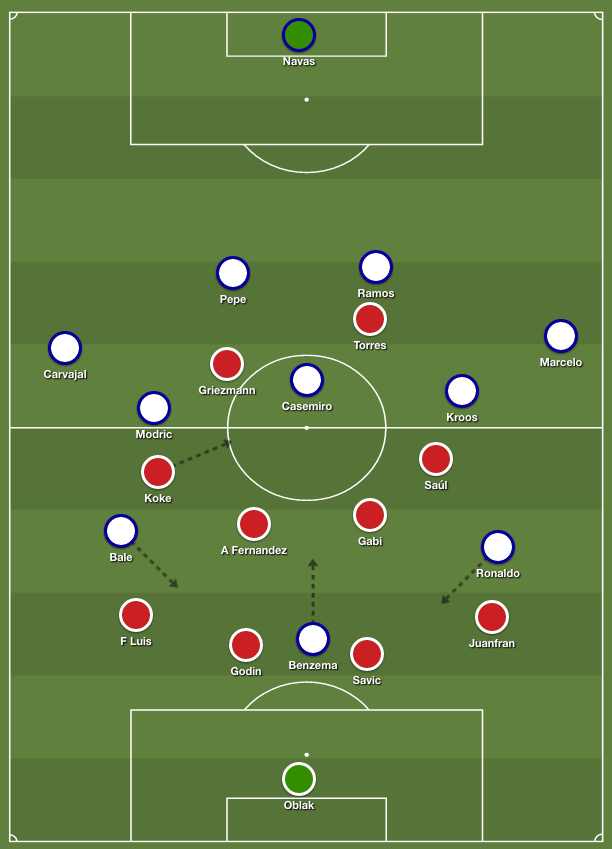 Atletico lack of compactness
The defining feature of Simeone's Atletico is their compactness. We've become accustomed to their forwards dropping extremely deep, with all eleven Atletico players behind the ball in a tight unit, waiting to intercept the ball inside their own third. It's precisely why more technical opponents dislike playing Atletico – they struggle to find space and move the ball efficiently in the final third, and therefore are unable to create chances.
In the first half here, however, Atletico were uncharacteristically open without possession. It wasn't simply that the forwards weren't retreating, it was that the defence was taking a deeper starting position than required, which asked an awful lot of their four midfielders, who were forced to cover a huge amount of ground in midfield. Real dominated possession, as expected, but they were allowed time on the ball both in front of, and behind, Atletico's midfield.
Midfield space
Atletico had a particular problem with Toni Kroos and Luka Modric, who dropped into deep and fairly wide positions to receive the ball under little pressure. Casemiro played an interesting role: very deep without possession, almost as a third centre-back, but often advanced ahead of Kroos and Modric when Real had possession. It felt like Atletico expected him to play in a position where their forwards could deal with him – instead he pushed higher up and found space in relatively advanced positions. He always kept his distribution simple and sideways, although he had some decent, if harmless, long-range attempts at goal.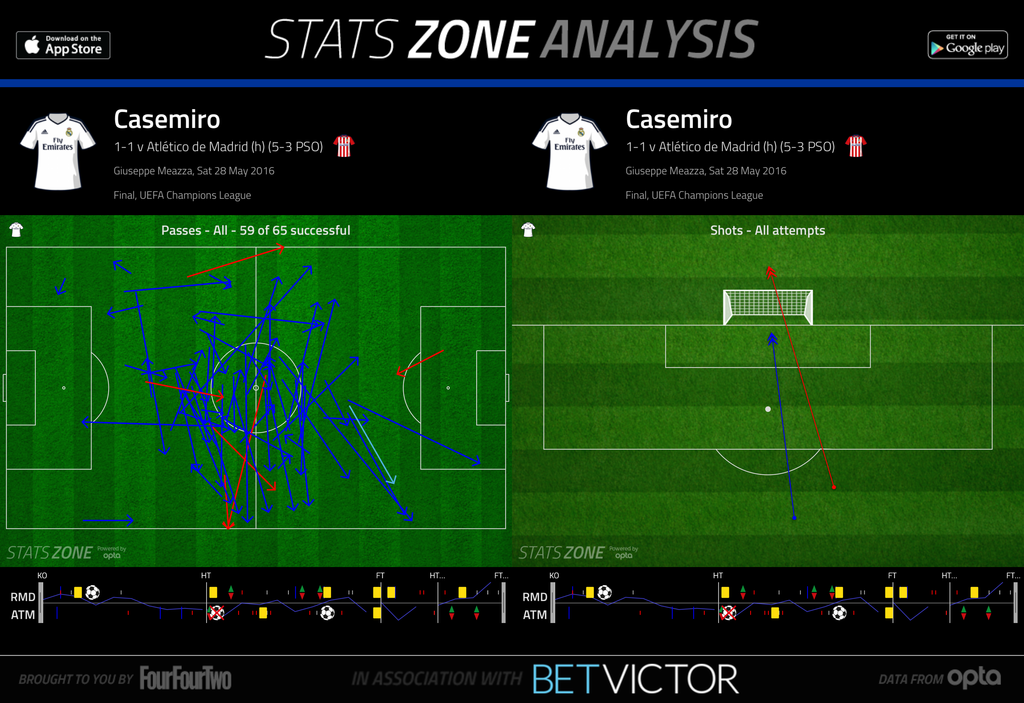 Atletico also had a problem because their forward trio, who rotated throughout the game, found space between the lines. Karim Benzema came short to receive forward passes from Kroos and Modric, and then was often able to transfer the ball towards Gareth Bale and Cristiano Ronaldo moving inside. Atletico's full-backs, as always, stuck tight – although it was peculiar to see them having to stick tight in a zone in front of their centre-backs – usually, Atletico are packing that zone and ushering Ronaldo and Bale into wider positions.
The result of this poor organisation was indiscipline. Atletico conceded a succession of free-kicks inside their own third, and Real's best two chances of the first half came from these situations: first Casemiro nearly turned in a powerful Bale free-kick, then Bale got a near-post flick-on (a theme of the evening) to allow Ramos to bundle the ball past Jan Oblak. Atletico were expected to be the main threat from set-pieces, but Real were simply being afforded more opportunities to whip the ball into the box.
The best part of Real's gameplan, however, involved switching possession. While Atletico lacked their vertical compactness, they retained horizontal compactness in midfield – Saul and Koke often ended up towards the opposite touchline in an attempt to congest Real's passing. Real, however, got around this problem by switching play in very deep positions. There was one magnificent, thumped crossfield ball from Marcelo to Dani Carvajal that underlined the approach perfectly. The full-backs, after all, were the players in space. The sides' first-half switches said a lot about their passing.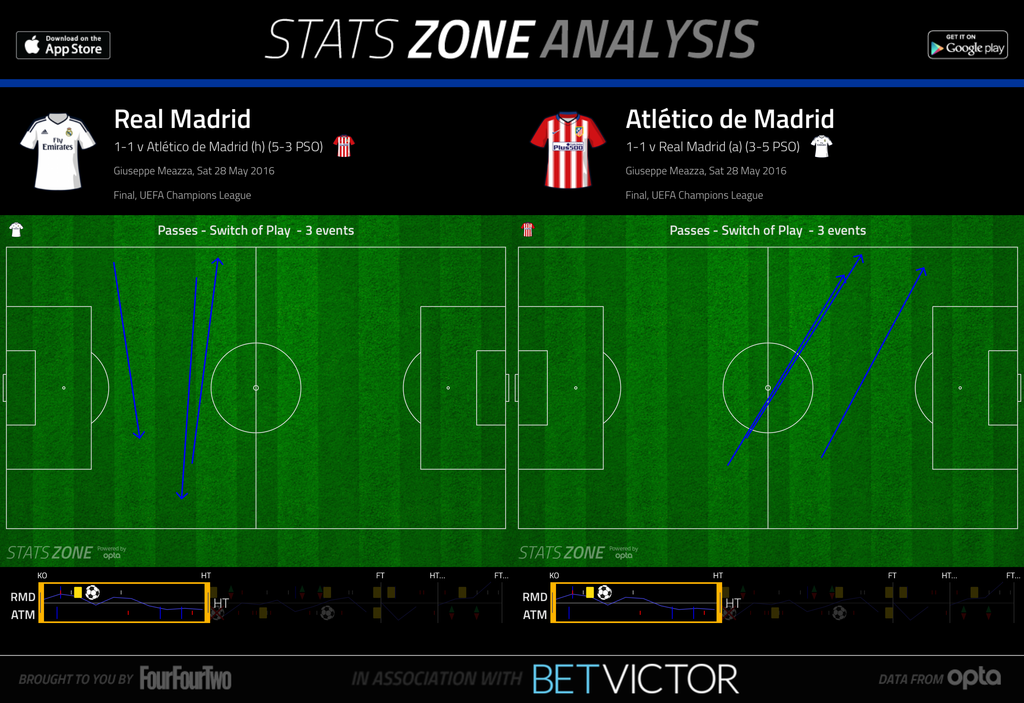 Atleti fightback
Atleti naturally grew into the game more at 1-0 down, although it was obvious their usual gameplan – winning the ball deep and countering – was going to be less viable when chasing the game. Instead, they did well to have a 5-minute period of possession play, forcing Real back and gradually asserting their authority. Finding a route to goal, though, was tricky.
Real Madrid's defensive structure wasn't great, with the wide players drifting around, swapping positions and ambling back into position. Atletico should have been concentrating their attacks down the flanks, but Saul and (in particular) Koke spent the game drifting inside into positions where Real's three midfielders could block potential passes into them. Koke, notionally the left-sided midfielder, ended up in inside-right positions, although he did have an impressive 15-minute spell before the break to put Atletico in command of the game.
Atletico's best route to goal came from switching the ball out wide to the full-backs, particularly Filipe Luis. His crossing wasn't particularly useful, although he chipped one excellent ball in behind to Antoine Griezmann, who forced Sergio Ramos to come across and charge down his shot. Playing through Filipe Luis meant Modric was often dragged out towards the flank, and Griezmann dropped deep, finding space between the lines, and had a couple of decent long-range efforts. Atletico weren't offering much more than that, however.
Atleti got 4-2-3-1
Simeone changed things at half-time – and it was the expected change. Holding midfielder Augusto Fernandez made way for Yannick Ferreira-Carrasco, the same change Simeone made at half-time of the second leg against Bayern Munich. Then, he played 4-3-3, pressed higher up the pitch and got more men forward into attack. Here, he played 4-2-3-1, with Saul tucking inside, Koke becoming the number ten, Griezmann playing on the right and Ferreira-Carrasco down the left.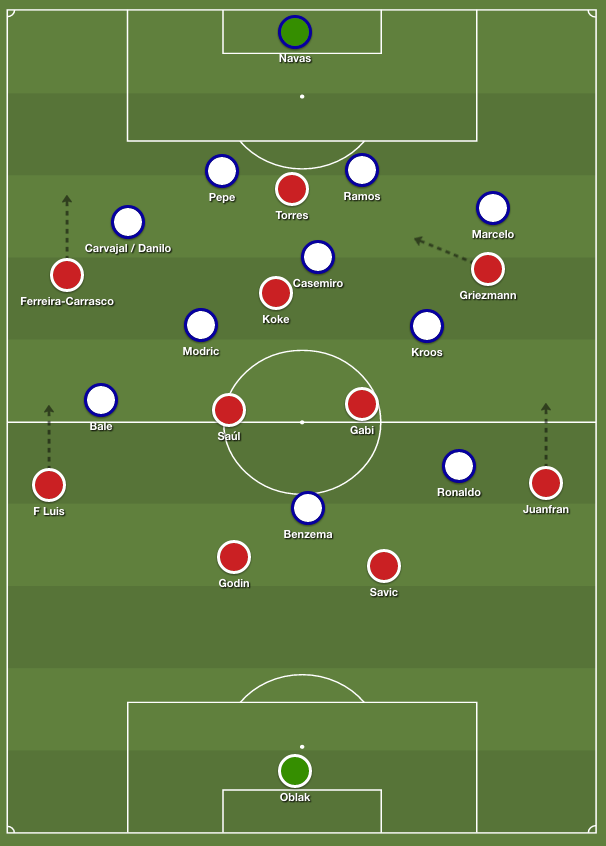 There was an immediate improvement: Atletico stretched play more, their midfielders almost obliged to look down the flanks where Atletico could create overloads in the space behind Real's wide forwards, and they had a sustained spell of pressure.
Atletico won a penalty barely a minute into the second half when Pepe brought down Torres. The striker's role here seemed more about winning fouls than anything else – he'd gone the first half without completing a single pass. Griezmann smacked the penalty against the bar.
1-1
As Atletico rallied, Zidane made two changes – youngster Lucas Vazquez on for Benzema, seemingly to provide energy as much as anything, and Isco for Kroos, a much more surprising switch.
But it was Atletico's sub who remained the key player. Ferreira-Carrasco went on some mazy dribbles to beat opponents, and was particularly effective after Carvajal was forced to depart through injury, with Danilo on in his place. The Brazilian looked completely nervous, slicing two clearances horribly, and also had no idea how to play against Ferreira-Carrasco. Sometimes he got too tight and fouled, sometimes he dropped off and couldn't cope with his trickery. Ferreira-Carrasco was clearly playing a completely different role to Koke's in the first half.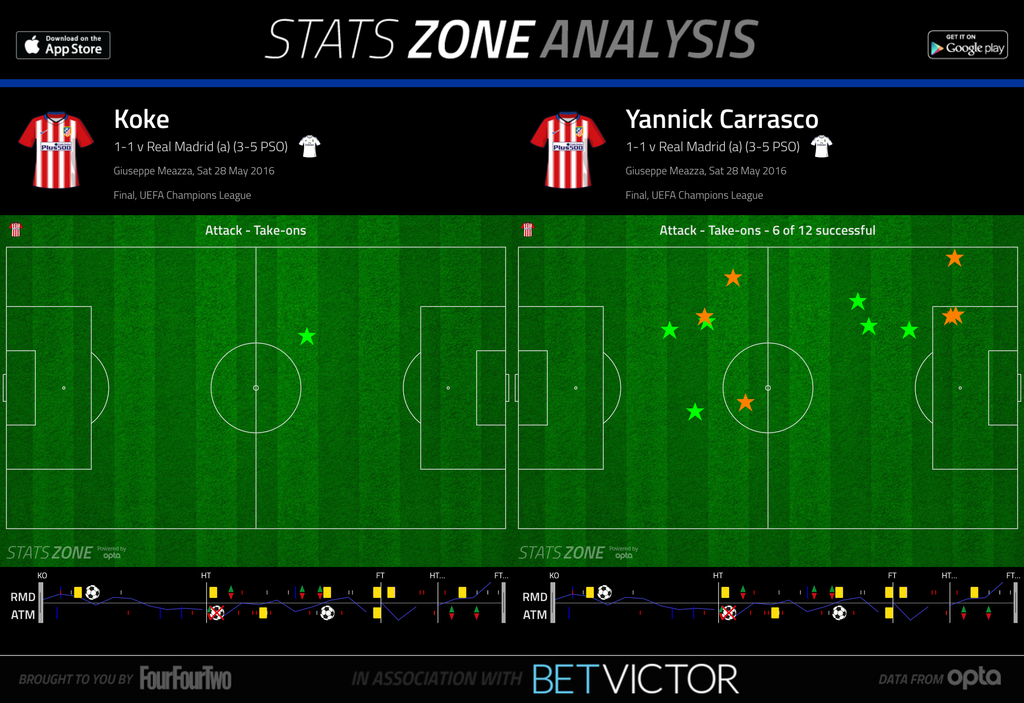 It was fitting Ferreira-Carrasco scored the equaliser, although the move originated from the opposite side of the pitch. It happened because Ronaldo, seemingly exhausted, made no effort to help defensively. Atletico pushed Juanfran forward to form a 2 v 1 with Griezmann down the right, and Ronaldo gestured for Isco, playing left-centre in Kroos' place, to move across and cover, doing Ronaldo's defensive work. Isco did, and it was now 2 v 2. This, however, left Gabi free, and Gabi jogged past Ronaldo into a position to make a 3 v 2: Atletico played the triangle, got Juanfran in behind, and he crossed all the way along the six-yard box for Ferreira-Carrasco to turn home. Real's poor defensive effort out wide, and Atletico's determination to work the flanks in this 4-2-3-1, had paid off.
Deadlock
At 1-1 the game became about counter-attacks. Real were more threatening on the break, particularly through Bale – with Ronaldo increasingly immobile, and Vazquez on the periphery. Atletico's defence was still playing rather deep, allowing Real to thread passes through Atletico's midfield, and allowing Bale space to run with the ball. Atletico's deep defending did, however, mean they made an incredible number of last-ditch blocks – including one from Savic in the lead-up to Ferreira-Carrasco's equaliser.
Real coped with Atleti's counters by making a succession of tactical fouls. The most obvious, from Ramos, came with 30 seconds of regular time remaining, prevented Atletico from making a 3 v 1 breakaway which surely would have resulted in a good chance. This wasn't the only example: Danilo pulled back Ferreira-Carrasco when he got past, while Pepe made an extremely high tackle on Gabi to stop a break. The first booking of the game had come when Carvajal had fouled Griezmann on a break, so four Real defenders were cautioned for tactical fouls. Atletico are often considered the masters of the dark arts, but here Real's fouling was one of their main tactics – and was certainly more use defensively than their front three.
The positions of the fouls are interesting. Real, aside from Pepe's penalty concession, didn't make a foul inside their own third – they were all high up the pitch to stop breaks. Atleti, however, conceded four free-kicks around the area, one of which resulted in the opener.
Extra-time was somewhat forgettable. Atletico theoretically have the upper hand because Real's attackers had tired, but they didn't really force the issue and were scared of Bale's counters. Simeone had two substitutions up his sleeve, which might have proved crucial to inject more energy, but in the end he was right to hold fire until the second period of extra-time, because both Filipe Luis and Koke were forced to depart with cramp or injury.
Eventually it came down to penalties. Arguably the most interesting feature here was that Atletico won the toss, but Gabi chose to kick second – despite the fact that teams taking the first penalty win around 60% of the time.
Eight out of nine were scored successfully, with neither goalkeeper excelling themselves – Oblak looked particularly immobile – but Juanfran hit the post, allowing Ronaldo to step up and convert. Even on a night like this, when he was quiet, not 100% and responsible for Real's concession, he still managed to be the hero.
Related articles on Zonal Marking: