Bayern 4-2 Juventus: flexible system puts Juve in charge, but Bayern subs prompt comeback
Bayern achieved a brilliant comeback in one of the best Champions League knockout games for many years.
Pep Guardiola was without Arjen Robben, so Douglas Costa switched to the right flank with Franck Ribery playing on the left. Xabi Alonso started in the holding role rather than Thiago, while Mehdi Benatia was at centre-back, with David Alaba on the left and Juan Bernat on the bench.
Max Allegri had major injury problems, without Claudio Marchisio and Paulo Dybala from the XI which started the first leg, and Giorgio Chiellini still out too. Alvaro Morata played upfront instead of Dybala, and Hernanes started in place of Marchisio – but the real point of interest was Juve's overall system.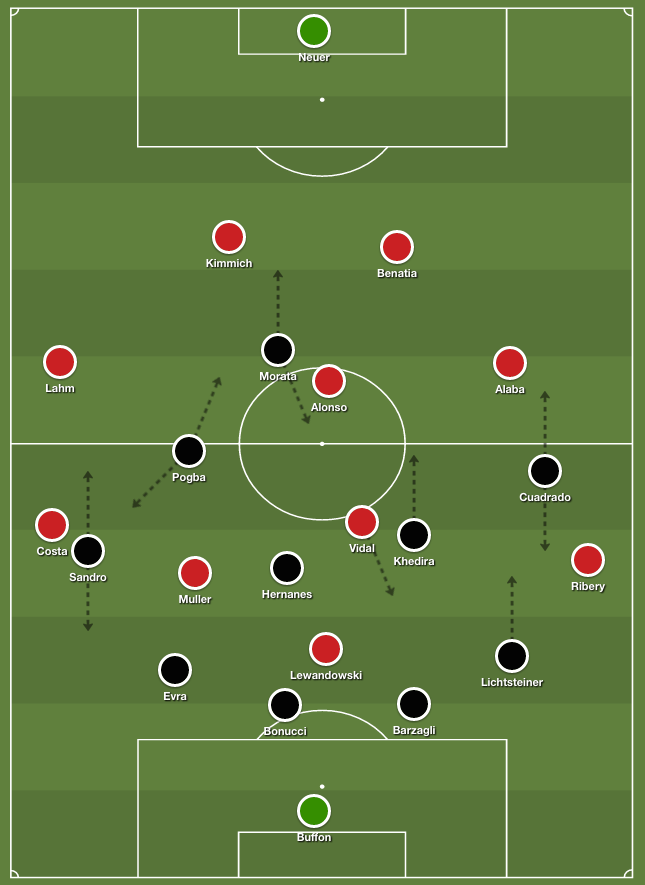 Juve 4-4-1-1…
Juventus shifted between two completely different formations throughout the first half, and the two systems had entirely different purposes.
In the opening stages, Juve pressed Bayern high up the pitch. When the Italian champions were doing this, their system was 4-4-1-1, with Paul Pogba in the number ten role pushing forward to press the centre-backs alongside Morata, the wide players pressing the Bayern full-backs, and Hernanes and Sami Khedira pressuring Alonso and Arturo Vidal. It almost felt like 4-4-2 against 4-4-2 at times, every player having a particular opponent to close down.
Through this pressure, Juventus caused serious problems. Manuel Neuer had an unusually poor game and made two mistakes in the opening half hour, committing an error when sweeping which allowed Paul Pogba an open goal for 0-1, then (and more significantly in terms of the tactical battle), playing a dreadful pass when under pressure which resulted in Morata lofting the ball into the net, a 'goal' which was disallowed for an extremely tight offside decision. The Bayern centre-backs looked nervous throughout and Alonso, never the most comfortable when pressed heavily, was unable to put Bayern in control.
Immediately after going 0-1 ahead, Juve stood off Bayern for the first time. And now it was clear they were using a different system entirely – a 5-4-1. Patrice Evra tucked inside, Alex Sandro dropped back to become a wing-back, and Paul Pogba defended the left flank. The positions of his tackles and chances created shows Pogba was playing mainly on the left.
…or 5-4-1
This wasn't a permanent shift, it was simply how Juventus were playing without the ball. If, when they pressed high up, Bayern played around the press and entered the opposition half, Juve's system would evolve from the 4-4-1-1 to the 5-4-1. The 'movement' usually happened to the left, although they were capable of doing something similar on the right, because Cuadrado has experience of playing as a wing-back. He and Stephan Lichtsteiner acted as a great duo, with the former making forward runs (often in very narrow positions for a full-back) including the run that caused Bayern problems for the opener. In general, Juve built play down the left, then spread the ball right to runners in space.
The 5-4-1 meant Juve had a spare man at the back against (essentially) two forwards, Robert Lewandowski and Thomas Muller. The only thing that caused them real problems in the first half was when Vidal made storming runs in advance of Bayern's two forwards – he got in behind once from a good Costa pass, and then nearly did something similar later on. It was basically a simple numbers game: 3 v 2 and Juve looked fine, but 3 v 3 and they had problems. Because Vidal was almost playing like a half-forward, though, it meant Bayern lacked control of the midfield zone, and were also prone to counter-attacking runs through the centre of the pitch.
It's tough to explain quite how impressive Juve's system was throughout the first half. They were simultaneously perfecting a high-pressing approach (winning the ball high and shooting immediately) and a deep block (winning the ball deep and breaking swiftly on the counter-attack).
This counter-attacking threat became more obvious as the first half continued, and the second goal owed much to brilliant work from Morata, who collected the ball deep, beat three players and then played a pass right to Cuadrado, completely unmarked, who converted coolly. Interestingly, this was the first time Alaba had drifted inside into a central position from his left-back slot (movement he makes more regularly in other Bayern games), and Bayern were immediately punished, with Cuadrado left free.
Second half
Guardiola's half-time team talk was the most important of his career. He hasn't won the European Cup with Bayern – despite taking charge of the reigning champions in 2013 – and falling at the second round stage in his final season would have been regarded as a serious failure.
First, Guardiola returned to the back four he used in the first half – the hapless Benatia sacrificed, Alaba moving inside into central defence, and Bernat on down the left flank. The Spaniard made a series of very good runs at the start of the second period, and Alaba theoretically had the speed to cope with Morata.
"Theoretically" is key here, because Morata continued to cause problems with some fantastic solo runs. He beat Alaba easily in the inside-left channel before running out of steam as he attempted a shot, and then a clever Pogba through-ball released him again in that channel. Juve were now concentrating on defence, but Morata's ability to contain Alonso, before storming forward to attack the two centre-backs, was absolutely crucial to their gameplan.
Subs change the game
Bayern hadn't really improved since half-time, and needed two goals, so Guardiola made an extremely attacking shift after an hour. Alonso was sacrificed and Kingley Coman – who recorded three assists in the weekend win over Werder Bremen – was introduced. Vidal now dropped into the holding role, Coman was deployed on the right, and Costa moved inside into a roaming central role, from where he was Bayern's best player.
The decisive change, however, was from Allegri. He clearly judged Morata to be exhausted after 72 minutes, and replaced him with former Bayern forward Mario Mandzukic. The Croatian striker is an entirely different beast, someone who plays well with his back to goal, but entirely unable to make bursts into the channels like Morata. Now, Juve had absolutely no counter-attacking threat from upfront, while Pogba, Khedira and Cuadrado all tired. It was notable that Allegri replaced Khedira and Cuadrado with Stefano Sturaro and Roberto Pereyra, two simple, up-and-down runners who could burst forward into attack when needed, presumably hoping they would combine with Mandzukic's hold-up play. It didn't work, however, and Juve were simply defending for the final 20 minutes.
Meanwhile, a minute after Mandzukic's introduction, Bayern got back in the game. Costa, drifting right from a central area, created a 2 v 1 with Coman down the right, and fired in a brilliant cross which Lewandowski headed home at the far post. Bayern were suddenly dominant down that right flank, with Juve now permanently 5-4-1, because they were always defending. Evra tucked inside, Pogba wasn't able to assist Sandro closely, and now the Brazilian wing-back was overrun. Having been unable to get the ball into the final 20 yards of the pitch in the first half, Bayern made inroads down the right flank.
Bayern take command
Bayern continued to threaten down this flank. Costa played another brilliant cross which Lewandowski nodded onto the far post – although he was offside. Then, as the clock ticked into stoppage time, it was Coman's turn to fire in a deep cross from the right, converted by Muller. It's difficult to know which was more surprising: Guardiola depending on a crossing-based approach, or this fine Juventus defence undone by such an approach. Either way, it was 2-2, and extra-time.
In a tie of incredible swings, Muller's goal felt like more than just an equaliser. Juve were minutes away from progressing, but from the outset in extra-time there was only one side who seemed likely to win: Bayern had the momentum, they looked fresher, and now Juve were extremely nervous defending deep and unable to get out. Guardiola's final substitution proved crucial. Thiago was introduced in place of Ribery, with Costa going left, and this added invention from between the lines proved crucial.
It was slightly surprising Thiago wasn't summoned earlier, as Bayern lacked any kind of creativity in central midfield for long periods. Nevertheless, his renewed energy was vital: he scored the crucial goal, to make it 3-2, because he reacted first to a loose ball on the edge of the box, played a one-two with Muller, and converted excellently. It was the type of rapid passing football in tight positions Bayern had previously been lacking.
Coman was the man to finish it all, storming down the right before curling the ball past Gigi Buffon. That was fitting, considering Bayern had made inroads down the right after his introduction – and also somehow inevitable, considering he's currently on loan at Bayern from Juventus.
Conclusion
This was a simply outstanding tie which featured ludicrous aggregate swings (Bayern 2-0 Juve, Bayern 2-4 Juve, Bayern 6-4 Juve), but was also a fascinating game tactically, between two managers who create extremely well-organised teams, but are also unafraid to try new things. There was so much interesting in a tactical sense here: 'tactics' gets a bad reputation because tight, cagey matches are charitably described as 'tactical' by commentators – but this was the most interesting tactical game you'll see all season, and possibly the best game of the season too.
Both managers deserve great credit. Juve's system for the opening hour was absolutely brilliant: two systems, two different approaches for stopping Bayern, both completely effective. They clearly ran out of steam, though – if Allegri had a proper Morata replacement, they probably would have won this tie.
Guardiola didn't do anything particularly wrong in the first half – it was more Allegri and Juve's brilliance. But he nevertheless got Bayern back into the tie steadily, and the two attacking substitutes, Coman and Thiago, both proved crucial as Bayern ran away with the game.
"During half-time I told the players that they could not afford to concede another goal, but that if we could score one ourselves, anything could happen, especially with the German mentality," said  Guardiola. "I asked them to play more down the wings, with Ribery and Costa. Then at the start of the second half Juve had some chances, but after that we took control of the game. This is football: one minute you play badly, the next you are really good."
Related articles on Zonal Marking: