Fiorentina 1-2 Roma: early goal allows Roma to sit back and counter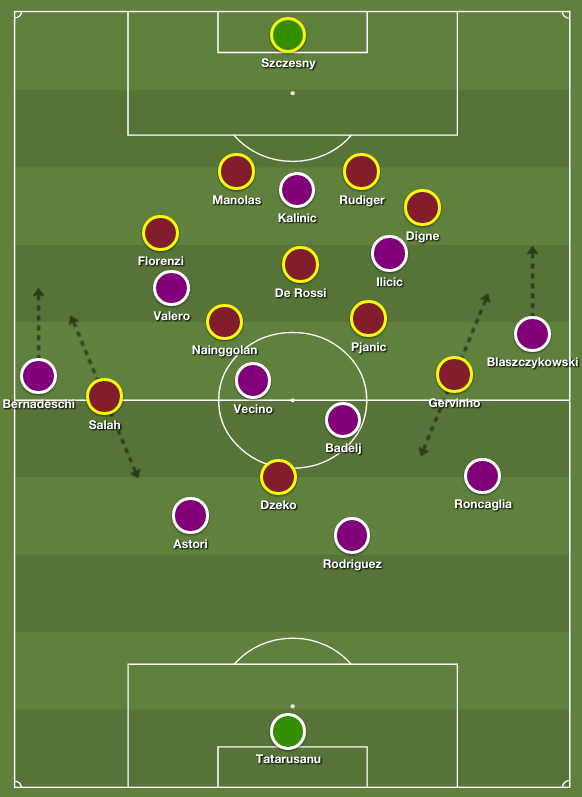 A top-of-the-table clash – Fiorentina started the weekend top, but Roma's victory means they are Serie A's new leaders.
Fiorentina coach Paulo Sousa would have kept an unchanged team from the side that was defeated at Napoli last weekend, but was forced to cope without injured left-wing-back Marcos Alonso. His solution was surprising: rather than bring ready-made replacement Manuel Pasqual into the side, he instead used Josip Ilicic from the start, which meant inexperienced attacking midfielder Federico Bernadeschi moving from a number ten role to the left-wing-back slot.
Rudi Garcia used a strikerless system in the thrilling 4-4 draw with Bayer Leverkusen, but welcomed back Edin Dzeko upfront here. Therefore, he used a 4-3-3: Alessandro Florenzi dropped back from midfield to right-back, with Vasilis Torosidis on the bench.

High-tempo start
Both these teams enjoy playing high-energy, attractive attacking football, and in the opening moments it seemed we were set for a thriller. Roma attempted to use a high defensive line and press in the opposition half, trying to disturb Fiorentina's passing from the back. The home side, however, were up for this challenge and were probably pleased to see Roma happy to contest an open game of football. One brilliant passing move in the opening minutes saw Fiorentina cut through the Roma side with a one-touch move, transferring the ball from defence to their playmakers quickly.
Roma's pressing, however, paid off just six minutes in – before the tempo cooled and the pattern of the game could become clear. Radja Nainggolan, the most effective presser on the Roma side, tackled makeshift wing-back Bernadeschi high up on the edge of the Fiorentina box, and within seconds Mohamed Salah had curled in a beautiful left-footed shot from an inside-right position. On his return to Fiorentina, Salah was being whistled by the home fans, so it was the perfect way to silence them.
Fiorentina possession
That early goal changed the nature of the game. And, while the first six minutes isn't a great sample size to judge how Roma were going to play, they surely became more defensive. They had just 32.2% of possession here (see below) their lowest share in a Serie A game for a decade. Fiorentina played almost the entire game in the Roma half.
Roma, however, spent the next 20 minutes holding a very high defensive line against Fiorentina striker Nikola Kalinic, despite the striker having already punished both Inter and Milan this season with his pace in behind. Roma's problem, though, was that they stopped pressing high up the pitch, and Dzeko was unable to occupy Fiorentina's three defenders to prevent them moving forward on the ball. The home side's defensive trio, particularly Gonzalo Rodriguez, attempted a succession of long balls into attack, and Roma had two extremely nervous moments here. First, Wojciech Szczesny swept from his goalline but came incredibly close to handling outside his box, and then found himself in no-man's land as Kalinic hooked the ball over him, but just wide.
Roma play deeper
Whether because of Garcia's instructions or through their own volition, Roma retreated. The defence now played much deeper, and Fiorentina had even more freedom in defence and midfield to dominate possession. However, they no longer had the option of using Kalinic's pace, and instead had to play more intricate football.
Initially they tried to play through their two playmakers, Ilicic and Borja Valero, who are both extremely talented creators. Against Napoli last weekend, Fiorentina's players in that zone found space because Napoli's midfielders pushed forward to press, and their full-backs became concerned with Fiorentina's wing-backs. Here, however, Roma's full-backs stuck extremely tight to Fiorentina's playmakers, almost as if Fiorentina were playing a 3-4-3 rather than a 3-4-2-1. Florenzi, for example, was cautioned for a foul on Valero in an extremely narrow position. Sometimes it felt like the full-backs were playing directly in front of the centre-backs, and the Roma backline was extremely narrow.
Wing-backs push back wingers
Fiorentina then pushed their wing-backs forward into attack, overlapping when Valero and Ilicic moved inside. The players tasked with tracking them were, inevitably, Salah and Gervinho, two natural attackers. Neither was particularly adept at tracking, although Fiorentina didn't do enough when Jakub Blaszczykowski and Bernadeschi got into advanced positions.
Still, Fiorentina were causing Roma's system real problems. For long periods Roma were effectively a 6-3-1 formation, with neither Salah nor Gervinho in a position to counter-attack quickly – and besides, Fiorentina usually had 3 v 1 at the back, in a position to stop any breakaways. They could have been braver in defensive positions – while Facundo Roncaglia can play as a right-back and sometimes moved forward on the ball, Davide Astori isn't confident enough in possession. For long periods Fiorentina's side was lopsided, with Roncaglia at right-back and Bernadeschi sometimes more like a temporary left-back.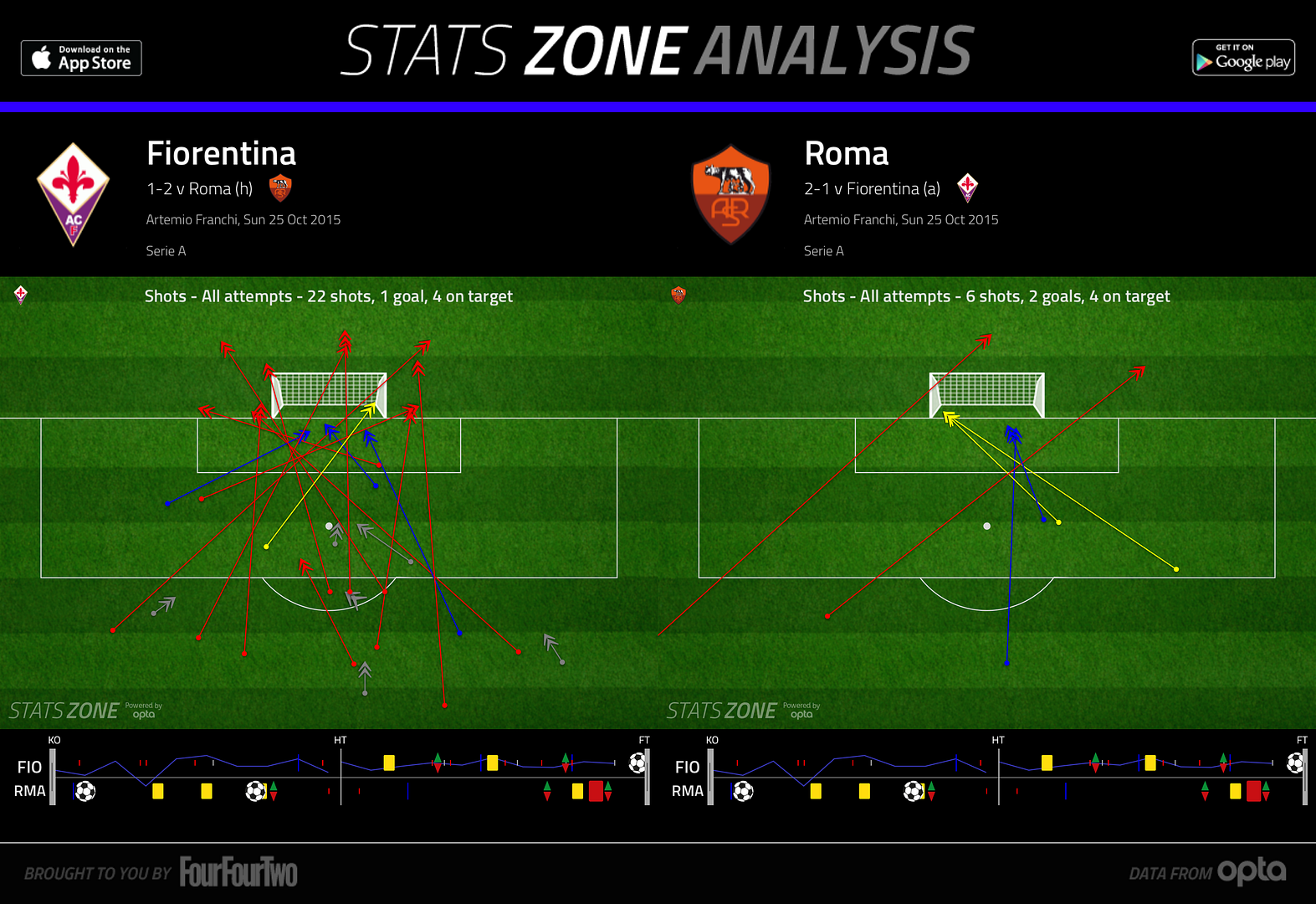 Long-range
As Fiorentina dominated possession, and Roma sat increasingly deep, space now opened up in front of Roma's defence, rather than behind it. Fiorentina took the opportunity to attempt a huge number of long-range shots – 14 of their 22 efforts in this game were from outside the box, but only one of those 14 tested Scszesny (see above). Matthias Vecino was the most frequent offender in this respect.
Ten minutes before half-time, Roma doubled their advantage through a bizarre goal. Fiorentina had a corner, which was cleared by Florenzi to Gervinho – and, amazingly, Fiorentina had no-one back on the halfway line to defend the counter. Gervinho simply dribbled for 60 yards with no challenge before sliding the ball home – he could also have passed to Salah, who was free for a square pass. Having pinned these two players in open play, and kept men back to guard against the counter-attack, it seemed incredibly foolish for Fiorentina to concede such a sloppy counter-attacking goal from their own set-piece.
Second half
At 0-2 the pattern of the game became even clearer. William Vainqueur had replaced De Rossi through injury, but otherwise little changed in the second half.
Sousa waited until the hour mark to make changes. Mati Fernandez replaced Blaszczykowski on the right and showed far more trickery, while Giuseppe Rossi came on for Milan Badelj, and went to the left. Now Fiorentina looked more like a 3-3-1-3, although as they were camped inside the Roma half and never really forced to defend, the formation became difficult to decipher. Kalinic had a couple of half-chances, but looked much less comfortable when supplied with crosses rather than through-balls.
Eventually Sousa chucked on 6′3 striker Khouma Babacar for Rodriguez in a classic 'Plan B' move 10 minutes from the end, and he banged in a goal in stoppage time – too late for Fiorentina to launch one last attack. Babacar should probably have been introduced earlier, as the challenge for Fiorentina was obvious, and a powerful central striker seemed their best bet of causing Roma's parked bus serious problems.
Conclusion
This is a stereotypical game where Roma will be cited as 'winning despite having only 32.2% possession' – but the reality is the reverse: they had 32.2% possession because they were winning for nearly the entire game. In the opening minutes, they seemed keen to dominate possession, and the game state effected the pattern of the game.
Fiorentina had the right approach for the opening half hour. There were two main approaches: bringing the wing-backs forward on the overlap to exploit the fact Roma's wingers didn't want to defend, and knocking the ball in behind to exploit the fact Roma were playing a high defensive line with no pressure on the ball. Once Roma dropped deep, however, Fiorentina ran out of ideas, and Sousa might have been bolder in his second half reorganisation.
Related articles on Zonal Marking: