Atletico 0-1 Barcelona: the Messi and Pedro combination wins Barcelona the title
Barcelona wrapped up La Liga with a 1-0 victory at the home of Atletico Madrid, the previous champions.
Atletico selection
Diego Simeone played his usual formation, but made a few changes from the team which drew 2-2 at Levante last weekend.
At the back, Diego Godin returned in place of Miranda. In midfield, Thiago dropped out and Mario Suarez came in. Upfront, Fernando Torres got the nod over Mario Mandzukic.
Barcelona selection
Luis Enrique's best XI is now established, although here he was forced to cope without Luis Suarez, who was injured. Pedro Rodriguez was the obvious replacement.
Otherwise, there were no surprises. Aside from in goal, where Barcelona rotate for the cups, this XI will start the European Cup final next month.
Match summary
We've seen this contest many times before – Atletico sit back and counter, Barcelona dominate possession. This was an exaggerated version of that – Barca had 77% possession – and the game was played at a surprisingly high tempo, especially considering the sweltering heat in Madrid. Barcelona's possession play was highly impressive at times.
Pedro upfront
Pedro has been a perennial supersub this season, particularly since Luis Suarez returned from his early season ban. The front three of Suarez, Neymar and Leo Messi have barely been injured, and therefore Pedro has been handed few opportunities – usually when Luis Enrique has been rotating against weak sides.
This was a big opportunity for him, then, and it was interesting to see him playing upfront, essentially in the Suarez role, against good opposition. While usually seen in a wide forward role, either on the left or the right, Pedro adjusted nicely to the central position, and his incessant lateral running meant he understood the nature of Suarez's role, and how it gets the best from Neymar and Messi.
Pedro penetration
Pedro made himself available for forward passes into feet, almost in the mould of a false nine at times, but he gave Barcelona another dimension by running in behind, too.
This was important, because Barca's gameplan was about shifting the play from flank to flank, forcing Atletico to work across the pitch quickly. Simeone asks his team to stay extremely compact, both 'vertically' (from defence to attack) and 'laterally' from wing to wing. This means that the team was forced to get through a huge amount of running by shifting sideways constantly: Koke and Arda Turan would be playing like additional central midfielders, then would be forced to sprint quickly to the touchlines. In this heat, it must have been exhausting.
However, Barcelona couldn't simply pass sideways without offering penetration. Messi and Neymar wanted to dribble with the ball so moved towards play, and while Pedro often came short, he also offered runs in behind. There was one moment, towards the end of the first half, when Barcelona played a passing move across the pitch from Dani Alves, to Ivan Rakitic, to Sergio Busquets, to Andres Iniesta, to Jordi Alba – and then back again. They were essentially just going sideways – but then Pedro made a run in behind, beat the offside trap, and Barca could play a through-ball. That mix of patient passing, then sudden penetration, was exactly the right mix for this challenge.
Messi drifts
Pedro often interchanged positions with Messi, who drifted inside from his right-sided role into a pocket of space between the lines.
Pedro knew he should then drift right, maintaining the width and balance of the side. They showed great understanding throughout the game in this respect, with Pedro crossing for a good Messi chance midway through the first half, after an Alves tackle in an advanced position saw Barcelona breaking directly at Atletico's defence (without their midfield in a position to protect them) something which is very rare.
Rakitic and Alves
Barcelona's good play down the right was also helped by Rakitic, who played in a more advanced role than Iniesta and orchestrated the play nicely, and Alves, who was higher up than Alba and played a couple of good crosses (and one terrible cross) into the box. He received twice as many passes as Alba, usually in more advanced positions.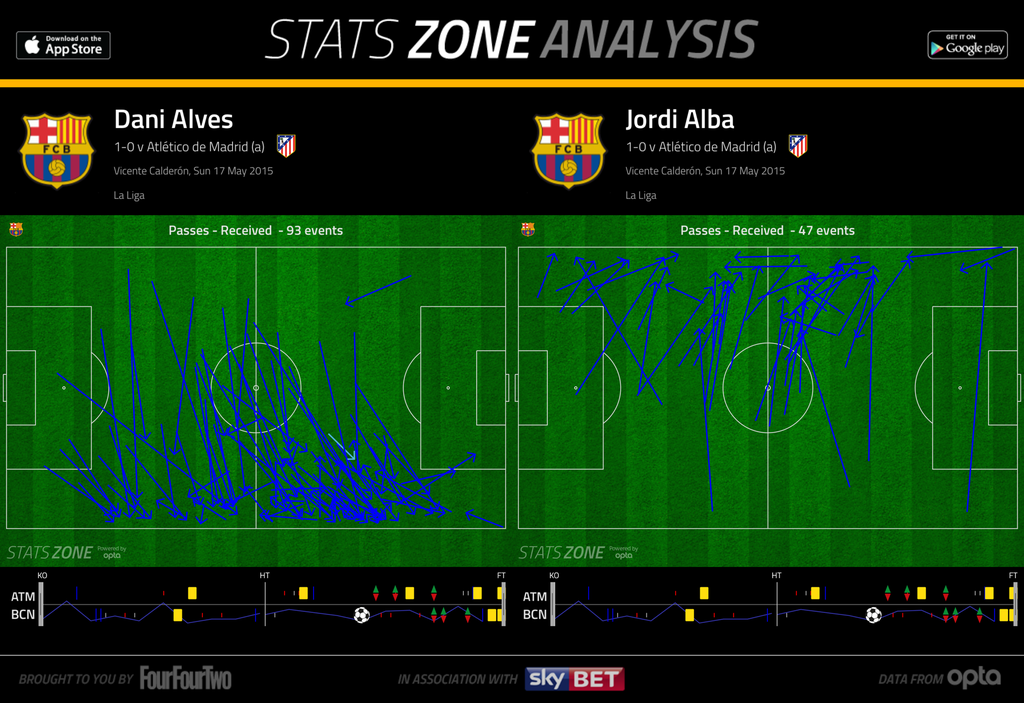 Rakitic and Alves' passing combinations were Barca's most frequent as they continually worked the right flank, attempting to attack Guilherme Siqueira rather than the more established Juanfran. Neymar was isolated on the opposite side and saw little of the ball, and he wasted his only major chance by blazing over after Pedro had pressed to win the ball, and Messi had teed up the Brazilian.
Barca shape
Another good feature of Barcelona's play was their overall shape. Iniesta and Rakitic, as they have throughout this season, stayed in quite wide positions for a 4-3-3, rather than seeking to drift inside and cross to the opposite side of the pitch. They also usually stayed behind the ball rather than looking to get beyond Messi and Pedro, and all this meant that when Barcelona's passing moves broke down, they were usually in a position to defend immediately.
It's difficult to remember Turan or Koke prompting many quick counter-attacks, which is their main attacking approach. Koke and Antoine Griezmann had both gone on decent dribbles early on, but that was when they received the ball in advanced positions anyway – Atletico weren't able to spring forward from a deep starting block. They tried lots of long balls, because sometimes Gerard Pique and Javier Mascherano suddenly pushed forward to offer another midfield passing option when Busquets was closed down, but it was rare to see Atletico gather the ball successfully from these direct passes. The contrast in the passing of the two sides was extremely pronounced.
The game was won with one moment, a quality goal scored with a combination between Messi and Pedro. The only surprise was that it came in the inside-left position, with Messi finding a pocket of space, playing a one-two with Pedro and then firing into the net. It was a fitting way for the game to be won – those two had looked dangerous all day.
Conclusion
An excellent, controlled performance by Barcelona, and revenge for Atletico winning the title at the Camp Nou exactly a year ago. This was the perfect mix of patience and penetration, a balance Barcelona haven't always found when playing against Atletico – sometimes too slow with their passing, sometimes leaving themselves exposed to quick counter-attacks.
Messi was the obvious star, both of this game and of Barcelona's season overall, but Pedro deserves praise too. As always, his intelligent movement, combined with his sheer speed, makes him a hugely difficult opponent. No other forward has combined with Messi so consistently well over the years, and his talents shouldn't be underestimated.
Barca are deserved champions, and while this side isn't as tactically fascinating as their other recent title winners, Luis Enrique has performed an impressive job. He's found a system that supports three superstar attackers – not always easy – and helped Barca successfully move on from the Xavi Hernandez era – even if he's still been part of the squad, he hasn't been a regular. The side is more structured, and a little more direct, than under the previous three managers. This could, of course, only be the first part of another treble…
Related articles on Zonal Marking: