Real Madrid 1-1 Juventus: Real attack through the full-backs but Juve hold on
Juventus qualified for the European Cup final with a 3-2 aggregate victory.
Real Madrid selection
Carlo Ancelotti surprisingly dropped Pepe and shifted Sergio Ramos back into his favoured centre-back position, after an unsuccessful stint in midfield during the first leg.
Upfront, Karim Benzema was fit to return, and otherwise it was Real's expected side, with Marcelo and Dani Carvajal returning having been rested for the weekend draw with Valencia.
Juventus selection
Having missed the first leg through injury, Paul Pogba was fit to return in place of Stefano Sturaro.
This might have also influenced Max Allegri's formation decision – had Pogba been out, he might have switched to the 5-3-2 system he used towards the end of the first leg, providing more defensive structure in a game where a draw would suit Juventus. Pogba's availability, though, meant it was worth sticking with the diamond.
Otherwise, the team was as expected.
Match summary
Juventus emerged victorious but Real dominated for long periods of this second leg, and their tactical approach worked better here.
Real push full-backs on
Ancelotti presumably rested his first-choice full-backs at the weekend (although both appeared as substitutes) because he wanted them to be fresh for this game, as they were set to play extremely energetic roles against a Juventus diamond. This concept was simple: Juventus were playing narrow, at least on paper, so Ancelotti wanted to exploit the space down the touchlines.
Marcelo and Carvajal usually took up positions in advance of deep midfielder Toni Kroos, who switched play between them regularly, trying to make Juventus work from side to side. They played different roles, though: Carvajal usually made late, overlapping runs to become involved at the far post, whereas Marcelo was regularly involved in build-up play, and was effectively a playmaker from the left.
Marcelo creates chances
Marcelo sometimes has disastrous games – he was dreadful in Brazil's 7-1 defeat to Germany at last summer's World Cup – but he's also capable of provided a hugely dangerous attacking threat. Here, he created chances all night. In the first minute he crossed for Gareth Bale to head over the crossbar, and shortly afterwards played a tremendous, Roberto Carlos-to-Cafu-style crossfield ball to Carvajal on the opposite side. He lofted a brilliant ball over the top for Benzema, and was involved in the move leading to James Rodriguez winning a penalty for Giorgio Chiellini. In the second half he created two further chances for Bale – a low ball which Bale came to the near post to meet, with Chiellini deflecting the ball just wide, then another deep cross to the far post.
His influence is summarised by the statistics: he attempted the most passes (76), the most passes into the final third (38), the most open play crosses (7) and the most dribbles (7).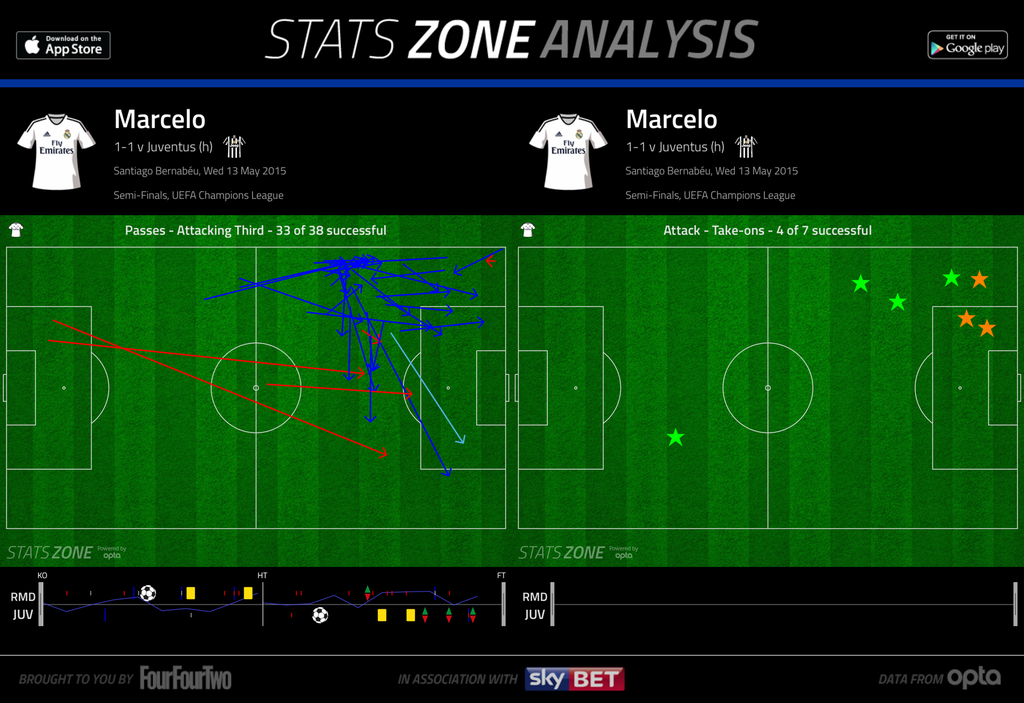 Juve flatten their diamond
Usually, diamonds respond to the threat of opposition full-backs by moving across the pitch laterally, keeping the diamond broadly in shape. The shuttlers sprint quickly out to the flanks, then are forced to recover their central midfield position when the ball is played to the opposite side.
Juventus, however, did something different, something they've done a few times this season – although, as they spent so long without the ball, it was more obvious here.
Vidal didn't spend his time marking Kroos, and instead dropped alongside Andrea Pirlo, ensuring Pogba and Claudio Marchisio could play more permanently as wide midfielders, essentially a flat four-man midfield in a 4-4-2 system. This meant Marchisio and Pogba didn't have need to get through so much lateral running, and could track the full-backs more carefully. Both players' tackles usually took place in wide midfield positions.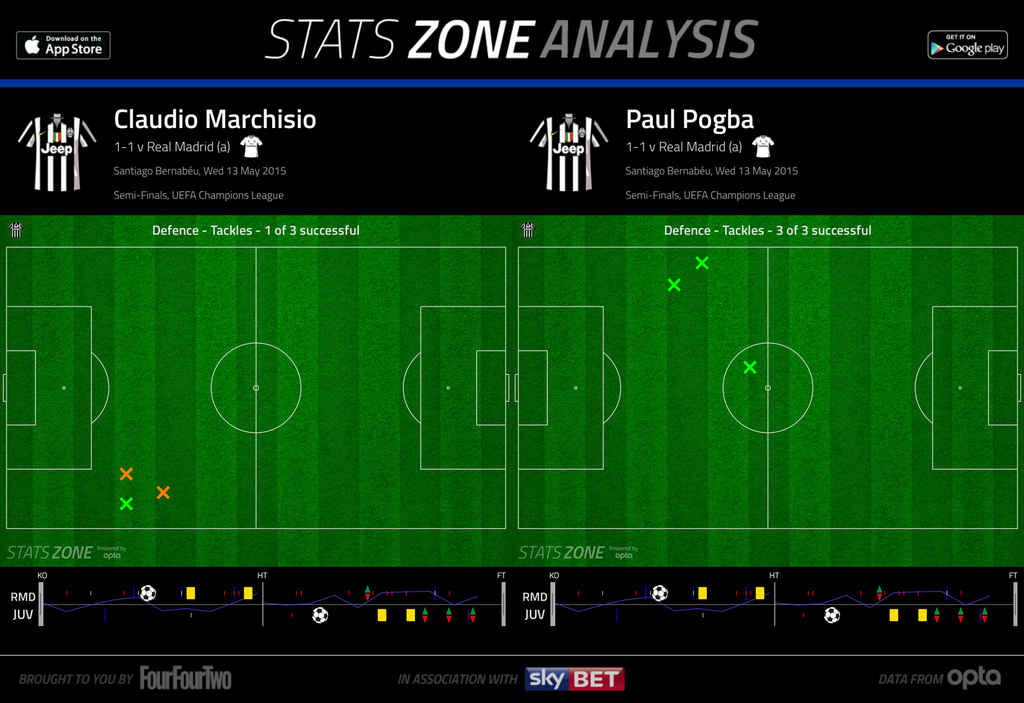 The downside, though, was that Kroos was left unmarked, and had lots of time to dictate play – his two most frequent pass routes were out to the two full-backs.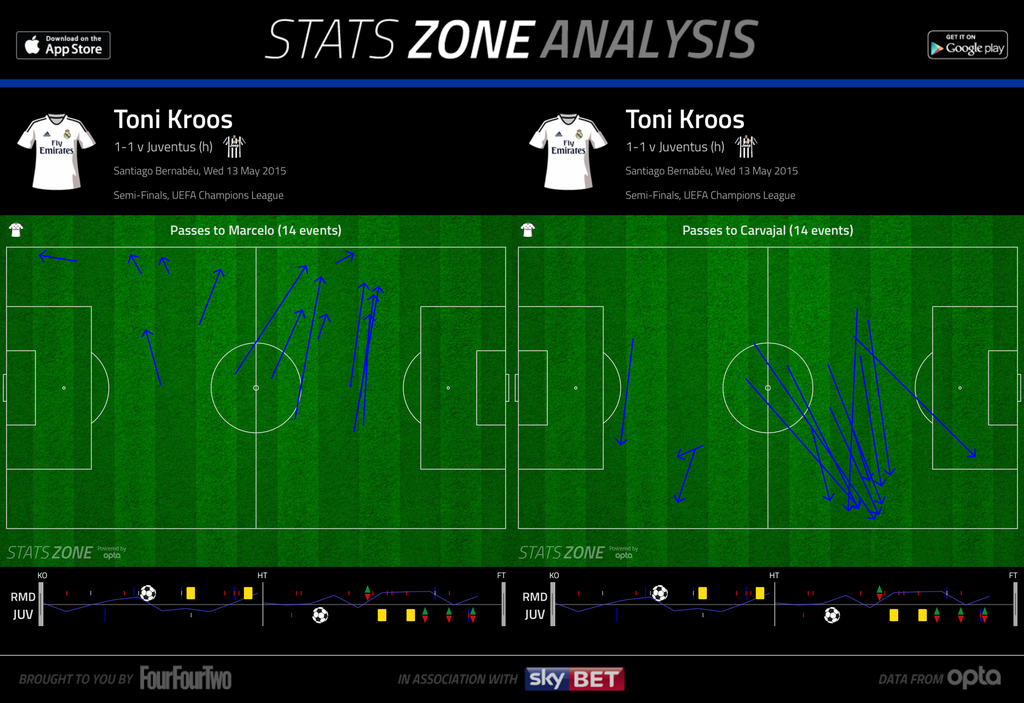 In response, Carlos Tevez and Alvaro Morata played deeper than in the first leg, keeping Juventus compact, almost as fifth and sixth midfielders. It wouldn't be a surprise if Allegri had assessed how Atletico play against Real, and tried to replicate that shape.
Real counter at 1-0 up
After Cristiano Ronaldo's penalty put Real ahead, the game changed dramatically: Real's full-backs immediately played more withdrawn roles, and Juve's did the opposite – both Patrice Evra and Stephane Lichtsteiner pushed forward.
This meant Real had opportunities to counter-attack for the first time in the tie, and with Ronaldo and Benzema remaining high up the pitch in the inside-left channel, Real countered excellently in behind Lichtsteiner. Both Ronaldo and Benzema had chances from that position in the dying moments of the first half, and Juve emerged for the second period with a more cautious approach in this position.
Juve attacks
Juve had excelled in the first leg, and in the previous round against Dortmund, by getting the ball to their forwards quickly. Here, they struggled to play good passes out from defence, partly because Real counter-pressed well when they lost the ball. Their best chance of finding the front two was when Pirlo was found, usually with balls from the right flank – he instinctively hit first-time passes 'around the corner' into Tevez, who was dropping deep into a position between the lines.
Real coped with Juve's front two better than in the first leg, though, particularly as Ramos was in defence and played proactively intercepting balls intended for Tevez, or getting in a quick tackle. At one stage in the second half, shortly before Juve's equaliser, Tevez and Morata both threw their hands up in the air simultaneously after yet another poor attacking transition from Juventus – they weren't getting the ball, and Real were piling on the pressure. Morata scored Juve's crucial equaliser, but it was following a set-piece rather than through their intended attacking tactics.
Juve hold on
The final half hour was all about whether Real could get a second goal. The problem, though, was that they had few attacking alternatives from the bench – Javier Hernandez replaced Benzema, but this was mainly because the Frenchman wasn't 100% fit, and had tired. Jese was available if Ancelotti had wanted to change system, but he decided to stick with the 4-3-3.
Juventus' defenders played well, both individually and as a unit. The full-backs were rarely beaten by Ronaldo and Bale on the ground, with Bale primarily dangerous when meeting crosses from the opposite flank. The centre-backs coped well with Benzema's movement, while also getting across to cover if other players found themselves in goalscoring positions – there were a couple of crucial last-ditch interventions from Chiellini, for example.
Nevertheless, Allegri felt the need to introduce an extra centre-back, with Andrea Barzagli replacing Pirlo. Juve moved to the 5-3-2 system, and shut up shop – although they did have one excellent chance, through Marchisio, at a time when Real were leaving players up the pitch.
The result essentially came down to what happened in the Juve penalty box. Real had some good chances, a succession of other good half-chances too, and created more promising situations over the course of the tie. But Juve could depend upon two outstanding centre-backs and an excellent goalkeeper, and in that sense, while Juve play an attractive possession-based game in Serie A, they fell back upon 'traditional' Italian virtues here.
Conclusion
Marcelo was the key player here. Given license to play as a left-winger, he constantly created good situations for the home side, and only poor Real finishing – and good Juve defending – meant his advanced positioning and creativity failed to win the tie for Real.
Overall, Juventus' victory over the two legs came down to very small factors, from Stefano Sturaro's incredible block on James Rodriguez's header in the first leg, to Iker Casillas' inability to get enough on Morata's 'winner' here. Nevertheless, questions will be asked about Real: whether the composition of their squad offers them enough balance, especially in the deep-lying midfield positions; Ramos' first leg performance summarised their woes here. Ancelotti, somewhat inevitably, could pay with his job, although it's worth remembering Real went on a 22-game winning run midway through this season. Fatigue and injuries, as much as tactical incompetence or poor dealings in the transfer market, has been their undoing.
Juventus will be underdogs in the final, and their defenders will have to produce truly outstanding performances to stop Barca's front three. However, considering they'll be playing against a 4-3-3 with great individuals upfront, creative midfielders aplenty and attacking full-backs, this tie has been good preparation.
Related articles on Zonal Marking: