Real Madrid 1-0 Atletico Madrid: poor Atletico transitions mean Real dominate the entire tie
Javier Hernandez struck in the 178th of the 180 minutes in this European Cup quarter-final, but Real had been the better side throughout.
Real selection
Carlo Ancelotti had a mini-injury crisis, with Karim Benzema, Gareth Bale, Luka Modric and Marcelo all out.
This meant Javier Hernandez, Fabio Coentrao and Isco were all recalled, although the replacement for Modric was more surprising – Sergio Ramos was fielded in the middle alongside Toni Kroos, as Ancelotti's system was more 4-4-2, or 4-2-2-2, than 4-3-3.
Atletico selection
Diego Simeone elected to leave out Gabi, with Koke fielded in a central role and Saul on the left wing.
However, Simeone reverted back to his usual approach at half-time, with Gabi returning, Koke pushing out wide, and Saul withdrawn – suggesting Simeone felt his initial starting selection wasn't right.
Match summary
We've come to expect Real dominating possession and Atletico sitting back, staying compact and then playing on the counter-attack. However, Atletico simply weren't able to launch many breaks, and therefore found themselves effectively parking the bus for the majority of the game. Real had plenty of chances, and only Jan Oblak's heroics kept Atletico in the tie.
The problem with this contest, however, is that it's simply happened too often. This was the eighth Real v Atletico game this season, and the 13th since the start of last season. The pattern to the game is familiar, and the main points of interest weren't about the overall tactical battle, but very small things. Therefore, a rundown of some of these minor points is more interesting…
Ramos in midfield
This worked surprisingly well, considering Ramos had struggled badly the last time he was fielded in this role, in a defeat at the Camp Nou last season. Here, his distribution was sharp, his positioning very intelligent, and he formed a good partnership with Toni Kroos.
The interesting thing about Ramos' role, though, was that because Atletico's forwards play so deep without possession, Ramos was essentially going toe-to-toe with opposition strikers, like Mario Mandzukic. In that respect, he was basically playing his usual centre-back role, simply 20 yards higher up the pitch. It makes much more sense, in a way, to field centre-backs in the centre of midfield against Atletico – you don't really want Kroos as the man to halt counters, because he lacks that ball-winning ability.
Real centre-backs given freedom
On an related note, because Mandzukic and Antoine Griezmann were so deep, Real's (actual) centre-backs had all the time they liked in possession.
They were the only free players – Real's other eight outfielders were essentially being marshalled by a barrier of ten Atletico players, who pressured Real's attackers immediately when they received possession. This means the importance of having two good ball-playing centre-backs becomes huge, and arguably Pepe and Raphael Varane should have done more to bring the ball forward, draw an Atletico player towards the ball, and open up space for a teammate higher up. Obviously, you don't want your centre-backs flying forward, leaving gaps at the back and allowing Atletico to counter, but with Ramos able to drop into the back, a little rotation might have opened up the opposition and allowed Real to play through the centre more.
Simeone changes shape
Diego Simeone clearly realised his system wasn't working, because around 30 minutes into the game he switched formation. He moved from the 4-4-2 to more of a 4-1-4-1, with Griezmann sent out to the left flank and Saul moving inside to the middle.
Atletico are capable of playing in this manner, but their positional discipline isn't quite so impressive, and Tiago isn't really a natural holding player either. Furthermore, it meant they were even less likely to launch quick counters because…
Mandzukic lacks dynamism
Mandzukic has performed reasonably well in his debut Atletico campaign, but he can't hope to replicate the dynamism provided by Diego Costa (and, to a lesser extent, David Villa) last season. He's a natural number nine, a target man and while his defensive discipline has always been impressive – his work rate for Bayern under Jupp Heynckes was often startling, especially in the Champions League – he lacks the speed to turn defence into attack quickly.
This is why Griezmann has generally been fielded upfront this season. When he arrived from Real Sociedad he was considered a pure left-winger, and many thought Koke would become the number ten in something of a 4-4-1-1. But Griezmann has the pace Mandzukic doesn't, which means Atletico can drive through the centre quickly and catch the opposition out before they have time to get behind the ball. With Griezmann on the left, though, Mandzukic is starting 80 yards from the opposition goal and Atletico have little hope of him being able to push up the pitch.
Hernandez's runs
Javier Hernandez hasn't been handed many opportunities this season – this was a rare chance to impress. It was the archetypal Hernandez performance – he wasn't involved much in build-up play, he was always on the shoulder of the last defender, and he grabbed the late winner by converting into an empty net.
The goal was, amazingly, his seventh shot of the evening – more than the entire Atletico side managed. The reason he continually gets so many chances is because his runs are genuinely excellent – they're well-timed and his acceleration means it's difficult for defenders to respond. He's best at making runs on the outside of the centre-backs, which is why the majority of his chances came from tight angles – only his goal, a pull-back from Cristiano Ronaldo, and an earlier blocked header from a James Rodriguez cross (not Hernandez's speciality at 5′9, although his heading itself is quite good) came from positions between the posts.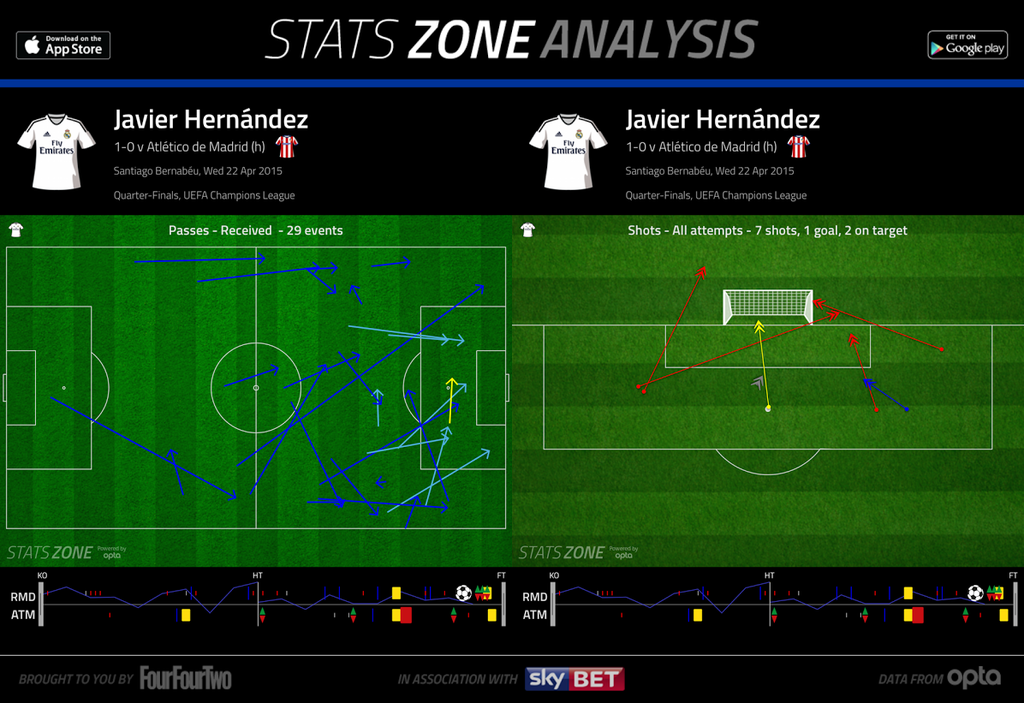 Kroos pass
With Ramos just behind him, Kroos was given responsibility to play a little higher up the pitch, more similar to the role he played with Bayern, or for Germany at the World Cup. With Atletico playing very narrow, Kroos generally spread the ball out wide, trying to get Real flying forward down the flanks.
On one occasion, however, he played a short, straight ball into the feet of James, and this was possibly the only time Real actually played through Atletico, rather than going around their midfield block. James then crossed for Hernandez's aforementioned headed chance.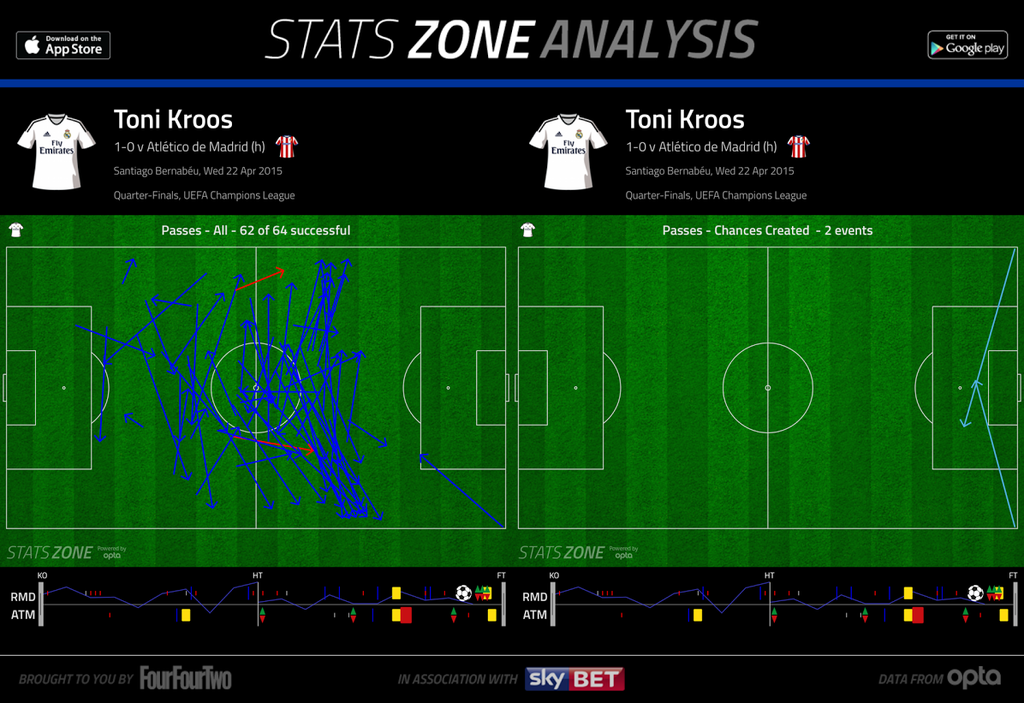 Atletico first pass
This was the defining feature of the game – Atletico simply couldn't hit a good pass out of the defence to launch breaks. This was partly because Real pressed well high up the pitch (Carvajal getting tight to Mandzukic and winning the ball for a Ronaldo chance towards the end of the first half is particularly notable) forcing panicked passes, and also because the midfielders (and Ramos in particular) positioned themselves intelligently to guard against breaks.
This is a huge problem for counter-attacking sides – with their primary approach to goal disrupted, it means the perception of their performance changes entirely. Atletico weren't actually any more defensive here than when they thrashed Real 4-0 earlier this year, but because their attacking transitions were non-existent, they spent the entire game inside their own half.
Simeone subs
Simeone made three big switches here. The first was the switch to 4-1-4-1 for the latter period of the first half. The second was the half-time switch, with Gabi on, and Koke wide.
The third came when Atletico went down to ten men, after Arda Turan had been sent off. The introduction of Jose Giminez for Thiago indicated a move to 3-5-1 / 5-3-1. In theory it should have provided more cover at the back (and more set-piece threat), yet James, Ronaldo and Hernandez combined almost immediately to score the crucial goal – did Simeone hurt the defensive cohesion his side depends upon?
Conclusion
The star of the two legs was Oblak, who made a succession of truly excellent saves. That summarises Real's dominance – they should be praised both for piling constant pressure on Atletico, and for guarding against counter-attacks.
We didn't learn much about either side overall, but Ancelotti has discovered Ramos and Kroos can be useful in different roles, and might consider using Hernandez a little more, too.
Related articles on Zonal Marking: