Porto 3-1 Bayern: Porto press effectively
Porto recorded a hugely impressive victory, largely thanks to their intense pressing in the opening stages, which put them into an early two-goal lead.
Porto selection
Julen Lopetegui was still without forward Cristian Tello, who had scored five goals in four games before suffering a thigh injury.
The good news, however, was that captain and centre-forward Jackson Martinez was fit again to lead the line, despite initial fears he wouldn't even make the second leg. The rest of the side was as expected.
Bayern selection
Pep Guardiola was without his two wing wizards, Franck Ribery and Arjen Robben, which meant Bayern were forced to play in a somewhat narrow system which was roughly 4-3-2-1.
David Alaba, Mehdi Benatia and Bastian Schweinsteiger were also missing, which meant that while Guardiola was still able to call upon a solid group of players, he didn't have many tactical options or alternatives from the bench after half-time.
Match summary
Porto played this very impressively, pressing intensely in phases to win the ball in dangerous positions, before gradually sitting deeper and remaining compact.
Pressing
There was one overriding tactical theme in this game – Porto's pressing – to the extent that it seems silly to talk about anything else.
Porto's first two goals both came directly from pressing high up the pitch – indeed, if you wanted to demonstrate to someone precisely what pressing is, and why teams do it, the first 15 minutes here would be the perfect example. But it was particularly significant that it was Guardiola's Bayern so exposed by pressing, considering Guardiola is himself such a fan of pressing, and, meanwhile, packs his side with players comfortable playing out from the back to ensure his team isn't exposed this way.
Phases
Lopetegui's players didn't chase frantically all over the pitch non-stop. In fact, in the opening moments they took up a 'medium block', with Martinez dropping back to a position near Xabi Alonso, the defence remaining high and Porto trying to stay compact in the centre of the pitch. The key to the pressing wasn't constant closing down, but cohesive closing down in phases: If Martinez or Ricardo Quaresma, usually the highest players up the pitch, decided to close down an opponent, the rest of the attackers and midfielders would replicate the movement.
But if no good moments to press were detected, Porto would stand off and sit deeper. This was why they managed to press in the early stages to such good effect, yet didn't tire later on, which is the main problem with the approach.
2-0
The two goals were extremely simple, both involving Bayern's deepest player being charged down when in possession, and getting caught on the ball.
First it was Martinez dispossessing Alonso, before being brought down by Neuer (Quaresma converted the penalty) and then Quaresma repeated the trick to catch out Boateng, before stereotypically finishing with the outside of his right boot. On both occasions it was the first presser who won possession – so often pressing is successful when the man being closed down plays a panicky pass, which is then intercepted, or its recipient is tackled immediately. This was just the most stark, obvious demonstration of successful pressing imaginable.
When Bayern were able to work the ball forward, they found Porto were well organised. The midfield format was interesting, with Casemeiro moving forward if Hector Herrera was closing down higher up, getting very tight to Thiago Alcantara and ensuring Bayern couldn't work the ball through midfield easily. Casemeiro was actually booked for a foul on Thiago, summing up how close he was getting.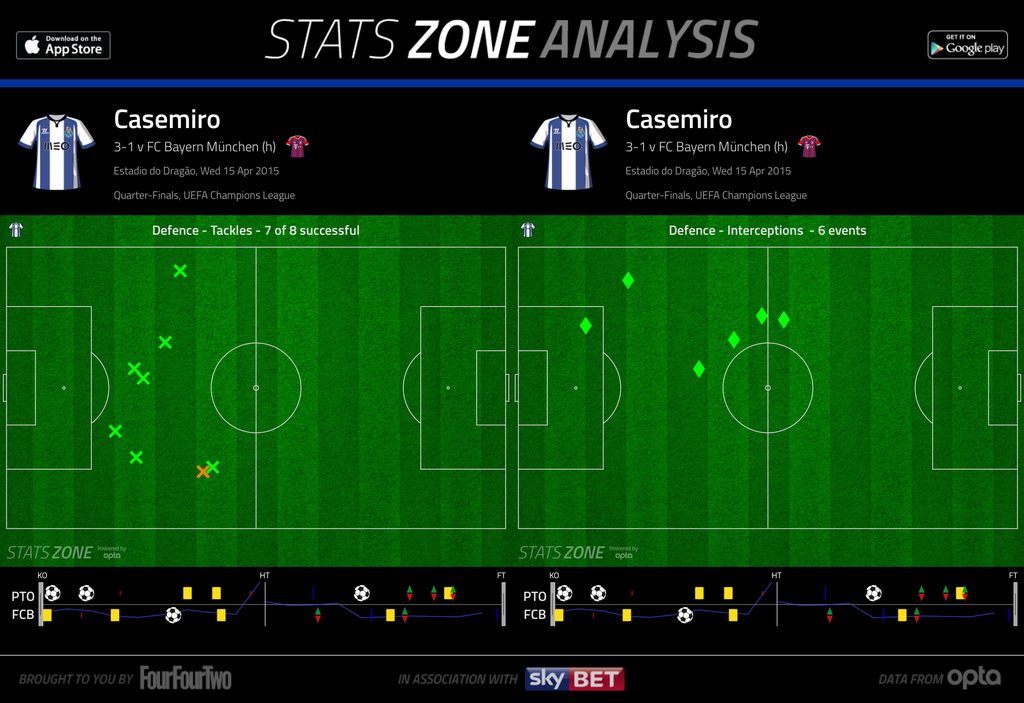 Equally important was the role played by Yacine Brahimi on the left. He stayed surprisingly deep without the ball, which helped nullify Philipp Lahm when Bayern's captain made shuttling runs out towards his more natural right-back position. The Algerian also impressed because he was comfortable dribbling past Bayern players in deep positions, often allowing him to bypass the press and play a good lateral pass to a teammate in space. He was much more useful in this sense than Quaresma, who stayed higher up.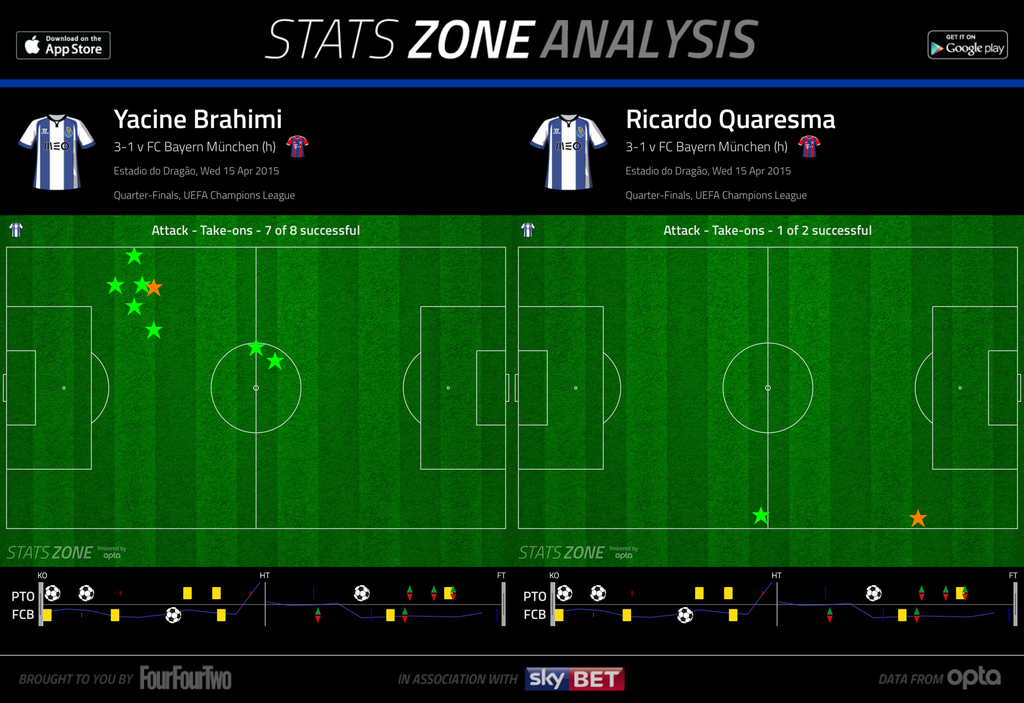 Porto's full-backs, meanwhile, got tight to Rafinha and Bernat – and often won the ball cleanly – but both were cautioned and will miss the second leg, a huge blow for the Portuguese champions.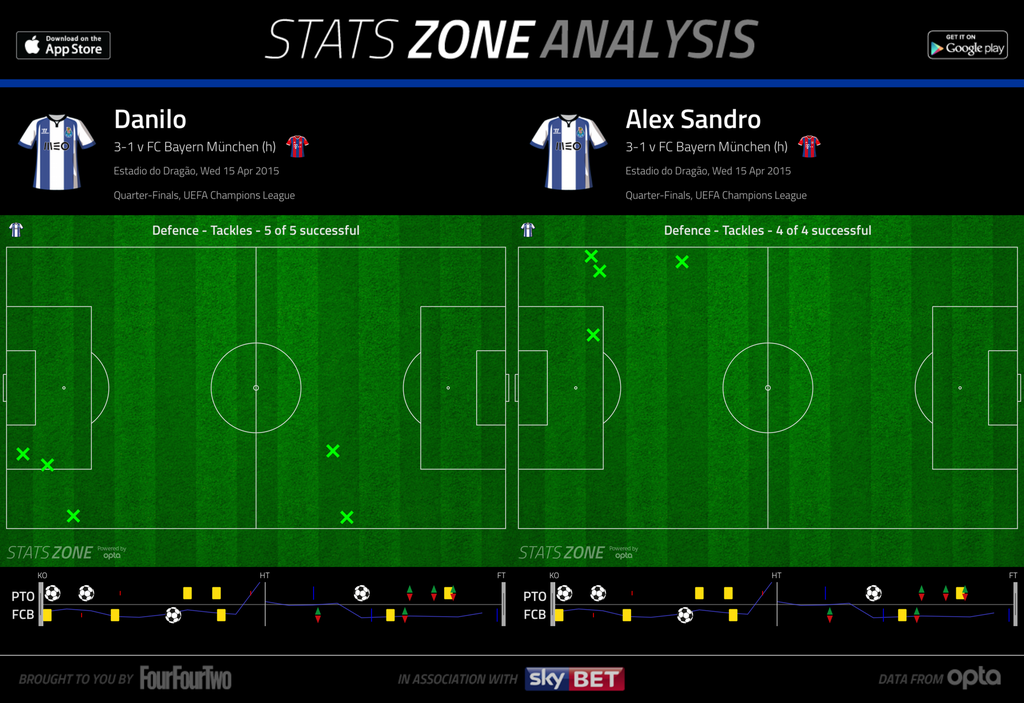 Initially Porto played proactively and appeared content for Bayern to dominate the wide areas – without Robben and Ribery, they're much less dangerous in those zones. But when Porto became more reactive gaps opened up in the centre of the pitch – in fact, it was when they were in a halfway house between the two approaches that they seemed to have most problems. Alonso, for all his struggles, played a couple of excellent penetrative passes past Casemeiro and into the space between the lines.
Bayern goal
But still, the most interesting things happened when Porto pressed. Although Bayern got back into the tie with a crucial away goal, even this move was nearly disastrous. Alonso took a corner on the left, but played the ball backwards towards the halfway line, where both Juan Bernat and Rafinha came under immediate pressure and were forced into panicky passes. Eventually the ball found its way to Jerome Boateng, who crossed excellent for a Thiago tap-in – but Bayern were dicing with death in deep positions, and nearly conceded a third clear-cut chance in identical fashion to the first two.
Bayern, and particularly the players involved in the first goal, Alonso and Neuer, were spooked by the (sporadic) heavy pressure and made further mistakes after half-time. Neuer made a poor forward pass which was intercepted by Casemeiro, who attempted a long-range shot which didn't quite have enough power to send it back over Neuer's head, while Martinez again caught Alonso dallying when stationed between his own centre-backs, and forced the Spaniard into a desperate last-man tackle on the Porto captain.
Changes
Whereas Lopetegui essentially kept the same shape throughout the game, Guardola made alterations. Sebastian Rode replaced Mario Gotze and played deeper, receiving more short balls to feet and playing a couple of penetrative passes into the final third, too. That said, his movement was more predictable than that of Gotze, and Porto were comfortable now they were playing up against only two attackers, and no-one else looking to break beyond.
Porto restored their two-goal lead with a simple long ball to Martinez which Boateng woefully misjudged. Guardiola then took the curious decision to replace Alonso with Holger Badstuber, who went to his usual position of centre-back with Boateng advancing into an unfamiliar holding midfield position. In truth, this just summed up Guardiola's lack of alternatives with so many key players out injured, and Bayern never looked like launching a comeback.
Conclusion
This was all about pressing. It was intelligent pressing: sudden, cohesive and sporadic enough that Porto didn't tire.
And yet it was also very simple: Porto weren't pouncing on misplaced passes or tackling a man as soon as he received a forward pass, but instead they just closed down Bayern's deepest player, won possession, and were through on goal. The similarity in the first two goals was remarkable, and never before has a Guardiola side been outpressed in such a manner.
Related articles on Zonal Marking: