Marseille 2-3 PSG: Bielsa's pressing has positives and negatives
Paris Saint-German attacked directly and created lots of chances against a ludicrously proactive Marseille side who pressed extremely intensely until they tired.
PSG maintain their position at the top, with Marseille in third, behind Lyon.
Marseille selection
Marcelo Bielsa was without suspended defensive midfielder Giannelli Imbula, so Mario Lemina came into the side.
Jeremy Morel returned on the left of the defence, and otherwise the side was unchanged.
PSG selection
There were few surprises from Laurent Blanc. Javier Pastore and Edinson Cavani got the nod over Ezequiel Lavezzi out wide.
Blanc had a problem at the back, however, when David Luiz limped off midway through the first half with a hamstring injury. Gregory van der Wiel replaced him and played right-back, with Marquinhos pushing inside into the middle.
Match summary
Big Ligue 1 games are often somewhat dull, but this was an extremely enjoyable, high-tempo game – largely because of Marseille's pressing.
This had benefits and drawbacks, however, illustrated by the chances at both ends.
Formations
Half of this is easy. PSG played their usual 4-3-3 / 4-1-4-1 system, although it often looked more like the latter because Marseille were dominant in the opening stages, winning the ball quickly and preventing PSG were advancing up the pitch. With the home side's wing-backs forcing back PSG's wide midfielders, often Zlatan Ibrahimovic was isolated – although Javier Pastore, Edinson Cavani and Blaise Matuidi all got forward to support him quickly when PSG launched counters.
Marseille's formation is more complex. Usually, you determine a team's formation by looking at their shape without the ball, but because Marseille were man-marking their opponents so tightly, it was impossible to see a clear formation at times. The positioning of the defensive six players was entirely dependent upon PSG, and therefore this was a cross between a 3-3-1-3 and a 4-2-1-3, Bielsa's two favoured shapes. The confusion came from the role of Alaixys Romao, who tracked Pastore so tightly that he often moved into midfield despite notionally being on the right of a defensive three. In turn, however, Lemina would often drop into the backline to cover. It was, in truth, a bit of a mess at points throughout the first half.
Marseille pressing
Bielsa, and therefore Marseille, are all about pressing. Here, they were so determined to press from the start that PSG had to re-take the kick-off because there were Marseille players already in the opposing half…
Marseille sometimes looked to press PSG's defence, with Dimitri Payet moving forward to join Andre-Pierre Gignac, but their pressure was more noticeable when PSG attempted to work the ball into midfield. This, in terms of pure formations, was probably where PSG had the numerical advantage, but Bielsa (as usual) told his wing-backs to push inside and help press PSG's midfielders. In that respect, Benjamin Mendy and Brice Dja Djédjé aren't exclusively wing-backs – they're wing-backs in possession, and more like shuttlers on the outside of a diamond when the opposition have the ball.
The biggest problem was in deeper positions, however, where Marseille simply seemed unable to man-mark without leaving oceans of space at the back. Sometimes it was difficult to work out what was going on – at points Morel and Fanni were in a position you'd expect of a three-man defence, but Romao's pressing meant the right half of the pitch was entirely vacant – see the average position diagram below. At other times, Fanni found himself 15 yards behind the rest of the defence. Then, moments later, he'd be 20 yards in front of the other two defenders, tracking Ibrahimovic into deep positions. It felt like the free man was Lemina, hence why he was dropping back into a deeper position, almost as a sweeper, but this was hardly a reliable approach with PSG getting men forward in advance of Ibrahimovic.
And this was how PSG generally attacked. Ibrahimovic, a far more complete player than a mere goalpoacher, came deep to drag defenders out of position in the mould of a false nine, and then Pastore and Cavani bombed into the space. Pastore had an early one-on-one chance which he dragged wide (from a Verratti pass), and then played a neat chip to Cavani as PSG again attacked in behind quickly. It seemed only a matter of time before PSG went ahead.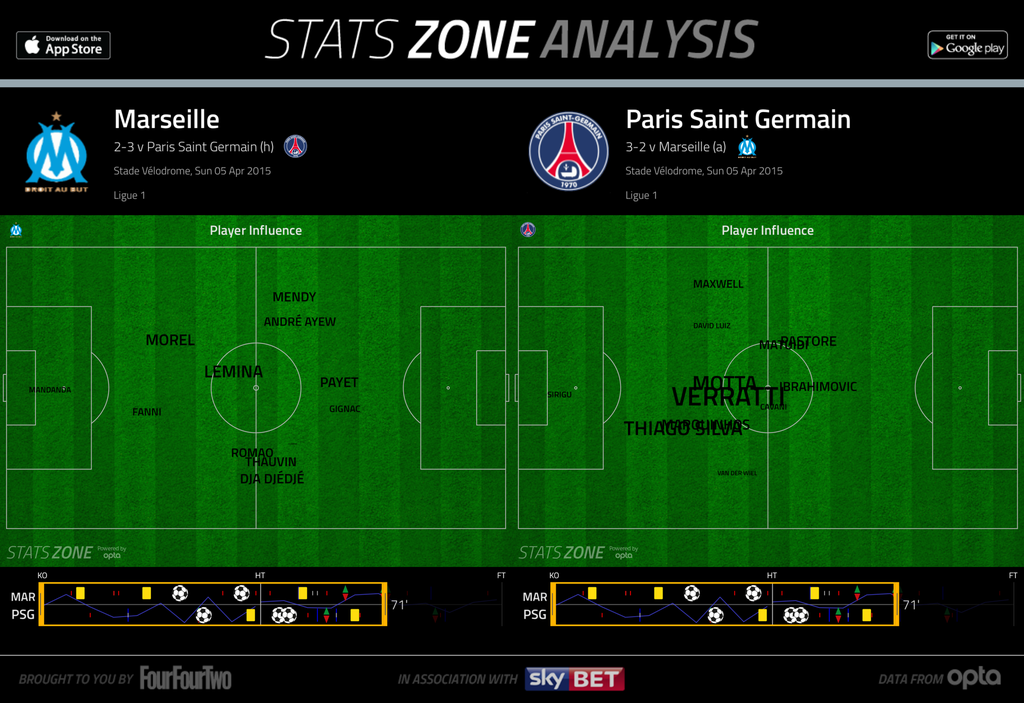 Marseille attacks
Instead, Marseille took the lead. Their attacking was usually based around their dominance of the flanks, with the wing-backs storming forward and the wide players capable of operating near the touchlines, or inside in the channels. The focus upon working triangles in these positions was helped by the lateral movement of Payet, who drifted into pockets of space either side of Thiago Motta.
The opener was interesting – Gignac found himself wide on the left, and switched play with a big pass out to Payet on the right, before charging into the box and heading home the cross. That summarised Marseille's approach, with the two central attackers briefly on opposite flanks – they were looking to work the wide zones. Their chances often came from crosses, whereas PSG played more straight passes from deeper zones.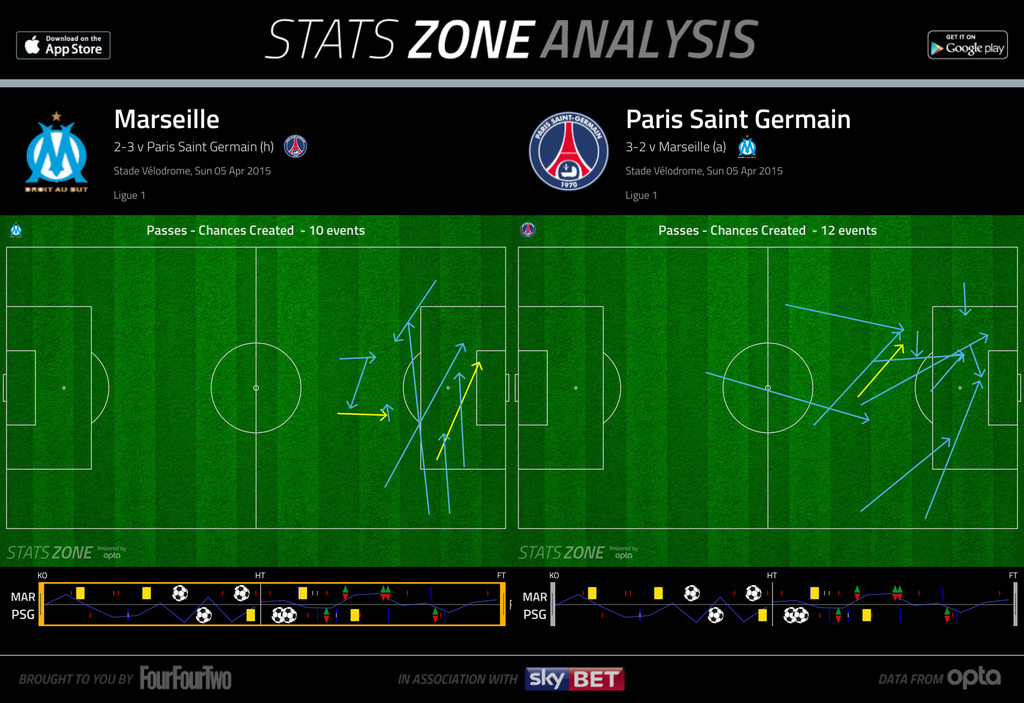 Verratti positioning
PSG wrestled control of the game thanks to Verratti, who dropped into a deeper zone, helping his side dominate possession and work the ball forward neatly. The equaliser was another interesting goal, because a brief switch between Motta and Verratti, with the former moving forward into an advanced position, seemed to confuse Marseille and opened up a large gap in the centre of the pitch. Matuidi curled the ball home from outside the box.
After the equaliser, PSG had their best spell of possession, largely thanks to Verratti's composure in deep positions. However, the Italian ruined all that hard work by playing a hospital pass to Pastore, heavily under pressure from Romao, which caused Marseille's second goal.
And this was yet another interesting goal. First, because you can see the way PSG had switched to a three-man defence, with the centre-backs spreading to allow Verratti to drop between them – that was disastrous once the passing move broke down. Second, and more crucially, because it showed the benefit of Marseille's pressing. Yes, they were often leaving themselves hugely open at the back, but winning possession so high up the pitch, with PSG's defence nowhere to be seen, was obviously very useful. Gignac slammed the ball home to put Marseille 2-1 up at the break.
Second half
PSG equalised with a somewhat fortunate Marquinhos goal, but from that point they were the better side. Marseille pushed forward somewhat naively and left even more spaces at the back, partly because they visibly tired and were unable to maintain the pressing in advanced positions.
Here, it was also important that PSG had players who could evade a challenge and counter quickly. Pastore is best when dribbling into space, Matuidi is a natural at charging forward quickly, Cavani is a hard-working player who can power up the pitch, and even Verratti is staggeringly confident in possession in tight situations. With the pressing less intense, PSG could pass-and-move around Marseille and into the opposition half.
The winner, in a way, demonstrated this. Matuidi played the ball forward to Pastore in space, and the Argentine broke in behind Romao – now simply unable to keep up with opponents – before his deflected cross forced Morel into an own goal, under pressure from Ibrahimovic. Again, it's notable how open Marseille are to the right of their defence, with the two defenders somewhat lopsided in guarding the left of the pitch.
Now, with PSG leading for the first time, the game became flat. The reason was probably obvious – Marseille don't really know how to shut down a game, and continue playing at full pelt even when ahead. PSG, though, are more wily with natural centre-backs (rather than converted full-backs and midfielders) who can defend deep and soak up pressure.
Despite Marseille having lots of the ball, PSG created better chances because they could sit on the edge of their box, invite pressure, then counter-attack quickly. Matuidi, Pastore and Ibrahimovic all had golden chances to put the game out of Marseille's reach, although the away side were comfortable enough at the back anyway.
Conclusion
It's difficult not to admire the way Bielsa plays – it creates incredibly enthralling football, and the second goal was a perfect example of how the heavy pressing can cause quick turnovers and create immediate chances. Seeing Romao, in theory a centre-back, pressing an opponent in such an advanced position was remarkable, and sums up Marseille's approach here, and throughout the campaign.
Yet it still feels incredibly disorganised and frantic at times, and only poor PSG finishing prevented this from becoming an absolute thrashing. Traditionally Bielsa likes to have a spare man at the back, which means the pressing is less dangerous with the safety net of a sweeper behind. Here, though, it was often difficult to work out who the spare man was. Was it Lemina? And if so, was he really in a position to help?
Related articles on Zonal Marking: