Barcelona 2-1 Real Madrid: both sides threaten but Barca superior at finishing
Barcelona moved four points  clear at the top of La Liga thanks to Luis Suarez's winner.
Barcelona selection
Sergio Busquets was only fit enough for the bench, so Javier Mascherano played in the holding role, with Jeremy Mathieu the left-sided centre-back.
Otherwise, the team was as expected. Xavi Hernandez had surprisingly started over Ivan Rakitic in the reverse fixture, but Luis Enrique didn't replicate that error, so we had the unusual sight of Barcelona without either Busquets or Xavi, the two players who usually control this game.
Real Madrid
Real were also as expected. James Rodriguez is still out, although Luka Modric has regained full fitness and continued in midfield alongside Isco.
Toni Kroos was recalled by Carlo Ancelotti, having been rested for the first time this season the previous weekend.
Match summary
The sides were evenly matched here. Both teams had good spells but this game wasn't decided one particular zone, or because either side did much better than their opponents – aside from finishing.
Overall pattern
This felt like a different type of Clasico to usual. For a start, the pace was much slower, primarily because whereas Barcelona used to press energetically high up the pitch in the opening stages of matches, here they retained a much deeper defensive block, often retreating into their own half, and attempting to remain compact from back to front. Therefore, whereas often Real are trying to play quick passing combinations around the press, here they were allowed time to build up play steadily. The reverse was also true – Real's forwards contributed little when Barca had the ball.
The formations also contributed. With both (more or less) in a 4-3-3 system – although Real's was partly a 4-4-2 too – both teams were able to find their holding midfielder reasonably easily.
Midfield
Toni Kroos moved up to half-heartedly pressure Mascherano in the opening stages, but generally the Argentine could receive possession in space. Real found it more difficult to locate Kroos when Luis Suarez positioned himself to deny balls into his feet, although Kroos was better at starting quick passing combinations than Mascherano.
Barcelona's wide midfielders tended to take up wide positions, but aside from a couple of Andres Iniesta one-twos in the opening stages, they rarely looked to advance beyond the three-man forward line. Rakitic found space because Isco and Marcelo were highly concerned with Messi, while Suarez was pushing back the two Real centre-backs, but Barcelona rarely played good penetrative balls into Rakitic. Without either Busquets or Xavi Hernandez, these short, simple but crucial passes into the final third are lacking, and often Rakitic wandered around, free, but uninvolved.
Isco worked hard defensively, particularly to cover for Ronaldo, but contributed relatively little on the ball. The midfield conductor was Luka Modric, who combined nicely with Kroos in deep positions, and did more than Real's other two midfielders to connect midfield and attack through his positioning and passing. This became more difficult for him as the match continued, however, and he probably tired. After that point Real became more of a broken team.
Wide battles
This was where the real juicy action was set to happen – Real boasted the world's two most expensive players out wide, Barcelona had two superstars of their own. Surprisingly, however, the full-backs all coped well.
Dani Carvajal stuck very tight to Neymar, an approach replicated by Jordi Alba against Gareth Bale. Here, both full-backs deserve tremendous praise for nullifying their direct opponent, and it's also worth considering that they probably knew they could stick tight because the opposite full-back was rarely in a position to overlap, because of the threat of their opponent. For example, when Bale drifted inside, Alba could continue to mark him in the knowledge that Carvajal wouldn't usually be storming past Neymar into his zone. Alba became more of an attacking threat late on and pushed Bale back.
Messi and Ronaldo
Down the opposite flank was more interesting. For a start, this is probably the first Clasico where Leo Messi and Cristiano Ronaldo have played down the same side – Messi has usually been a false nine, and Ronaldo was often shifted elsewhere during the Jose Mourinho era. Here, neither performed particularly well, although their roles impacted upon the performances of other players.
Ronaldo stayed high up the pitch and showed little interest in defending, although Alves remained in a cautious position anyway. Rakitic tried to shut down Ronaldo's space to prevent him coming inside during the first half, although sometimes he was slow to do this, and Ronaldo had one good shot tipped over by Claudio Bravo from his favoured inside-left position. Ronaldo wandered across the pitch throughout the first half, sometimes playing on Bale's side (without Bale switching) and sometimes moving upfront, although he rarely enjoyed good moments in these zones.
Isco was attempting to do something similar against Messi, and while he showed some typically magical touches on the ball, Messi's overall influence on this game was minimal by his standards (although his free-kick allowed Mathieu to head the opener). He influenced things much more in the second half, when he took up a narrower position, but overall this felt like a game where the false nine role would have benefited him – especially considering Barca were weaker than usual in midfield.
What was most intriguing, however, was that Messi didn't help Barcelona defensively. Usually Barca press and Messi is a crucial part of that, but in this more reserved defensive shape he rarely tracked Marcelo into his own half, and therefore the Brazilian left-back was arguably the game's key player. He repeatedly dribbled forward, sometimes on the overlap but also into more central positions. He prompted the attack which led to Ronaldo hitting the bar from Benzema's cross, then had a good right-footed effort blocked by Jeremy Mathieu. He also stormed forward to contribute to a second half attack which saw Benzema firing at Bravo. Barca weren't finding Messi quickly enough on the break for this aggression to cost Marcelo and Real, although there was one moment when he was dispossessed on the left touchline, and a mini-counter from Barca saw Neymar crossing for Messi, who probably should have left the ball for Alves rather than heading towards goal. Overall, however, Real were actually getting the better of the Marcelo v Messi duel, which is highly surprising.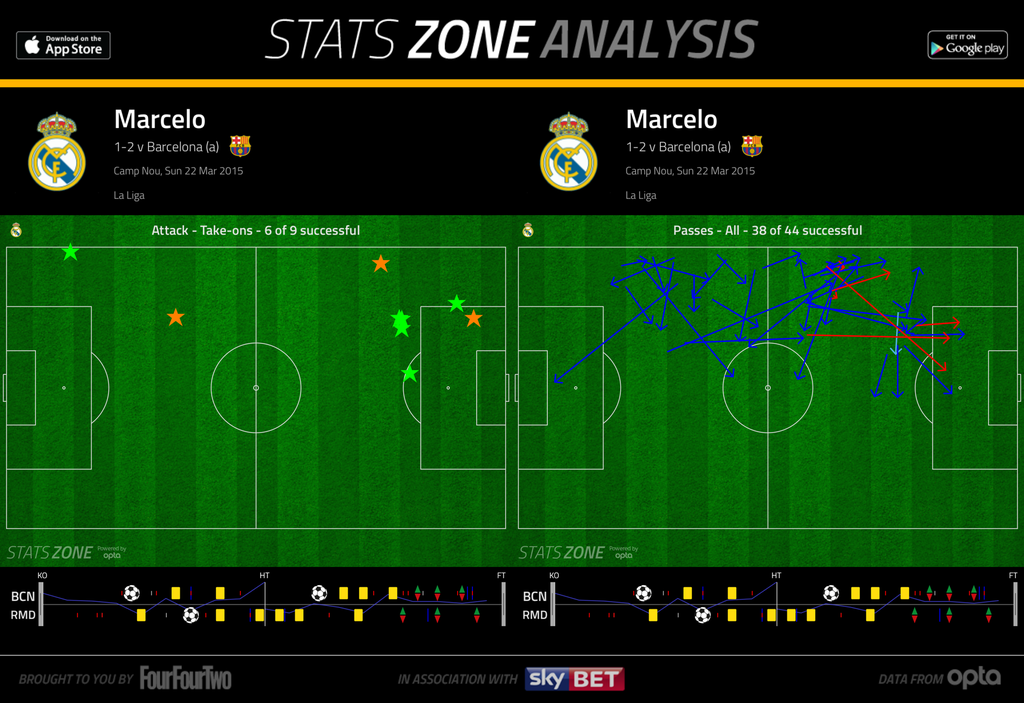 Upfront
Then, there were the performances of the strikers. It's unusual to say this about a non-scoring striker on the losing side, but Benzema was the game's best player (with one of his direct opponents, Gerard Pique, a close second). Benzema was magnificent here – the timing of his runs was superb, his link play was vital in simply connecting the whole side (particularly the midfield and the wingers), and he created two golden chances for Ronaldo. The first saw Ronaldo volley against the bar, the second was Real's equaliser, where Benzema's backheel was truly wonderful. For that goal, it was notable that Real broke in the aftermath of a Barca set-piece, before their defence had time to become organised – that was very notable because of the way Barcelona were opened up so easily.
At the other end, Suarez didn't perform as well. Whereas Benzema was trying to find space, Suarez often seemed too concerned with physical confrontations with Sergio Ramos and Pepe, which inevitably descended into a petty running battle. Full of energy, Suarez's movement was good but his combination play with others less impressive than Benzema. However, he decided the game with a truly exceptional finish, following a long ball from Alves.
Role reversal?
On that note, it was significant that Barcelona's two goals came from a set-piece and a long ball, whereas Real's came through combination play.
Clearly, Barca weren't actually playing long ball football, and yet the goals illustrated how the approach of the two sides have become less distinguishable. For example, it was peculiar to see Real with a better deep-lying distributor, and a forward more capable of contributing to link play. This wasn't possession versus counter-attack – if anything, it was two sides who were both comfortable in possession, but more dangerous through counter-attacks.
The root of this identity shift involves the nature of the clubs (and managers ) at present. Whereas Pep Guardiola and Jose Mourinho were two tacticians with a specific vision for their club, Luis Enrique and Carlo Ancelotti are in difficult situations at present, and forced to play to the strengths of superstar individuals rather than introducing a system-first approach. Therefore, these two teams tactics' are, by and large, simply the natural consequence of their first-choice players, whereas in previous years there would be specific tactical decisions in this fixture: Mourinho would block up the midfield with a destroyer, Guardiola would play Iniesta in the front three and therefore use an extra midfielder himself. Barca and Real are now two relatively similar teams – any of Real's midfielders could play in the Barca side, any of the Barca forwards could play at Real.
Barca shut down game
The match was reasonably even until Suarez's goal, but Barca were very impressive at shutting down the game. Neither side made any changes until after the 73rd minute (again highlighting the emphasis upon individuals – it's difficult for either coach to sacrifice key attackers) but Barcelona's changes were more effective. Busquets and Xavi replaced Rakitic and Iniesta and played in those roles, rather than their natural positions. The midfield trio of Mascherano, Busquets and Xavi now commanded the centre of the pitch, with Xavi cooling the tempo of the game and retaining the ball expertly in the final 20 minutes.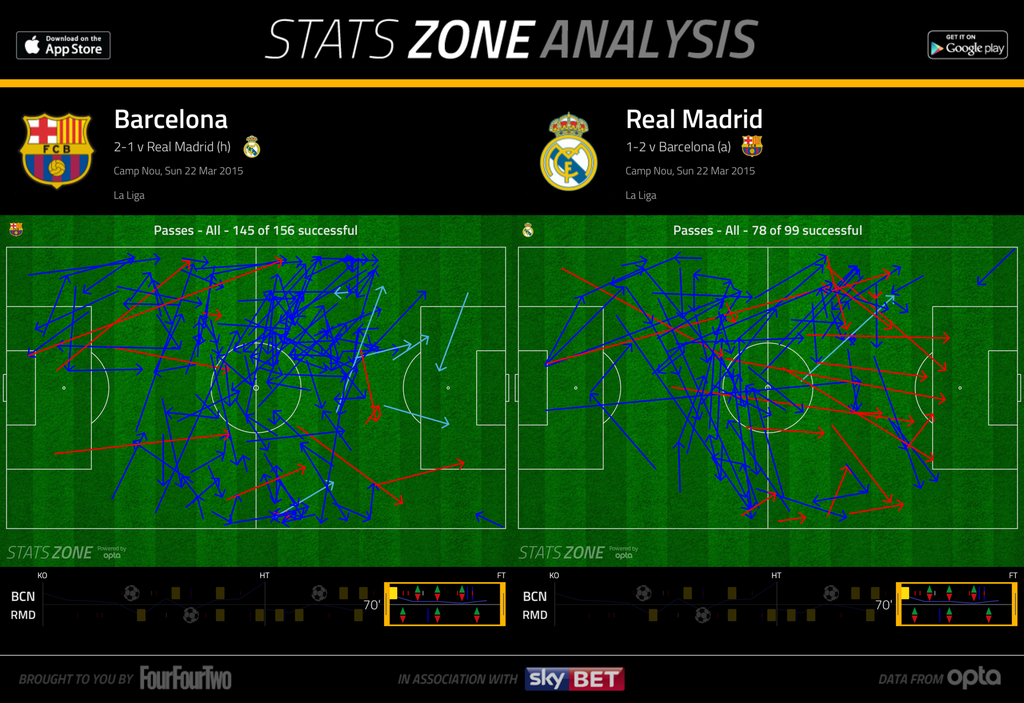 Ancelotti's only major change was Jese on for Isco, and a move to a 4-2-4ish system, but realistically this opened out the game and allowed Barca's midfielders to control it. As Real tired, the gap between midfield and attack was more obvious, and this was costing them both offensively and defensively – they couldn't play good combinations, and they couldn't press as a unit.
Conclusion
Ancelotti summarised the game well. "I think we did very well for an hour until the second goal. The game then became very difficult for us," he said. "We were very solid at the back but we lacked substance. We did well for an hour, the remaining 30 minute not so much. For an hour we played better [than them], and in the last half an hour, Barca's counterattacks were terrible [for us].
"We're two great teams and they won. I think both teams deserved to achieve something important, but I'm happy for them. We played like we usually do. We don't always do it, but we tried to play with two banks of four. Bale played deeper because Alba pushed up a lot.
"[Our drop in performance levels] was not a physical problem, but a head [problem]. We had the same idea of the game we had early on, but the last 30 minutes didn't go like the first half…perhaps [Toni Kroos and Luka Modric both became tired] because they worked hard. Their work was very important. They played very well, so it's fair that they were tired at the end."
Enrique's comments were also interesting. "In the first half we struggled to press and Madrid took control [of the game]. In the second half, we acknowledged [Madrid's] struggles going forward and the goal gave us peace.
"We always have the objective of keeping the ball and creating chances with it, but when your opponents match you, you have to adapt. Against opponents of [Madrid's] quality, they don't give you the conditions you want to play in. There were times when we were overtaken and had to seek better defensive transitions, with long periods of possession and greater stability."
Overall this wasn't the most fascinating Clasico in terms of the tactical battle – in the long run, Marcelo's battle against Messi might be the most significant feature of this game, as it suggests opponents can push their full-backs forward dangerously and exploit the lack of work rate from Barca's forwards.
Related articles on Zonal Marking: