Chelsea 2-2 PSG (aet): Blanc continues with starting approach despite early red card
Paris Saint-Germain adapted excellently after Zlatan Ibrahimovic's dismissal, and progressed on away goals courtesy of two headed goals from their centre-backs.
Chelsea selection
The most surprising name on the Chelsea teamsheet was Oscar, who was preferred over his fellow Brazilian Willian. This hinted at Jose Mourinho's preferred midfield format.
In defence, Gary Cahill was selected instead of Kurt Zouma, who has recently impressed both in defence and midfield. Nemanja Matic was fit to return in the holding role.
PSG selection
Laurent Blanc was able to call upon Thiago Motta, which meant David Luiz could return to centre-back. In turn, this meant Blanc moved Marquinhos out to right-back, as he's considered a better defender than Gregory van der Wiel, and because Eden Hazard was Chelsea's main threat.
Further forward, playmaker Javier Pastore was favoured over wide forward Ezequiel Lavezzi.
Match summary
PSG played for more than 90 minutes with a man disadvantage, and yet still performed magnificently, competing in terms of possession and creating a few chances. Mourinho, unusually magnanimous in defeat, admitted afterwards that his team hadn't deserved to progress.
Both start cautiously
When the line-ups were unveiled, many expected Ramires to be deep in midfield alongside Nemanja Matic, with Cesc Fabregas in the number ten role – a format Mourinho has used regularly in recent weeks. Instead, Fabregas was deep alongside Matic, with Oscar as the number ten and Ramires moved out to the right flank. This was probably because PSG had threatened repeatedly down their left in the first leg – almost all their chances came from that flank – and therefore Ramires could do a defensive job on Maxwell. This worked reasonably well, and the Brazilian left-back wasn't such a threat here.
The game was evenly-balanced in the opening period, with the expected battles across the pitch. The downside of Mourinho's risk of playing Fabregas alongside Matic was notable when Pastore could drift into positions between the lines and Blaise Matuidi could storm forward too, and Chelsea were exposed in that zone a couple of times. It's also worth pointing out that Nemanja Matic only trained for one day before this game, and with Fabregas also looking tired recently, Chelsea were basically outbattled in this zone.
It was also clear that PSG were attempting to press in midfield. Marco Verratti, for example, was moving high up the pitch to shut down Matic – whereas, when there were turnovers, Matic backed off and allowed Verratti space. PSG were trying to win the ball in higher positions and force the issue, although they weren't particularly threatening going forward. Zlatan Ibrahimovic dropping deep, and Matuidi bombing on, was probably the most likely tactic to expose Chelsea.
Meanwhile, Chelsea were most threatening down their left, with Eden Hazard dribbling at speed and Cesar Azpilicueta trying to expose Pastore's lack of defensive qualities, with Matic dropping to the left to cover.
11 v 10
Ibrahimovic's dismissal, for a tackle on Oscar, theoretically changed the game completely. And yet in reality it didn't change too much – PSG were still the side that needed to score, and they continued to dominate the midfield.
Even more interestingly, PSG's approach didn't really change – and this was the game's key tactical decision. Edinson Cavani was moved upfront to play the Ibrahimovic role, Pastore continued on the right and sometimes drifted inside. This was basically a team still playing 4-1-4-1, expect without a left-winger.
Here, Blanc knew that Matuidi's incredible energy meant he could sprint out to that flank quickly, playing as a central midfielder and a left-sided midfielder simultaneously, and his performance was the major reason PSG never appeared overrun with ten men. Besides, with Ramires and Branislav Ivanovic a less threatening combination than Hazard and Azpoilicueta, Blanc could gamble and leave PSG weaker in that zone. It was notable how calm Blanc was on the touchline – not frantically reorganising things, simply giving Pastore the odd instruction about which runs to make. PSG were the better side.
PSG midfield
PSG's three midfielders deserve tremendous credit here, with the trio of Motta, Matuidi and Verratti arguably the three standout players. Motta held his position in front of the defence while the other two scampered forward, and their passing statistics tonight were remarkable for a team down to ten men, and meant PSG had nearly an equal share of possession – 49%. Motta attempted the most passes on the pitch, 99, while all three recorded a pass completion rate of above 90%. Matuidi made much fewer passes than the other two, but only gave the ball away once all evening.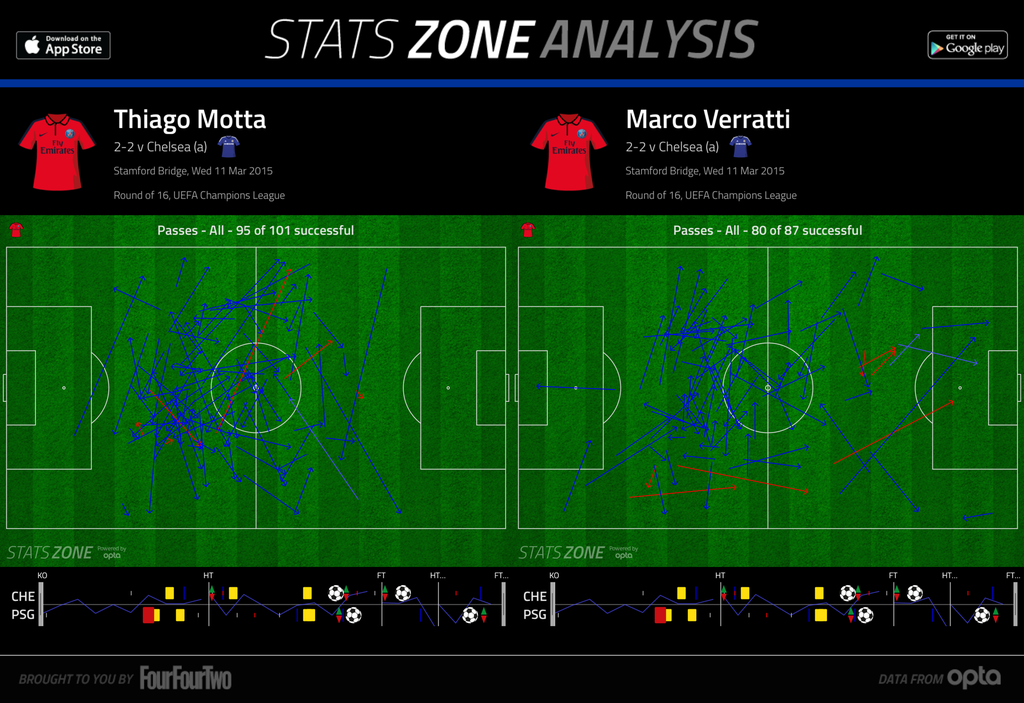 Those three gave Pastore the license to stay further up and drift between the lines, and Cavani could play on the shoulder of the last defender.
One incident, at the start of the second half, summarised it all brilliantly – Verratti skipped past a couple of challenges, then Pastore finally got a through-ball right, and Cavani rounded Thibaut Courtois before striking against the post from a narrow angle. Had that shot gone in, it would have been the perfect illustration of PSG's counter-attacking approach.
Blanc refused to make any changes at 0-0, although he was already preparing two substitutes as Gary Cahill put Chelsea 1-0 up in the aftermath of a corner which wasn't properly cleared. PSG still needed to score, so Blanc continued with the prepared changes – Adrien Rabiot and Ezequiel Lavezzi for Matuidi and Verratti.
PSG were now something like 4-2-3, with Pastore and Lavezzi to the flanks behind Cavani, albeit with Lavezzi higher up the pitch. Maxwell pushed forward down the left – he found more space after the half-time introduction of Willian for Oscar meant Ramires went back into the centre, with Willian on the flank – and crossed for Lavezzi to have a headed effort straight at Thibaut Courtois. Pastore also moved left and put some pressure on Chelsea, with a decent effort from a tight angle, and then a cross which forced Courtois to tip over his bar, leading to PSG's first equaliser.
Set-pieces
Ultimately, the game came down to set-pieces. This was no great surprise, as both teams had tremendous height amongst their ranks – two prolific centre-backs plus an extra centre-back at right-back, an aerially dominant holding player, plus a powerful centre-forward. Maybe this explains why Mourinho's final substitution was the surprising decision to introduce Didier Drogba for Ramires in extra-time, with the Ivorian going upfront and Diego Costa deployed on the right.
Nevertheless, all four goals came from set-plays: Chelsea went ahead twice after PSG hadn't cleared their lines properly (the second goal was a Hazard penalty after Silva fouled substitute Zouma), while PSG's goals were more direct – two corners, two brilliant headers from David Luiz and Silva. The latter had also gone close with a header just before his equaliser, forcing a superb save from Courtois. It took PSG a while to get the corners right, however – the first few had been taken easily by Courtois.
For the later corners, Chelsea's marking was extremely suspect, especially for the second goal where John Terry appeared to be blocking off Cahill rather than concentrating on Silva – the man-to-man system completely failed on three occasions, which has ultimately cost Chelsea their place in the competition.
Conclusion
This was a fantastic demonstration of how to play with ten men. Blanc refused to alter his starting formation significantly and his team continued to compete in midfield – he simply left his side open in the zone where Chelsea offered little threat. In keeping with his masterful reading of the game, Blanc's comments afterwards were very interesting. "If we analyse the two legs, if we're honest and fair, than Paris Saint-German deserved to go through," he said. "We played more football, we tried to play more football, we created more chances. It's not wide of the mark to say PSG deserve to go through."
He also commented on the fact PSG continued to play with their starting approach, despite the Ibrahimovic red card. "Going down to ten men obviously wasn't something we planned for, but we played very ambitiously….and did really well defensively, to stay in the game as long as possible…at half-time I was really surprised just how calm my side were, despite it being ten versus 11. We were at a disadvantage, but I felt the players had the same desire to play the same philosophy and put in a performance to get into the quarter-finals. We had to tweak a few things, but regardless I knew the players were ready to give 100%."
Blanc then acknowledged the importance of set-pieces. "Our centre-back pairing were excellent both defensively, and in an attacking sense from set pieces…set-pieces are a big part of modern football, particularly in big matches, in tight matches. Mourinho knows this and his side score a lot of goals from set-pieces too. We took corners really well, the players got up well…it's part of playing 10 v 11, one of the chances to score."
Mourinho lamented his side's inability to defend these situations.
"They deserved to win. When a team cannot defend two corners and concedes two goals, they do not deserve to win. When a team cannot cope with the pressure of being with one player more and being at home…for them it was easy: ten men, defensive organisation, counter-attack, waiting for the right moment.
"I always think your nervous system is the most important thing and for me the players felt the responsibility of the game too much, instead of enjoying it and expressing yourself the best way you can. Clearly the players could not do that. When you concede two goals from corners it is evidence of what I am saying – a lack of concentration."
Realistically, however, it wasn't solely about poor defending. Chelsea appeared tired in midfield, and were unable to dominate possession or kill the game sufficiently despite being ahead in the tie for 104 of the 120 minutes of the second leg. This was a rare game where Mourinho was out-thought tactically.
Related articles on Zonal Marking: