Miroslav Klose: the last poacher?
Ordinarily, a striker surpassing the all-time World Cup goalscoring record would be the major story of the day, but Miroslav Klose's 16th goal came in Germany's historic 7-1 thrashing of Brazil – so it was nothing more than a subplot.
The man he surpassed, Ronaldo – who has since turned to a different sport as a PokerStars pro – was in the stadium to see his record defeated. There's no question that Ronaldo was a far superior all-round footballer, but few strikers in history have shared Klose's ability as a goalpoacher. There has been some snobbery towards Klose gaining this record, as if such a simple striker shouldn't be entitled to such a status…but then that's the very point of Klose. He doesn't do anything apart from score – his link-up play is average, he's never been particularly quick, he's not very tall. He's simply excellent at positioning himself, and finishing calmly.
The positions of his 16 goals are amazingly close-range, especially when you consider that the vast majority came with a one-touch finish, rather than after a dribble (unlike Ronaldo, who scored many goals after running with the ball):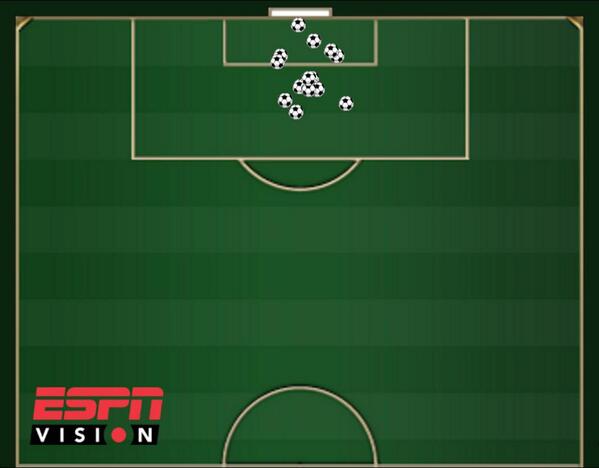 On watching the goals, it's also obvious how simple many of the finishes are – they're never particularly clever shots taken early, or from tight angles, but simply the logical finish having got himself into the right position.
The decline of the pure goalpoacher has been obvious for a while. Classic number nines still exist, but they're generally either very quick – like Javier Hernandez, for example – or taller, stronger players in the Mario Gomez mould.
trangely, despite Klose's success at international level, his club form plays into the idea that these players struggle at the top level these days – he managed just 24 goals in his four seasons at Bayern, and otherwise drifted between Kaiserslautern, Werder Bremen and Lazio, somewhat midtable clubs.
Even Klose's effective successor for the national side – and maybe his successor in terms of this record – Thomas Muller is clearly more of an all-rounder, capable of playing in different positions and more intelligent with his movement into deeper zones.
Klose seems something of an anomaly, even towards the end of his own era. With an increasing emphasis upon footballers being versatile all-rounders, Klose will seem something of an oddity in future decades, as a footballer who was essentially only good at one thing.
Miroslav Klose: the last poacher?
Related articles on Zonal Marking: