World Cup 2014: group stage, day 15
GERMANY 1-0 USA
(Muller)
Thomas Muller's fine goal won the game, but both sides progress
USA narrow
The major tactical feature was the narrowness of the USA without possession, which is something we've become accustomed to. Before the tournament it seemed Jurgen Klinsmann was going to play a midfield diamond, and while they've switched to more of a 4-4-1-1 formation, they still focus upon defending the centre of the pitch and preventing the opposition playing through the middle, which made sense against a German side boasting multiple playmakers.
It also made sense considering the lack of proper full-backs on the German side. Jerome Boateng and Benedikt Howedes are both more accustomed to playing at centre-back, and therefore the USA were content for these players to have the ball.
Defending crosses
The problem, though, is that the USA haven't defended crosses well throughout this tournament. Against Portugal, for example, a wild slash from Geoff Cameron when attempting to clear a cross resulted in Nani's goal, while the late equaliser by Silvestre Varela also came from a cross, hit from the right by Cristiano Ronaldo.
In the opening game against Ghana, opposition right-back Daniel Opare was given space to cross the ball, and while his delivery was dreadful, on the few occasions he got it right, the USA looked nervous.
Boateng freedom
The problem here was about Jerome Boateng. On the opposite flank, Howedes is simply not a left-back. He's not good at overlapping, he's not comfortable taking the ball in his stride, he doesn't have a trick with the ball, and he always wants to come back inside onto his right foot. For long periods of the first half, the USA were leaving him completely free, and Germany weren't  keen to pass to him.
On the opposite flank, however, Boateng was a real threat. And while Boateng might consider himself a centre-back, he's comfortable playing on the right, charging forward to stretch the play. Mesut Ozil's movement created space on the outside for him, and Boateng repeatedly had the chance to swing crosses in behind the USA defence. It was his ball that created the first chance of the game, for Thomas Muller, and later his low cross forced Omar Gonzalez into a wild slice.
Part of the problem was the USA's inability to ease the pressure by holding onto the ball, although they did launch a couple of good counter-attacks, at one point breaking 5 v 5 in a move that ended with a decent Graham Zusi shot. In open play, the USA's best attacking strategy involved Jermaine Jones darting forward through the centre, the classic 'third man running' – although his attacking efforts were often foiled by Manuel Neuer, who positioned himself on the edge of his box, and darted out quickly.
Klose on
Germany's threat from wide remained the most likely source of goals, however, and this became even more of a factor once Miroslav Klose replaced Lukas Podolski. He played upfront with Thomas Muller going out to the left, but drifting inside to become a second striker. Now the USA were under real pressure when Boateng collected the ball on the right – he had two great crossing targets.
Boateng crossed within two minutes, with Ozil (!) in a goalscoring position and heading over. Germany also had opportunities to cross from the other flank, with both Muller and Bastian Schweinsteiger turning inside before curling balls towards the far post, before Mats Hummels did the same, forcing the corner that resulted in Muller's excellent goal.
USA were in a strange situation here – clearly they wanted to get back into the game, but circumstances in the other match meant qualification could have gone down to goal difference, which meant it was important they didn't concede any further goals.
This, and the relative lack of attacking talent on the bench, meant the USA didn't produce much of a comeback until the final stages – in fact, their only two second half shots were in stoppage time.
—
PORTUGAL 2-1 GHANA
(Boye OG, Ronaldo; Gyan)
In a frantic, bizarre, winner-takes-all(-or-maybe-nothing) game, both had plenty of chances to qualify, but both are out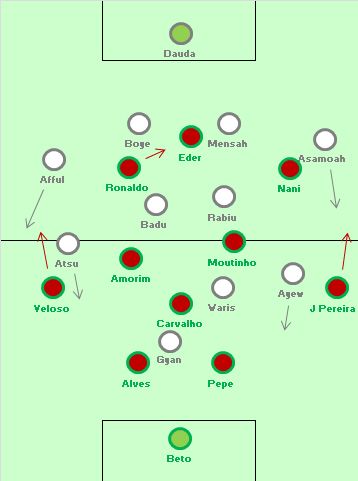 A draw wasn't good for either side, and they were both determined to make sure there would be plenty of goals.
The match was peculiar – while the tempo was slow and ponderous, it was also stretched and open from an early stage. Forwards didn't bother pressing, midfielders didn't bother protecting their backline, and it was something of a free-for-all. It didn't make for a good spectacle, and some of the defensive play was laughable, but in the situation it made sense. There's nothing stranger than a tight, cagey 0-0 when a draw is a bad result for both sides.
The man who took command of the midfield zone was Joao Moutinho, who enjoyed space in the centre of the pitch, and played some excellent passes into wide areas, encouraging the wingers to attack directly, and the full-backs to get forward. Ghana looked light in that zone without Sulley Muntari, who ended his tournament in disgrace but had been particularly effective at ball-winning in Ghana's previous two games.
As has been the case in many matches at this tournament, the importance of attacking full-backs was huge. This time Ronaldo had a glorious headed chance from Joao Pereira's right-wing cross early on, before Miguel Veloso's left-wing cross was shanked into his own net by John Boye.
Ghana got back into the game with a cross from a full-back – and Kwadwo Asamoah's superb outside-of-the-foot ball for Asamoah Gyan is surely the cross of the tournament. Neither he nor Veloso are natural full-backs, and refused to curb their attacking instincts in this game. Another left-wing cross, this time from Nani, brought Ronaldo's winner via some poor Fatau Dauda goalkeeping.
In truth, both sides could have won the game by enough to topple the USA – it was something of a shoot-out between Ronaldo and Gyan at times.
—
ALGERIA 1-1 RUSSIA
(Slimani, Kokorin)
Russia went ahead early, slowed the game well, but were poor at defending set-plays
Early goal
Russia are a classic counter-attacking side – extremely tedious when drawing, slightly desperate when trailing, but very good when ahead. The question, of course, is precisely how they get that goal in the first place.
Their opener was something of an anomaly. On first sight it was a brilliant goal – Dmitri Kombarov's left-wing cross, Alexander Kokorin's bullet header inside the near post – unstoppable. But Algeria were actually rather unfortunate to concede the goal in such a manner, because the goal came when their right-sided midfield Sofiane Feghouli was off the pitch receiving treatment for a head injury. Without him on the pitch, they were inevitably weaker down their right (although they could have reorganised better, of course), and their vulnerability to crosses has been obvious for some time.
That said, it's impossible to ignore the fact Fabio Capello changed his shape and selected two upfront for this game. The use of Alexander Kerzhakov suggested Kokorin was going to be used from a wide position, but instead he was directly behind Kerzhakov, and attempted to make clever runs in behind when Kerzhakov pulled wide to create space. This rarely resulted in clear chances on the break, which was probably the intention, but having two targets for crosses was certainly a factor for the goal.
At 1-0 up, Russia managed the game very effectively. Although Algeria attempted to press high up the pitch at times, Russia managed to bypass the initial press to counter-attack, or alternatively bypassed the press, forced Algeria to rush back and get behind the ball, but then retained possession solidly in deep positions. Their ability to slow the tempo of the game throughout the first half was masterful, and had they continued that play throughout the entire 90 minutes, this would have been a brilliantly controlled 1-0 win.
Algeria fightback
Algeria weren't at their best. Yacine Brahimi attempted incisive passes when he could have kept moves flowing, while Feghouli darted inside very quickly when he could have kept more width, especially considering how Algeria created chances with crosses towards Islam Slimani in the win over South Korea.
They played with more width in the second half, though, and Russia can only blame themselves for allowing Algeria back into the game. Towards the end of the first half, Russia looked consistently nervous when defending set-pieces – Slimani, Abdelmoumene Djabou and Essaid Belkalem all had decent headed chances from dead ball situations, coincidentally all from the left flank.
So what happened, twice within a two-minute spell just before the hour mark? Both Russia full-backs gave away cheap free-kicks in wide positions, getting themselves booked in the process. Kombarov tugged back Feghouli for no real reason, and Brahimi swung in ball towards Slimani at the far post – he was unlucky to be penalised for holding.
Russia didn't learn their lesson. From the next Algerian attack, Aleksei Kozlov tried to turn past Djabou next to his own corner flag, rather than thumping the ball clear. Djabou pinched the ball off him, was tugged back, and Algeria had yet another free-kick. Brahimi's free-kick again found Slimani at the far post, and this he headed in. Russia can't say they weren't warned.
The final half hour was strange – Algeria didn't make a very good attempt to shut the game down, with Nabil Ghilas particularly frustrating as a substitute on the right. But Russia didn't rally either – Alan Dzagoev provided a spark from the bench, but there was a weird lack of urgency. There's no plan B for this counter-attacking side, and few will be disappointed to see Russia eliminated.
—
BELGIUM 1-0 SOUTH KOREA
(Vertonghen)
Belgium used a rotated side, went down to ten men before half-time, yet still won
South Korea have been one of the disappointments of the tournament, and this was an especially poor performance. At times you could have been forgiven for thinking it was Belgium who needed three points, and at times you could have been forgiven for thinking it was Belgium with the extra player.
But Belgium didn't come under sustained pressure from South Korea. Ki Sung-Yeung performed well in the centre of the pitch, and Lee Chung-Yong caused Jan Vertonghen problems in the left-back zone, but the Korean performance was simply too timid.
Belgium were almost showing off the depth of their squad. Arguably only three players that started here will face USA in the next round, and therefore there were few lessons from this low-key victory.
–
Day 15:
….no…no football?!
ZM Elsehwhere:
Why are the European big guns doing so badly?
The cliche that has become true
Related articles on Zonal Marking: