World Cup 2014: group stage, day 13
URUGUAY 1-0 ITALY
(Godin)
A boring first half, a highly dramatic second half, and Diego Godin scoring another crucial goal
Italy switch to a back three, Uruguay follow
Having played their first two matches with a four-man defence, both sides switched to a back three for this decisive group game. This was almost certainly Italy changing to a back three proactively, and Uruguay doing so in response. Cesare Prandelli's team selection, with three natural centre-backs and two full-backs/wing-backs, suggested this was his plan all along – but Oscar Tabarez had kept an unchanged side from the victory over England, when he used a midfield diamond.
Tabarez is generally a very reactive manager, however, and upon seeing Italy's teamsheet probably decided he wanted a spare man at the back, against the pace of Mario Balotelli and Ciro Immobile, so Martin Caceres was moved inside and Alvaro Gonzalez played the unfamiliar position of wing-back. The only reason Gonzalez would be selected to play as a wing-back, rather than the more natural Maxi Pereira, is if there was a late shift from Tabarez, having already name his XI. Had he intended to play this way, he surely would have played Pereira from the start – in the end, he brought him on at half-time.
3-5-2 v 3-5-2
You can't judge any match purely – or even primarily  by formations alone. But if there's one formation match-up that should be avoided at all costs, it might be 3-5-2 against 3-5-2. It tends to produce slow, frustrating matches with neither side capable of finding space in the opposition half – both sides have a spare man at the back, the wing-backs run up and down the line with one another all game so there's no outlet on the flanks, and the midfields tend to cancel each other out.
That's roughly what happened here, although it wasn't purely down to the formations. There was also the heat and humidity of Natal, which created a slow contest, and the fact neither side wanted to force the issue in the first half. Italy were understandably patient considering they were content with a draw, while Uruguay didn't want to leave themselves vulnerable to the pace of Italy's front two.
Even then, the game was scrappy. Neither side had an obvious advantage in any one area, and some of the passing was very sloppy. Edinson Cavani dropped onto Andrea Pirlo, as he'd done on Steven Gerrard, stifling Italy's passing.
Second half
Things brightened up in the second half. Uruguay pushed higher up the pitch, with Maxi Pereira a more natural wing-back, driving forward down the right. Italy, meanwhile, made a defensive shift with Marco Paolo on for Balotelli (who seemed to have picked up a knock, and was on a booking) and tried to clog up the midfield.
Uruguay's only good moves in the game came from two similar situations, with one-twos down the left flank. On 32 minutes, Cristian Rodriguez cut in from the left, found Suarez, and he played a clever exchange with Nicolas Lodeiro before forcing Gigi Buffon to race out of his goal to close down the angle. On 57 minutes, Rodriguez played a great one-two with Suarez, before firing wide of the far post. There was a strong emphasis on Uruguay working the left flank throughout the game.
11 v 10
Then came Claudio Marchisio's red card, which meant the game took a different turn. Italy now played a defensive 5-3-1 formation, so Tabarez immediately turned to an extra forward. Christian Stuani replaced Alvaro Pereira – although it was strange Pereira was replaced, because he's the ideal left-back when playing against ten men and needing a goal. Caceres moved out there instead, but didn't offer much thrust.
While Uruguay eventually found the winner, they did a surprisingly poor job of getting back into the game with an extra man. They didn't stretch the play, their build-up play was extremely slow, and for long periods Cavani, Stuani and Luis Suarez waited up against Italy's back five. Considering their ability in deeper positions, they surely should have been dropping deeper to help create opportunities.
Prandelli's decision to send on Antonio Cassano in place of Immobile was strange. Surely, as your lone striker with ten men, you want someone who will run their legs off for 15 minutes? Cassano at least offered more ball retention potential, which rather summarises Prandelli's overall approach.
In the end it took a set-piece for Uruguay to grab their goal, with Diego Godin making the breakthrough with a rather fortunate 'header' that actually came off his back, although his run and positioning was identical to his crucial, title-winning header at the Camp Nou recently.
Italy went gung ho, chucking Gigi Buffon up the pitch late on, but to no avail.
–
COSTA RICA 0-0 ENGLAND
A very uneventful game. England rotated, but Costa Rica kept a strong side to win the point that – amazingly – guaranteed them top spot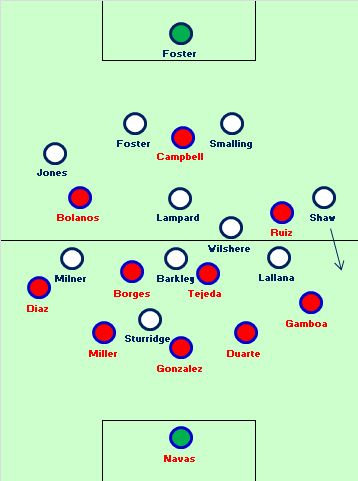 Long spells of possession
Costa Rica started strongly and had long spells of possession in non-threatening positions – they were happy with a draw, of course, and while their early passing and movement caused England problems at the back, they eventually settled down and slowed the game. They saw plenty of the ball in midfield positions, and inside their own half, but rarely looked likely to actually penetrate England. Their best goalscoring efforts came from long-range shots, or from long balls.
Possession was even in the first half, but England stepped up and dominated after half-time, working the ball into the final third more regularly. This wasn't exactly end-to-end stuff, though. There were twelve shots, with Daniel Sturridge having four of them and being denied another shot by a last-ditch Oscar Duarte tackle. Sturridge is a strange player – even when he scores a lot, he seems to miss a lot too. He's not an Inzaghi-style ruthless poacher who pops up once a game and scores, he's more of a persistent striker who has five chances a game and scores one – his quality is getting into the positions, rather than being the most efficient finisher.
Costa Rica's defensive play was again excellent, however. They pressed less in midfield than against Italy, and therefore weren't prone to balls played in behind the defence – they instead conceded pressure in front, and their solid five-man backline was impenetrable. It's worth remembering they've only conceded once in this tournament – and that was a penalty.
—
GREECE 2-1 IVORY COAST
(Samaris, Samaras; Bony)
Greece won courtesy of a stoppage time penalty, but this was a great Greek performance – more proactive than usual defensively, and featuring some great counter-attacking football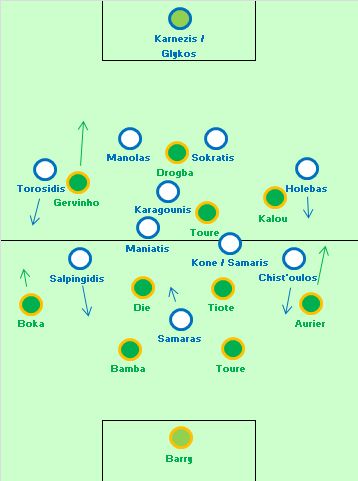 Opening stages
There was no great surprise in terms of the formation match-up here – it was 4-3-3 against 4-2-3-1. As in their first two games, Ivory Coast tried to push both full-backs forward up the pitch, with their two deepest midfielders dropping into the backline to protect the centre-backs.
Greece were diligent in their tracking of the Ivorian full-backs, though, and neither consistently received good passes in dangerous positions. Serge Aurier, who was so threatening in the first two games, struggled to shake off the attentions of Lazaros Christodoulopoulos, who tracked him back and then sprung forward on the counter-attack nicely.
Ivory Coast's best cross of the first half actually came from Yaya Toure, who had drifted out to the right flank, and their most promising moments came on counter-attacks. Gervinho and Salomon Kalou both looked to cut inside and play one-twos with Didier Drogba, but as so often, they looked promising without delivering much end product.
Greek approach
Ivory Coast's approach was as expected, but Greece – needing to win the game, of course – were more ambitious than usual. There was a major difference in the approach in midfield, where Greece pressed much higher up and often won the ball in dangerous positions, before quickly getting men forward and attacking into the wide areas, exploiting the fact the Ivorian full-backs were high up the pitch.
This pressing was a crucial factor in the game, with Andreas Samaris dispossessing Chieck Tiote in an advanced position creating the opener. It wasn't dissimilar from the way Serey Die lost possession cheaply in Ivory Coast's previous game against Colombia, leading to Juan Quintero's goal.
Greece proved they were capable of counter-attacking from deep positions, too, especially into the second half when the Ivory Coast pushed forward, and Sabri Lamouchi's side left even more space at the back. This was more reminiscent of Greece's Euro 2004 efforts, because the full-backs often led the counter-attacking charge – Jose Holebas drove forward on the break in the first half and hit the bar, while Vasilis Torosidis was a force in the second half. Whoever won possession quickly looked to dart forward, and if they evaded the first challenge they often found they had 30 yards of space to break into, with runners supporting them too.
Greece midfield flips
At 1-0 up, Fernando Santos flipped his midfield. Georgios Karagounis started as the deepest of the midfield triangle, but for the second half played at the top, with the other two mobile midfielders dropping back. This was interesting, and shows the change in approach – at the start Santos wanted two to press, with a playmaker just behind. When he knew Greece would be under pressure, he wanted his functional players sitting deeper and protecting the defence.
Karagounis played well in the advanced position, hitting the bar with a great long-range shot and playing neat passes to onrushing midfielders. Georgios Samaras also did excellently as the main striker, where his hold-up play is considerably more effective than when out on the left – this was a genuinely excellent performance.
Ivory Coast 4-2-4
This was the third time Ivory Coast have gone behind, and the switch to the 4-2-4, with Toure dropping back into midfield and an extra striker introduced, is now familiar. It got them back into the game when Gervinho squared to Bony, and the Greek defence had real problems playing 4 v 4 at the back.
That said, Ivory Coast left a huge amount of space to counter-attack into, and only a couple of near-misses – and a series of highly cynical fouls – prevented them from going 2-0 down. Lamouchi had to take risks, of course, but the second goal of the game could have gone either way.
Arguably, Ivory Coast didn't make enough of a defensive shift at 1-1. It's a tough balance to find, of course, but they carried on attacking with four players and left the defence exposed, which was dangerous considering how well Greece were breaking from deep.
The game, and the group, essentially came down to a late penalty decision. It was somehow fitting for the game – the Ivorians had repeatedly fouled throughout, and Samaras was a deserved matchwinner from the spot. Amazingly, it was his first international goal for two years.
–
COLOMBIA 4-1 JAPAN
(Cuadrado pen, Martinez 2, Rodriguez; Okazaki)
Colombia counter-attacked excellently even with a second-string side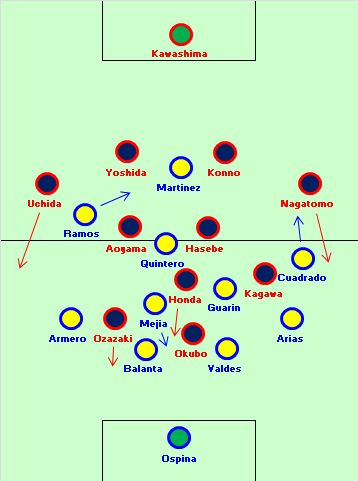 Expected pattern
This was another frustrating performance from Japan – lots of possession, some pretty build-up play, but little in the way of penetration.
Even more than usual, they needed to commit men forward to increase their attacking threat, so inevitably left gaps at the back for Colombia to break into, with Juan Cuadrado – the only first-choice attacker not rested – having another excellent game.
The only genuinely interesting factor was the positioning of Alexander Mejia, who on paper was a midfielder, but stuck so tightly to Japan's number ten Keisuke Honda – who was determined to move forward to become a second striker – that he basically became a third centre-back. It meant Colombia retained a spare man at the back, and were generally comfortable despite having to withstand lots of pressure.
Overall there was a slightly 'false' feel about the match, with Colombia playing a reserve side, and Japan lacking belief in the final half hour, when they realised the game – and the World Cup – was slipping away from them. In fairness, it was only in those final 30 minutes when this turned into something of a thrashing.
—
Day 14:
Nigeria v Argentina – a point each would ensure Nigeria progress, and Argentina stay top. Not a particularly exciting game on paper – although if the sides play with freedom, the game could be OK.
Bosnia v Iran – Bosnia are out, while Iran need a win to stand any chance of progressing
France v Ecuador – France are 99% through, Ecuador need to equal Switzerland's result
Switzerland v Honduras - Switzerland need to better Ecuador's result – Honduras, amazingly, could still qualify if they win by three goals and France beat Ecuador
—
ZM Elsewhere:
Messi is right about Argentina's formation
Related articles on Zonal Marking: