World Cup 2014: group stage, day 12
NETHERLANDS 2-0 CHILE
(Fer, Depay)
Chile made the running but lacked quality in the final third, while the Dutch sat deeper and counter-attacked
Man-marking in midfield
This was yet another game (see Belgium v Russia yesterday, for example) where the sides effectively man-marked one another in midfield. This isn't a new concept, but it's rare to see it at club level, where midfield pressing is usually about taking solid, 'zonal' positions and then suddenly closing down once the ball is played into the midfield zone.
Usually Chile had possession, so Wesley Sneijder was on Marcelo Diaz, with Georginio Wijnaldum and Nigel de Jong dealing with Charles Aranguiz and Felipe Gutierrez, who tended to alternate their position more. The Dutch midfielders picked up the closest midfielder to them when Chile won possession, and from there stuck extremely tight. There was a moment early in the game when Diaz made a run past Sneijder, and the Dutch number 10 gestured at his fellow midfielders to move across and pick him up – but quickly realised they were tracking others, and he was going to have to do it himself. That summed up the midfield battle – no-one could find any room.
Dutch back five (?)
The other interesting feature was how deep Dirk Kuyt was deployed. From the starting line-up it was difficult to tell whether this was a back four or a back five from the Netherlands, but for long periods Kuyt looked like an extra left-back, pushed back by the runs of Mauricio Isla, with Daley Blind tucking inside and dealing with Alexis Sanchez.
On the other side, Daryl Janmaat played very deep despite the fact Eugenio Mena wasn't really pushing him back – Mena should have been contributing more – and for long periods the Dutch effectively had 5 v 3 at the back. They kept a reasonably high line despite the pace of Sanchez and Eduardo Vargas, confident they were applying enough pressure in midfield to prevent being exposed by balls over the top.
The average positions in the first half show the shapes nicely:
Dutch more dangerous
This was the type of Chile performance we've come to expect from their displays at the last World Cup and in Copa America 2011 – loads of energy, loads of pressure, loads of movement – but not forcing the opposition goalkeeper into many saves. Defensively, this was an excellent effort by the Dutch.
The Chileans' approach against Spain was using their wing-backs much deeper than usual, effectively forming a back five – a rare show of caution by Jorge Sampaoli. But here, in a game they needed to win, they were much higher as part of the midfield rather than the defence, and this meant the Dutch forwards had chances to break into the channels.
Arjen Robben was again highly dangerous on the break, while Jeremain Lens is a similar player – half-winger, half-forward. The Netherlands rarely got players up in support, but they didn't need to – Robben and Lens went on breaks, sometimes solo, sometimes by combining, and meant the Dutch were a greater goal threat, despite having much less possession. The two forwards always collected possession in the wide areas, never centrally:
Chile open up
The pattern basically continued into the second half, although substitutes changed the contest. Sampaoli introduced outside-left Jean Beausejour for Gutierrez, moving to more of a 3-4-3 system, but Chile really fell apart when Jorge Valdivia, the creative number ten, replaced centre-back Francisco Silva. This resulted in a 4-2-1-3, although with the full-backs pushing so high up, it was more 2-4-1-3.
The Dutch inevitably received more space to break into, and barely altered their initial approach, even if two substitutes, Leroy Fer and Memphis Depay, scored the goals the goal. The nature of the game summed up the situation for both sides – Chile needed a win and were too frantic and hurried from the start, while the Netherlands would have taken a draw, so sat back, played a calmer, more relaxed game, and counter-attacked brilliantly.
—
SPAIN 3-0 AUSTRALIA
(Villa, Torres, Mata)
A dead rubber – both sides were already out. Australia pressed well but Spain found space to create chances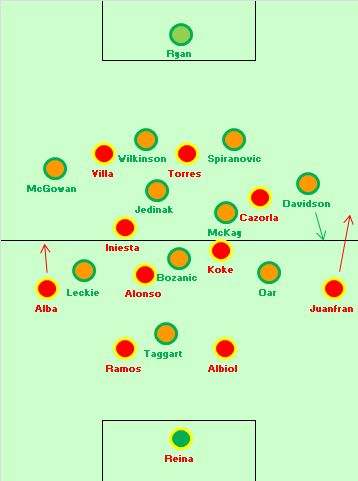 Spain comfortable
Considering the nature of the game, there wasn't too much to discuss here. This was more of a farewell to various Spain players – including, in all probability, the first two goalscorers – and perhaps Vicente del Bosque too.
Australia pressed Spain in midfield, having seen the difficulties the outgoing World Champions had against Chile and the Netherlands in this respect, but the pressure wasn't as intense high up the pitch, and Spain built passing moves well.
Xabi Alonso, atrocious against Chile, played a deeper role and put Spain in charge with his methodical distribution out to the flanks, while Andres Iniesta went on a couple of mazy slaloms forward and played some great passes out to the attacking full-backs – it wouldn't be an international tournament without an Iniesta masterclass.
Santi Cazorla also played an important role, drifting inside from the right to overload between the lines, while David Villa's advanced left-sided positioning made Spain look more like a 4-4-2 diamond at times. Even in an irrelevant game, it supports the idea that Del Bosque's Spain have always been better with one wide player drifting inside, and one attacking in behind, to provide balance.
Australia performed OK, although Villa's positioning meant they struggled to get Ryan McGowan forward – and because their game is all about attacking full-backs, their play was all down the left and highly dependent upon Jason Davidson. His crossing was reasonably good, but without the suspended Tim Cahill, Australia didn't offer much goal threat.
—
MEXICO 3-1 CROATIA
(Marquez, Guardado, Hernandez; Perisic)
Mexico would have been happy with the draw – but were the better side for long periods, and deserved the victory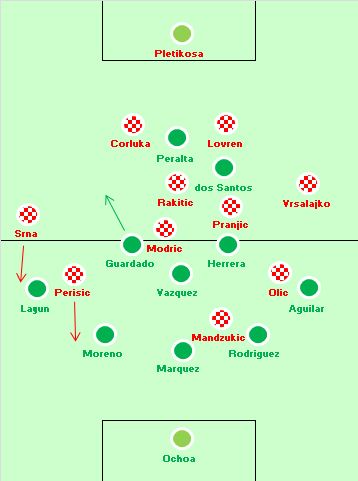 Croatia wingers v Mexican wing-backs
This was always likely to be the key battle, considering both Mexico's previous opponents had problems containing their wing-backs. But the Croatian wingers had been extremely impressive in terms of their work rate and discipline in this tournament, and had constantly looked the most likely players to find the target. Could they pin back the Mexico wing-backs, or find space in behind them?
From the early stages, it seemed it would be the latter. Croatia's wingers didn't track the Mexican wing-backs all the way, which was the mistake Cameroon made in the opening game. Instead, with Mexico playing without proper wingers, Miguel Layun and Paul Aguilar were largely the responsibility of Darijo Srna and Sime Vrsaljko, who played high up the pitch anyway. Croatia risked exposing their centre-backs 2 v 2 against the Mexican forwards, but they kept it tight between the lines and Giovani dos Santos had a surprisingly quiet game.
The problem for Mexico, of course, was the threat of the Croatian wingers finding space on the flanks, and after around 10 minutes they had a real warning, when Ivan Perisic darted into the space left by Layun at a turnover, and had a great opportunity to shoot. Surprisingly, he attempted to square the ball to no-one in particular, his worst moment of an otherwise excellent tournament.
This prompted Mexico to become more cautious with the positioning of the wing-backs, and from there on it felt like 5-3-2 rather than 3-5-2. Neither Perisic nor Olic were allowed space, and instead it was the full-backs, in particular Srna, who were given freedom to move forward. Mexico closed them down by bringing the shuttlers out wide, with Andreas Guardado doing a good job on Srna, and Hector Herrera getting out quickly to Vrsaljko.
Croatian midfield
Niko Kovac's eternal problem is how to format his midfield trio. We know Luka Modric will always start, we know Ivan Rakitic will always start. However, we don't know their best position in the side, and we don't know who is best to complete the triangle. Kovac hasn't solved this problem.
Having picked Mateo Kovacic in the first game as the number ten, then Sammir in the same position in the second game, this time around he went for Danijel Pranjic. Frankly, it was difficult to work out precisely what the plan was for long periods of this game. Modric seemed highest up as the number ten, with Rakitic much deeper and Pranjic charging up and down to the left. Sometimes it looked like a 4-3-3, sometimes a 4-2-3-1. Whatever the plan on paper, it didn't really work – Croatia again had plenty of possession, but not enough penetration. Modric was once a fine number ten but now prefers receiving the ball in much deeper positions, and as he increasingly dropped back to fetch it, Croatia became something of a broken team. Modric was meant to be Mandzukic's closest support in midfield, but didn't complete a single pass to him.
It's still hard to definitively say what the answer should be in this zone – but you would have expected Kovac to have formulated a solution by now.
Mexico pounce
The game was won in the second half, when all four goals were scored. Croatia needed to win the game, and therefore pushed forward more – and as they did, they left gaps at the back.
Kovac steadily increased the attacking threat by putting on Kovacic for Vrsaljko, with Pranjic put to left-back, and then Olic was replaced by the tricky Ante Rebic, who showed some great moments (before his red card for a terrible late tackle). But Mexico went 1-0 up with a Rafael Marquez header, and then with Croatia needing two goals, Kovac became desperate.
Striker Nikica Jelavic replaced left-back Pranjic, and now Croatia had a makeshift three-man backline (with Srna still pushing forward) and were completely exposed in the channels. Guardado and substitute Javier Hernandez found space in the wide areas and appropriately, those two scored the second and third goals.
A little like the Netherlands v Chile game earlier, the pattern was basically decided by the objective of both sides. The defeated side were very attacking from the outset, while the victorious side were happy with a draw, and therefore sat back, soaked up pressure and counter-attacked into the space left by their opponents' attacking shift in the second half.
—
BRAZIL 4-1 CAMEROON
(Neymar 2, Fred, Fernandinho; Matip)
Brazil wobbled midway through the first half, but were otherwise comfortable against an already eliminated Cameroon side
Cameroon press
Having been disappointingly passive in their previous two games, Cameroon suddenly decided it was worth coming out and giving it a go. From the start they looked to press intensely, especially in the midfield zone where Stephane Mbia moved forward, and therefore they often had 3 v 2 in that area of the pitch, and put Paulinho under pressure. Luiz Gustavo dropped into the backline to find space.
But Cameroon also pressed Brazil high up the pitch in the full-back areas. The home side weren't always capable of playing around this pressure, and therefore they went long.
Brazil long passes
From the opening stages it was notable how Brazil were attempting to hit their forwards as quickly as possible. Because Oscar, Hulk and Neymar were playing high up the pitch in close support of Fred, and because Cameroon's midfield were looking to shut down, it meant Brazil sometimes played 4 v 4 against the Cameroon defence. When they added to this with runners from deep like Paulinho or Neymar breaking forward, and the attackers creating room with some clever movement, the situation was even more dangerous.
The first two goals were very simple – Gustavo pressing Benjamin Moukandjo, winning the ball, and curling it around the defence for Neymar to finish. It wasn't a long ball, but it was a direct attack – a one-pass move. The second goal followed a long ball from David Luiz which was cleared, then Marcelo collected possession and immediately played in Neymar, who dribbled and finished superbly. Again, it was a one-pass move, again the attack originated from Brazil winning the ball in the opposition half, in a left-wing position. This was their approach – attack, rather than control. Thiago Silva and David Luiz attempted quite a few long passes:
That lack of control meant Cameroon were afforded opportunities to get back into the game, as possession was conceded readily. There was a lack of incision from midfield, and not much good movement upfront – but Cameroon forced set-pieces, and Brazil looked completely uncomfortable here. Joel Matip scored in the aftermath of a set-piece situation.
Brazil were comfortable enough in the second half, with the main story being Fernandinho's good impact as a substitute, in place of Paulinho – he could force his way into the side.
—
Day 12:
Italy v Uruguay – a huge game – whoever wins progresses. Both managers have big decisions to make about their formation and starting XI, with Cesare Prandelli more likely to make sweeping changes.
England v Costa Rica – a dead rubber. England are out, Costa Rica would like a win, but are already through.
Colombia v Japan – Colombia are through and could rotate their side. Japan will probably dominate the game and attack with their full-backs – a win could send them through
Ivory Coast v Greece – The Ivorians are favourites to finish second, but will have to be on their guard against a Greek side that will finally have to attack
Related articles on Zonal Marking: