World Cup 2014: group stage, day 11
BELGIUM 1-0 RUSSIA
(Origi)
A really awful game – Belgium's 88th minute winner was their first shot on target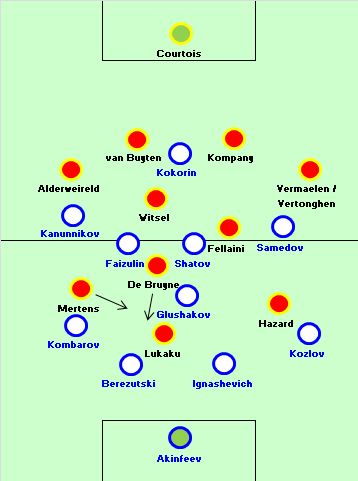 Midfield pressing
The first 15 minutes here reasonably bright. It was expected that both sides would sit behind the ball, inviting the opposition onto them, and there would be a lack of intensity to the game. It actually started at a high tempo, with a couple of promising counter-attacks and some good movement from the attackers.
When the game settled down, however, it turned out that the three central midfielders on either side were effectively marking one another. This was usually Denis Glushakov on Kevin De Bruyne, Viktor Fayzulin on Axel Witsel and Oleg Shatov on Marouane Fellaini – and vice-versa. It happened when both sides had the ball, and these midfielders (particularly Fellaini) want wandering around the midfield zone, changing positions with midfield colleagues in an attempt to find space and received possession. It rarely happened, though, and for the first half hour, the sides simply weren't able to play through the midfield zone.
This didn't create an inspiring game because of the lack of quality passing from elsewhere. Belgium again suffered from their lack of natural full-backs – there was little overlapping, and both starting full-backs had a disappointing game. Thomas Vermaelen barely lasted half an hour before limping off injured and being replaced by Jan Vertonghen, while Toby Alderweireld was a little fortunate not to concede a penalty. He kept committing fouls and was later booked.
Belgium flashes
The two sources of excitement were from Belgium attackers. Kevin De Bruyne drifted around intelligently and sometimes received possession beyond Glushakov, and did more than anyone else to lift the tempo of the game. On the right Dries Mertens showed a turn of speed and caused Dmitri Kombarov problems, but couldn't quite find the right end product.
Russia's best chance, strangely, came when Glushakov found himself on the left flank and crossed to Alexander Kokorin, who headed wide from a great situation.
There wasn't any great progression to the game, with both sides content with a point, in the expectation they'd collect a result in their last game. The second half was pathetically slow at times, although Belgium's substitute striker Divock Origi showed some promising moments and better movement than Romelu Lukaku, and Eden Hazard suddenly found space in the final 10 minutes, as Russia tired and left spaces at the back at defensive transitions.
Origi and Hazard combined well for the winner, and it wouldn't be a surprise to see Origi handed a start in Belgium's final group game – but neither of these sides impressed.
—
ALGERIA 4-2 SOUTH KOREA
(Slimani, Halliche, Djabou, Brahimi; Son, Koo)
Algeria got nervous towards the end, but their first half performance was one of the finest of the tournament
Variety of Algeria's attacks
Algeria were the better team by far, outplaying a disappointing South Korea side who appeared nervous and tentative with their passing. There wasn't a particular area where Algeria had the advantage, they were superior across the field.
The impressive thing about their play, however, was that Algeria were capable of attacking in two entirely different ways, even if both involved their centre-forward Islam Slimani, a good all-round striker. He showed he was capable of getting on the end of different types of deliveries – he positioned himself well and made good runs when the ball was delivered from wide areas, and even though he wasn't always reliable with his finishing when the crosses reached him, he showed an ability to outwit two Korean centre-backs. He nodded wide from a right-wing corner, and then hooked a volleyed shot up into the air from a right-wing cross, rather than knocking the ball towards goal.
But Slimani also showed he had pace in behind, racing onto a clever Sofiane Feghouli flick over the opposition defence. That was two minutes before his opener, which came from a long but accurate Carl Medjani hoof down field in behind the centre-backs. This time he showed a cool finish. Slimani had aerial ability, and he had speed – this is the nightmare for opposition defenders – they don't know whether to defend high up the pitch to prevent him being a threat from crosses, or drop deep to nullify his pace. There's no easy answer.
Algeria press
Algeria were the more proactive side, pressing high up the pitch and forcing Korea into some extremely poor passes, which was extremely surprising for a side usually very good in possession.
The pressing was in stark contrast from the Korean approach, which involved sitting back inside their own half. The two forwards, Park Chu-young and Koo Ja-yheol, attempted to prevent passes being played into Algeria's two central midfielders, but Algeria were mobile enough to get around this. Medjani dropped deep to collect the ball from the centre-backs away from the pressure, while Nabil Bentaleb drifted around the midfield zone intelligently, looking for space.
The attacking band of three were good, too – all three varied their runs, coming short and then long, offering a pass to feet then spinning in behind. That was a replicate of Slimani's lead, always giving the midfield two different options. 3-0 at half-time wasn't an undeserved scoreline, and once Algeria raced into a lead their midfield passing combinations became even more impressive, as they retained possession without always attempting to penetrate. When they did move forward, their attacks were sometimes fantastic – the move for Yasine Brahimi's fourth goal is one of the best team goals of the tournament.
Korea fightback
In fairness, Korea mounted a decent recovery at 3-0 down, and caused the Algeria defence some nervous moments. the main reason for this was the introduction ofKim Shin-wook, an absolute classic Plan B. The 6′4 striker went upfront and Korea shamelessly launched long balls towards him from their own half – and Korea adjusted to this approach well, getting men into the box to reach the knock-downs. This long ball strategy was something they regularly played under Choi Kang-Hee's reign, so it wasn't entirely alien.
Kim did well upfront. Amazingly, he won more aerial duels in a single game than any other player at this World Cup – despite the fact he only played half an hour. Meanwhile, Son Heung-min completed more dribbles than any other player in a single game – both had a good second half, but South Korea weren't likely to score four goals.
—
USA 2-2 PORTUGAL
(Jones, Dempsey; Nani, Varela)
A very exciting game – USA dominated for the majority, but conceded a very late equaliser, meaning all Group G sides can still qualify
Portugal left / USA right
There were various changes to the sides for this game – Portugal's backline was decimated through injury, while Jurgen Klinsmann switched to a 4-2-3-1 in the absence of Jozy Altidore, with Clint Dempsey upfront alone. Incidentally, this is probably what should have happened after Altidore's injury against Ghana, and USA played much better football in this match, even if they didn't eventually record a victory.
But this game was basically all about the battle in one area of the pitch, as always with Portugal's matches. Usually Cristiano Ronaldo starts on the left flank and cuts inside onto his right foot before shooting. The starting structure of Portugal's side suggested this was the plan again, but Ronaldo played an even freer role, appearing as something of a second striker for the latter period of the second half, before eventually becoming Portugal's highest man up the pitch. The left-wing position was left bare.
Johnson forward
The most notable feature of the USA's 2-1 win over Ghana was the extremely attacking role played by right-back Fabian Johnson, and he admirably replicated that here despite the threat of Ronaldo. His position was often covered by Jermaine Jones, switched to the right of the midfield for precisely this purpose, and the number of 2 v 1s he created with Graham Zusi in the first half was incredible. He played much further forward than DaMarcus Beasley on the opposite side.
This was particularly dangerous for Portugal because left-back Andre Almeida suffered an injury midway through the first period and only just made it to half-time before being replaced. He was only playing because Fabio Coentrao's tournament is over, while left-sided centre-back Bruno Alves, an injury doubt all week, also struggled badly.
No other side has suffered as many injury problems as Portugal. There was also a question mark over Ronaldo's fitness, which is perhaps why he played a more static role than usual, generally depending upon service from the midfield to supply him in good goalscoring positions, rather than regularly starting counter-attacks from his own half. Either way, he was leaving the left flank exposed, and that was Portugal's zone of weakness anyway.
Portugal switch shape
This was all happening right in front of Paulo Bento. Zusi got up and down the pitch nicely but didn't contribute a great deal in possession, but Johnson was a real attacking force throughout the game. Therefore, Bento told Raul Meireles to switch to the left of midfield, meaning Portugal were now covering that side of the pitch, and in a more literal 4-4-2 formation. The problem, though, was that they were now outnumbered in the centre of the pitch 3 v 2, with neither forward working hard without the ball.
Another problem was the fact Helder Postiga departed early through injury, with Eder brought onto replace him. Had Bento not been forced into that early switch, he might have considered removing his main striker, bringing on another midfielder to keep things solid. Portugal were 1-0 up for an hour, after all.
Things got even worse for Portugal when Almeida departed, which meant William Carvalho coming on in midfield and Miguel Veloso shifted to left-back, a position he's played previously, but never looks entirely comfortable in.
USA dominate and go ahead
Everything went down the USA's right, because that's where they were being allowed space:
They created their best goalscoring opportunity with an ideal example of how they were dominating. Jones collected possession without any pressure from a Portugal midfielder, then transferred the ball onto Zusi, who immediately found Johnson overlapping into space. The pass was perfect, Johnson darted past Meireles (who was briefly covering the left-back zone and had left too much space between he and Alves) and squared for Michael Bradley – who somehow managed to shoot straight at Ricardo Costa on the goalline, with Beto nowhere to be seen. This summed up the key battle perfectly.
The two USA goals, in different ways, also originated form the right. Jones' goal was simply a brilliant long-ranger after a right-wing corner, but watch the move leading up to the corner, and it starts in the left-back zone before crossing to the right wing, through Bedoya, Beckerman, Jones, Cameron then Johnson, before Dempsey wins a corner towards the right.
At 1-1 Klinsmann introduced DeAndre Yedlin for Bedoya, switching Zusi to the left and essentially playing two full-backs in tandem down the right. This provided more defensive support for Johnson, but was also an attacking move to stretch the play even more.
The second USA goal also came from the right – Beckerman and Jones were again allowed time on the ball to switch the play right, with Yedlin's cross causing mayhem in the box, and Dempsey eventually converting.
Latter stages
The USA's lead fully reflected the balance of play, and they'll be furious for managing to let it slip. Klinsmann introduced an extra defender, Omar Gonzalez, in place of Zusi – which made sense because Portugal had chucked Alves upfront to win long balls.
The crucial substitute was Silvestre Varela, though – he had replaced Meireles on the left at 1-1, and having been a brilliantly effective supersub at Euro 2012, again scored a crucial goal by heading in Ronaldo's superb right-wing cross. This wasn't representative of Portugal's play, and in the closing stages their approach seemed rather desperate.
There are various places to point the finger – Bradley shouldn't have lost possession so cheaply with a minute remaining, for example – but the wider problem is the USA's tendency to react too much to the game state. Throughout their opening two matches they've showed some great attacking play when behind, or drawing. They started brilliantly against Ghana, and responded superbly to conceding an equaliser – but during the period they were ahead, they sat extremely deep and invited so much pressure.
Similarly, in this game they were excellent for long periods when needing a goal, but then immediately conceded the midfield ground when ahead. It's almost like they need someone to shout out that old Sunday League call of "Still 0-0, lads!" after a goal, and continue to play their usual game, regardless of the scoreline.
—
Day 12:
Chile v Netherlands – Both sides have impressed with their high-energy football and their relentless pressing. Hopefully they won't take it easy, knowing they're both already through – but they'll want to avoid Brazil.
Spain v Australia – A dead rubber. Both are out, although in different circumstances – Spain have had a disastrous competition and this will be the end of an era, while Australia have performed above expectations and will view this game as another great experience.
Brazil v Cameroon - Brazil aren't definitely through, but Cameroon are definitely out – so we might see a good performance from the hosts.
Croatia v Mexico – The game of the day. Brazil will surely collect a point or more from Cameroon, which means one of these sides will qualify. Croatia need a win, with the draw favouring Mexico. The battle should be down the flanks, where Ivica Olic and Ivan Perisic have been excellent for Croatia, but how will they contain Mexico's wing-backs?
ZM Elsewhere:
Tim Howard and all-round goalkeeping skills
Preview of, er, England v Costa Rica. The big one!
Related articles on Zonal Marking: