World Cup 2014: group stage, day 10
ARGENTINA 1-0 IRAN
(Messi)
Iran defended solidly and created some great chances, but Lionel Messi's stunning stoppage time goal won the game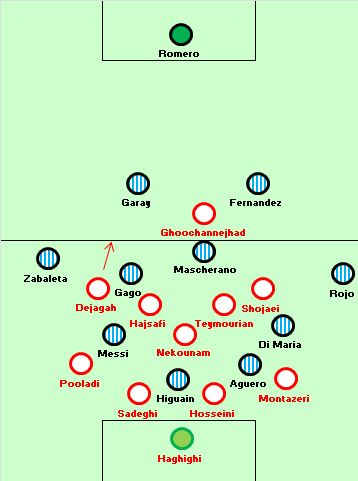 Iran deep and narrow
We expected another defensive-minded performance from Iran, and that's precisely what we got. They set out to frustrate Argentina, sitting extremely deep and making little attempt to attack in the first half.
Iran's major strategy was to defend extremely narrow. They were aware of the danger of letting Lionel Messi have the ball in central positions, and therefore their five central midfielders formed a solid block in the centre of the pitch, denying Argentina's central midfielders the passing lanes to feed the ball to Messi, Angel Di Maria and the other two attackers. They encouraged balls out to the full-backs instead.
Argentina go wide
Neither of Argentina's full-backs are particularly talented in possession. Pablo Zabaleta made some good forward bursts but generally off-the-ball. Marcos Rojo was better, though – arguably the greatest threat in open play with some dangerous crosses from the left, something Iran looked uncomfortable dealing with.
In fact, almost every time Argentina threatened, it was from wide areas – crossing, set-pieces, and the central attackers moving into wider positions. Di Maria barely needed to defend, so wasn't shuttling out to the left, more based there permanently. Messi got most space when he drifted towards the right, while Argentina's best chance of the first half came when Fernando Gago surprisingly moved towards the right touchline and curled the ball around the defence for Gonzalo Higuain. Argentina created chances from more central positions after the break, though:
Iran create
Iran made little attempt to attack in the first half, with Ashkan Dejagah going on a couple of decent counter-attacks and Iran forcing some set-piece chances . In the second half, however, they surprisingly opened up – and amazingly, they created more clear goalscoring opportunities than Argentina.
This usually involved advancing down the right flank, before playing passes or crosses towards the opposite side. For example, Pejman Montazeri overlapped well from right-back, before centring for a great Reza Ghoochannejhad headed chance. Their next best goalscoring opportunity was identical – Montazeri finding space, drifting a cross/pass over the top of the defence, and Dejagah moving inside from the left to force Sergio Romero to tip over. Montazeri's second half attacking shift summed up Iran's approach after the break:
Iran also had an earlier penalty shout in a not dissimilar situation, with Masoud Shojaei launching a ball for Dejagah to run onto – he was bundled over by Zabaleta, who had a very poor game.
Alejandro Sabella's changes weren't particularly imaginative. Aguero and Higuain couldn't find space upfront and were replaced with Ezequiel Lavezzi and Rodrigo Palacio 15 minutes from time – but those are players that depend even more upon finding space, and while Iran were pushing forward more, their defence was still reasonably secure. It took an outrageous piece of individual brilliance from Messi to win the game in the 91st minute – for the first time he was closed down by one, rather than two Iranian players, and he curled the ball beautifully into the far corner.
Surprisingly, the goal hadn't been coming – this was a brilliant effort by Iran.
—
GERMANY 2-2 GHANA
(Gotze, Klose; Ayew, Gyan)
A brilliant football game, which was end-to-end throughout. In terms of tactical analysis, it was almost too open – every player found space, both sides had chances to attack.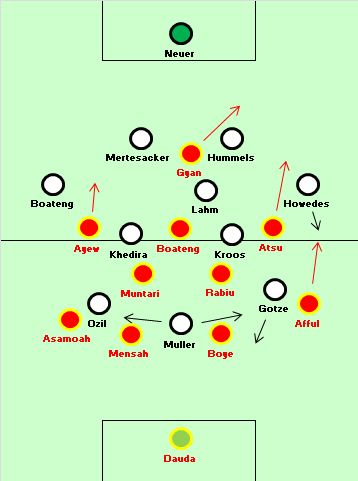 Ghana attack down Germany right
It would be impossible to sum up this game properly, but there were a a couple of key features. The most obvious was how Ghana had ample opportunities to break down the right, primarily because of Benedikt Howedes' questionable left-back performance.
This is Germany's weak spot, and Howedes is clearly not a natural left-back, so it's difficult to blame him too much. But he really doesn't offer much in that role – his attacking is brave and powerful, but not particularly effective because he doesn't want to overlap and be forced onto his left foot. That's understandable, but you'd at least expect his defending to be good – and it wasn't. Mario Gotze's lack of interest in defending didn't help, but Howedes was frequently caught out of position, which asked an awful lot of Mats Hummels, forced out of the centre to defend in the channel.
Ghana had attacked frequently down the right in their opening match against USA, but here they simply had more end product from the players down that side. Christian Atsu played very well, having been terribly frustrating in his first game, while Harrison Afful came into the side after Daniel Opare's terrible display against the USA, and his delivery was much better – he provided the assist for Andre Ayew's excellent header.
Ghana's other goal also came down the right, with Asamoah Gyan scoring from that inside-right position – the zone he always looks to work. The pass was played between the centre-backs rather than between Hummels and Howedes, but Hummels was always having to cover too much space.
Gyan's goal, incidentally, came from a stray Lahm pass in the centre of midfield, and the Germany captain still doesn't look entirely comfortable in this holding role at international level. He was caught in possession by Miguel Veloso in Germany's opening game, resulting in one of Portugal's best chances, and he sometimes appears too slow with the ball, and unaware what's happening behind him. Being caught out in such similar situations two games in a row is a real cause for concern.
Tempo
The other issue was the the tempo. Germany seemingly wanted a calm, relaxed game – they were patient with their passing and not particularly keen to press high up the pitch. Ghana were the opposite, defending with a much higher defensive line than usual, pressing the German central midfielders intensely, and transferring the ball into counter-attacking situations extremely quickly.
It's difficult to deny that Ghana got the better of the game in this respect. They would have been much more pleased it was so frantic and end-to-end, and at no stage did Germany actually feel in control, despite dominating possession clearly. Ghana had some fantastic counter-attacking situations they didn't always fully exploit, particularly once Shkodran Mustafi replaced Jerome Boateng at right-back. He looked no more comfortable than Howedes on the opposite flank, and substitute Jordan Ayew now had plenty of chances to break forward. Ghana had more chances to win the game.
The final word must go to Miroslav Klose – Germany might start without a classic number nine, but they have (now) the World Cup's joint all-time top goalscorer to call upon from the bench. His equaliser was a classic Klose goal – pure poaching at a set-piece, and he's fantastic Plan B for Joachim Low to have up his sleeve.
—
NIGERIA 1-0 BOSNIA
(Odemwingie)
Another really good, open, end-to-end game – Nigeria put the Bosnia defence under more pressure and took one of their chances
Nigeria into right channel
The main feature of Nigeria's play was their continual attacking into the right-hand channel. With Senad Lulic attacking relentlessly from left-back, it created a gap for both right-winger Peter Odemwingie and centre-forward Emmanuel Emenike to charge into.
This caused continual problems for Emir Spahic, the rather cumbersome left-sided centre-back, and he endured a difficult game because he was forced to cover so much space. Lots of Nigeria's chances were created from that zone, including the goal which saw Odemwingie and Emenike briefly switching positions, with the latter providing the cross and the former providing the finish.
Another real problem was the fact Bosnia were playing so high up the pitch. This exposed their centre-backs to pace, and meant they had a great responsibility in terms of playing the ball out of the back, too. There were simply too many errors in deep positions from the Bosnian side – sometimes when pressed, sometimes just because they were uncomfortable in possession.
Bosnia chances
That said, Bosnia probably created as many chances as Nigeria – some because of excellent passing football. Nigeria tried to stay compact and minimise spaces between the lines, but Bosnia simply had so many clever playmakers who played a series of penetrative passes – Haris Medunjanin had a fine game starting the passing moves from deep, Zvjezdan Misimovic drifted inside into pockets of space in the 'red zone', and Miralem Pjanic did a little of both, orchestrating the play.
Edin Dzeko had two good one-on-one chances – once he was wrongly flagged offside, once he forced Vincent Enyeama into a good save.
Bosnia again went to a 4-4-2 with the introduction of Vedad Ibisevic, as against Argentina, but this time around the formation was less successful. Nigeria now sat much deeper and the removal of Izet Hajrovic robbed Bosnia of genuine width to around their opponents – it now had to come from the full-backs, which in turns left space for Nigeria to break into. Safet Susic used all three changes early, with Sejad Salihovic replacing Lulic, and (his nephew) Tino-Sven Susic on in place of Medunjanin, who was on a booking and not in a position to stop counter-attacks.
But the game just drifted away from Bosnia, with an inspired defensive performance from Nigeria, and particularly Kenneth Omeruo, deserving great credit.
–
Day 11:
Belgium v Russia – Belgium will be looking to start quicker than in their struggle against Algeria. Russia won't allow them much space, however, and should start with a more positive XI than against Korea.
Algeria v South Korea  - Having defended solidly in the first game, it's time for Algeria to open up. Expect midfield pressing and quick transitions into attack, with Sofiane Feghouli likely to play a key role
USA v Portugal – Day 11 doesn't look particularly inspiring, but this could be one of the best games of the group stage. Portugal need to attack, while USA must reformat their side without Jozy Altidore.
Related articles on Zonal Marking: