World Cup 2014: group stage, day 9
COSTA RICA 1-0 ITALY
(Ruiz)
An extraordinary upset. Costa Rica rode their luck in the first half but were comfortable after the break – they're through to the knockout stage after just two group games
Costa Rica press
The most notable feature of the first half was the Costa Rican press, which was extremely aggressive. They came into the tournament with a reputation as a very defensive side that stayed very deep, and while we saw that towards the end of this match, they were flexible enough to push up, get tight to Italy, and stop them dominating the game in the centre of midfield in the early stages.
An obvious example was when Gigi Buffon was taking goal-kicks. Italy wanted to pass the ball out from the back, but Costa Rica would move forward, with their front three pressing the centre-backs and Daniele De Rossi, and the wing-backs in a position to move forward onto the Italian full-backs. Buffon was scared to play out from the back, and therefore launched downfield instead – Costa Rica often won the second balls, and Italy were unable to stamp their authority upon the game.
Tight in midfield
Costa Rica also pressed the Italian midfield in open play, pushing their two central midfielders high up the pitch onto Andrea Pirlo and Thiago Motta, refusing to let them play incisive passes towards the three Italian attackers. Because there was a risk of Antonio Candreva and Claudio Marchisio drifting infield between the lines, as they'd done to such devastating effect against England, the Costa Rican defence had to stay extremely high up the pitch, denying space in that zone.
This brought risks, but also offered rewards. On the positive side, Costa Rica often won possession high up the pitch and launched quick counter-attacks with clever passing combinations, using the pace of Joel Campbell and Christian Bolanos against an uncertain Italian backline.
Balotelli chances
The problem came after around 25 minutes when the game settled down, the Italians found more time and space in midfield, yet the Costa Rica defence remained high up the pitch. It invited Italy to launch balls over the top for Balotelli, and there were three examples of this – first Motta played a good pass to Balotelli into the right-hand channel, forcing Giancarlo Gonzalez into a dramatic covering tackle. Seven minutes later Pirlo hit a classic pass in behind for Balotelli, this time free of the last defender, and he missed a good one-on-one chance. Three minutes after that, there was a hybrid of the two previous incidents – a Pirlo forward pass, a Motta flick, and Balotelli in behind again.
While Costa Rica's gameplan worked overall, had Balotelli taken one of these chances, we would have been criticising them for playing extremely naively against such a quick forward, and they rode their luck at times. Italy didn't take these opportunities, though, and their offside awareness was incredibly bad – Italy were caught offside eleven times (as often as they attempted a shot) which shows their determination to sprint in behind.
It's also worth questioning why Pirlo is being played in this left-of-centre role, higher up the pitch than the proper deep-lying position he favours at Juventus – he surely would have received more time in a deeper position, and it made more sense to have De Rossi and Motta battling against Celso Borges and Yeltsin Tejeda, with Pirlo as the free player ahead of the defence.
Costa Rica attacks
Costa Rica didn't park the bus – they attacked with speed. When possession was won, they moved the ball forward quickly without resorting to long balls, with clever combinations out to a wing-back charging forward. And when the ball was wide, they got numbers into the box too, which was impressive considering they had few players naturally stationed in attacking positions. Ruiz scored the winner from a Junior Diaz cross, shortly after Italy had received a warning from a similar left-wing delivery. Christian Gamboa was Costa Rica's star performer in the opening game, but this time Diaz took command from the opposite side.
Costa Rica also took advantages of set-pieces, taking an age to actually deliver the corners and free-kicks, slowing the game down and disturbing the rhythm of the game. Like against Uruguay, the centre-backs were a constant threat in the air and Buffon looked uncomfortable.
That's the standard 'underdog' approach, but Costa Rica's gameplan also involved good, intelligent attacking in open play. Campbell got the better of his duel with Giorgio Chiellini, and was unlucky not to win a penalty when the Juventus defender bundled him over shortly before the opener. Daniele De Rossi had a terrible game in the holding role, moving forward to support his midfield colleagues but missing tackles and leaving a gaping hole between the lines, exploited by both Bolanos and Ruiz drifting inside.
Second half
Prandelli immediately changed things at half-time, bringing on Antonio Cassano for Thiago Motta, and moving to more of a 4-4-2 (or 4-2-2-2) shape. But this played into the hands of the back three, and it was surprising Prandelli didn't introduce another player capable of sprinting in behind the defence, or at least offering width.
In fairness, by this stage Costa Rica had decided to drop much deeper, with Jorge Luis Pinto recognising the high line had repeatedly been breached in the first half, even if Costa Rica's clean sheet was intact.
But there was no second half onslaught, and Italy were incredibly passive. Lorenzo Insigne and Alessio Cerci replaced the two wide players and offered dribbling and speed in wide areas, but the shape didn't change and there was no obvious alteration in approach. There genuinely wasn't much for Costa Rica to do, other than to sit deep, invite the Italian full-backs forward, then shut down men between the lines and clear crosses.
Balotelli's movement was non-existent, and he was invisible after half-time (the opposite of his display against England) while Pirlo spread play well but could no longer provide incisive balls against such a deep defence.
By the end, Costa Rica were surprisingly comfortable.
—
FRANCE 5-2 SWITZERLAND
(Giroud, Matuidi, Benzema, Valbuena, Sissoko; Dzemaili, Xhaka)
The highest-scoring game of the tournament so far – France were 5-0 up thanks to some brilliant counter-attacking, before switching off late on
France counter-attack into wide areas
This was a comfortable win, and much like Colombia's victory over Ivory Coast yesterday, it followed a rather simple pattern. The defeated side determinedly pushed their full-backs high up the pitch to overlap and get crosses in, but this left the defence exposed to rapid counter-attacking into the gaps they left behind. This is becoming something of a theme at this World Cup.
Switzerland's use of attacking full-backs worked excellently against Ecuador in the opening game, with Ricardo Rodriguez recording both assists (albeit one from a set-piece). Stephane Lichtsteiner, however, looked more nervous throughout that game and again he was guilty of naive positioning, pushing ahead of his central midfielders into the final third, before Switzerland had got settled on the ball, and repeatedly leaving the centre-backs exposed.
Valon Behrami tried to cover for Lichtsteiner but endured a poor first half, with his terrible error in possession for Blaise Matuidi's goal summing up his performance – he was removed at half-time.
In fairness, Switzerland had been weakened by the early departure of Steve von Bergen through injury, with Philippe Senderos coming onto replace him, but this should have meant Switzerland protected their centre-backs better, rather than repeatedly exposing them. It's difficult to know where to point the blame here – the centre-backs were poor (with Johan Djourou's needless tackle on Benzema to concede a penalty the best example of their failings) but the full-backs simply played too high up the pitch, and the central midfielders conceded possession readily. This was completely the opposite of what we expect from Switzerland, who have a knack of keeping clean sheets at World Cups.
The funny thing is that France were theoretically weak down the flanks – not because they didn't have good players in those positions, but because both wide men naturally come inside. Karim Benzema must have been a little peeved at being moved from his centre-forward position, having scored twice against Honduras, while Mathieu Valbuena loves drifting inside from the right.
But both could hardly ignore the space ahead of them, and they were brave in their positioning – not tracking Lichtsteiner and Rodriguez back – instead remaining in the opposition half, in positions to counter-attack. Closing down the Swiss full-backs was instead the responsibility of Blaise Matuidi and Moussa Sissoko, highly energetic players who got out quickly to close them down. France recovered the ball high up the pitch for the first 70 minutes (by which point they'd completed the scoring) before sitting much deeper for the final 20.
The speed and quality of France's counter-attacking was remarkable, and their play in tighter spaces not bad either. But it was amazing how much space Switzerland afforded them at times – when Switzerland won a corner, they only kept 2 v 2 at the back (and both very high up the pitch) and were undone by a thrillingly direct break, with Giroud and Valbuena combining. What happened to the solid, organised and resilient Switzerland? And why did they change that approach for a match where they would surely have been happy with a point? France's slackness meant Switzerland made the scoreline look vaguely respectable, but this was a true thrashing.
–
Ecuador 2-1 Honduras
(Valencia 2, Costly)
An entertaining but irrefutably low-quality game – Ecuador deservedly triumphed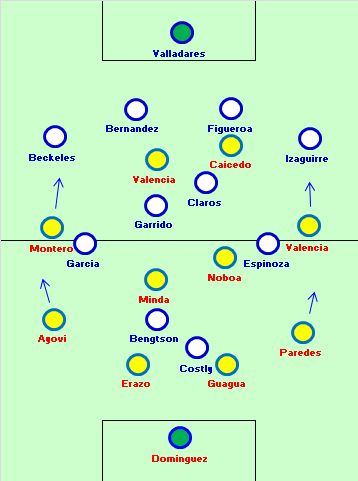 Old-fashioned game
This was an unashamedly old-fashioned tactical battle, like something from a bygone era in World Cup terms. It was 4-4-2 against 4-4-2, with both sides hitting long balls towards the strikers, or getting the ball wide and putting crosses into the box. There were strong tackles, lots of aerial duels, and it was a stop-start game because of so many fouls.
There were no number tens, no deep-lying playmakers, no-one trying to create from the centre of the pitch or find pockets of space between the lines. It was the most anachronistic game of football you'll find at this World Cup, but because it was so open and both were going for the win, it was actually very enjoyable.
After all, the beauty of football tactics is the variety – here were two sides trying something completely different from almost every other side in the tournament.
Long balls
Although both sides were hitting long balls, these were at least intelligent, driven through-balls rather than aimless punts encouraging the strikers to get flick-ons. Both sides have left-footed defenders with great guile, capable of playing good forward passes – Honduras' Maynor Figueroa and Emilio Izaguirre can move forward in possession, and the latter hit two searching balls towards Carlo Costly in the first half, although the assist for his opener came from the opposite side of the defence, a long Brayan Beckeles hoof, that forced an error from Jorge Guagua. It mostly came from the left, though – look how basic the passing was…
Honduras were actually the more organised side – their wingers played deeper, their forwards got back to make the side compact, and the midfield protected the defence well. But in a game like this, standard tactical concepts applicable to most other games at this tournament were almost irrelevant.
Ecuador attacks
Ecuador, after all, were taking the same approach as Honduras. They also boasted good distribution from the left side of their defence, with Frickson Erazo knocking a brilliant ball to Enner Valencia breaking in behind the defence after 20 minutes, which was almost a carbon copy of the Izaguirre passes to Costly at the other end.
Valencia wasted that one-on-one chance, but drew Ecuador level later. Again, the only surprise was that the move originated from the right-back position rather than the left-back zone, with Juan Carlos Paredes' cross-shot deflected towards Valencia at the the far post.
This pattern went on throughout the game, and Honduras actually had more goalscoring chances than Ecuador, with two goals (rightly) disallowed for offside. It was basically about who could take chances, and the on-form Valencia pounced to head in a classic Walter Ayovi left-footed free-kick.
This could have gone either way, but it was fitting the match was won by a delivery from a left-footed defender towards a central striker – it's basically all that happened throughout the contest.
—
Day 10:
Argentina v Iran – Argentina are best on the break, but Iran will sit very, very deep and attempt to deny them space – it's up to Argentina's attackers to provide a moment of magic. They're well capable of that.
Germany v Ghana – This should be good – Germany were outstanding in their win over Portugal, with the combination play of the front three especially impressive. Ghana lost against the USA but showed some good football, and could be better against a more proactive side.
Nigeria v Bosnia – Bosnia nullified Argentina and put together some good passing moves, and will expect to dominate against Nigeria.
Related articles on Zonal Marking: