World Cup 2014 group stage: day 8
COLOMBIA 2-1 IVORY COAST
(Rodriguez, Quintero; Gervinho)
A good game contested mainly in the wide areas, with the Ivory Coast full-backs overlapping and the Colombian wingers counter-attacking in behind them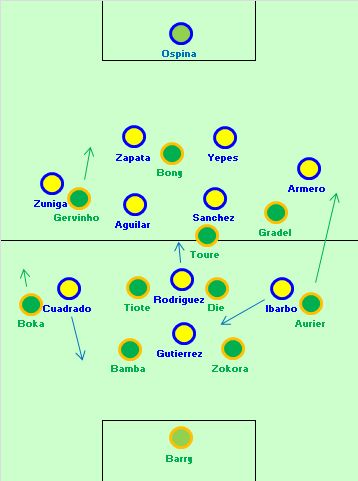 Ivory Coast full-backs forward
This match was enjoyable throughout, but the tactical battle was very basic. Like in their opening match, the Ivory Coast tried to get their full-backs forward whenever possible, completely restructuring their system in order to get Arthur Boka and Serge Aurier high up the pitch. A couple of times, this meant that both Serey Die and Cheick Tiote dropped into the defence, to form a four-man backline along with the two centre-backs, while the full-backs pushed into the opposition half.
The problem, though, was that the full-backs weren't supplied often enough, and when they did get chances to cross, they found Mario Yepes and Cristian Zapata much more comfortable in the air than the Japanese centre-backs were on Saturday.
Colombia counter-attacks
Colombia sometimes struggled to deal with the threat of the Ivory Coast full-backs, because it meant their wingers were being forced into extremely deep positions. But they didn't always track all the way back, and Juan Cuadrado remained in a position to counter-attack down the right. This pushed back Boka, and for much of the game he couldn't get forward as much as Aurier.
The majority of Colombia's attacks came down the right with Victor Ibarbo darting inside from his left-wing position to help overload the Ivory Coast on the opposite side. There was a very set pattern to the Colombian attacks – James Rodriguez would drop away from the Ivorian central midfielders to find a pocket of space, before immediately looking to loft the ball into the opposition left-back zone for Cuadrado to run onto. This approach brought the opener against Greece last week, and should have had the same result here – Teo Gutierrez missed a golden chance after a perfect example.
The Ivorians couldn't cope with Cuadrado, constantly fouling him when he attempted mazy dribbles.
Rodriguez, though, was running the show. He's thriving in this number ten position, and while he initially felt like a converted winger in that role, he's actually shown tremendous intelligence and all-round ability by varying his position and moving deep to conduct the play.
He was also crucial in Colombia's two goals, in situations you wouldn't expect – first he rose excellently to head in a Cuadrado corner, then he pressed high up the pitch and dispossessed Die, creating a 2 v 1 break which allowed substitute Juan Quintero to score.
Ivory Coast fightback
Ivory Coast weren't able to make a full comeback from 2-0 down, but Sabri Lamouchi was positive with his changes, effectively moving to a 4-2-4 formation. Didier Drogba had already replaced Wilfried Bony upfront, and Salomon Kalou came for on for Max Gradel, but his third change saw Mathias Bolly, a forward, on for Die. Bolly, Kalou, Drogba and Gervinho now formed a front four, with Yaya Toure in a deeper midfield position.
They got back into the game almost immediately, with a Gervinho solo strike, and then they seriously threatened to pull level. Lamouchi's substitutions increased the pressure, but it felt like Colombia had absolutely no idea how to protect their lead. They continued pushing men forward, almost playing their own 4-2-4 at times, and on multiple occasions lost possession with four men out of the game, and their defence effectively exposed 4 v 4 permanently.
Jose Pekerman made slight defensive changes – Santiago Arias is a more solid left-back than Pablo Armero, and Alexander Mejia perhaps better at scrapping than Abel Aguilar. But it was a wholly unconvincing defensive effort by Colombia, and the final 10 minutes were extremely nervous.
—
URUGUAY 2-1 ENGLAND
(Suarez 2; Rooney)
Uruguay got the better of this contest, nullifying England's key players and supplying their front two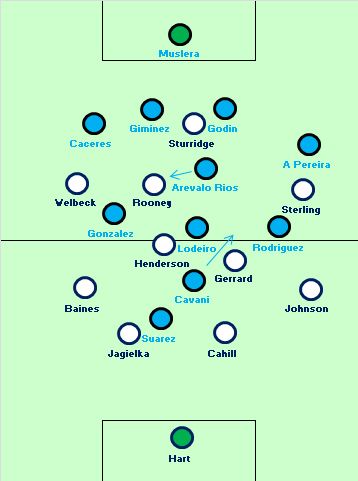 Arevalo Rios marks Rooney
Both managers changed their system for this match – Oscar Tabarez made five changes and used a midfield diamond, while Roy Hodgson changed the positions of his attacking band of three, moving Wayne Rooney into the number ten role.
But in a scrappy game, the formations weren't of great interest. Uruguay successfully stopped England putting together good passing moves (something they'd shown regularly in their defeat to Italy) because they man-marked the two England players with intelligence and guile in possession. From the opening minutes, it was clear Egidio Arevalo Rios was sticking to Rooney all over the pitch, getting tackles in as soon as Rooney received possession, and preventing him from turning.
England couldn't get the ball to Rooney in dangerous positions, and it took him 20 or minutes or so before realising he needed to vary his position, drifting into the channels away from Arevalo Rios. Once he did this, he had a decent impact – he played a good one-two with Daniel Sturridge in the right-hand channel, forcing Diego Godin into a cynical foul, and then set up Sturridge for a near-post shot towards the other flank. Considering Uruguay were man-marking him, it was a decent contribution.
Cavani marks Gerrard
England's other problem, however, was that Edinson Cavani was playing a similar role on Steven Gerrard. Brought back into a deeper position because of Luis Suarez's return, Cavani's discipline to man-mark Gerrard for 90 minutes was outstanding for a natural centre-forward. England depend on Gerrard to get their passing moves going, and Cavani simply prevented Gerrard from hitting good passes into attack.
Tabarez was honest about this after the game. "Cavani played a very important role neutralising [Gerrard]," he said. "Gerrard couldn't create the opportunities he normally does because Cavani was facing him most of the time and stopping him. They had more difficulties today than they normally do reaching the goal. That was the key."
Unable to play passes into Rooney or Gerrard, England simply couldn't get hold of the game. The other attacking options (Henderson, Sturridge, Danny Welbeck and Raheem Sterling) are quick, energetic and tactically disciplined, but not creative players. Sturridge made some good runs and Welbeck showed some neat touches, while Sterling was nullified by Alvaro Pereira, who had a fine game at left-back. Henderson couldn't influence the game, though, and lacked intelligence in possession.
The best evidence of Uruguay's successful approach, in marking both Gerrard and Rooney? It took Gerrard 85 minutes to pass to Rooney in open play.
Cavani attacks
What made Cavani's performance more impressive, though, was that he was a brilliant attacking weapon too. England's area of weakness is between the lines, because Gerrard is far from a perfect holding midfielder. Cavani positioned himself there within the first minute, and throughout the game continually found space. Gerrard was often tempted to close down higher up the pitch, with Uruguay using other players, particularly Nicolas Lodeiro, in his zone.
The opener was a good example – Gerrard missed a tackle against Lodeiro, who then found Cavani between the lines, and Cavani played a beautiful chip onto Luis Suarez's head for 1-0.
England re-shape
England's second half fightback wasn't bad. They suffered a heavy spell of pressure just after half-time, when they were fortunate not to go 2-0 down. But having weathered the storm, they pushed forward and took advantage of Uruguay's narrow diamond to move Leighton Baines and Glen Johnson extremely high up the pitch. The differences in Baines' positioning after half-time was particularly obvious.
Baines created some good moments down the left, including a low cross which found Rooney in a glorious goalscoring position, but he shot straight at Muslera. Baines played a similar ball moments later, which resulted in a coming together between Welbeck and Muslera at the near post.
Substitutes
This prompted Tabarez to change shape. Lodeiro, his number ten, was sacrificed with right-winger Christian Stuani coming on, changing Uruguay to a 4-4-1-1. Tabarez wanted to protect his full-backs, and Stuani was told to pick up Baines.
Still, England persisted with that approach. The overlapping of the full-backs was helped by Hodgson introducing Ross Barkley and Adam Lallana for Sterling and Welbeck, England's two wide players. The substitutes buzzed around in central positions, interchanging with Rooney and narrowing Uruguay to create space on the overlap. Johnson set up the equaliser for Rooney with a good burst down the right, and Baines created another decent chance for Sturridge down the left. Tabarez was so concerned about England's full-backs that his second change was also designed to stop them – he introduced another left-back, Jorge Fucile, moving Pereira into midfield.
Uruguay won the game with a simple, route one goal. Cavani caused Gerrard problems in the air, forcing the England captain into a poor header which sent Suarez through on goal. It was the most basic goal imaginable, and yet somehow similar to the beautifully crafted opener. Both goals sum up the Uruguayan approach: Cavani bridges the gap between Suarez and the rest, Suarez plays on the shoulder of the defence, always in the inside-right channel, and finishes ruthlessly.
—
JAPAN 0-0 GREECE
A hugely disappointing game – Japan started with great intent but couldn't break down a ten-man Greece
Poor game with expected characteristics
This was a really poor match. Japan started positively, playing some clever quick passing combinations in the centre of the pitch, consistently encouraging both Yuto Nagatomo and Atstuo Uchida on the overlap and stretching the play on both sides. With Shinji Kagawa omitted and Keisuke Honda the only playmaker, they felt more direct with good forward running from the flanks.
In hindsight, Japan's major shortcoming was their inability to create proper chances in the first half hour of the game – they seemed to hold onto the ball for too long, perhaps in an attempt to tire Greece.
But then Kostas Katsouranis was sent off, so Greece went ultra-defensive with an extremely deep defensive block. This was a disaster for the game as a spectacle, and the final 50 minutes was basically a parody game: Japan playing neat passes and getting into good positions, but completely lacking a cutting edge upfront, and Greece defending deep and looking for set-piece opportunities. Amazingly, Greece probably looked more likely to score, despite averaging a pass a minute after half-time.
—
Day 9:
Italy v Costa Rica: This could be quite an interesting clash – Costa Rica's 5-4-1 shocked Uruguay, and it will be interesting to see if Cesare Prandelli changes his formation for this battle
Switzerland v France: Another intriguing game – Switzerland should get their full-backs forward, which will test the defensive abilities of France's wide players
Honduras v Ecuador – The 'late' game has been particularly poor over the past three days. This could be another challenge.
—
ZM Elsewhere:
This Spain side is dead, but their influence on modern football is huge
5 surprise stars of the World Cup so far
Related articles on Zonal Marking: