World Cup 2014: group stage, day 7
NETHERLANDS 3-2 AUSTRALIA
(Robben, Van Persie, Depay; Cahill, Jedinak pen)
Australia turned in another good performance against superior opposition, but a half-time formation switch helped the Dutch win the game
Australia attacks
The Netherlands' performance in the 5-1 victory over Spain was obviously very successful, but it was also extremely risky. They pressed in midfield while man-marking three-against-three at the back, and Spain were unable to constantly penetrate because they used so few players capable of making regular runs in behind. Only Diego Costa was doing that regularly, winning the penalty for the opener, although even David Silva – not renowned for powerful midfield runs – got in for a glorious chance that would have made it 2-0.
Here, Australia caused the Dutch defence more problems than Spain, because they had an intelligent, cohesive strategy to exploit the space. Partly, of course, they simply play more directly – with three attackers spread across the pitch. On Thursday, the Dutch centre-backs tracked Andres Iniesta and Silva into deep, central positions, but here they had the opposite problem – quick wingers looking to dart into the channels. Australia were often able to break three-against-three.
Even more intelligently, however, Australia got midfield runners in behind. Both Mark Bresciano and Matt McKay popped up in advance of Tim Cahill, and past the Dutch backline, within the opening 15 minutes. This wasn't a feature of their game against Chile, and it's likely Ange Postecoglu specifically asked his midfielders to play this way – if the opposition centre-backs are sticking ultra-tight and following forwards out of their natural zone, it's only natural to exploit this with runs from deep.
1 v 1s
That's essentially why Australia caused problems – the Dutch had no spare man at the back, and defended poorly in the channels. Of course, this means Australia had no spare man at the back either, and the game was basically a series of 1 v 1 battles all over the pitch – three Australian attackers versus three Dutch defenders, full-backs versus wing-backs, 3 v 3 in the middle, and two Australian centre-backs versus two Dutch forwards.
Everyone had an obvious opponent to shut down, no-one was overloaded, no-one had to make decisions about who, or how, to press. It was frantic, open and end-to-end.
Space behind Australian full-backs
The Australian full-backs got forward nicely to swing in crosses, and competed high up the pitch with Dutch wing-backs (who are naturally allowed more positional freedom because they're playing in conjunction with a three-man defence. But when Australia's passing moves broke down, Arjen Robben and Robin van Persie had space to break into. Van Persie always seemed to collect the ball in slightly uncomfortable right-sided positions, but Robben's goal on the break was entirely expected – he simply roared into the space in the left-hand channel and finished coolly.
ZM's Australia preview pointed out: "There's a real danger Australia could be caught out on the counter-attack against speedy forwards – the likes of Arjen Robben and Alexis Sanchez might be licking their lips," and that's two in two matches, with both Sanchez and Robben finding the net.
Putting such an emphasis on the full-backs attacking was always likely to cause problems, but this was a calculated gamble from Postecoglu. The full-backs have created many chances in this tournament – including Ryan McGowan crossing for Cahill's astonishing left-footed volley just a minute after Robben's opener. It was hardly much of an assist, of course, it was simply a brilliant strike out of nothing – but it fits with Australia's strategy of crossing to Cahill as quickly as possible.
As an aside, both teams completed exactly the same number of passes in this game, though Australia held the ball longer in defence while the Dutch attacked down the flanks.
Dutch re-shape
On the stroke of half-time, the Netherlands' Bruno Martins Indi got injured and forced to depart. Louis Van Gaal took this opportunity to change his system – Martins Indi's replacement wasn't another centre-back, but instead a winger, Memphis Depay.
When the Dutch emerged for the second half, they were now playing a 4-3-3 system. Depay was playing on the left wing, Van Persie was upfront alone, Robben moved to the right, and Wesley Sneijder tucked inside to a left-of-centre midfield role alongside Jonathan De Guzman.
Now, the game took on a different feel. The Netherlands weren't entirely comfortable, but the game was more controlled and more patient, because both sides now had a spare man at the back – both sides were four-against-three, with three men in the midfield. Australia's forwards had less space in the channels, the Dutch forwards had fewer opportunities to break directly.
In a slower battle, none of the midfielders really took control of the game but the Dutch quality eventually shone through. Granted, Australia went ahead courtesy of a (ridiculous) penalty decision, and created some decent chances because of their pressing high up the pitch.
But Depay was the hero – assisting the first for Van Persie, and firing in the winner. His match-winning contribution as a substitute was a neat summary of how the Dutch prospered after the move to 4-3-3, and it's a system Van Gaal might use for the rest of the competition, especially against sides using three upfront.
—
CHILE 2-0 SPAIN
(Vargas, Aranguiz)
Spain's incredible run of success is over – they were pressed into submission by a terrifyingly energetic Chile side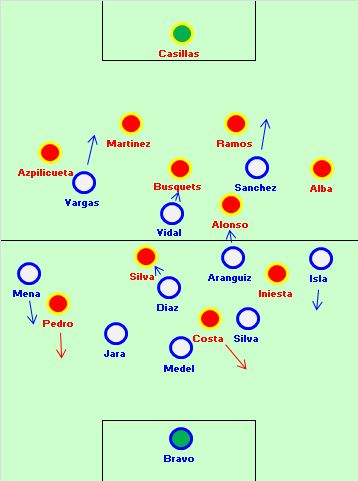 Pressing with caution
Spain suffered in the first game because of the Netherlands' intense pressing, and therefore it was obvious approach Chile would take. They switched system to replicate the Dutch 3-4-1-2, taking out their number ten Jorge Valdivia, with Francisco Silva coming into the side at the back. Chile are better at pressing than any other international side, and from the outset showed their usual high-intensity approach, closing down Spain in midfield extremely quickly.
There was an intelligence about the way they played, however, and more caution in terms of their defensive line. Sometimes Chile are simply too hurried, too rushed, too frantic, and therefore disorganised at the back, leaving too much space for the opposition to break into. This wasn't the case here – Chile's defensive line played deeper than usual, and the wing-backs dropped back to form a back five, whereas usually they're unquestionably in the midfield line in the defensive phase of play, leaving three defenders forced to cover the channels. Spain's use of Pedro Rodriguez meant they had more opportunity to penetrate than against the Dutch, and therefore it made sense that Chile were more cautious in the wing-back positions.
That said, the wing-backs were happy to break forward from their deep positions when Chile had the ball, and with 20 minutes to go, they created a great goalscoring opportunity when Eugenio Mena's cross-shot found Isla at the far post. That was one wing-back finding the other in the penalty box, with Chile 2-0 up. They were more cautious without the ball, but still gung ho when Chile had the ball.
Midfield man-marking
However, their midfield pressing was extremely intense, with Jorge Sampaoli effectively giving his midfield trio man-marking responsibilities. With the two forwards drifting between opposition centre-backs and full-backs, Arturo Vidal led the pressure, pushing high up on Sergio Busquets.
Behind him, the most effective presser was Charles Aranguiz, who forced Xabi Alonso into possibly the worst game of his career. Alonso was pressed and conceded possession for Chile's opener, picked up a booking for a late tackle when Mauricio Isla was quicker to the ball, and then conceded the free-kick which resulted in Chile's second – fittingly, scored by Aranguiz. It's difficult to remember a better player having a worse game – Alonso was completely unable to cope with the pace of this contest.
Marcelo Diaz, meanwhile, did a great job on David Silva. The only time Spain found space between the lines was midway through the first half, when Diaz briefly got attracted to Spain's other midfielders and allowed Silva to go free. Otherwise, they were secure, constantly winning the ball in central positions.
At the back, Gary Medel went toe-to-toe with Diego Costa in a frightening fierce battle.
The only question for Chile were how they dealt with Spain's wide midfielders, and it was Andres Iniesta and Pedro who received most space. Iniesta drifted inside and created Spain's best moments, while Pedro found space but his end product was poor. Again, however, Chile defended against these players well. When Spain's passing moves were patient (and they usually are, of course), they dropped the wing-backs into a back five, which in turn meant Spain's full-backs became the responsibility of Alexis Sanchez and Eduardo Vargas, rather than the wing-backs. The two forwards didn't always track the Spain full-backs, but remained in positions to deter than from attacking.
Chile attacks
Strangely, Chile weren't even at their best going forward. They built up play uncharacteristically slowly from defence when Spain had men behind the ball, because their three centre-backs weren't pressed.
There were two obvious features of Chile's attacking play. First, they repeatedly hit diagonals out to the right flank, where old Udinese teammates Isla and Sanchez combined excellently throughout. Iniesta's tendency to drift inside meant Chile had more space on that flank, and Isla-Sanchez was their most frequent passing combination.
Second, they got men forward extremely quickly, although this was partly a natural result of the pressing. Within the first minute they had four men inside the box for a quick attack.
For the opener, Chile scored because they were pressing five-against-five in the opposition half, and when Alonso conceded possession, they could break four-on-four. As Spanish defenders were attracted to the ball, Chile had an overload when they shifted play from Sanchez to Vidal, back to Sanchez, to Aranguiz, then finally to Vargas, like a rugby team switching play one-by-one, from one flank to the opposite side.
Spain changes
Spain attempted to fight their way back into the game, but Del Bosque made just one half-time switch – Koke on for the hapless Alonso. Chile sat deeper, didn't press so much, so Spain had a spell of pressure and a couple of good chances.
But they never looked likely to mount a serious fightback, with Fernando Torres on for Costa changing little, and Santi Cazorla on for Pedro Rodriguez a backwards move, if anything. It felt like Del Bosque needed to go ultra-direct with mobile, powerful central midfielders like Cesc Fabregas, and perhaps Javi Martinez being moved forward.
In the end, Spain went out with a whimper, exhausted from Chile's pressing and shellshocked at finding themselves in such a bleak situation.
—
CROATIA 4-0 CAMEROON
(Olic, Perisic, Mandzukic 2)
Croatia started the game much better, and Alex Song's red card shortly before half-time ended the game as a contest
Attacking in wide positions
Compared to the other two matches of the day, this wasn't a great contest. Cameroon actually started reasonably well, breaking into Croatia's left-back zone with both Vincent Aboubakar, who drifted right from his centre-forward role, and Benjamin Moukandjo, who was marked extremely tightly by Daniel Pranjic, but managed to spin in behind a couple of times.
Cameroon's problem, though, was that they very rarely converted these promising moments into genuine goalscoring opportunities. The delivery from wide positions was disappointing, and when Croatia got men behind the ball Cameroon had their age-old problem with the midfield triangle. It's tough to understand quite what was happening with the trio this time around – Alex Song and Joel Matip were playing similar roles, and you wonder why Cameroon couldn't have pushed Song forward to permanently pressure Luka Modric and Ivan Rakitic. In the end, Song was dismissed shortly before half-time for a silly elbow on Mario Mandzukic, and that (with Croatia 1-0 up) was the game over.
Croatia attacks
Like against Brazil, Croatia were mainly threatening in the wide positions, with Ivan Perisic and Ivica Olic highly impressive yet again. Olic continues to amaze because of his brilliant work rate – he gets in plenty of tackles and protects his full-back, but then charges forward past the opposition full-back into goalscoring positions. On the opposite flank, Perisic was similarly dangerous with his direct running, and he was also able to overload Benoit Assou-Ekotto because Darijo Srna made some typical forward bursts down the right flank, thanks to Eric Choupo-Moting's lack of interest in defending.
All the goals came from the flanks. The first was a perfect example of Croatia's play – Srna overlapped and crossed, then the ball fell to Perisic, who played a fantastic pass across to Olic on the opposite flank to score. The second goal was a Perisic solo run, the third a Mandzukic header from a corner, won and taken by Pranjic, the fourth a Mandzukic tap-in following a right-wing cross.
Croatia might have amongst the competition's best playmaking midfield duos with Modric and Rakitic, but they spread play to the flanks throughout this game, rather than trying to play through-balls themselves. They concentrated on controlling the second half from deep midfield positions, and once Croatia were 1-0 up and one man up, it wasn't a great contest.
—
Day 8:
Colombia v Ivory Coast – the battle will be on the flanks, as Colombia won their opener against Greece because of their flying wingers, while the Ivory Coast beat Japan because of the advanced positioning of their full-backs.
Uruguay v England - both sides lost their opener, so both desperately need a victory. Luis Suarez's return should change Uruguay's approach, but can their backline cope with England's pace?
Japan v Greece - another match where both sides lost their opener. Japan will dominate possession, while Greece will attempt to overpower them physically
—
ZM Elsewhere:
What England can expect from Uruguay
Related articles on Zonal Marking: