World Cup 2014: group stage, day 6
BELGIUM 2-1 ALGERIA
(Fellaini, Mertens; Feghouli)
Algeria successfully nullified Belgium for the first hour, but were undone by a simple Plan B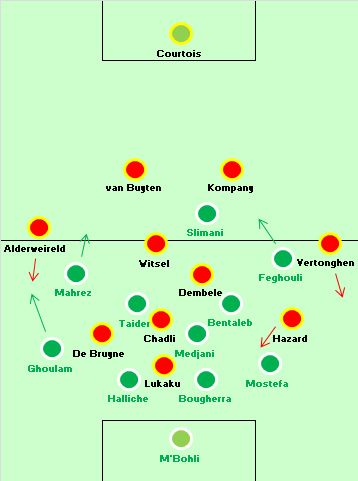 Algeria sit deep
Belgium's struggles were slightly surprising, they weren't entirely unexpected. Algeria are tactically intelligent, flexible side – and while they're capable of pressing high up the pitch, they knew that was a pointless strategy against a team with many great counter-attackers, and in a match where they would have taken a draw. Therefore, they played a defensive-minded side with Carl Medjani, as much a centre-back as a central midfielder, in the holding role and sat very deep. They got ten men behind the ball, allowed Belgium time in deep positions, and tested their ability to break down a packed defence.
It wasn't an impressive performance in a technical sense from Belgium. They were extremely sluggish in possession, and this was another piece of evidence that suggests the lack of top-class full-backs will be a problem – they needed quick, technical and positive players in wide positions, but instead Toby Alderweireld and Jan Vertonghen were tentative with their forward running and cautious in possession.
With Kevin De Bruyne on the right rather than linking play as the number ten – where Nacer Chadli was surprisingly fielded – the Belgians were unable to form any kind of passing triangles in dangerous positions, and for long periods the play was simply in front of Algeria.
In terms of positioning and individual battles, this wasn't an interesting clash because Algeria weren't coming out to close down – there was no 'midfield battle', as such, because players weren't looking to make runs beyond their opposite number. The one exception to this was when Axel Witsel twice decided to take advantage of his freedom, and surprisingly popped up between the lines for long-range shots, which tested Rais M'Bohli.
Amazingly, Algeria went ahead despite barely getting the ball into the opposition third, and again Belgium were made to suffer in the full-back positions, this time in a defensive sense. Faouzi Gholam darted forward on the break down the left, and swung in a cross to the far post, where Sofiane Feghouli was pulled back by Vertonghen. Feghouli converted the penalty.
It was obvious what was going to happen now – Algeria were going to play even more defensively, with no intention whatsoever to have possession. However, much like the USA the previous evening, they probably needed more counter-attacking threat to relieve the pressure.
Plan B
Belgium only threatened when they turned to the bench, however, and while it's certainly possible to question Marc Wilmots' starting selection, he used all three changes very quickly and effectively. Dries Mertens replaced Chadli, which meant De Bruyne could come inside and influence the game more in the centre (by full-time he was the game's star man, having been anonymous in the first half) with more penetration from wide areas because of Mertens.
But Belgium essentially went 4-4-2 and lobbed crosses into the box, having realised Algeria's parked bus wasn't going to be shifted. This meant the huge Divock Origi came on for Romelu Lukaku, and Marouane Fellaini replaced Mousa Dembele. Now Witsel continued to sit deep, with De Bruyne ahead, and Fellaini as a second striker alongside Origi.
Belgium also had width on both sides, two powerful aerial targets in the middle, and threatened from two crosses even before Fellaini nodded in from De Bruyne's cross. The difference in Belgium's crossing before and after Fellaini's introduction was quite obvious:
Algeria then got carried away attempting to get back into the game, and lost possession with four men ahead of the ball, and the full-backs high up the pitch – precisely the sort of situation they'd been desperate to avoid (and had, until Belgium's equaliser).
Hazard broke down the left in behind right-back Mehdi Mostafa, and squared for Mertens breaking in behind his Napoli teammate Ghoulam, and Belgium were ahead. Algeria were too exhausted to make a comeback.
—
BRAZIL 0-0 MEXICO
The second goalless draw of the tournament – but much more enjoyable than the first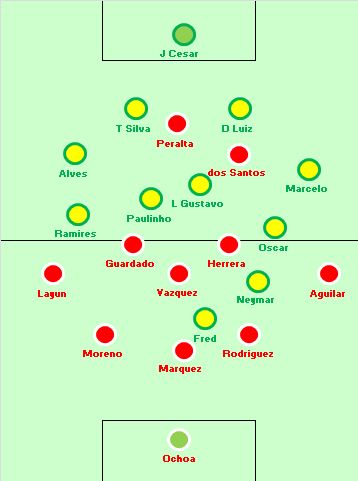 Brazil defensive shift
As predicted in the preview, Brazil brought in a midfielder for an attacker, a shift they make in almost every major tournament. Ramires replaced Hulk – fitness concerns played a part, but Hulk insisted he was fit, and either way, Felipe Scolari chose a hard-working shuttler in Ramires, rather than a proper attacker like Bernard or Willian. It was clear defensive shift.
This was partly to contain the runs of left-wing-back Miguel Layun, who had impressed against Cameroon. Ramires marked Layun when the ball was on that flank, but moved inside and was closer to Andres Guardado when the ball was on the opposite side. In a purely defensive sense it worked reasonably well – Layun was much less involved, and only notable for a couple of wayward long-range shots. But it harmed Brazil's attacking capabilities, and Ramires' involvement summed up a scrappy first half. He committed as many fouls (2) as he made successful forward passes in his 45 minutes on the pitch.
Cautious game
The tactical battle wasn't as interesting as we might have hoped. Mexico's wing-backs were much more cautious than against Mexico, which meant there was no great intrigue about how they'd be picked up, and limited opportunities for Brazil to break in behind.
Brazil struggled to put together good passing moves, to supply Neymar and Oscar, and it was particularly obvious how much they lacked any direct running in behind the Mexican defence.
Oscar, Brazil's best player in the first game, was fielded on the left with Neymar again as a second striker. Ramires and Oscar switched midway through the first half, but we still haven't seen Brazil's format from the Confederations Cup last year – Neymar left, and Oscar as the number ten.
Subs
Scolari did change things, bringing on Bernard for Ramires at half-time, which meant Brazil now had four proper attackers on the pitch. The introduction of Jo, in place of Fred, was also useful as Jo repeatedly charged in behind the Mexican defence, something Fred attempted only sporadically (usually met with an offside flag).
Slightly surprisingly, however, Brazil's best chances came from crosses. Thiago Silva twice found space when going up for set-pieces, while Neymar had a headed effort in each half, with a cross from either flank. This rather summed up their lack of creativity in open play, although they did force Guillermo Ochoa into the best goalkeeping performance of the tournament so far.
Mexico seemed happy with a draw, although they threatened late on after the introduction of Javier Hernandez – again, like Jo, he offered pace in behind the defence, and the game became more stretched. Thiago Silva was forced into an extremely strong and somewhat cynical challenge as Hernandez attempted to slip past him ten minutes from time, the most nervous Brazil looked defensively.
—
SOUTH KOREA 1-1 RUSSIA
(Lee, Kerzahakov)
A disappointing game, even if it picked up towards the end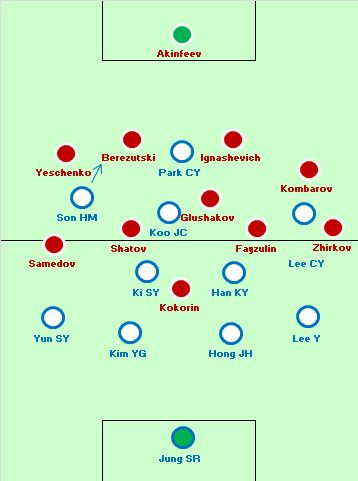 Simple tactical battle, cautious game
There's not too much to discuss in this game. It was a simple 4-2-3-1 versus 4-3-3 battle, with both sides keen to play on the counter-attack, but South Korea doing more with possession of the ball, moving it quickly and attempting to get their attacking players more regularly involved.
This smacked of two cautious sides desperate not to lose, in the belief this game was essentially going to decide who follows Belgium out of the group.
Flashes of counter-attacking quality
The star players on either side provided a spark in the first half. Son Heung-Min stayed high up the pitch on the left, and had two efforts at goal, first from Koo Ja-Cheol's lay-off, then from Park Chu-Young's clever knock-down. Both shots were wayward, but it showed his threat, and Korea's determination to give him the ball as quickly as possible.
Russia's forward, Alexander Kokorin, also showed a bit of magic in possession when launching a quick attack in a central position, dropping deep to evade a couple of challenges before teeing up Yuri Zhirkov. His shot was wild, and his overall contribution very disappointing.
Long shots and goalkeeping misakes
If there was one standout feature of the game, it was how uncomfortable both goalkeepers looked throughout, and therefore there was little surprise when the deadlock was broken because of a goalkeeping error.
Both sides had repeatedly peppered the opposition goal with ambitious – and not particularly powerful – shots from range, and Korea took the lead when Lee Keun-Ho (on for Park upfront) produced a tame shot that Igor Akinfeev practically threw into his own net. Jung Sung-Ryong wasn't much more comfortable at the other end, though.
Russia changes
In fairness, Fabio Capello got his side back into the game with some good attacking substitutions. Alan Dzagoev had already replaced Oleg Shatov and was driving forward to connect midfield and attack, but at 1-0 down Capello introduced Alexander Kerhakov in place of Zhirkov, with Kokorin playing from a deeper, wider position. Igor Denisov also replaced Denis Glushakov, and showed more ambition on the ball – Gluashaov is a pure destroyer.
And while Russia never sparkled, they were unquestionably more of an attacking threat. Kerzhakov's movement was good (as always), Kokorin was more of a threat charging towards goal rather than collecting the ball in tight spaces, while Dzagoev offered some mazy dribbling.
The equaliser was scrappy, but it featured Kerhakov turning in a rebound, after Dzagoev's cross-shot from the right towards Kokorin at the far post. Russia simply had more threatening attackers on the pitch after the three changes, although this increased the frustration at Capello's cautious starting approach – he'll surely make changes for the next game.
—
Today:
Australia v Netherlands – Australia fought back well after going 1-0 down against Chile, but the real interest is the Dutch, particularly what formation they play – will they switch to a back four?
Spain v Chile – the most exciting fixture of the tournament so far. Spain were undone by the Netherlands' pressing and directness, and face another side in that mould
Cameroon v Croatia – both these sides need a win. Croatia will dominate possession and should triumph because of Mario Mandzukic's return, but Cameron could be a threat on the break
–
ZM elsewhere:
Related articles on Zonal Marking: