World Cup 2014: group stage, day 5
GERMANY 4-0 PORTUGAL
(Muller x 3, Hummels)
Thomas Muller scored three goals, and got Pepe sent off – the game was over by half-time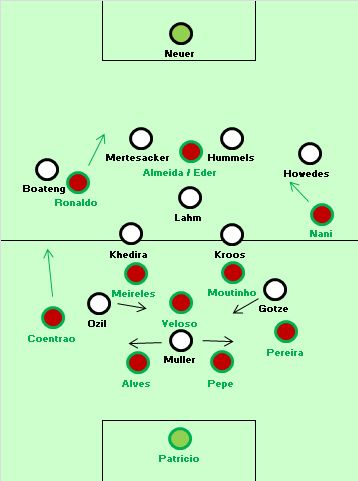 German front three
As had been rumoured over the last few days, Joachim Low played a 4-3-3 system rather than the 4-2-3-1 he usually played in qualification, with four centre-backs across the backline and Philipp Lahm playing as the midfield anchorman. It was a curious move, but it worked extremely nicely. With the exception of Benedikt Howedes, who seems very awkward in Germany's problem position of left-back, everyone played their role well.
The most impressive aspect of the performance was the fluidity of the front three. Mesut Ozil started right, Mario Gotze from the left, and Thomas Muller upfront, but they all had license to drift around, and combined superbly. Gotze was the man who put Germany in charge of the game with some excellent contributions from the left, but he also got himself into goalscoring positions, and won the penalty from Joao Pereira for Germany's first goal.
Ozil's lateral movement is something we've come to expect, but Muller also ran the channels excellently, popping up in wide positions to retain the width when Gotze and Ozil moved inside. This was crucial considering the lack of natural overlapping runs from full-back. It's amazing he managed three goals despite spending so much time towards the flanks.
Germany right flank
That said, Germany also looked very dangerous down the right, which was highly impressive considering Portugal's area of strength is their left wing. Jerome Boateng was brave with his positioning, pushing on past Cristiano Ronaldo to provide an outlet on the right.
This was a risky move, of course, and Ronaldo stormed forward on a dangerous counter-attack within the five five minutes – Hugo Almeida couldn't provide a finish. But Germany were always pushing forward down the right, with Sami Khedira sometimes covering for Boateng, but also charging into attack himself, surprising Portugal with his sudden bursts of pace.
Portugal chances
Although Germany were the better side, Portugal looked dangerous in the first half, and it was only the Pepe red card that handed Germany complete control of this game. Portugal pressed well in midfield at times, with Miguel Veloso charging forward to shut down Lahm on one occasion (Lahm thought he wouldn't be shut down considering he had no direct opponent in this 4-3-3 v 4-3-3 battle) and creating a half-chance for Ronaldo.
There was a two-minute spell, however, that showed how much Portugal look to Ronaldo. First, Nani charged forward down the right and had the opportunity to dribble directly towards goal, but he hesitated, waited for Ronaldo to catch up on the left, and then played a weak pass which was intercepted. Shortly afterwards, Fabio Coentrao found himself in a goalscoring position having broken the offside trap, but played a wayward square pass in Ronaldo's general direction, rather than going for goal himself. On both occasions, Portugal needed more conviction rather than simply looking to their man man.
This was one of the most open matches of the tournament so far – at least in the first half. Although both sides were playing their best football on the counter-attack, the defensive lines sat deep, and the sides weren't particularly compact, so there was always midfield space to break into. Pepe's red card, and Muller grabbing a third goal, ended the game before half-time – which was a shame.
—
IRAN 0-0 NIGERIA
The worst match of the tournament so far – by a long way
Attack v defence
Of the 16 matches in the first 'round' of group matches, this was the most likely to be a goalless draw. There was no surprise here – Iran sat very deep and defended, while Nigeria, reliant upon the counter-attack, couldn't break them down.
Iran were expected to be very cautious in a 4-4-1-1 shape, but they were actually even more defensive in a 4-5-1, with Ashkan Dejagah playing from the left rather than as a number ten, which meant Reza Ghoochannejhad had little support throughout the game. He made some good runs into the right-hand channel, but mainly just battled with the opposition centre-backs, winning and conceding a very high number of free-kicks.
This game was about Nigeria's inability to break down a solid Iran defence. Often in these situations, the side dominating possession pass too slowly, but actually the tempo was very good – particularly throughout the first half. Nigeria simply lacked genuine creativity in midfield, with only a John Obi Mikel dink over the defence to substitute Peter Odemwingie memorable in terms of creativity. He and Ogenyi Onazi simply couldn't play penetrative passes.
Nigeria's wide players came inside quickly, and the two full-backs didn't have enough attacking quality to stretch the play and whip in crosses. Odemwingie, a forward, replaced Azeez to change Nigeria's shape and offer another goalscoring option, but the reigning African chances didn't do enough, with their best chances coming from set-pieces.
In all, a truly terrible game.
—
USA 2-1 GHANA
(Dempsey, Brooks; A Ayew)
A highly entertaining match – Ghana dominated. but the USA scored very early, and then very late
US lead, Ghana attack
Clint Dempsey scored a fine goal inside a minute, and therefore Ghana were immediately forced to dominate in an attempt to score an equaliser.
Ghana's problem over the past half-decade has been their inability to break down a packed defence. They're excellent on the counter-attack, with fast, mobile players who make good decisions on the break, but this was another example of their one-dimensional play. They were always in control of possession but their players simply aren't suited to coming from behind – they need the opposition to come onto them.
Right flank
Ghana continually looked to work the right of the pitch. Christian Atsu was the liveliest player, always looking to collect possession in wide positions before darting inside, but he frequently took the wrong option.
Behind him, Daniel Opare received space in the right-back position with Jermaine Jones playing deep and narrow, but contributed extremely little on the ball, turning in arguably the worst individual performance of this tournament so far – his crossing was shocking.
Gyan
With the Ayew brothers on the periphery of the game and underwhelming when receiving the ball in dangerous positions, Asamoah Gyan was the primary goal threat. Typically, he ran the channels throughout the first half, but the US were comfortable with him moving away from goal, because no-one else was making runs into the centre-forward position.
Gyan isn't really about getting on the end of crosses, but Ghana created genuine chances when he stayed central at the start of the second half, and went close with two good headed chances, after crosses from either flank.
US two banks of four
Although Jurgen Klinsmann had switched to a diamond midfield in preparation for this tournament, his side essentially defended with two banks of four without possession, with Michael Bradley dropping back alongside Kyle Beckerman. And because they spent so long without the ball, they were basically a 4-4-2 throughout, with Bradley surprisingly inefficient when he received the ball, not connecting the midfield and attack.
The USA were unfortunate to lose Jozy Altidore through injury midway through the first half, and while Aron Johansson ran the channels manfully, he's not really an Altidore replacement. The USA missed someone who could run in behind the opposition defence, and hold up the ball. They had no-one to relieve the pressure, and therefore were almost constantly stuck on the edge of their own box, soaking up pressure – although, of course, it's arguable this was the optimum approach against a Ghanaian side depending on the break.
USA overrun in midfield
Still, even when playing defensively, you still need to have a counter-attacking threat. Bradley and Dempsey were both very quiet, while Alejandro Bedoya, the obvious man to lead the attacking transitions, constantly made the wrong decision.
In fact, when Altidore departed midway through the first half, the USA were already under heavy pressure. Klinsmann might have considered bringing on an extra midfielder at this stage, because his side simply weren't covering the midfield ground effectively. Dempsey and Johansson were stuck upfront with little service, covering the responsibilities of one man, and it felt like the USA were playing with ten players at times.
However, Kinsmann was able to depend upon good performances at the back, while Kyle Beckerman was excellent at screening the defence – he protected the 'red zone' excellently, meaning Ghana always looked out wide for their route to goal. Tim Howard, meanwhile, claimed crosses well and swept off his line intelligently.
Kwesi Appiah made three straight swaps to get back into the game, when he probably could have sacrificed right-back Opare and used a winger there – Ghana's full-backs weren't doing defensive work. It was surprising that Ghana's equaliser came from Andre Ayew from the left – he had been poor, while Ghana were focusing their attacks down the other side.
Johnson attacks
The USA deserve great credit for their performance after Ghana's equaliser – having spent more than 80 minutes solidly protecting the lead, they were capable of coming forward and playing more proactively. Right-back Fabian Johnson, having lost Ayew for the Ghana goal, seemed determined to make up for his error in an attacking sense and took up very advanced positions when the USA midfield had possession. This was a real risk – Ayew got in behind him dangerously two minutes after the goal – but it had its rewards. Johnson overlapped to force a spell of pressure down the right, and then yet another forward charge resulted in the corner for John Brooks' headed winner. The statistics sum up his display – just one tackle, no clearances and no interceptions, yet he attempted more dribbles than any other player.
Amazingly, Johnson was still bombing up and down the line with the US 2-1 up. He had the energy to sprint into attack, but not to get back into defence. Clearly, by this stage he should have been protecting his his centre-backs – but Ghana never looked likely to launch a second comeback.
—
Day 6:
Belgium v Algeria: Belgium are highly fancied but their lack of genuine full-backs could be a problem against an underrated Algeria side that could play for a point
Brazil v Mexico: Both sides won their opening match, but Brazil won't be as naive as Cameroon in terms of tracking the opposition wing-backs – expect some rapid counter-attacking down the flanks
Russia v South Korea: The 31st and 32nd teams to play at this tournament. This could be cagey – Russia are well-drilled but not very adventurous, while South Korea seem unconvincing at both attacking and defending, although they're decent in possession
Related articles on Zonal Marking: