World Cup 2014: group stage, day 3
COLOMBIA 3-0 GREECE
(Armero, Gutierrez, Rodriguez)
Not a bad game, but the most straightforward victory of the tournament so far.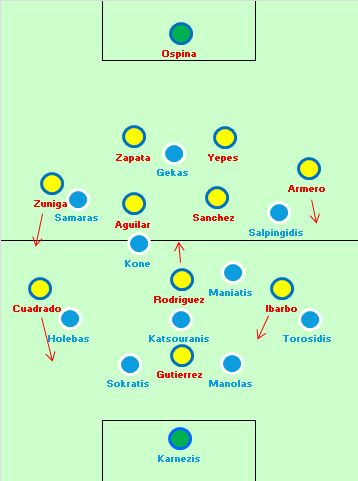 4-2-3-1 and lots of width
The team news was significant, because Colombia coach Jose Pekerman chose to use a 4-2-3-1 rather than the 4-2-2-2 he often fielded throughout qualification. This meant James Rodriguez shifted inside from the left to play as the number ten, with Juan Cuadrado on the right and Victor Ibarbo brought into the side to play on the left.
This meant Colombia had a very defined structure, with a creative number ten and two speedy wingers, and these three were the crucial players in Colombia's victory.
Rodriguez role
Rodriguez is a very attack-minded player, but the interesting thing about his role in this game was the way he was happy to drop deep and collect short passes from the central midfielders, who remained in position and kept their distribution simple.
Rodriguez didn't expect those two players to find him in dangerous positions with good forward passes, and instead helped Colombia penetrate the Greece midfield by playing those passes himself. The first goal was a good example – Rodriguez moved deep, turned, and dinked a pass into the left-back zone for Cuadrado to chase.
Pace in wide areas
It was entirely predictable that Colombia's breakthrough would come from their right-winger, Cuadrado. He is one of the tournament's best dribblers from wide, while the Greek left-back Jose Holebas continually gets himself into extremely high positions, leaving space in behind. He'd already dived in recklessly on Cuadrado even before the fifth-minute opener, which perfectly summed up the problems with Holebas – there was too much space in behind him, which Rodriguez found perfectly with his pass to Cuadrado. The winger later set up the third goal, for Rodriguez.
Ibarbo also provided pace on the opposite flank, running against Vasilis Torosidis, but also darting inside into more central positions. He was more inconsistent with his end product, but was always a threat.
There wasn't more to the tactical battle, although it's worth pointing out that the Colombian pace on the flanks was in stark contrast to the Greece display. Georgios Samaras always comes towards the ball, while Dimitrios Salpingidis was surprisingly quiet on the opposite flank. With Theo Gekas barely able to run these days, there was simply no penetration and little goal threat.
—
COSTA RICA 3-1 Uruguay
(Campbell, Duarte, Urena; Cavani pen)
A hugely surprisingly result – but this wasn't a smash-and-grab. Costa Rica fully deserved the victory against a Uruguay side that seemed utterly clueless in possession.
A game of set-pieces
There have been various types of matches at this World Cup so far. Brazil 3-1 Croatia was all about crossing, Netherlands 5-1 Spain all about through-balls. This was a match lacking in technical quality, and therefore it was largely about set-pieces.
Aside from some fine Costa Rican counter-attacking, the major chances came from dead ball situations, with the five centre-backs seeming better at attacking set-pieces than defending them. Uruguay's goal came after Diego Lugano had his shirt pulled by Junior Diaz when challenging for an inswinging free-kick, with Edinson Cavani converting the penalty. Costa Rica's second goal was an Oscar Duarte header from a free-kick, minutes after he'd failed to take an identical chance.
It seemed something of a contrast from other games in this first week, but set-pieces are often crucial in tight, defensive games.
Costa Rica back three
It's been a good tournament for three-man defences so far – Mexico beat Cameroon with a back three, Holland overcame Spain with a back three, while Brazil, Chile, Italy and the Ivory Coast have also won having occasionally dropped a midfielder into the backline.
But those sides generally played a three-man defence in a possession-based system. Costa Rica took the opposite approach – they sat back extremely deep to soak up Uruguayan pressure, and in reality it was more of a back five than a back three.
The strange thing about Uruguay's approach was how easily they played into Costa Rica's hands. When playing against a back three/five, the general rule is not to play two upfront. That's exactly what the back three wants – it means they're not stretched on the flanks, or outnumbered in midfield. They have a spare man, and can sit deep against two strikers without too many problems.
Diego Forlan has looked like more of a number ten in recent years, but played extremely high up the pitch here. He failed to connect midfield and attack, which is the primary role of Uruguay's second striker in this system – it's usually Cavani, but he played upfront in the absence of Luis Suarez. Forlan doesn't have the mobility to get up and down the pitch, but it was surprising he didn't link play with good passing and positioning.
This Uruguayan midfield lacked creativity and guile, and it was disappointing Oscar Tabarez didn't field a more forward-thinking midfielder in a game that was all about breaking down a deep defence. Instead, Uruguay played an amazing number of long balls – and it wasn't something they resorted to, it was a key part of their opening strategy.
Costa Rica looked delighted to be challenging in the air – their centre-backs are brave, combative but poor on the ground. When forced to turn and tackle, they make clumsy fouls – but, amazingly, they didn't pick up a single booking because Uruguay didn't ask any questions of them.
Costa Rica breaks
It wasn't all about defending and capitalising on set-piece situations, though. Costa Rica had two outstanding performers in this game – striker Joel Campbell and right-wing-back Cristian Gamboa. Fittingly, they combined for the equaliser. Bryan Ruiz, meanwhile, played a nice link role between them.
Campbell is primarily about pace, but also showed a willingness to drop deep and link play. For the third goal, his measured through-ball for substitute striker Marcos Urena (having been moved to the right flank) was absolutely superb, and earlier in the game he cut inside and shot powerfully from range. He always starts in the right-centre channel, drifting onto his left foot.
He was partly able to do this because of Gamboa's excellent forward running. The right-wing-back got up and down the line all day, in contrast to Uruguay's disappointingly conservative full-back pairing. His whipped crosses were also extremely dangerous, and while it was expected he'd be more adventurous than left-sided Diaz, the outright quality of his play was more surprising.
—
ITALY 2-1 ENGLAND
(Marchisio, Balotelli; Sturridge)
Italy continually attacked down the right, a problem England never entirely solved
Italy prosper down the right
This match was all about the battle in one particular zone – England's left-back position, and Italy's right flank. From the opening stages, with Italy unsurprisingly dominating possession, it was clear they were continually looking to work the ball down that side. They made inroads there shortly before their opener, and the game's three goals can all be traced back to this battle.
It was ironic that Roy Hodgson decided not to use Wayne Rooney centrally (with Raheem Sterling in that position – he was England's best player) because of fears about his defensive discipline against Andrea Pirlo. In the end, he would have been up against Daniele De Rossi anyway, and he actually had far more defensive responsibilities on the left.
That's because Italy's right-back Matteo Darmian took up extremely advanced positions, with left-sided Giorgio Chiellini staying at home. Darmian was continually free on the overlap for diagonal balls, with Pirlo, De Rossi and Verratti all capable of hitting good passes to that side.
Rooney was part of the problem, certainly, but great credit must go to Antonio Candreva, a highly intelligent footballer who boasts great spatial awareness. He played somewhere between a right-wing and a number ten role – starting in the former, drifting into the latter. England had no idea how to deal with this – Leighton Baines was being dragged inside, Steven Gerrard couldn't cope with a man darting in behind him. The major beneficiary, of course, was Darmian.
Such was the space on that flank, Claudio Marchisio actually moved across a couple of times to further overload England. In fact, it was a Marchisio-Candreva combination on the right that won the corner leading up to Marchisio's excellent long-range strike.
But Darmian's positional aggression was risky, and while Rooney's defensive shortcomings were causing England problems, it actually helped them get back into the game. Shortly after the opener, Darmian darted forward down the right but Italy's passing move broke down, which meant Rooney was allowed to break into space in the Italian right-back zone. Sterling found him, Rooney provided a cross, and Daniel Sturridge converted. Darmian's attacking intentions were both a strength and a weakness for Italy – although the former certainly outweighed the latter.
Such was England's struggles down the left, Hodgson switched Rooney and Danny Welbeck, a more diligent defensive worker, at half-time. But this didn't solve the problem – five minutes after the break, Welbeck didn't track back with Darmian, who supplied Candreva. He sold Baines a dummy, then crossed for Balotelli to head in at the far post.
This, of course, is the problem with use four outright attacking players. Hodgson was previously seen as a solid 4-4-2 man, favouring hard workers in wide positions. This front four was exciting and inventive – and not far off a 4-2-4 at times – but the obvious downside is the lack of balance, and protection for the full-backs. James Milner, for example, would have tracked Darmian perfectly. Hodgson has widely been praised for gambling with young attacking players, but there are risks.
Balotelli
The matchwinner was another key player. Balotelli's movement throughout this game was excellent, and he's at his best when unpredictable with his movement. In the first half he was happy moving towards play or sprinting in behind – going close to a goal by chipping the ball over Joe Hart, cleared off the line by Phil Jagielka.
But his movement when the ball was wide seemed lazy, and that's what improved in the second half. Rather than positioning himself between Jagielka and Gary Cahil for crosses, he varied his runs – for the goal, he hung back towards the far post, and nodded in. He was inches away from grabbing a second when darting towards the near post for another right-wing cross. We're always told that Balotelli's level of interest is the thing which impacts upon his performance, and this is unquestionably true, but it's most obvious in the nature of his runs.
—
IVORY COAST 2-1 JAPAN
(Bony, Gervinho; Honda)
Japan went ahead, but the Ivory Coast always looked dangerous by switching their play out to the full-backs.
Japan sit deep
Keishuke Honda's 10th-minute strike put Japan ahead, but this prompted them to go surprisingly defensive at a very early stage. They sat back deep in two banks of four, but their defensive shape wasn't always good. They weren't compact, sometimes leaving space between their defence and midfield for Yaya Toure to move into, but generally allowing space between their midfield and attack to allow the Ivory Coast time on the ball to switch the play between the flanks.
This was an odd strategy – we know about the Ivory Coast's physicality upfront, and we know Japan aren't comfortable aerially at the back. Japan shouldn't have allowed the opposition to build such pressure – they should have kept a higher defensive line and pressed in midfield. Instead, while they went ahead early, Japan were never comfortable. By full-time, the Ivory Coast had recorded 21 shots to 7, and were much the better side.
Overlapping full-backs
The Ivory Coast's main approach was to push the full-backs high up the pitch and whip in a stream of crosses. They were allowed most space down the right, with both Gervinho and Serge Aurier getting space near the touchline for quick diagonal balls towards that flank. However, it was on the left where they were most dangerous, because attacking left-back Arthur Boka continually took up advanced positions and whipped crosses into the box.
The Ivory Coast only created proper chances after the 62nd minute introduction of Didier Drogba, however, when 1-0 down. He replaced holding midfielder Serey Die, and the Ivory Coast went to a 4-4-2. With two crossing targets, they were now more threatening when the full-backs got forward, and within five minutes they were 2-1 up.
Drogba didn't score either of the goals, but his introduction unquestionably added to the confusion in the Japanese defence when challenging for crosses – they no longer had a spare man, and this allowed first Bony, and then Gervinho, to head in from two right-wing Aurier crosses.
It wasn't a great day for defensive discipline from Manchester United left-midfielders – just as England had suffered from Rooney and then Welbeck's lack of defensive work, Shinji Kagawa was completely unaware of Aurier's overlapping, and was caught in central positions for both of the Ivory Coast's goals.
—
Day 4:
Switzerland v Ecuador – Expect the battle to be in wide areas – Switzerland have great attacking full-backs, while Ecuador break quickly into wide positions
France v Honduras – France clearly have more quality, but the midfield battle zone should be very physical because of the Hondurans' strength in that position
Argentina v Bosnia - Potentially a very interesting game between an exciting Argentina side and a Bosnia team which have become more cautious
—
ZM Elsewhere:
Italy 2-1 England talking points
Related articles on Zonal Marking: