World Cup 2014: group stage, day 2
MEXICO 1-0 CAMEROON
(Peralta)
Mexico were much better throughout the game, and unfortunate to have two first-half goals disallowed for offside. Cameroon only started playing at 1-0 down.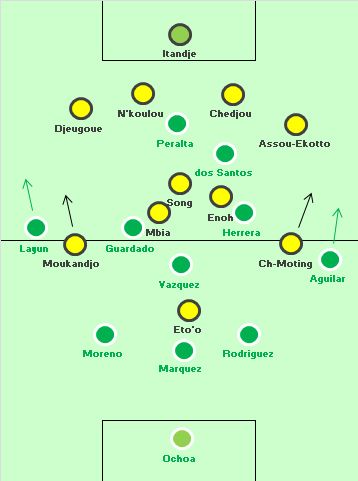 Mexico wing-backs cause problems
The main feature of the game was Cameroon's inability to cope with the forward running of the Mexican wing-backs. Both Paul Aguilar and Miguel Layun charged forward to offer width high up the pitch – and the Cameroon wide forwards, Eric Choupo-Moting and Benjamin Maukandjo, repeatedly followed.
It's always a difficult for the defending side to work out how to track wing-backs: if the wingers don't track at all, there's a risk of being overloaded in defensive positions. But if they track all the way, as was the case here, their lone striker becomes totally isolated. Samuel Eto'o was frequently up against three centre-backs by himself, and the Cameroon defence often looked like a back six, with the full-backs tucking inside and the wide forwards becoming full-backs.
More intelligent sides instruct their wingers to track back to a certain point, before passing the wing-backs onto the full-backs and remaining in a position to counter-attack. Alternatively, Cameroon could have decided that the dangerous Layun needed to be marked, but the less skilful Aguilar could be allowed more freedom, with Chopou-Moting remaining higher up.
This would have given them more going forward – but Cameroon spent most of the game pinned back behind the ball, only causing a threat once they switched to 4-4-2 at 1-0 down. The positions of the passes Moukandjo received tells the story.
Dos Santos and Peralta combine well
The other feature was good interplay between Giovani Dos Santos and Oribe Peralta. Cameroon left too much space between the lines, with Alex Song theoretically in the holding role, but giving much closer support to the other two midfielders rather than his centre-backs, and not really tracking anyone in particular.
As always, Dos Santos' lateral movement between the lines was excellent, always receiving possession in pockets of space towards the flanks, and often playing clever first-time passes to Peralta. This produced Mexico's best chance at 0-0, and Peralta's goal arrived when he followed up after Dos Santos' initial pass was blocked. Cameroon struggled two-versus-two at the back, and were lucky not to concede more.
—
NETHERLANDS 5-1 SPAIN
(Van Persie 2, Robben 2, De Vrij; Alonso pen)
A truly extraordinary game of football – Spain took the lead, but the Netherlands repeatedly breached their high defensive line and recorded a historic victory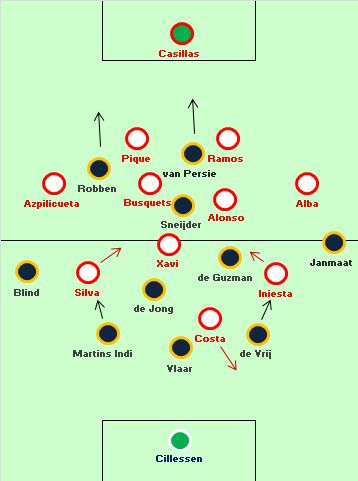 High lines
This match was all about high defensive lines, a concept that has become a key part of both Spanish and Dutch football – the two are strongly linked, of course. At the last World Cup, barely any teams were brave with the positioning of their defensive line, instead sitting deep and allowing space in front of their defensive block.
Here, the space wasn't in midfield, where no-one had time to put their foot on the ball, but instead in behind the opposition.
Spain chances
While the Netherlands eventually ran out convincing winners, it's worth remembering that they had some extremely nervous moments at the back, went 1-0 down, and were very nearly 2-0 down when David Silva missed a one-on-one.
As expected, Louis van Gaal asked his players to play a high-energy pressing game in midfield, which involved Nigel de Jong and Jonathan de Guzman taking up very advanced positions when getting tight to the three Spain central midfielders. The whole Dutch side played aggressively, and there was quite a contrast in the tackling success rate.
Although this was a dangerous tactic because the Van Gaal left space between his defence and midfield, he asked the two outside centre-backs, Bruno Martins Indi and Stefan de Vrij, to shut down Andres Iniesta and Silva when they drifted inside.
This meant it wasn't uncommon to see the Dutch centre-backs in absurdly high, central positions – sometimes moving past their midfield to remain tight – and although it was rare to see them both do this simultaneously, it inevitably opened up space in the centre of defence.
This was the space for Diego Costa to break into, and he was dangerous three times in the first half. After 4 minutes he spun in behind, but Xabi Alonso's pass was overhit. On 13 minutes he received a Xavi Hernandez pass in the inside-left channel, but Ron Vlaar made an excellent tackle. Then there was the penalty incident, which underlined precisely what Spain were trying to do – Iniesta, Silva and Xavi combined in the centre of the pitch (the trio collectively filling no more than five metres of width) with the latter slipping the ball through to Costa, who won a penalty from De Vrij.
It must be emphasised that this approach was a huge gamble. Watch the Silva chance (on 43 minutes) again, and it's amazing how both the Dutch outside centre-backs have moved high up, and as De Vrij moves towards Iniesta, Silva simply darts into that space in the inside-left channel. Vlaar is stranded, all alone, with Costa to pick up and acres of space between he and his wing-backs. It depended upon a fantastic last-man performance from Vlaar, who was happy tracking Costa into wider areas.
Spain didn't exploit the space in behind frequently enough, because they only had one player, Costa, making regular penetrative runs. It is baffling that Pedro Rodriguez (twelve Spain goals since Euro 2012) wasn't in the team – this is a player who specialises in this concept, and the Dutch high line was no surprise.
Dutch chances
Still, at least Holland generally put pressure on the man in possession, which means Spain only attempted a few though-balls, rather than a constant stream. At the other end, Spain's poor midfield pressure meant Arjen Robben and Robin van Persie had a running battle with the linesman, who appeared on screen more regularly than many of the players.
Spain had an early warning sign, when Wesley Sneijder breached the Spanish offside line before wasting a one-versus-one chance. In fact, the strange thing about the Netherlands' victory is that they scored five goals without Sneijder, their sole creative player, having a huge influence on the game.
That's because the Netherlands' strategy was to bypass Sneijder, finding time on the ball in deep positions before launching balls over the top of the defence for Robben and Van Persie. The first two goals were very similar in terms of build-up play, even if Van Persie's stunning headed finish was different to Robben's cool trickery in the box. The brilliant Daley Blind received the ball in space on the left, and swept the ball over the top of the defence for both goals.
Two goals were anomalies in the context of the tactical battle – a fortunate set-piece goal, and an unexpected Iker Casillas mistake in possession. The final goal was more typical, though – Holland won the ball quickly, Sneijder sent it beyond the defence, and Robben applied another fantastic finish.
To a certain extent, it was the standard formula for beating Spain: conceding possession (36%-64%) and instead using the ball quickly and efficiently.
But most sides choose to use a deep defence block against Spain – Holland didn't. They pushed up, pressed in midfield, and hardly ever cleared the ball from inside their own box – compare their successful clearances with that of Mexico (for example) earlier in the day, and there's a huge difference.
It was a high-risk strategy, and proved to be perfect for the occasion, but on another day this Dutch approach could backfire spectacularly against a team with more midfield runners.
—
CHILE 3-1 AUSTRALIA
(Sanchez, Valdivia, Beausejour; Cahill)
Chile were sensational for the opening 20 minutes – but, as always, they failed to turn their outrageous dominance into a thrashing, and a young Australia side fought back well, despite the eventual defeat
Chile movement
In the opening stages, Australia simply couldn't cope with Chile's integrated movement. Australia played a simple 4-2-3-1 system, but their default approach isn't to sit back and contain, but to push up and shut down. This proved extremely difficult, as almost every Chile player varied their position intelligently.
On paper, Chile were playing a midfield diamond with two upfront, but on the pitch it was much more complex. Marcelo Diaz started the movement – when he was pressed by Mark Bresciano, he'd drop back into the defence, creating a three-man backline against two Australians trying to press. In turn, this allowed the full-backs to push extremely high up the pitch, pushing Australia's wingers back and creating the possibility of long, diagonal switches of play to the flanks. This often created promising moments for Chile, although Tommy Oar counter-attacked a few times into the space behind Mauricio Isla.
Further forward, Jorge Valdivia played his usual strange, false nine / number ten role, tempting the Australian centre-backs up the pitch in the opening stages and creating space for the forwards to dart into, and then overloading the midfield zone and encouraging Australia's central midfielders forward – Charles Aranguiz broke in behind the defence to set up Alexis Sanchez's opener. Arturo Vidal wasn't so involved, probably as he wasn't 100% fit.
The two forwards, Sanchez and Eduardo Vargas, were extremely dangerous with their movement between wide and central positions. They used Valdivia's reverse movement, and the attacking runs of the centre-backs, to cut inside extremely well into space, and Vargas' superb decoy run opened up the gap for Chile's second goal, scored by Valdivia.
Australian crossing
Chile's tempo dropped slightly, however, and great credit must go to Australia for launching a fightback at 2-0 down: they continued with their initial approach and got men forward to support the striker. Although they were being pinned back and given a footballing lesson, there were three things in their favour, considering their attacking approach is based entirely around crossing.
First, as mentioned earlier, Chile's full-backs were leaving space to break into, and both Oar and Mathew Leckie had chances to sprint down the flank and put crosses into the box, even if their final delivery was inconsistent.
Second, with Chile playing a narrow diamond midfield, they weren't always able to stop the advance of Australia's full-backs. Both put in excellent crosses from deep positions.
Third, the Chile defence is amazingly small, and while Australia's centre-forward Tim Cahill isn't particularly tall himself, he's outstanding at leaping above opponents. Almost all of Australia's chances came from crosses towards Cahill, including their goal, and a second-half header that was disallowed for offside.
There are too many Cahill chances to list, but things were particularly nervous for Chile once Bresciano became a force – it took him half an hour to get into the game. He slipped the ball through the defence for a Cahill one-on-one, had a couple of shooting chances from the edge of the box, and in the second half had a fine chance at the far post after  another deep cross. While eight successful crosses from 19 attempted might not sound impressive, it's twice the average cross completion rate, which is usually around 22%.
Chile formation switch
Australia rallied before half-time, and had Chile on the ropes until midway through the second half. Considering Australia's gameplan was about crossing from deep, it was surprising they were unable able to launch a fierce assault in the closing stages – after all, most sides' desperate Plan B is Australia's Plan A.
But credit must go to Jorge Sampaoli for a clever tactical switch. On 68 minutes he removed Valdivia, who always tires and rarely lasts the duration, and threw on Jean Beausejour – the complete opposite player. Valdivia is technical, languid and always central. Beausejour is a physical, fast and accustomed to playing on the touchline.
With Sanchez moving towards the right, Chile were now in a 4-3-3 formation and had proper wingers: Sanchez and Beausejour helped pin back, and defend against, the Australian full-backs, and therefore the Chilean defence were no longer under a sustained aerial bombardment.
As if to prove how effective the change was, Beausejour slammed in the third goal.
Day 3:
Colombia v Greece – Group C is what the World Cup is all about: four different continents, four different styles, four teams who could progress. Colombia play fast-tempo attacking football with lots of width, while Greece will probably defend for long periods and attack later on. Cuadrado could destroy Holebas.
Uruguay v Costa Rica – In all probability, Costa Rica defence versus Uruguay attack. But how good are Uruguay at playing on the front foot? And can they cope if Suarez isn't available, or less than 100% fit?
England v Italy – England failed to make plans for Andrea Pirlo two years ago and suffered – surely they won't make the same mistake? A clash of different styles – English energy against Italian patience.
Ivory Coast v Japan - Another great Group C battle between two different styles. The Ivory Coast are highly physical, dangerous on the break and have some dangerous penalty box strikers. Japan are brilliant in possession but lacking at both ends.
—
ZM Elsewhere:
The contrast between England and Italian football
Related articles on Zonal Marking: