Uruguay: past their best?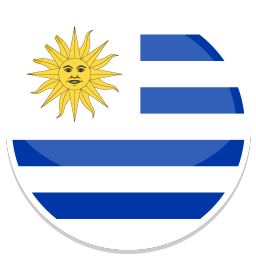 Three years ago, Uruguay were unquestionably the best side in South America – they were the only South American side to reach the semi-finals of the World Cup in 2010, before winning the Copa America a year later.
Their form since then, however, has been extremely poor. Their qualification was a disaster, forced into a play-off against Jordan (which they unsurprisingly won comfortably) and they've clearly regressed in the last four years. In fact, such has been their struggles, it's tempting to look back at their two tournament successes and remember that they were often rather fortunate, having qualified for the World Cup semi-finals at Ghana's expense thanks to Luis Suarez's cynical late handball, and only producing genuinely good football once in the Copa, in the final.
Shift to Suarez-Cavani
Oscar Tabarez's problem over the last few years was how to accommodate Suarez, Edinson Cavani and Diego Forlan in the same side. Four years ago, Cavani was still developing and was often omitted, but there came a point where Tabarez couldn't ignore his quality, but was also afraid to drop Forlan. This resulted in some strange compromises and some ineffective systems – it was amazing to see Cavani playing an extremely deep wide midfield role in some qualifiers, for example, and it's actually been rather helpful that Forlan's form declined sharply. Now he's no longer a regular, and Tabarez has shifted towards a focus on Suarez and Cavani, two of the world's most ruthless centre-forwards.
This team is all about that pairing. Suarez is facing a battle to be fit for this tournament, but he's likely to available and plays a crucial role in the side, running the channels and charging in behind the opposition defence, never giving up on seemingly lost causes. Question marks have emerged about Suarez's goalscoring record against top sides, both for club and country, but assuming he recovers from a recent meniscus operation in time, he'll be a great goal threat.
Cavani, therefore, plays a supporting role. Often viewed as a pure number nine, Cavani's actually more of an all-rounder, happy to work the channels and now accustomed to a right-sided role at PSG. At international level his role is that of a hard-working second striker, often located very deep considering Uruguay play a counter-attacking game.
The rest of the side plays close to its own goal, and therefore Cavani spends his time attempting to connect the midfield and Suarez, before haring forward and desperately hoping for a return pass from the Liverpool striker.
Highly functional
As a whole, however, Uruguay are disappointingly functional. While Tabarez has repeatedly attempted to evolve the style of play and incorporate creative players in midfield, his has been a struggle, and he's fallen back upon central midfield scrappers and hard-working wide options. Uruguay's major problem is that they pace and mobility at the back, which means Tabarez instructs his side to play deep overall.
The wide midfielders will probably be Christian Rodriguez on the left and Christian Stuani on the right – two efficient players who get up and down manfully, but don't offer great crossing ability or much invention in possession. Alvaro Gonzalez is another option, but offers something very similar.
The two central midfielders could be the same as the last World Cup – when Tabarez chopped and changed his system relentlessly, but never broke up the partnership of Diego Perez and Egidio Arevalo, two thirtysomething, feisty destroyers who offer little going forward.
It's a shame there's not more guile in midfield, and Tabarez certainly has options, although none of them convincing. Nicolas Lodeiro endured a horrendous 2010 World Cup, where he was sent off and later suffered an injury which kept him out for a year, and hasn't fulfilled his potential since. The same could be said of Gaston Ramirez, a brilliantly talented number ten with a cracking left foot – but his career has stalled since he moved to Southampton, and he doesn't have the work rate to be accommodated in this midfield quartet.
Walter Gargano is an alternative to Perez and Arevalo and plays a similar role with more ambition in possession, although he's another who has gone backwards in the past three years. These players will probably be supersubs, with Forlan also set to feature from the bench – he increasingly plays a deeper role than at his peak.
Defence
The back four should be familiar from the previous World Cup. The two Diegos, Lugano and Godin, have retained their places – the former has declined badly and lacks mobility, but the latter had a superb season at Atletico Madrid. They're vulnerable when high up the pitch, but are usually allowed to retreat to the safety of their own box. They're also both a threat from attacking set-pieces.
Right-back Maxi Pereira is a classic South American right-back, who makes hard tackles and attacks with power rather than invention. On the left, Martin Caceres is a versatile, jack-of-all-trade defender who tucks inside and protects his centre-backs – he's right-footed, which means he doesn't overlap very effectively. Alvaro Pereira is a more positive option from left-back – but again, Tabarez will probably view the offensive player as an alternative rather than a regular.
Fernando Muslera is still the goalkeeper, but can make mistakes. His reaction saves are superb, but he's uncomfortable dealing with crosses and poor at saving long shots – problematic considering Uruguay will sit deep and invite pressure.
Conclusion
Overall, this is an amazingly similar squad from four years ago, a recognition that the dressing room harmony is extremely strong. Indeed, Tabarez's brilliant work in this respect shouldn't be underestimated, and nor should his efforts in revolutionising the Uruguayan youth set-up.
But while a successful group remaining together is a positive, the results and performances have steadily declined since 2010. Individually, only three players – Godin, Suarez and Cavani – are better now than in 2010. Others have declined dramatically, have failed to fulfil their potential, or were always hard workers rather than great technicians.
Much like their great rivals Argentina, Uruguay are a broken team, focusing on defensive organisation to cover for individual weaknesses in that zone, and relying on individual brilliance – and maybe some clever substitutions – to get goals.
Quick guide
Coach: Oscar Tabarez, a serial formation switcher at the last World Cup, but appears more rigid these days
Formation: 4-4-2 if you're being generous, but more 4-4-1-1
Key player: Cavani – he needs to connect the side
Strength: The best front two in the competition
Weakness: Lack of pace at the back, forcing Uruguay to sit deep and play a cautious midfield
Key tactical question: Can Uruguay provide the front two with service?
Related articles on Zonal Marking: