Ghana: still great on the break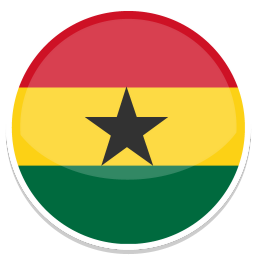 Four years ago, Ghana were penalties away from becoming the first African side to reach the World Cup semi-finals.
They started as outsiders despite a promising Africa Cup of Nations showing, but nearly made history because of their organisation, discipline and counter-attacking threat.
Four years on, the side remains very familiar. The 2010 squad was packed with youth, and therefore it's no surprise that the majority of players have retained their places as they've gained more experience. But as Ghana's reputation has grown, they've been forced to adapt to different challenges. When they were the underdogs, they could sit back, remain compact and counter-attack extremely swiftly. Now opponents are aware of that threat, they're forced to become more proactive, but lack the creativity and incision to dominate games and score goals.
Asamoah
Ghana, therefore, have encountered a problem common amongst many African sides over the past decade or so – they lack a genuine playmaker, someone who can put them in charge of matches and dominate the midfield zone. A few years ago it seemed Kwadwo Asamoah was set to buck the trend, and become an exciting attacking midfielder. Instead, as he moved through the ranks in European football, he's been converted to a more functional wing-back role and has found it difficult to rediscover his creative edge at international level.
As it happens, Asamoah now seems likely to be fielded as Ghana's left-back. There are both defensive and attacking reasons for his backwards shift – David Addy has often played left-back over the last year but didn't make the 23-man squad, and coach Kwesi Appiah finds himself with just six recognised defenders, from which has to draw a four-man defence. Furthermore, Jordan Ayew's hattrick as a substitute in Ghana's 4-0 thrashing of South Korea on Monday night means he's surely played his way into the left-wing position. Asamoah's not a natural left-back, but he'll still be a force. The problem, of course, is that his guile will be missed from midfield.
Solid back four
The rest of the defence is solid. In front of a good goalkeeper in Adam Kwarasey, Ghana boast two good all-round centre-backs – Jonathan Mensah broke into the side at the last World Cup, while John Boye is a more recent addition, but they've played together enough to have a fine partnership. Both are good in the air and composed on the ball, and consistent enough to allow Ghana to soak up pressure for long periods.
Harrison Afful can play on either flank – and it's slightly surprising he hasn't been tried more on the left – and is in competition with Daniel Opare to start on the right. Both are talented on the ball but play reserved roles.
Midfield
Then there's the crucial zone, the midfield trio. Ghana have great quality in this zone, with Michael Essien not as good at his peak, but not as bad as recent club performances would suggest. He's more influential in possession than you might expect, and alongside Sulley Muntari forms a combative but sometimes inventive midfield duo.
They provide the support for Kevin-Prince Boateng, who has returned to the side after rather blatantly retiring from international football to avoid the qualification phase (having only declared himself Ghanaian shortly before the last World Cup).
He's an odd player, now accustomed to a number ten role at club level, but providing physicality, hard work and good finishing rather than genuine playmaking – he can provide tricks on the ball, but doesn't always open up defences, with has furthered Ghana's problem with relying on the counter-attack.
Forwards
Ghana play a 4-2-3-1, but they effectively play three forwards across the pitch – including two brothers. Andre Ayew starts on the right and plays his defensive role solidly before storming forward on the break, although his goalscoring record of 4 in 47 caps is extremely disappointing for a player who is often a huge goal threat for Marseille. On the opposite flank, Jordan surely can't be ignored following his recent hattrick, although Appiah will be concerned about his defensive discipline, and could be tempted to bring Asamoah forward once again, or even shift Muntari out to the wing, where he played in the last World Cup. Another attacking option is Abdul Waris, vaguely similar to Ayew, while the speedy Christian Atsu can play on either side.
Upfront is Asamoah Gyan, still roaming the channels, charging in behind and shooting from crazy angles, often with great success. But once again, without wishing to repeat the point too much, he's a counter-attacking player. Against a deep defence he doesn't know what to do with himself, and Appiah doesn't have a proper Plan B.
Conclusion
There's an obvious style, and an obvious weakness. Can Ghana break down packed defences? Maybe not. But they're in a strong group, and therefore relying primarily on counter-attacking is entirely justifiable against good Germany and Portugal sides, and a USA team which might leave gaps out wide because of their use of a diamond.
It's tough to say that Ghana have genuinely progressed since 2010 – but then again, considering they were a whisker away from a semi-final place, being in the same shape isn't a bad thing.
Quick guide
Coach: Kwesi Appiah – seems to have the squad united
Formation: 4-2-3-1
Key player: Asamoah – must to take charge of this side
Strength: Defensive discipline and great speed on the break
Weakness: Reliance on the break, and no Plan B
Key tactical question: Can Ghana keep it tight at the back? They might not be good at chasing games
Related articles on Zonal Marking: