Ecuador: the most basic side?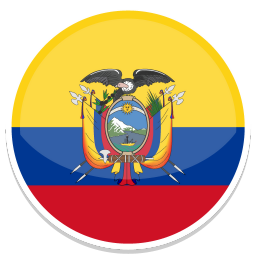 The inescapable truth about Ecuador is that they're primarily at this tournament because their home qualifiers are played at altitude.
Opponents, regardless of their technical quality, struggle to cope with that physical challenge, and it means Ecuador have a significant advantage. In qualification for this tournament, they won seven of their eight home matches, with only Argentina managing a draw in Quito. That's 22 points from a possible 24.
Away from home, it was an entirely different story. From eight matches on the road, they didn't win any, recording just three draws. When combined, it was enough to ensure they qualified for this tournament automatically, albeit on goal difference. But there's no reason to think Ecuador are capable of putting up a fight away from their home country, even if they boast some talented players.
4-4-2
Another problem is the fact Ecuador appear, in a purely tactical sense, the most basic side at this competition. Reinaldo Rueda, who took charge of Honduras at the last World Cup – and will face them in the second group game here – seems set to embark upon a bold and potentially naive strategy of using a (not particularly compact) 4-4-2 formation, leaving his central midfielders exposed against superior technical opponents, and leaving his limited centre-backs prone to the pace of onrushing attackers. The positive, however, is that Ecuador are in one of the weakest groups in the competition, and will face Switzerland in humid conditions, which could work to their advantage.
Ecuador will play an extremely direct game, playing into the hands of their forwards and wingers, who are found as quickly as possible.
Leading the line is Felipe Caicedo, who is both tall and mobile, and therefore is a decent target for long balls out from the back, while Enner Valencia supports him by buzzing around, running the channels and chasing lost causes.
Flanks
The key players, though, are located on the flanks, and these players sum up Ecuador's directness. Captain Antonio Valencia plays plays his usual game, as an old-fashioned outside-right determined to take the ball down the line and cross, rather than cutting inside. However, he's also hard-working and protects his full-back effectively.
On the opposite flank, Jefferson Montero only does half the job. He starts higher up the pitch than Valencia, and offers more variety with his dribbling, but often shows little interest in defending and can leave Ecuador's left-back outnumbered when the opposition right-back overlaps.
Support down the flank comes from two talented full-backs. Juan Carlos Paredes gets up and down the line well, and works excellent as a unit with Valencia, but the left-back Walter Ayovi is more of a worry. He's genuinely talented in possession, capable of wandering forward and whipping in stunning crosses, but again, he plays so high up the pitch. You know what to expect when a left-back wears number ten…
Weak in the centre
Ecuador also boast a talented central midfielder in Christian Noboa, who seems the only player capable of putting his foot on the ball, switching the play and helping to command the game. Inevitably, however, his balls out to the flanks generally prompt the wingers to charge forward, so he's facilitating rather than working against the directness. His 19-year-old midfield partner Carlos Gruezo has come from nowhere to be included in the squad – he boasts energy but isn't good on the ball, and could be guilty of leaving the centre-backs exposed.
That's the real worry. Right-sided Jorge Guagua is extremely limited – ponderous in possession, severely lacking in speed and determined to get tight to opponents without the ability to recover if turned. Fricson Erazo looks similarly worrying, although he is capable of despatching the ball out to the left flank with fantastic grace, and therefore each of Ecuador's opponents should tell their striker to close him down, and let Guagua have the ball.
The one caveat to all this, however, is that in the 2-2 friendly draw with England, Rueda changed things for the second half, switching to a 4-2-3-1, with Michael Arroyo as a number ten. This seems a better bet if Ecuador are to have any control over matches, but the insistence on directness means 4-4-2 is more likely.
Conclusion
This certainly isn't a side lacking individual quality. Valencia and Montero, the two wingers, are genuinely exciting players, are backed up by decent full-backs, and Caicdeo can score goals.
But the defensive structure of the sides seems extremely questionable – too much space between the lines, with two midfielders likely to be overrun. There's also no evidence that Ecuador will play deep and counter-attack, as seems logical with this group of players (slow centre-backs, flying wingers). They seem content to play open games of football, and while there's every chance Ecuador could score a couple from crosses, they'll surely concede more.
Quick guide
Coach: Reinaldo Rueda, a chalkboard-style coach who had some success with Honduras
Formation: 4-4-2, though they could switch to 4-2-3-1 for extra midfield numbers
Key player: Noboa is the only genuinely intelligent player in the side
Strength: Wing play
Weakness: Very, very limited centre-backs
Key tactical question: Does Rueda stick to his guns, or play another midfielder?
Related articles on Zonal Marking: