New managers: Martino at Barcelona
In an ideal world, Gerardo Martino wouldn't be coaching Barcelona this season. Whereas the majority of Europe's top clubs were after a new manager this summer because of footballing reasons, Barca were forced to turn to a new coach because of Tito Vilanova's health problems.
Barcelona background
That makes Martino's task slightly complicated, because this summer there was a genuine debate about how much Barcelona needed to evolve their style of play. Martino has not been appointed because his predecessor failed, but because he was simply unable to continue.
It's impossible, however, to ignore Barcelona's 7-0 aggregate defeat to Bayern in last year's Champions League semi-final. That was a quite astonishing result, and the way Barca were completely outplayed and outfought throughout both legs was a genuine shock that understandably forced many to question whether the club was too committed to its favoured style of play.
In the build-up to that tie, many billed it as a clash of similar styles – would Bayern out-pass Barca? Had that been the case, Barca could have legitimately decided the best response would simply to become better at tiki-taka, rather than attempting to broaden their approach. In the end, Bayern basically exposed Barca's traditional shortcomings – a lack of height at set-pieces, a lack of strength in physical challenges, and a vulnerability to counter-attacks down the flanks. It was fair to question the obsession with tiki-taka.
However, Vilanova's health concerns also have to be considered when analysing that thrashing. Football is very good at remembering those in unfortunate situations with messages on t-shirts or minutes of applause, but it was surprising how little Vilanova's three-month absence was mentioned in the aftermath of the Bayern defeat. Maybe that was because his health concerns are far more serious than its impact upon a game of football – and he had, of course, returned to the bench by the time of the semi-final.
However, a club going without their manager for such a significant period of time is a huge, huge setback – a loss of intensity and focus is inevitable, especially because Jordi Roura (who, it must be said, didn't appear to want the job of first-team coach) seemed such an incapable deputy. Bayern's performance shouldn't be downgraded, but perhaps we can consider the result an anomaly from Barca's perspective: they aren't truly seven goals behind the European champions. Nevertheless, football clubs must learn lessons from such heavy defeats, and Barcelona's tactics needed to vary.
Martino's background
Barcelona clearly wanted to appoint someone capable of embracing Barcelona's basic style of football – ball retention, pressing, 4-3-3. The clearest link between Gerardo Martino and Pep Guardiola is their shared respect for Marcelo Bielsa. As Jonathan Wilson says, "Having played under Bielsa, having been the creative and emotional hub of his '92 side, Martino shares the key tenets of the Barcelona model: pressing, ball-retention, fluidity."
Ed Malyon of the Daily Mirror wrote that Martino is "a superb coach whose style is perfectly suited to the Camp Nou club….his style is far more balanced than his mentor [Bielsa] – who is essentially a fundamentalist in football terms – and the similarities to Pep's Barcelona are far more relevant than to Bielsa's Athletic Bilbao….in many ways, his Newell's team was like Barca on a budget."
However, to those unfamiliar with South American club football, Martino is more famous for his performance with Paraguay during World Cup 2010 and the 2011 Copa America. In those tournaments, Paraguay played extremely defensive, reactive football throughout, although progressed significantly further than really made sense on paper. They caused Spain a real fright in the quarter-final of the World Cup, missing a penalty in the second half with the score at 0-0.
Even more extraordinary was their Copa performance, where they managed to reach the final with five consecutive draws. They were completely outplayed by Uruguay in the final, victims of their opponents' heavy pressing high up the pitch, but there was something admirable about the way they ground out results. Clearly, Martino isn't going to play that way with Barcelona, but you can be sure Guardiola or Vilanova would never have sent out a side as defensively as that.
"Martino proved something over a 12-month period in which Paraguay bored the neutrals and often enraged their opposition," says Rupert Fryer at SouthAmericanFootball.co.uk. "He had shown another string to his bow. That he could adapt. That he was a coach who could step away from his roots when required." Martino is naturally a more pragmatic coach than his predecessors.
Change in style?
There have been minor changes to Barca's squad this season – Neymar has arrived, while David Villa, Thiago Alcantara and Eric Abidal (none of whom started more than 17 league games last season) have departed. But it's an extremely familiar squad, and rather than focusing upon the impact of Neymar, the debate has centred upon Martino's philosophy.
This debate became particularly fervent after the 4-0 win at Rayo Vallecano last month. The result, clearly, was not a problem – but the possession count supposedly was. Rayo outpassed Barcelona, recording 54% of possession. According to Opta's measurements, this was the first time since before the Guardiola era that Barca had less than 50% of the ball.
It didn't hold Barca back, clearly. Pedro Rodriguez scored a goal that was pure counter-attacking, prompting a reaction from Real Madrid manager Carlo Ancelotti. "'It was surprising to see Barcelona counter-attack," he said – a fairly unremarkable statement, but made interesting because such a simple concept, and such a minor goal, was viewed as so surprising that it prompted comment from a rival manager.
Despite boasting their best pass completion rate for five years, Barcelona are enjoying less possession than ever before. If that seems like a contradiction – passing as reliably but not seeing as much of the ball – it's easy to infer that the 'problem' is Barcelona not winning the ball back so quickly.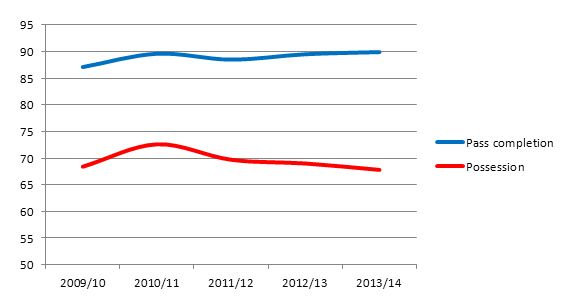 Players' views
Gerard Pique had previously remarked upon the change under Martino. "We've had a number of years with homegrown coaches in charge, first Pep and then Tito and we tended to exaggerate our style of play to the point where we were almost slaves to it," he said. "Now Tata has come in from the outside. He has the same football philosophy, to maintain possession of the ball, but he also has other options and that's a good thing, in the sense that it gives us alternatives. "If the pressure is on, there is nothing wrong with a long ball now and then. It can change the pace of the game and give you a breather."
"If we can counter-attack it's worth giving it a try," said Cesc Fabregas. "We're training to improve a couple of things. We need to read the games the way the boss wants us to."
"The more variations we have, the better," says Lionel Messi. "There will be days when it's better to have the ball and move it around the park, and others when it will be better to park the bus and play for the counter-attack."
Some seem quite angry that Barcelona lost the passing battle against Vallecano. In Marca, Emiliano Contreras asks five questions about Martino's football style. "Why are the 'Azulgranas', whose game has been based on possession, partially giving up on what defined their identity and gave them so much glory? Why are Iniesta and Xavi less important than ever?" It's worth pointing out, that while Rayo did out-pass Barca, most of their passes came in very deep positions.
Identity
Well, to understand why Barcelona aren't such ideologists under Martino, first you have to remember precisely how their previous system came about. It was the result of a succession of quite extraordinary circumstances, allowing the club to become more rooted in a single identity than any club in the modern era.
It started of course, from Guardiola – a Catalonian who grew up as a Barcelona supporter, was a ball boy at the Camp Nou and was picked in the first team from a young age by Johan Cruyff, and told to focus primarily upon keeping the ball from his deep central midfield role. As his playing career wound down, he continued to speak of his belief in passing football. When he turned his hand to management, he had a year with the Barcelona B team to develop while slowly imposing his beliefs upon the club, and brought a couple of those players to the first team, notably Pedro and Sergio Busquets.
With the first team, he picked a starting XI packed with La Masia graduates – sometimes the goalkeeper, centre-backs, entire midfield and entire forward line. The midfield trio, the most important part of a passing side, were not simply La Masia graduates, but players who grew up idolising Guardiola. Cesc Fabregas returned from Arsenal to fulfil a lifelong desire to wear the number four shirt – (Guardiola had once signed and presented a young Fabregas with his own Barcelona shirt when Fabregas was at La Masia, and was experiencing a difficult time personally with his parents in the process of divorcing). Vilanova, another La Masia graduate, was in a perfect position as Guardiola's assistant to continue the work.
We all know this – we've all read it a hundred times over the past five years. But you can't celebrate Barcelona's identity being cultivated through such a unique set of circumstances over decades, and then wonder why an outsider from Argentina with no previous experience of Spanish football is unwilling to place such emphasis upon it. It might take ten, twenty or thirty years before circumstances mean a single club is able to be so extreme as Guardiola at Barcelona. Martino is still focusing upon Barca's strengths, but he can't be something he is not.
"You have a coach who is neither from La Masia nor Dutch," as Martino simply puts it.
Defence
One area where Martino has unquestionably followed Guardiola and Vilanova's lead is his (or the club's) refusal to sign a new centre-back. The previous two coaches were happy to rely on midfielders like Javier Mascherano, Alex Song and Sergio Busquets filling in, but given Gerard Pique's dodgy form, Carles Puyol's fitness problems and Eric Abidal's departure, it's particularly surprising a replacement hasn't been signed.
In a way it's quite enjoyable, as some have argued, that Barca continue to invest in their strengths rather than seek to eliminate their weaknesses – it's certainly more interesting from a tactical point of view. However, it now looks increasingly like negligence and poor management, especially considering Song was hardly a success in his debut season. Marc Bartra's development is one reason to be positive.
Still, one can't consider the situation at the back in isolation – it must be considered in relation to Barca's overall gameplan. The club didn't particularly need another centre-back when their ball retention and pressing was at its best. Guardiola's argument that a midfielder could do the job perfectly well – because Barca would be so high up the pitch that the centre-backs would spend the majority of the game close to the halfway line, and the defending would be about positioning, turning and running – made perfect sense.
However, the centre-back weakness was always highlighted when the pressing wasn't intense, and the passing wasn't as dominant as usual. If Martino is sometimes happy to concede possession and withstand pressure, like against Rayo, another centre-back was needed. In the same way many believe Barca sometimes need a Plan B upfront when things aren't going right upfront, they also need a traditional centre-back as Plan B when things aren't going right at the back – arguably more so.
Pressing
So then, we must consider how much Barca are pressing. Martino favoured heavy pressing back in Argentina, and amongst suggestions Barca's star player had become less hard-working, in the summer he insisted that "Messi starting the pressing is important for the team."
But Paco Remez, the Rayo coach, acknowledged that his side's possession dominance in their recent fixture (more on that later) was partly because Barca didn't want to press, and instead sat deeper. Martino has admitted being more versatile when it comes to pressing. "When the opponent defends and uses the long ball it's difficult to press and it's more important to win the second ball," he says.
"Pressing is something you train on, but also it depends on the motivation and conviction of the players," he said another time. Under Guardiola, the side often seemed to tire in the spring, and on a couple of occasions seemed exhausted in the latter stages of the Champions League. Can Barcelona go on pressing forever? Jonathan Wilson suggests "the three-year rule seems particularly to apply to sides who play a hard-pressing game," and while Barcelona won the league under Vilanova in their 'fifth' season of this era, there was clearly a big dip in their fourth campaign, Guardiola's last. It seems likely Barca will press heavily in some matches, but become more passive in others.
Aerial problems
That means Barcelona will be more vulnerable to aerial attacks. Their weakness in this respect was particularly obvious in the 3-2 win over Sevilla at the Camp Nou, when Barca looked astonishingly vulnerable at set-pieces – the away side had a completely legitimate goal from a corner disallowed, then eventually equalised in similar circumstances. There was also the 3-2 win over Valencia, when Helder Postiga scored twice – one a volley from a cross, the other a near post header at a corner.
These incidents exposed the lack of height at the back, but also asked questions of why Martino has moved away from Barca's previous system of zonal marking at corners, in favour of a man-marking system.
The problem isn't that their aerial success rate has declined – in fact, it's pretty static – but they're forced to compete in more aerials overall, almost twice as many as in Guardiola's previous season.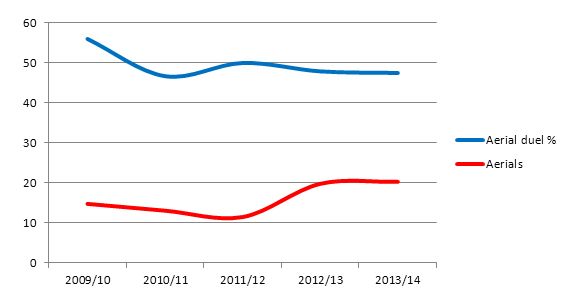 The combination of three factors – (a) Barca's increasing tendency to sit back, (b) the lack of investment in a centre-back and (c) the change in marking system – means Barca will spend more time defending than under Guardiola or Vilanova, and will probably be more vulnerable to conceding goals. Victor Valdes, however, has been in great form this season.
Midfield
Sergio Busquets is probably Barcelona's second-most consistent performer (after from the obvious one) and so far this season he's been particularly crucial. He seems to have played different roles in different matches: in the 4-1 win over Real Sociedad he often positioned himself extremely deep, almost as a third centre-back – partly because Sociedad play a system that nearly uses two strikers, relatively rare in La Liga. However, this hasn't seen Barca shift to a 3-4-3, as they did frequently under Guardiola – it seems simply like him playing a more defensive role.
At other times, Busquets' pressing has been superb. In the 3-2 win over Valencia, for example, he won the ball high up for an early Neymar 'goal' that was disallowed for offside, then did exactly the same thing moments later, allowing Fabregas to slip in Messi for the opener. Against Sevilla he found himself in an advanced position to intercept a poor clearance, which resulted in Andres Iniesta setting up Daniel Alves' opener, and even in that Sociedad game, where he was playing a defensive-minded role, he found himself lurking on the edge of the box to win the ball quickly, and power a shot into the net from range. His tackles have generally taken place high up the pitch:
He's crucial in two respects – protecting the centre-backs and helping his midfield colleagues press, and his fitness is extremely important to Barcelona – no-one else has his positional intelligence.
If Contreras' question (see the earlier Marca article) is about why Xavi and Iniesta have less importance under Martino – and let's assume, for a second, that this analysis is correct – the obvious answer is that they're not quite at the level they once were. Iniesta's form continues to be very good – in fact, last season his assist statistics went through the roof; a previous shortcoming was how little he actually played the final pass.
But Xavi is no longer the force of old. He's still an excellent player, probably still a world-class player. But his form between 2008 and 2011 was extraordinary – his dominance upon big games was perhaps unprecedented. In 2009, for example, he went to the Bernabeu, completed the most passes and recorded four assists in 2-6 win. He nearly did the same the next season, when Iker Casillas thwarting Messi in two one-on-one situations meant Xavi 'only' recorded two assists instead of four in a 0-2 win. In the 2010 World Cup semi-final against Germany he played the most passes, ran the furthest, and assisted the only goal. They are just three examples, but this was entirely regular in big games.
That – the slight, but significant decline of Xavi – is surely the primary reason why Martino has less faith in the passing game overall. In truth, this is the point where Xavi should be gradually winding down and giving way to his successor – but things haven't gone swimmingly in that respect. Fabregas' inconsistent form over the past two years, and the feeling that he's a somewhat 'anarchic' tactical option (in stark contrast to Xavi's ultra-disciplined, sensible ball retention) means he's not a great replacement.
The Thiago situation was badly mismanaged in at least one respect, and instead of becoming Barca's next great central midfielder, he's Guardiola's next great central midfielder at Bayern. Given Song's lack of impact (he could, theoretically, have allowed Busquets to shift slightly higher up the pitch), Martino's attitude is understandable.
But then, has Xavi's influence really declined? He's still playing more passes than any other La Liga player, and still has a pass completion rate of 93%.
But it remains to be seen whether Xavi can still dominate the biggest games – and there's a feeling he might struggle to replicate his past performances against Real Madrid and in the knockout stage of the European Cup. If that's the case, Martino can't depend upon possession dominance and must find alternatives.
Xavi and Iniesta are only starting in the two advanced midfield positions in roughly half of matches – three from eight in La Liga, one in two in the Champions League, one in two in the Supercup.
Pedro and Sanchez
Pedro has always been the attacker most suited to Barcelona. He's not as talented as Messi, Neymar, Henry, Ibrahimovic, Eto'o or Villa – but more than any of them, he sticks to the system. He knows where to position himself, when to press, which runs to make. He's happy to be a permanent decoy if necessary, in order to let Messi thrive, and yet he's still capable of scoring a hattrick (away at Rayo). If Barca do counter more this season, he'll be very much suited to it.
Alexis Sanchez continues to frustrate – although generally bright, he lacks the individual quality (or rather, the consistency of individual quality) to justify how frequently he overplays in the final third. Messi and Neymar both find him infuriating at times, and he could do with taking a lesson from Pedro's book, being less selfish and more simple with his play – although a great decoy run for a Messi goal against Ajax indicates he might be learning.
Because of the difference in their tactical ability, Pedro will surely be favoured in big games – Sanchez, Messi and Neymar together upfront in the Clasico, for example, would surely be too aggressive, although it was no problem against Sociedad.
Neymar
Neymar is an extraordinarily talented individual but is also capable of being a team player, too. While he's shown some fantastic touches and pieces of skill, he's also been quite deferential in terms of his relationship with Messi, and has overly attempted to pass the Argentine the ball a couple of times, as if desperate to underline the fact he's not trying to take away the attention.
But it's arguable Barcelona also needed Neymar's individualism. Without Messi last season they appeared bizarrely functional for such a talented group of players – Neymar can provide some magic to open up a defence himself. He's played on the left, and in some games when Messi has drifted right, the balance has been perfect.
When Messi has been absent, Neymar has become the centre of the side – something the other attackers aren't entire comfortable with. He was the best player during the 4-1 weekend win over Valladolid, scoring a goal and assisting another.
Messi
Messi is said to have been particularly pleased at Martino's arrival – the two both come from Rosario, Messi had previously praised Martino as a coach, and was forced to deny he'd had a hand in his appointment. "I have nothing to do with Martino's signing nor do I have to give any explanations," he said in the summer. "It was down to president [Sandro] Rosell and the club. I said before that he seemed a good coach, but I don't have to explain anything."
The major discussion point with Messi was initially the fact he was twice been substituted by Martino towards the end of games Barcelona were comfortably winning, to (probably greatly exaggerated) reports of his unhappiness. It's true that Messi dislikes being taken off, partly because of his determination to maintain his incredible scoring record, but Martino simply must protect him more.
Messi's lack of injury problems was previously one of his great attributes, but Barca were woeful without him in the latter stages of the Champions League last year, and his gametime must be managed carefully. Removing Messi shouldn't attract any negative headlines, although it will be interesting to see whether Martino is brave enough to properly rest him at the start of matches. The injury Messi collected at Almeria was rather unfortunate for Martino, but his intention to rest him more remains logical. "My obligation is to take care of Messi. We need all of the players to be healthy and especially him, he needs to be healthy for the decisive moments of the season," he says.
More interesting is Messi's precise role in the side. There's no doubt about his best position considering his scoring record over the past couple of seasons, although in Guardiola's final season there were various experimentations with Messi in a more withdrawn role, and Sanchez upfront as a number nine, stretching the defence.
Still, it's tempting to ask whether Messi is still actually playing the 'false nine' position he excelled in under Guardiola. There, his deployment centrally was genuinely remarkable at first, given his previous use on the right wing. Eto'o and Henry (then later, Pedro and Villa) would play high up against the full-backs, while Messi was a number ten rather than a number nine, playing as the fourth central midfielder before charging into attack. This was a true 'strikerless' system.
In the 2010/11 season, for example, Messi was sometimes more of a midfielder than a forward in big games – against Real Madrid, he repeatedly dropped deeper than Real's holding midfielders to receive possession, which left him with four players to beat on his way to goal. That seemed a little excessive, and although the results were good as a whole, in some matches it seemed problematic.
Now, it's less common to see Messi doing that. He's still greatly involved in link-up play, of course, but it feels like the longer he's played as the highest central attacker, the more of a pure striker he becomes. His drifts into deeper positions are still obvious, but a first-time viewer would be surprised his role was part of some kind of tactical revolution.
So far, it seems that against better sides Messi plays deeper and contributes more to build-up play – his third goal against Valencia was a great example of his dual role, providing the extra number in midfield before scampering forward to score. In other matches, however, he seems happy to let others dominate the midfield, and has concentrated on finishing moves.
Under Martino, Messi is a purer striker than ever before – he's currently playing around 10 passes per match fewer than last season, but is shooting slightly more.
Formation
Guardiola was a strict 4-3-3 man before becoming increasingly convinced with the need to play a different way. The false nine system was only a minor deviation, and he later favoured a variety of systems from 3-4-3 with a diamond midfield, to, at one point, something more like 3-3-4. It was fascinating, and Guardiola's insistence that Barca must evolve to stay ahead displayed admirable modesty, but it's tempting to conclude that he simply experimented too much in his final campaign.
So far Martino has favoured more of a traditional 4-3-3. There seems to be less rotation in positioning, and the movement – arguably the thing that separated Guardiola's Barca from any other side who could retain possession of the ball well – is much less impressive. So far, perhaps only Pedro's relationship with Alves is genuinely impressive in terms of movement.
Busquets' deepness, and Messi's advanced positioning, means Barca have probably become more predictable in terms of shape – Fabregas, who has started the season well, remains the most unpredictable player in terms of movement, but will he be given such freedom (or even start) in big games?
Still, we're yet to see Martino face genuinely top opposition, and therefore it'll be interesting to see what his variations are. The previous 'big game' strategy was putting Iniesta into a wide-left position to incorporate Fabregas, but that would mean leaving out Neymar.
Messi supposedly dislikes being moved away from his favoured position, too, so it's arguable Martino doesn't have a wealth of tactical options. This will be a factor primarily in the knockout stages of the Champions League – the strength in depth within La Liga has never been less impressive, and Plan A should blast away minnows easily.
More direct passes?
Barcelona have been playing more directly this season, which feels more like the pre-Guardiola Barcelona, when they naturally dominated possession, but weren't obsessed with it. "We don't want to change the team's style of play, but I saw Barca defender Rafael Marquez make long passes five years ago," says Martino. "It doesn't mean we're changing the style if we add alternatives to our play." Again, Barca have broadened their tactics rather than altered them dramatically.
"Victor Valdes kicked 20 long balls in Barca's 4-0 win over Rayo Vallecano at the weekend, and 16 of them were without any destination," Guillem Balague said. "That's just giving away possession." There were plenty more long passes compared to the equivalent fixture last season:
Martino had an explanation. "Rayo pressed us and they made it difficult to play short passes. We had the alternative to play long and at times you have to do this in these types of matches in order reach other parts of the field." Paco Jemez, the Rayo coach, agreed with that assessment, saying Rayo dominated possession "by going for them, pressing high, primarily their centre-backs." When Barca's defenders are pressed, they'll turnover the ball more willingly than before.
But Barcelona are actually playing fewer long balls than last season. What they are doing more, however, is hitting the odd vertical, direct pass into attack. The only goal in the 1-0 win over Celtic was a good example, after Martino had said "We have to alternate between long spells of possession and vertical play" ahead of the game.
Basically, Barca will score more goals by breaking directly into space this season, which will suit Neymar in particular, but arguably also Fabregas, Pedro and Sanchez too. "We are looking to add variables to our play with changes of pace and a more vertical approach," Martino says.
The obvious result is that Barcelona are shooting more this season, although their opponents are shooting slightly more, too.
The downside is that Barca might not control games so effortlessly – the possession play was a defensive weapon as well as an offensive weapon.
Conclusion
We're still at an early stage of Barcelona's season, and their 2013/14 (like all their campaigns) will probably be defined by between four and nine games: the clasicos against Real Madrid, and the Champions League knockout stage fixtures will be Martino's true tests.
So far, all the evidence suggests that Martino is trying to find a compromise between Barcelona's standard style of football, and a more varied approach. That applies particularly to the passing – where Barca will still top Spain's possession charts, but will play more direct balls into attack, especially when pressed at the back. The slight decline of the midfielders, and the presence of direct attacking weapons, makes that logical. Something similar applies to pressing – it's still a key part of Barcelona's approach, but might be switched on and off between matches to maintain fitness levels. Counter-attacking will certainly be more obvious this season, too.
It seems Barcelona have found the perfect man – someone who appreciates the qualities in their traditional style of play, but also wants variations to become less predictable and more tactically flexible. Considering Barcelona didn't want to have to change their coach in the first place, it's working out pretty nicely.
Related articles on Zonal Marking: