New managers: Mourinho at Chelsea
Jose Mourinho isn't so much a 'new' manager as a returning manager, following nearly six years away from Chelsea.
The obvious advantage Mourinho has over David Moyes and Manuel Pellegrini, the other two newcomers amongst top Premier League clubs, is that he has experience of competing (and triumphing) in a Premier League title fight. The downside, however, is that opposition coaches are now fully aware of his tricks, both in terms of psychology and tactics. Whether that means they'll be able to counteract them with an intelligent strategy of their own, however, is a different matter. Chelsea odds to win the league at freebets.org
Mourinho's background
Throughout his career Mourinho has been a ruthless, efficient tactician rather than a revolutionary one. His strategies are taken from the textbook and are meticulously worked upon in training, rather than being genuinely new, fresh, innovative ideas that takes the footballing world by surprise. As Xavi Hernandez once said, "Mourinho is a great coach, but he will not enter the history of football. To go down in history you must do different things, and he does not bring new things to the game."
Xavi is hardly the most impartial observer, and it's extremely harsh to suggest a double European Cup winner, and a league champion in four separate countries, will not enter the history of football. But then it depends what 'the history of football is' – if it's about success, character and drama, Mourinho features heavily. But if the 'history of football' is about playing style, well, then the updated version of the history of football tactics features a chapter on tiki-taka, which is the type of football Mourinho has spent the past six or seven seasons plotting against. In all probability, Mourinho's second Chelsea reign won't provide a key tactical development.
That said, the last time Mourinho arrived in England he did surprise opponents with his tactics, and helped to move England away from 4-4-2.
"Look, if I have a triangle in midfield – Claude Makelele behind and two others just in front – I will always have an advantage against a pure 4-4-2 where the central midfielders are side by side. That's because I will always have an extra man. It starts with Makelele, who is between the lines. If nobody comes to him he can see the whole pitch and has time. If he gets closed down it means one of the two other central midfielders is open. If they are closed down and the other team's wingers come inside to help, it means there is space now for us on the flank, either for our own wingers or for our full-backs. There is nothing a pure 4-4-2 can do to stop things."
That was only nine years ago, yet in hindsight English football seems remarkably naive tactically upon the arrival of Mourinho (and Rafael Benitez) in 2004. Playing a midfield triangle was hardly a new innovation in a European context, but seemed to genuinely bamboozle a ludicrous number of Premier League coaches. In 2013, such a simple move is unlikely to prove so effective.
Mourinho has almost always deployed two main formations, switching between them when necessary. Traditionally this gave him an option that dominated midfield with four central players, and an option with two genuine wide men.
For example, at Porto he favoured 4-3-1-2 but sometimes used 4-2-3-1. At Chelsea it was the opposite, favouring 4-3-3 but sometimes going with a midfield diamond. At Inter, he focused upon 4-3-1-2 throughout his first campaign and in Serie A during his second season, but turned to 4-2-3-1 for Inter's victorious European run.
At Real Madrid, however, it was a choice between either 4-2-3-1 or 4-3-3 – and Mourinho largely discarded the idea of playing four central midfielders. The shift between the formations was much more subtle. That now seems to be Mourinho's standard approach, and he explained his intentions in-depth before a couple of Chelsea's pre-season matches.
"We will play 4-2-3-1 in the first game, my favourite system, though sometimes I change the triangle and play with one in front of the defenders and two players up," Mourinho said. "Other times I play with double midfielders and a number ten. This is a team where we have not one or two but three or four players who like very much to be a number ten: [Kevin] De Bruyne likes it, Oscar likes it, [Juan] Mata likes it, [Eden] Hazard likes it. It is a natural system for all these players to play.

But in another match I could change it. If we are losing, we might need to have two pure strikers. It is something we will work on because I would like to have this capacity to have it ready to play, independent of the players we have. Naturally, we will have four at the back and in my team, the attackers are attackers. Some guys say we play 4-2-3-1, blah blah blah blah, and sometimes the attackers have a defensive job so it is more like 4-5-1. But it is not 4-5-1, it is 4-3-3."
The key is the first part – 4-2-3-1 is his favourite system. Tilting the midfield triangle, essentially creating a 4-3-3, is the alternative. Two strikers will be used as an emergency system (something Mourinho did nicely at Real) while there's no talk of a midfield diamond (or a 4-3-1-2) a shape Mourinho seems to have discarded.
Chelsea's background
Mourinho inherits a side which has been drilled excellently in a defensive sense over the past couple of years. Andre Villas-Boas was the first Chelsea coach who tried to take the club in a different direction from the Mourinho blueprint (odd, considering he was one of Mourinho's assistants) but since then the club has been formatted ideally for Mourinho's style of play.
Roberto Di Matteo's first half-season as manager set the tone. Not only did Chelsea triumph in the European Cup thanks to some excellent defensive play – sacrificing possession and concentrating on dealing with pressure – his formation choices were also similar to what Mourinho would have done. Chelsea were reasonably adventurous in a 4-2-3-1 system in the league, then switched to a more defensive 4-3-3 for big European games. That might be exactly what Mourinho does this season.
Then Di Matteo (perhaps because of instructions from upstairs) moved to a much more fluid 4-2-3-1 system this time last year, that had Hazard, Mata and Oscar rotating in the three attacking midfield positions. Chelsea were exciting but lacked structure, and Rafael Benitez's first task as Chelsea coach was to concentrate upon defensive positioning and protecting the back four, especially with the wide midfielders.
Di Matteo's side looked defensively solid in a 4-3-3/4-5-1, but not in a 4-2-3-1 with two banks of four and a number ten. Benitez is unlikely to receive much credit from either Chelsea fans or Mourinho himself for his performance at the club, and his achievements were decent rather than excellent, but it means Chelsea are already suited to Mourinho's defensive style.
Oddly, that's crucial in making Chelsea a more attack-minded side. If Chelsea were a shambles defensively, Mourinho would use his attackers conservatively and focus upon overall structure in the opening weeks. Instead, he has slightly more license to be creative and adventurous further forward.
Defence
The left side of Chelsea's defence has survived from Mourinho's first spell. John Terry and Ashley Cole are hardly likely to win any popularity contests, but they've been a consistently dependable unit for the last seven years. Partnerships between centre-back and full-back often aren't considered as important as that between the two centre-backs, or between the full-back and his wide midfielder, but very few mistakes come from that part of Chelsea's defence.
Terry's future seemed uncertain when Andre Villas-Boas was demanding a high defensive line – most obviously exposed in Arsenal's 5-3 win at Stamford Bridge – but Terry is both (a) extremely comfortable in a deep defence and (b) better at covering for his lack of pace with good positional play than many would like to admit.
Alongside Terry, Mourinho has decent options, and David Luiz and Gary Cahill are both more comfortable than Terry high up the pitch. Cahill is the superior of the two when defending inside the penalty box, something particularly obvious over the past week given Cahill's fine display for England away in Ukraine, and Luiz's positional error in the defeat at Everton, but Luiz is more capable of bringing the ball out of defence. Mourinho isn't regarded as a coach who insists upon ball-playing centre-backs, but the likes of Ricardo Carvalho and Lucio have often brought the ball forward effectively under his coaching.
Chelsea's defensive performance against Manchester United was interesting because both centre-backs had such simple jobs. Cahill made no tackles, made no interceptions and conceded no fouls. Terry made no tackles, made one interception, and conceded one foul. Their game was almost entirely about clearing the ball in the air – demonstrated by the green circles below.
Clearly, the centre-backs were so well protected that they didn't really need to do anything. Compare that to the performance of Liverpool's centre-backs in their clean sheet against Manchester United.
There are more interceptions (diamonds), tackles (crosses) and blocks (grey lines). The positions of Daniel Agger and Martin Skrtel's defensive contributions are much more haphazard – they still kept a clean sheet, and Skrtel in particular was excellent. But Chelsea's defensive organisation so far has been extremely impressive.
Right-back is an interesting area, because Mourinho has a choice between Branislav Ivanovic and Cesar Azpilicueta, two completely contrasting players. Ivanovic is a centre-back by trade but has grown accustomed to full-back since his move to Chelsea, while Azpilicueta is smaller, quicker and more technical. Ivanovic has been preferred so far, and while Azpilicueta will surely get gametime soon because of rotation, he's only played one Premier League minute in Chelsea's four league games so far.
The Spaniard enjoyed a good first season at the club, so this seems a simple case of Mourinho preferring a bulkier, more physical player at full-back. He does like height in the full-back positions – he supposedly had initial concerns about signing Cole in 2006 because of his lack of height, and while he clearly felt Cole was good enough to get past that problem, perhaps he's reluctant to play two (relatively) short full-backs regularly in the back four.
It's also worth considering Petr Cech's role in the side. An excellent 'pure' keeper but not particularly adept at sweeping off his line or distributing the ball (Chelsea's passing from the back under Villas-Boas was poor because Cech looked so uncomfortable with the ball at his feet), Mourinho's return has been good for the Czech international.
Midfield
The solid back four means Mourinho can – when he wants – demand fluidity from his midfield duo. On the opening day against Hull, the freedom afforded to Ramires and Frank Lampard was amazing for a Mourinho side. Usually he demands strict positional discipline from that zone, and the likes of Claude Makelele, Esteban Cambiasso and Xabi Alonso have rarely strayed from their position, even if Makelele (a pure holder) is a very different type of player to Alonso (a deep-lying playmaker).
Against Hull, there was one incident that summed it up – Lampard nearly found Ramires breaking through on goal, with a lofted through-ball. The pass was overhit, but it was significant that these two found themselves in advance of Chelsea's attacking midfield trio, and they'd also briefly swapped sides. That's considerably more freedom that we've become accustomed to for a Mourinho midfield.
This will be an area Mourinho changes from game to game. In games against weak opposition, both midfielders will have license to go forward. In 'normal' games, he'll probably ask one player to sit deep and another to shuttle forward – in the weekend defeat to Everton, Ramires was the shuttler, and John Obi Mikel came into the side to protect the defence.
In particularly difficult games, both midfielders will stay tight to the defence – that was the situation against both Bayern in the Supercup, and the 0-0 draw against Manchester United in the league. Overall, Ramires seems to play the more defensive role.
What Chelsea may lack, however, is a true deep-lying playmaker, a long-standing problem that became particularly obvious last year – when sides could concentrate on minimising the space between the lines for Chelsea's three attackers, and be relatively relaxed about the threat upfront, or from deep in midfield. Neither Ramires nor Lampard provide particularly incisive passing from that zone, and Chelsea may find themselves increasingly presented with the ball in deep midfield positions, unable to thread an initial pass into the final third.
Attackers
This is Mourinho's real area of strength, with Hazard, Oscar, Mata, Kevin De Bruyne, Willian and Andre Schurrle all competing for three places. In fact, Demba Ba, Samuel Eto'o, Ramires and Frank Lampard could all conceivably play in those positions too – but because of Mourinho's options in those roles, their appearance there seems unlikely.
Perhaps the most interesting role is the number ten position. Oscar started the season there, and Mourinho will be particularly keen on his discipline and tactical intelligence. Against Hull he was fantastic because of his ability to drag opposition holding midfielder Robbie Brady out of position, creating gaps for other midfielders to charge into.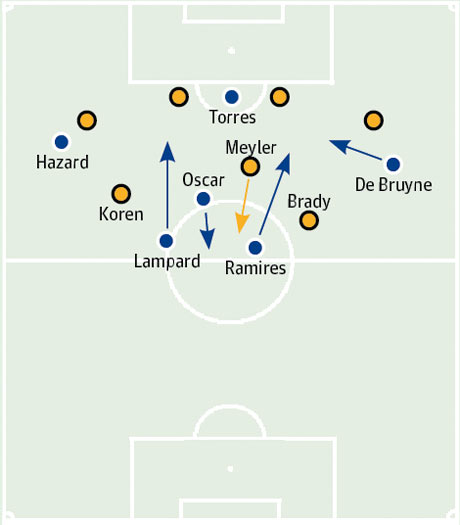 His ability to help defend will also be seen as important, considering Mourinho will often play without any naturally defensive central midfielders.
Crucially, Oscar is equally capable of playing against deep defences, or playing on the counter-attack. Mourinho's curious distrust of Juan Mata was somewhat justified by the Spaniard's ineffective performance against Everton at the weekend, where he seemed unable to carry the ball forward at transitions from central positions.
Although likely to be more proactive this season, counter-attacking will still be a key part of Mourinho's strategy. Mata might be suited to games where Chelsea have possession and are playing against a deep defence, trying to find angles to penetrate. As it happens, this means Mata was used in the exact wrong way at Everton – on the pitch when Chelsea were countering, withdrawn when they dominated against two deep banks of four.
Out wide, the real key is whether Schurrle adjusts adequately to his right-sided role. At Leverkusen last season he was devastating when running powerfully towards goal from the left, moving inside onto his right foot before firing at goal. He's a perfect Mourinho player, a kind of Cristiano Ronaldo-Arjen Robben clone, but he's logically more comfortable on the left. So far this season his performances on the right have been encouraging, but not yet quite at the level Mourinho would expect. In truth, it probably makes more sense on paper to play Hazard from the right – his game simply seems less dependent upon what side of the pitch he plays – but Mourinho hasn't explored this option so far.
De Bruyne is a different type of player – capable of playing in a deeper role, and therefore might be crucial when Mourinho wants balance between the two flanks. At Real, Angel Di Maria provided an excellent counterweight to the the outright attacking of Ronaldo in a narrower, deeper role. Like Di Maria, De Bruyne isn't a pure winger and is a more selfless player than Hazard or Schurrle.
Willian seems an unnecessary signing despite his obvious talent. It's difficult, at this stage, to see what role he would play better than one of Chelsea's other five attacking midfielders – although he's arguably capable of providing more natural width if Chelsea need to stretch the play.
Upfront
The decision to loan out Romelu Lukaku was extremely strange – the Belgian scored at a better rate than any other Premier League player last season, and while one could argue it's a decent decision in the long-term, because Lukaku will get playing time at Everton and come back even more ready for Chelsea, he surely could have played a valuable role this season. His intelligent runs, as well as his finishing quality and sheer power, make him an excellent all-round striker.
Instead, Mourinho is left with question marks about all three strikers. Fernando Torres' form has improved, especially in Europe, but he's scored one league goal in 2013. Torres was a world class player when he worked the channels with tremendous pace, but having lost that speed he now concentrates upon battling aerially and linking play, neither of which he does with any great certainty.
Demba Ba seemed stopgap signing and probably isn't quite at the level Mourinho would require. He's simply not involved in play enough.
Meanwhile, Samuel Eto'o physical status and mental state must be questioned after two gentle years in Russian football. That said, there were promising signs from Eto'o at Everton on Saturday. The sharpness and first touch wasn't there yet, but that will come with time. The major question is whether he'll also find an extra yard of pace, or whether that's been lost at the age of 32.
However, the intelligence of his movement was still obvious – whether peeling to the far post or sprinting to the near post, Eto'o remains an extremely lively centre-forward, and Mourinho's surprising decision to thrust him straight into the action at Goodison Park means he'll probably be Chelsea's first-choice striker this season. Mourinho likes players he can trust, and after their successful year together at Inter, where Eto'o often played wide, the two have a good relationship.
Mourinho clearly wants someone mobile that can work the channels, which is why he started Schurrle upfront against Manchester United. Having used four different forwards in four Premier League games, however, it's clear he hasn't found the solution yet.
Possession and overall approach
Chelsea's average share of possession since Mourinho's return has been extremely inconsistent, ranging between 26% and 69%, which is partly a consequence of the wildly different opposition they've faced so far this season.
However, what is particularly obvious is Chelsea's tendency to completely alter their style of play according to the game state. There's no surprise in Chelsea having 69% of possession at home to Aston Villa, or completely conceding possession against Bayern, a regular Mourinho tactic against a Pep Guardiola side. The real interest has been how Chelsea have completely altered their approach within games.
Against Hull they dominated in the early stages – in the first quarter (when they scored both their goals, and also missed a penalty in an eventual 2-0 victory), Chelsea had 71% possession. However, at 2-0 up they immediately switched off and sat back, recording just 43% of possession in the second quarter, and just 47% in the second half. With such variation, the final possession count of 51% becomes somewhat meaningless.
Some took Hull's late surge as evidence Chelsea were tiring, but they seemed entirely happy to soak up pressure by sitting deep (which suits their defence) and then countering (which suits their wingers).
Against Everton it was the opposite situation. Chelsea had 48% of possession in the opening quarter, but throughout the second half this figure jumped to 62%. Even more interesting was the position of the passes before and after half-time – Chelsea were playing a completely different style of football.
It's natural for playing style to change when the game state changes, but Chelsea's approach was markedly different.
It is more the first switch, the defensive shift, which will be a key part of Chelsea's approach this season. StatsBomb believe the Hull game was a perfect example of 'shelling'.
Also in that Hull game (which has been used frequently as an example here, mainly because Mourinho's home record is frequently immaculate, and Chelsea will dominate games at Stamford Bridge in this manner throughout the campaign) was the interesting development that the two most frequent passing combinations in the game were Hull players combining down the flanks.
This has been replicated (to a lesser degree) in some of Chelsea's subsequent games, and suggests Mourinho's side will have a relatively narrow defensive shape, allowing the opposition time on the ball close to the touchlines when they're in a defensive mindset.
Maybe the most surprising thing about Mourinho's Chelsea so far has been their inefficiency on the counter-attack. Against Everton on Saturday, Chelsea were up against a side that wanted to dominate possession and push their full-backs forward, and while Roberto Martinez was reasonably cautious with the positioning of his players, it was still surprising that Chelsea seemed so incapable of transferring the ball into attack quickly and striking on the break. Swift counter-attacks are a fundamental part of Mourinho's approach, and something Chelsea can't afford to be weak at.
Another interesting feature of the defeat to Everton at the weekend was Mourinho's switch to a back three as he chased the game. Torres replaced Cole, with a back three of Ivanovic, Terry and Luiz, with Ramires and Mikel dropping in to help out. It's something Mourinho often did at Real, and he's said he will use two pure strikers only 'in an emergency'.
Conclusion
From a tactical point of view, it's relatively difficult to get excited about this Chelsea side. Their last two seasons started with grand new projects: Villas-Boas unsuccessfully trying to make Chelsea playing high-tempo football with pressing and a high line, and Di Matteo integrating three rotating playmakers into the same side following a remarkable European Cup win with the most defensive football imaginable.
This seems like more of a template job. Mourinho is bringing old ideas and using them with different players, and with Chelsea's capacity to sign any player they need (and some they don't) it's not about how Mourinho will construct a side around his players, but about how his players will adjust to his system. His apparent lack of regard for Mata underlines the problem – it would be much more interesting to see how Mourinho went about including him, rather than being free to exclude him because he has countless other options in those three attacking positions.
Still, Mourinho's tendency to use vastly different strategies at different times has been fascinating, and that will be the most interesting thing about Chelsea this season – how they play in individual matches, rather than how they play overall.
Related articles on Zonal Marking: