Arsenal 1-0 Tottenham: Cazorla provides the overloads in midfield, and the through-balls for Giroud and Walcott
(First things first: all the other big games (Bayern v Chelsea, Man Utd v Chelsea, Man Utd v Liverpool, Barca v Valencia, Barca v Atletico etc) will be included in the 'new managers' series which will start this next week. And will hopefully be worth the wait. If that excludes some teams in those match-ups, apologies – but that just means they have been covered last season under their current manager…)
Arsenal recorded a narrow victory in the north London derby.
Arsene Wenger was still without Mikel Arteta, Lukas Podolski is a new injury blow, while Bacary Sagna was unwell so Carl Jenkinson played at right-back.
Andre Villas-Boas was without Gareth Bale ahead of his departure to Real Madrid, while Erik Lamela was only just signed in time and was on the bench, while Christian Eriksen wasn't yet under consideration.
In terms of tactical analysis, this was a remarkably simple game based entire around two concepts (and how those two concepts worked together).
The key issue #1: Cazorla inside
The first obvious feature was Santi Cazorla's positioning. Whereas Arsenal are direct on both flanks when Lukas Podolski and Theo Walcott are both in the side, the shape changes when Cazorla plays on one side. Regardless of which flank he's deployed on, he drifts inside into central positions and helps caused an overload in the central midfield zone.
This was particularly important for Arsenal against Spurs today – the midfield trio of Mousa Dembele, Paulinho and Etienne Capoue offered great strength, and there was a risk Arsenal would be overpowered if they went up against them three-against-three. Instead, Arsenal had to add to their numbers in the centre of the pitch.
Essentially, Cazorla became a fourth central midfielder. Spurs' attitude in the opening minutes suggested they were going to press in the middle – Dembele on Jack Wilshere, Paulinho on Aaron Ramsey and Capoue sitting deeper on Tomas Rosicky. Cazorla's central presence disrupted that strategy, and while Arsenal didn't dominate possession to the extent you might expect, they enjoyed more of the ball in advanced positions.
There was, of course, a risk by using Cazorla so narrow – it meant Kieran Gibbs was often exposed to the runs of Andros Townsend and Kyle Walker, and forced to deal with two-against-one situations down that side. Townsend was Spurs' most promising attacking player with his direct dribbling and long-range shooting, and Walker's overlaps meant Townsend often had space to turn inside onto his stronger left foot. Overall, however, Gibbs coped well – and as the match went on, Cazorla offered more assistance.
The average position diagram (from WhoScored) shows Cazorla (19) extremely narrow, and Walcott (14) essentially as a forward.
The key issue #2: Spurs' defensive line and Arsenal running in behind
The previous meeting between these sides, a 2-1 Spurs win at White Hart Lane in March, was almost entirely based around two high defensive lines, and both sides breaking in behind. Here, only Arsenal managed to successfully breach the opposition's defence in this manner.
Spurs had neither of the duo who scored in that game (Bale or Aaron Lennon) and while centre-forward Roberto Soldado is good at playing on the shoulder, the midfield trio didn't offer the creativity to find him.
At the other end, Spurs continued to play high up the pitch – which caused them problems with both Theo Walcott and Olivier Giroud. Walcott is extremely quick, of course, and Danny Rose was unable to track all his runs made from the right-hand channel, while Giroud is much slower but was up against a particularly sluggish centre-back in Michael Dawson. There was also confusion between Dawson and Jan Vertonghen about the defensive line a couple of times, most obviously for the goal.
The result: constant Arsenal chances
Six separate Arsenal chances (or near-chances) came in similar circumstances – usually with Cazorla coming inside, then playing a through-ball to Giroud or Walcott.
7 minutes: Cazorla, despite starting from the left, finds himself as the fourth central midfielder in a right-of-centre position. He hits a huge long ball over the top of the defence for Giroud – who surprisingly attempts to head. His weak attempt barely forces a save from Hugo Lloris, but it's a warning sign for Spurs.
23 minutes: Cazorla is again in central midfield – this time in an extremely deep position in front of the Arsenal defence. He doesn't provide the through-ball for the goal, but plays an earlier vertical pass, cutting through the Spurs midfield and finding Ramsey. Then, after a Rosicky pass, both Walcott and Giroud are allowed to break in behind the Spurs defence because Dawson is deeper than Vertonghen, playing them onside. Walcott squares the ball for Giroud, who makes his usual near-post run and finishes with the outside of his left foot.
33 minutes: Again, Cazorla drifts inside from the left, exchanges passes with Rosicky before passing towards Walcott's usual out-to-in run. This time, Hugo Lloris dashes forward to sweep up, tackling Walcott outside the box to clear the danger.
62 minutes: Cazorla's in a central midfield position, looks up to find the Spurs defence out of shape again, with both Walcott and Giroud running towards goal. He attempts a through-ball, but Dawson makes a crucial interception as the last defender.
64 minutes: Cazorla starts the move inside Arsenal's half, then finds himself in the 'number ten' position yet again, with two runners ahead – Walcott on the right, Giroud in the inside-left position. Walcott makes a run inside to create space for Giroud, who receives the pass before forcing a decent save from Lloris, low to his right.
70 minutes: The one key Arsenal move that didn't feature Cazorla – Rosicky wins the ball high up, leaving Giroud free to break towards goal – but his pass to Walcott is overhit, and Lloris again sweeps up.
Cazorla's passes received from FourFourTwo StatsZone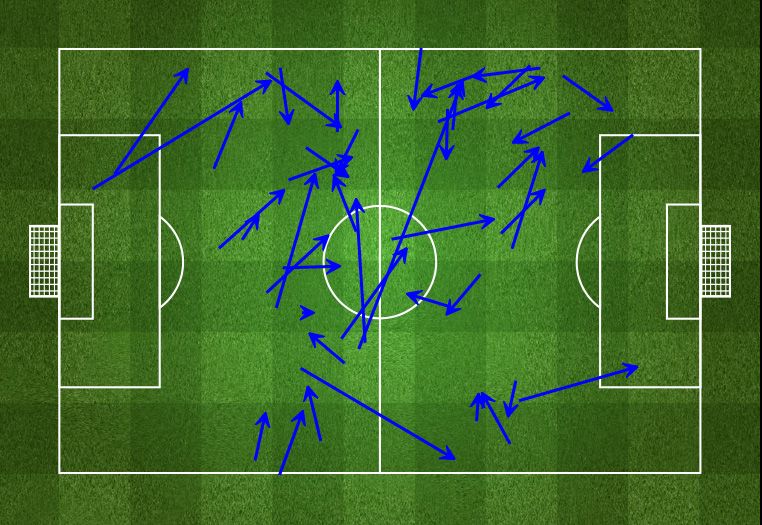 And Cazorla's passes played from FourFourTwo StatsZone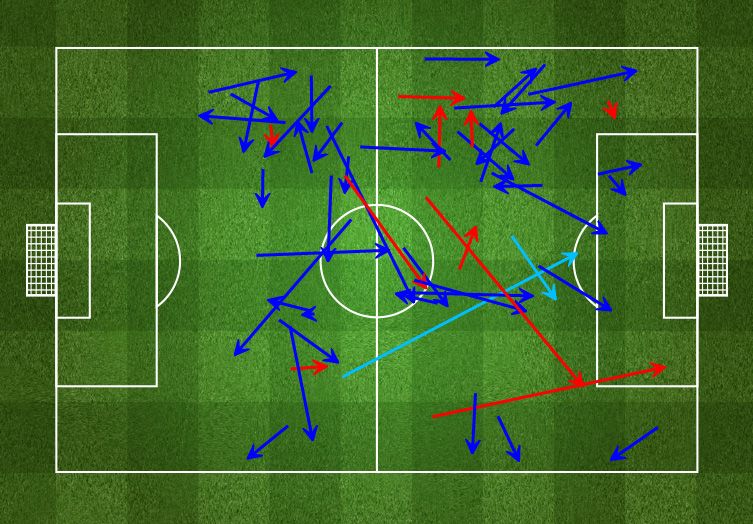 Other issues:
- Spurs offered Soldado extremely little support, both in terms of incisive passes towards him, and getting midfield runners up and around him. It's arguable that Spurs aren't accustomed to having to provide great creativity given their reliance upon Bale's dribbling and long-distance shooting last season – although the impact of Lamela and Eriksen should be considerable, and means analysing Spurs' performance here might be futile given the imminent introduction of two outstanding attacking midfielders.
- Arsenal had the upper hand from the starting XIs, but the difference in quality on the bench was huge, and underlines Arsenal's need to strengthen tomorrow.
- It was somewhat surprising Villas-Boas didn't choose to field both Sandro and Capoue, his two solid holding midfielders. Yes, today's line-up will presumably be the standard format of the side, with Dembele shuttling forward into attack – but the Belgian hasn't started the season well, and if there's ever an obvious time for a more secure midfield, it's away at Arsenal, especially with them using Cazorla as an extra midfield creator.
- Mathieu Flamini had a positive impact as a substitute for Jack Wilshere, and although he's not the high-profile signing many Arsenal fans expected, in a way he's exactly what they need. The rumoured move for Luiz Gustavo, for example, never really made sense because Arsenal don't need a first-choice holding midfielder – in the vast majority of games, Mikel Arteta plays that role well, with Ramsey or Wilshere alongside him. What Arsenal need is a more combative, defensive option in their squad, to play in conjunction with (or as a replacement for an injured) Arteta. In that sense, as a free signing, Flamini is a decent choice.
- It was partly because they didn't have great options from the bench, but Arsenal ended up with six defenders on the field – Bacary Sagna and Nacho Monreal were introduced late on to strengthen the flanks, not the type of double substitution Wenger often makes.
Position graphic from WhoScored
Chalkboards courtesy of StatsZone
Click here to check the odds for the Premier League title race.
Related articles on Zonal Marking: