Bayern Munich 3-1 Borussia Mönchengladbach: evolution rather than revolution for Guardiola
Bayern Munich appeared comfortable towards the end of the contest, but they endured some nervous moments during Pep Guardiola's Bundesliga debut.
Guardiola was unable to call upon Bayern's major two summer arrivals, Thiago Alcantara or Mario Gotze, so there was a familiar feel to the home side's starting XI.
Lucien Favre's back four was also very familiar from last season, although there were changes ahead – Christophe Kramer has signed from Bochum, Brazilian Raffael played in the central attacking role, while Max Kruse's impressive season at Freiburg means he's started this campaign as the first-choice striker, with last season's flop Luuk de Jong only on the bench.
As expected, Bayern dominated – but things didn't go entirely swimmingly.
Bayern formation
The away side lined up with a standard 4-2-3-1 – two banks of four behind the ball, a central attacking midfielder supporting Kruse, and the wide players attempting to get forward on the break.
That's roughly the shape Bayern used last season, but the major change under Guardiola has been his preference for a tilted midfield triangle – which means just one holder, with two midfielder ahead. That, of course, is the system he favoured at Barcelona, and while this Bayern formation has generally been termed a 4-1-4-1 in Germany, the midfield triangle is basically the format you expect for a side playing 4-3-3.
Schweinsteiger
For the majority of Bayern players, this change means a subtle adjustment rather than a complete re-invention of their positional tendencies, but the player with the toughest task in this game was Bastian Schweinsteiger. Accustomed to playing alongside another holding midfielder in the centre of a 4-2-3-1, Schweinsteiger isn't necessarily a natural fit for the sole holding midfield role, and it's worth remembering that when Louis van Gaal attempted to play him very deep as a centre-half against Dortmund a couple of seasons ago, he had a horrendous game as Dortmund triumphed 3-1, taking a giant leap towards the title.
Schweinsteiger, it's important to emphasise, was not 100% fit coming into this game – but for long periods here he appeared Bayern's weak link. Early on, he was caught too high up the pitch as Mönchengladbach launched a quick attack, where they were able to break towards Bayern's back four without any challenges. There was also a particularly poor pass played towards Toni Kroos (who was under pressure) – Mönchengladbach immediately won possession and broke past Schweinsteiger easily. It was surprising he misplaced a few passes, because Raffael made little attempt to deny him time on the ball – once opponents start pressuring him the way they press Andrea Pirlo, for example, he'll find life even more difficult.
Schweinsteiger made zero tackles and zero interceptions in this game. Clearly, Guardiola wants a skilled passer in that position – someone who can start quick passing sequences from deep. Both Kroos and Thiago have had spells as the deepest midfielder in pre-season. It's vital, however, that the player in that role is useful defensively – at Barcelona, Yaya Toure was a powerful physical force and decent positionally, and was eventually superseded by Sergio Busquets because of his superior positioning, as well as his good passing. Busquets was able to drop into the back comfortably to turn Barca into a 3-4-3, and although Schweinsteiger did the same here, you wouldn't want him as your central defender should the opposition regain possession.
There's no use being overly harsh on a half-fit player in his first match in a new position, but exploiting Schweinsteiger's weakness was Mönchengladbach's best chance of getting something from this game.
Long balls
Schweinsteiger was also involved in another interesting – and surprising – feature of Bayern's play. They hit a huge number of long balls from back to front, with Dante (18), Schweinsteiger (12) and Jerome Boateng (11) all responsible for these long punts. Bayern generally attempted to pass out at goal-kicks, although when pressed they were happy to thump the ball downfield.
There were a few balls knocked towards the head of Mario Mandzukic, who won 60% of his ten aerial duels. The use of Mandzukic in the first place was interesting, given Guardiola's previous preference for playing without a traditional number nine. Of course, with the likes of Thiago, Gotze and Martinez still set to come into the side (and the positions of others changing as a result) it's still likely we'll see a strikerless Bayern at one point.
Meanwhile there were also some more cultured 'long passes' towards the corners, designed for Franck Ribery and Arjen Robben to sprint onto.
At this early stage, it's difficult to know whether or not this will be a feature of Guardiola's Bayern, but it's surprising to learn that only Augsburg (92) and Werder Bremen (83) hit more than Bayern's 80 long passes this weekend (even when accounting for the fact that Bayern played considerably more passes than any other side, and the chances are that some of these will be long).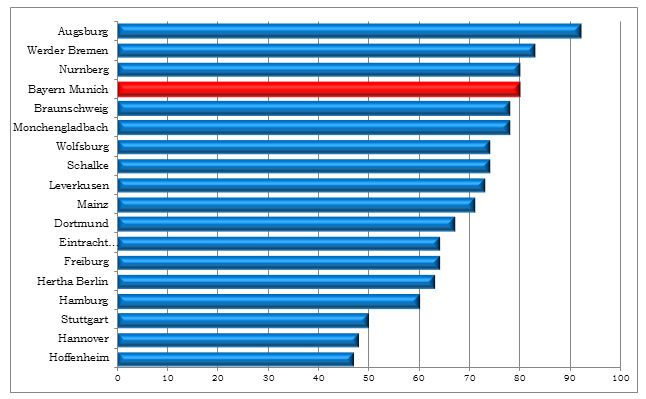 Ribery and Robben
Some predicted Guardiola wouldn't appreciate Ribery and Robben, the two men who have epitomised Bayern's approach since they first linked up brilliantly at the beginning of the 2009/10 campaign. However, in Guardiola's first game they were the best players along with Philipp Lahm, and together Bayern's most consistent attacking threats.
Robben won the European Cup for Bayern by essentially turning himself into a pacey centre-forward, exploiting Dortmund's high defensive line. He opened the scoring in the Guardiola era with a similar type of goal – reaching Franck Ribery's well-weighted loft over the Mönchengladbach defensive line, and finishing instinctively with the outside of his left foot.
Ribery was the main man, however – the Frenchman dribbled past an opponent no fewer than 11 times, more than three times as many as any other player on the pitch. Mönchengladbach were always attempting to double up against him, yet more often than not Ribery got through – often creating space for others, like Thomas Muller (in an unusually deep central midfield role) and Toni Kroos to fire in shots.
Mönchengladbach attack down the right
The away side's major threat came in two situations – either from winning possession and immediately charging past Schweinsteiger on the break, or attacking down the right. The full-back on that side, Tony Jantschke, was much more attacking than left-back Filip Deams, while right-winger Patrick Hermann looked to collect balls played in behind David Alaba. Raffael also sometimes drifted that way, with centre-forward Kruse generally playing to the left.
Bayern had problems with a few crosses from that flank, although Mönchengladbach's problems with Ribery were related to their adventurousness down the right. A couple of times, Ribery found himself in advanced positions after attempting to dribble past opponents, so Mandzukic covered.
Bayern pressing
In the first half, Mandzukic looked reasonably energetic upfront but the rest of the side appeared more passive – this changed after the break, with the front five all closing down.
There was a problem with the level of compactness, however – the pressing was disjointed which meant Mönchengladbach had further opportunities to counter-attack, which again caused Schweinsteiger problems. In the first 15 minutes of the second half, the game was amazingly end-to-end, and Guardiola will have been concerned at the lack of control his side had – not only did they waste counter-attacking opportunities, they also looked vulnerable at the back.
Conclusion
"We didn't always press well, gave Gladbach too much time, our counter-attacks weren't always well controlled and when we lost the ball, we didn't always get back into position straight away," said Guardiola. Bayern's individual quality shone through, but overall the main evidence of Guardiola's impact was in the holding midfield role, and that was where they encountered the most problems.
Mönchengladbach can take heart from a promising performance – they attacked well down the flanks and generally looked organised and disciplined, especially in the way they protected the centre-backs.
Related articles on Zonal Marking: