Dortmund 3-0 Leverkusen: Leverkusen caught out by Dortmund full-backs overlapping
Dortmund recorded a comfortable victory over Leverkusen side that offered little attacking threat.
Jurgen Klopp named a side familiar from last season, with Marco Reus carrying a slight knock and therefore only on the bench.
Sami Hyypia made a single change, bringing in Jens Hegeler for captain Simon Rolfes.
This was an interesting formation battle that favoured Dortmund, whose movement had a clear purpose and was effective at dragging Leverkusen out of position, before exploiting the space on the flanks.
Central midfield
In the early stages, Leverkusen seemed particularly keen to prevent Mario Gotze getting space between the lines. One of the Leverkusen central midfielders would sit deep (usually Stefan Reinartz) and minimise the distance between the midfield and the centre-backs, and the other would press Dortmund's two deep-lying midfielders.
The approach was broadly unsuccessful in both respects, though – Ilkay Gundogan and Sebastien Kehl could pass calmly between themselves and engineer time on the ball to play a forward pass, while Gotze found space to create from, whether through his own clever positioning, or through a Reinartz mistake.
The key to Dortmund's performance was the passing tempo – players rarely took more than two touches in possession and worked the ball forward quickly, often while Leverkusen were slightly out of position.
Dortmund full-backs
The key gameplan from the home side was to push the full-backs high up the pitch, preferably after creating space down the flanks. There were two major parts to this – first, they took advantage of the fact that Leverkusen were defending with two men in the centre of midfield against Dortmund's three, meaning the wide players often got sucked into the middle to help out, and left the Dortmund full-backs unattended. Second, both Kevin Grosskeutz and Jakub Blaszskowski played slightly more central than usual, dragging the Leverkusen full-backs narrow and opening up space for Marcel Schmelzer and Lukasz Piszczek to break into, from where they swung crosses into the box.
There was an early warning sign with Schmelzer's cross into the box after three minutes, then another after eight minutes (which was overhit but retrieved by Piszczek, showing how advanced both were), then another after eleven minutes. At no point did Leverkusen adapt their strategy to deal with this threat, and despite the fact Gonzalo Castro – essentially a converted full-back – was defending against Schmelzer, they constantly looked vulnerable to the left-back's attacking. Piszczek seemed more defensive, perhaps slightly constrained by the fact Andre Schurrle was playing towards his flank.
Here are the sprints made by the two Dortmund full-backs, courtesy of the official Bundesliga site's chalkboard service:
And here are their passes and crosses – as you can see, they were permanently positioned within the Leverkusen half: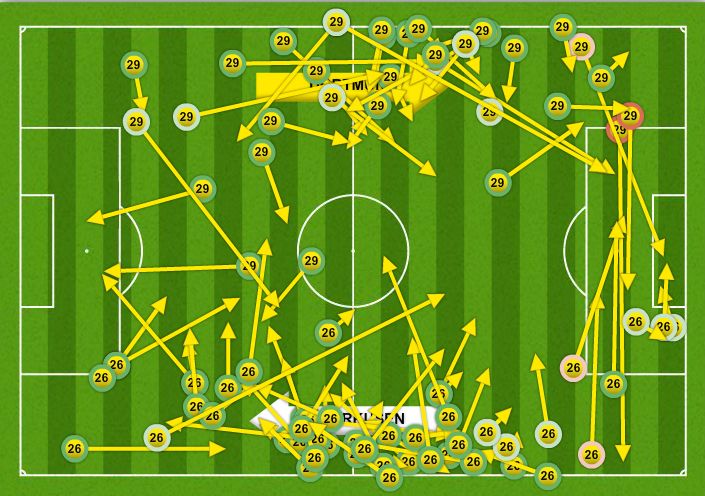 Dortmund compensated for the advanced positioning of their full-backs by keeping both the holding midfielders in position, effectively defending with four players (but in two banks of two, rather than in a flat four).
The logical approach from Leverkusen to exploit the advanced positioning of the Dortmund full-backs would be to put players into wide positions and play through them on the break – and the role of Schurrle made this possible – but this only obviously happened once, when Stefan Keissling pulled wide to the right, then cut the ball back for Castro to strike – possibly Leverkusen's best chance of the first half.
Goals
But it was pretty much all Dortmund, and it was fitting that Piszczek provided the assist for the opening goal, even if it was from a corner rather than from open play – poor marking was punished by Mats Hummels heading in. The corner was completely preventable, with Michal Kadlec heading a cross behind under absolutely no pressure, and the Czech international was substituted at half-time, perhaps as punishment for such a basic error (though he would blame a lack of communication).
A second goal was always likely, and as Leverkusen pushed forward a little more after going 1-0 down, Dortmund's quick passing and positive forward running was always likely to provide a second goal. Again, Leverkusen were exposed by a run from full-back, although this time it was Piszczek motoring down the right, and pulling the ball back to Blaszczykowski on the edge of the box – he'd again taken up a more central position than usual.
Second half
Hyypia made a positive change in the second half, introducing Karim Bellarabi for Kadlec, with Castro moving from the right of midfield to left-back. Karim Bellarabi was actually one of Leverkusen's more promising players in the second half, and his running certainly restricted Piszczek to a more conservative role.
Dortmund were always in control, however, and they demonstrated their strength in depth by bringing on Marco Reus in the second half. Robert Lewandowski headed in the third goal to put the game beyond doubt – but it was really the first half display that won the game.
Conclusion
An interesting battle between a 4-2-3-1 and a 4-4-2. Usually in these matches, the 4-2-3-1 tries to dominate by using their extra man in midfield as much as possible – and that was clearly a factor considering the amount of time and space Gotze got at some points – but it was really about the knock-on effect down the flanks.
The two Leverkusen wide players tried to move inside and help out in the centre of midfield, and therefore left the Dortmund full-backs free. It was clear from an early point that Piszczek and Schmelzer were going to have a large influence on the game, and they picked up the first two assists to put Dortmund in charge.
Related articles on Zonal Marking: