ZM's European Team of the Year 2011/12
It's that time of year again. Minimal explanation needed – eleven starts and eleven substitutes.
Joe Hart, Manchester City
An extremely consistent campaign. There's only so much you can say about a good goalkeeper – Hart made some very good saves, and mistakes were few and far between. He's a good shot-stopper, he's comfortable at dealing with crosses, he's a vocal leader at the back – and his distribution has improved, although it's probably still weaker than Europe's other top goalkeepers. 17 goals conceded in 38 games is an extremely impressive record – the defence clearly plays a large part, but Hart's role is unquestionable.
Stephan Lichtsteiner, Juventus
Perhaps the revelation of the season. Lichtsteiner was a fine player at Lazio, but more steady than spectacular, and most accustomed to playing as a wing-back. His move to Juventus has resulted in the best season of his career, capable of playing either in a back four or further forward in conjunction with a back three. Tireless running has been the main feature of his play, although he's also very good with the ball at his feet. His relationship with Andrea Pirlo – where Lichtsteiner constantly arrived late around the back of the defence to meet crossfield passes, was particularly enjoyable. His best performance, in a tactical sense, was in the away win at Inter, when his driving runs dragged the entire Inter side out of shape.
Vincent Kompany, Manchester City
The best centre-back in Europe settled the key game in European football this year. Always fearsome in the air and excellent positionally, Kompany's become a better all-round defender this season, more capable of tracking his man into deep zones. He also scored arguably the key goal of the European domestic season – heading home in Manchester City's 1-0 win over Manchester United that meant the title race was in City's hands.
Mats Hummels, Dortmund
A second consecutive appearance for a player who has now confirmed himself as one of the continent's best defenders. Hummels has the lot – he's technically impressive but also capable of doing scrappy defensive things in the penalty box. He's essentially the complete modern centre-back, and his partnership with Neven Subotic has probably been the best in Europe over the past two seasons.
Jordi Alba, Valencia
Left-back might currently be the weakest position in European football – and there wasn't a great deal of competition for places here. Jordi Alba has enjoyed another fine campaign, however, resulting in constant speculation that he'll join Barcelona this summer, the position Pep Guardiola never quite solved during his four years in charge. Alba is at his best when used in conjunction with Jeremy Mathieu – another left-back pushed forward to the left of midfield. Mathieu provides the powerful, direct running, while Alba is slighter and trickier on the ball. He still needs to improve on his defending – he gets booked far too frequently – but technically he's probably the best left-back around.
Andrea Pirlo, Juventus
The Serie A season came to be defined by Pirlo's switch from Milan to Juventus last summer. Even those who believed it was a fantastic signing wouldn't have expected Pirlo to perform so consistently throughout the campaign. Fielded very deep in midfield with Claudio Marchisio and Arturo Vidal powerfully closing down higher up the pitch, Pirlo was given time and space on the ball by too many opponents and dictated the play in almost every match he played.
Yaya Toure, Manchester City
Consistently turns in excellent performances in big games – his two goals over Newcastle were crucial in Manchester City's title victory, having been moved forward from a deep-lying midfield role to a position where he could influence the game in the final third. He's an all-round force: physically impressive but also a reliable passer of the ball, and his sudden bursts forward from midfield, when combined with neat interplay from higher up the pitch, were almost unstoppable.
Santi Cazorla, Malaga
Possibly the signing of the season, despite the significant transfer fee. Cazorla swapped Villarreal for Malaga – and as Villarreal went from 4th to 18th, Malaga went from 11th to 4th. He's not the only reason, of course, as Malaga have shelled out other star names, but his consistency over the course of the season has been highly commendable. He's not particularly fast and doesn't score many goals from open play, but his positioning and movement marks him out as one of the most intelligent players around – he's selfless and precise with his passing, and also one of the best free-kick takers in Europe.
Cristiano Ronaldo, Real Madrid
46 goals wasn't enough to win him the Pichichi, but with his first league title at Real Madrid in the bag, he probably won't mind. Of the 46, Ronaldo's goal away at Barcelona in the Nou Camp was the most decisive and one of the most telling: it was not only a cool finish, but it was assisted by Mesut Ozil, who has provided Ronaldo with more of his goals at Real than anyone else. Like the next man on the list, he might not play as an out-and-out striker, but his position on the left flank is probably where he's at his most prolific – he's able to cut inside onto his right foot and thump the ball from distance. He had 62 more shots than any other player in Europe this season, and that constant threat is his main feature.
Lionel Messi, Barcelona
Having ended the season without the league title for the first time since 2008, Messi will probably consider 2011/12 something of a disappointment. Yet 73 goals in 60 games is ridiculous total – it is, put simply, the highest number of goals any player has ever scored in a European campaign. It's more incredible when you consider that he's not simply an out-and-out goalscorer: his role this season has varied: sometimes a poacher, sometimes a false nine, sometimes more of a number ten. He's Europe's best goalscorer and also one of Europe's best providers: in the major five leagues, only Mesut Ozil assisted more goals than Messi. The consistency he's shown in the past four years is startling, and possibly unprecedented.
Falcao, Atletico Madrid
It was difficult to choose between various strikers this year – Falcao, Robin van Persie, Olivier Giroud, Klaas-Jan Huntelaar, Zlatan Ibrahimovic and Mario Gomez were all contenders. But Falcao's performance in the Europa League final sealed his place – he won that final almost single-handedly for the second successive year, with two brilliant and varied goals: the first a curler from the edge of the box, the second a thumped finish after an audacious Puskas-style dragback on the edge of the six-yard box. He scored 24 league goals too, a higher percentage of his team's goals than any of the aforementioned players. He is a pure number nine and yet also brilliant to watch.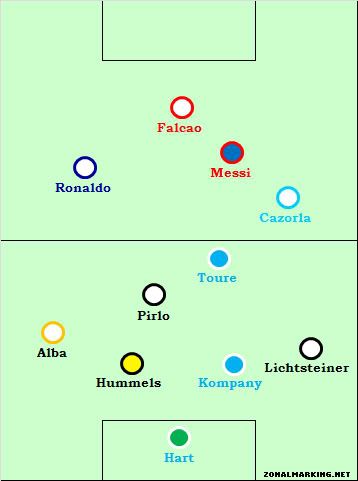 Substitutes:
Gianluigi Buffon, Juventus
Lukasz Piszczek, Dortmund
Thiago Silva, Milan
Sergio Ramos, Real Madrid
Giorgio Chiellini, Juventus
Xavi Hernandez, Barcelona
Arturo Vidal, Juventus
Marco Reus, Borussia Mönchengladbach
David Silva, Manchester City
Robin van Persie, Arsenal
Olivier Giroud, Montpellier
Related articles on Zonal Marking: