Athletic Bilbao's movement v Sporting
Athletic Bilbao are through to the Europa League final after a 3-1 second leg victory over Sporting Lisbon at the San Mames.
As is typical of Marcelo Bielsa sides, Athletic dominated possession and spent much of the time in the opposition third of the pitch, but didn't convert their goalscoring opportunities well enough. On the balance of play, it was crazy that they needed to wait until a couple of minutes before full-time for the crucial goal, scored by Fernando Llorente – they should have had the game wrapped up at an earlier stage. In fairness, they went cautious after half-time as they were in an identical position to Real Madrid the night before – having lost the first leg 2-1, they were 2-1 up. The tie was even on both goals and away goals. If Athletic had scored a goal it would have been worth one – if they'd conceded one, it would have effectively been worth one and a half. Were it not for that, they probably would have attacked with more intent.
That said, credit should go to Sporting coach Ricardo Sa Pinto for a clever change at half-time – he took off Mati Fernandez, his number ten, and brought on Daniel Carrico as an additional central midfielder. That meant Andre Martins moving forward to the top of the triangle, though the midfield was now more compact and less vulnerable to Athletic's movement.
That movement was the key feature of the game, and was as good as it's been for Athletic all season. ZM has written on Athletic in general terms before (see here, here and here), so instead, this is a look at eight different types of movement they do very well within their system, to get players into space.
Movement 1
Without the ball, Sporting used Mati Fernandez and Ricky van Wolfswinkel together on the halfway line, stopping the Athletic players coming forward with the ball. There was a particular effort to stop Javi Martinez moving forward, since he is particularly good at playing the first pass forward into the attackers, and there was one moment in the first half when Martinez got caught in possession when trying to dribble the ball forward, leaving Athletic exposed to a quick attack.
Therefore, Ander Iturraspe simply dropped into the defence, turning Athletic into a back three, allowing the two centre-backs to spread, and then both Martinez and Fernando Amorebieta could move forward and hit long diagonals towards Llorente.
Movement 2
The second movement also involved Iturraspe, who was the game's key player positionally – dropping deep to create supremacy and then charging forward into the attack to play key passes. In that respect, he did something similar to Toni Kroos at the Bernabeu, albeit in a deeper role. His job was also similar to the way Alex Song plays at Arsenal.
Sa Pinto told his two holding midfielders, Stijn Schaars and Martins, to stick very deep to Ander Herrera and Iker Muniain, practically man-marking them. This was a problem when Herrera and Muniain dropped into deeper or wider positions – the midfield became opened up for Iturraspe to storm through. With Fernandez and van Wolfswinkel watching the centre-backs, he went forward untracked.
Movement 3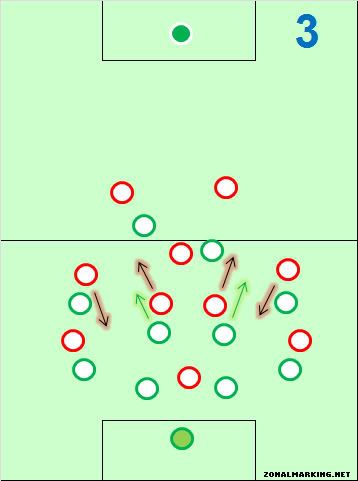 This also involved Herrera and Muniain moving deep – but this time, it created space for Andoni Iraola and Jon Aurtenetxe to cut into, from the full-back positions. This was particularly the case for Iraola, who was up against Diego Capel, the less solid defensively of Sporting's wingers – and he made this movement in the build-up to the second Athletic goal, scored by Ibai Gomez.
The diagonal run from full-backs was also common in Bielsa's Chile side.
Movement 4
Another way to exploit the space in behind the holders – the movement in that zone was the most important part of the tactical battle. With Schaars and Martins moving up high, Athletic's wide players could narrow and work the 'red zone' in front of the defence.
Movement 5
With Muniain deployed in the centre as a 'central winger', rather than out on the flanks, Athletic had more lateral movement from that position than if they'd used Munain on the wing and (the suspended) Oscar De Marcos as an attacking midfielder – he's much more of a vertical player.
Therefore, Muniain (or Ibai or Susaeta, when they switched positions) could exploit the gaps between the Sporting centre-backs and full-backs, when the Athletic wingers moved wide and stretched the play. Then, Muniain would combine with one of the wingers and overload Sporting in wide zones, before crossing.
Movement 6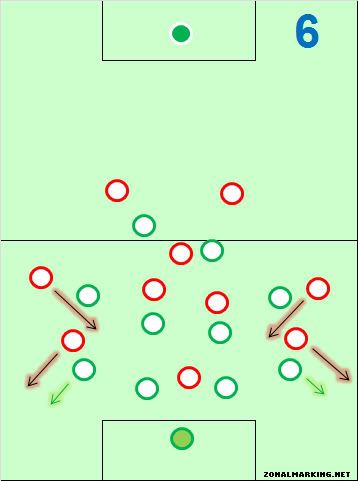 Essentially a combination of number five and number three – the Athletic wingers drag the Sporting full-backs wide, the full-backs cut in diagonally into that space.
Movement 7
This is where Llorente became involved – although he often drifted into the channels for long balls from the back, he also dropped deep. This was evident for that Ibai goal, when he moved towards the ball, picked it up, and slipped the ball into Ibai moving towards goal.
Movement 8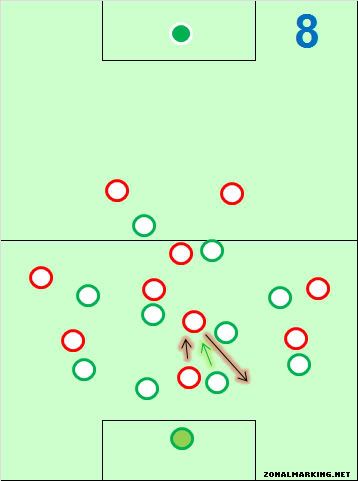 Equally, that situation could be replicated with Munain playing as a second striker, looking for knock-downs from Llorente, and to exploit the space created when Llorente pulled Anderson Polga out of the defence.
Related articles on Zonal Marking: