What constitutes being good in the air?
'Good in the air' – a stock football phrase that everyone understands.
But it's more complex than simply being 'good'. This article from ZM in 2010 suggested that, whilst Peter Crouch often looks clumsy and awkward when trying to head the ball, his height meant that he was still a threat in the air. That sums up the fact that being 'good in the air' is dependent upon a variety of factors, and players can be 'good in the air' in different ways.
This can be simplified into three main physical and technical areas:
Height – Being tall gives you an obvious advantage when challenging a defender for a ball – a tall player doesn't have to jump as high, and can often get to balls others can't.
Jumping  - Another important quality is the ability to take off well. Few headers are won by a player in contact with the ground, which means leaping becomes essential. There are probably two factors that contribute here – the sheer height of the jump, and the ability to time the jump correctly.
Heading – The actual connection with the header – angling your head, flicking it towards the ball at the correct time, and directing the header accurately.
Of course, players may be good at more than one of these three factors, which means it's possible to create a Venn diagram and find seven different types of players who are a threat in the air: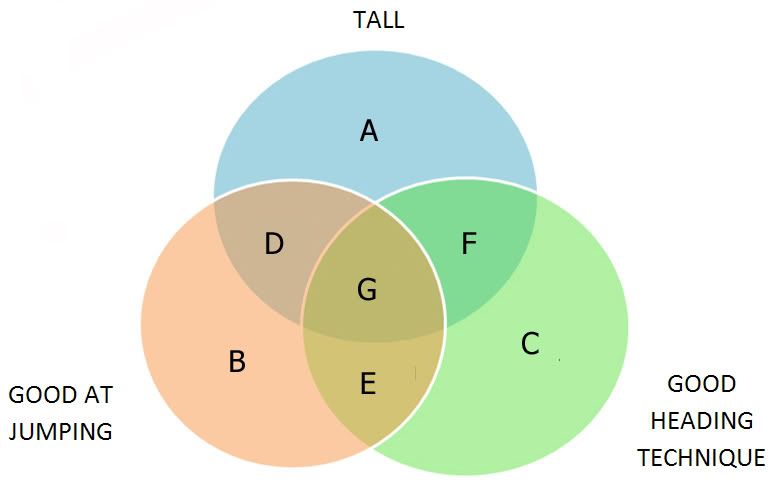 Type A – tall, but not good in the air or at jumping. Generally a static number nine who wins balls in the air but does relatively little with them. Still, by virtue of the fact they'll probably win the majority of aerial challenges – often to knock the ball down rather than going for goal – they must be considered a threat.
Type B – a pure jumper. In many ways, this type of player can be more difficult to contain than player A – they're likely to be more agile, more unpredictable with their movement and able to surprise the defence. There's also the physical of beating defenders to the ball, as well as the pure nature of jumping.
Type C – unlikely to win many balls, but clever with the direction of their header. Often a poacher, a penalty box player who translates good finishing ability with their feet into good ability with their head.
Type D – tall and a good jumper, but not a good technical header. Often this can be a centre-back up from the back for a corner – they're used to winning defensive headers and getting them as far away from goal as possible – so although they get to the ball frequently, having a set target often exposes their limitations.
Type E – easier to identify than player B or type C, who aren't likely to stand out because of limitations elsewhere. An aerial threat who isn't tall.
Type F – likely to be a player uncomfortable with physical contact, of challenging opponents for the ball, but nevertheless a danger through height and the ability to find the target.
Type G – the self-explanatory all-rounder.
After some Twitter crowdsourcing, some current Premier League players were found to broadly fit the seven roles.
A: Peter Crouch. The obvious choice.
B: A difficult one to identify. Tom Hooper, a developer on Championship Manager, says the game got rid of jumping as a separate 'attribute' as there were so few players that excelled here but not at directing the header. However, a frequent nomination was Dirk Kuyt, at 6′0 probably not quite tall enough to be in category D. Kuyt has a good leap, but seems to miss the target a lot of headers.
C: You have to go a fair way back for most of them, but 11% of Michael Owen's Premier League goals have been headers, a decent proportion for a player who thrived on balls over the top, was 5′8 and a decent, rather than a spectacular jumper. As this article puts it, "He was, and is, actually very good attacking the ball in the area.  A bit like Chicharito he has the knack of judging the flight of the ball from hard crosses and finding that space in between defenders.  The two headers he scored in an England friendly against Argentina back in 2005 spring to mind."
D: Thierry Henry was the popular choice here. 6′2 and possessing an excellent spring which he sometimes used to great effect, Henry was never a master in the air. Only 6 of his 174 Premier League goals were scored with his head – that's partly due to Arsenal's way of playing, of course, but when Emmanuel Adebayor was at the club he scored plenty of headers. Arsenal's reluctance to cross the ball impacted on Henry's lack of aerial goals, but his lack of aerial ability impacted on their reluctance to cross in the first place. Adebayor was another man suggested here, but he's probably not quite weak enough at heading to be included, although he should score more. His strengths in the air clearly lie in his height and leaping. "He's a monster," Jimmy Bullard once said. "A standing jump as high as the crossbar? No one in the Premier League can mark that."
E: Tim Cahill's fantastic aerial ability has been mentioned before. There were many candidates here – Romario was superb in the air despite being 5′7, Liedson boasts similar ability at only 5′9. Les Ferdinand certainly wasn't small, but qualifies here because his spring and heading technique were amongst the best the Premier League has seen, yet he was only 5′11. Or a little bit taller, as he puts it: – "I'm 5ft 11 and three quarters! I don't think it was something I learned, I was born with it. I used to play against defenders who were 6ft 3 and I'd make it my mission to outjump them – and I would. I just had the ability to anticipate when to jump, and a lot of the time I'd get up early. I was an admirer of Michael Jordan. He had a spring on him."
F: Per Mertesacker – 6′6 and fairly decent at attacking the ball when it's there to be won. But he doesn't use his height effectively enough, primarily because he doesn't jump very well. Nikola Zigic might be another contender – 6′7, good at angling the ball into the net, but terrible at challenging for the ball.
G: Didier Drogba is superb in the air. Cristiano Ronaldo might also fit this category – over 6′1, a prodigious leap and capable of bullet headers.
How does this affect tactics? Different strikers who are 'good in the air' require different crosses. The type of cross can be broken down into three specific areas – where it is crossed from, where it is crossed to, and whether the cross is driven or lobbed into the box.
To make a big generalisation, player type A prefers a lofted cross to the far post, often from deep. Crouch always pulls away to the far post, maybe because if he makes the defender backpedal, it takes 'jumping' out of the equation, to a certain extent. It also means he can see the centre of the penalty box as the cross is coming arriving, and can hide his lack of technical heading ability by knocking it down for a teammate. At the start of last season, he enjoyed a great relationship with Rafael van der Vaart in this respect
At the opposite end of the scale, player E thrives more on the near post cross, 'gambling' and taking advantage of the need to be quick, athletic and good at controlling a fast-moving ball. Think of Luis Garcia against Anderlecht or Pippo Inzaghi against Sparta Prague for extreme examples. The cross generally has to be driven and accurate.
Therefore, it's possible to replace one striker that is 'good in the air' with another who also fits that description, and for them to be completely different players requiring different deliveries and forcing a side to play in a different way. "Good in the air" is a decent starting point, but often doesn't tell the whole story.
Related articles on Zonal Marking: