Gary Cahill suits Chelsea statistically & tactically
It is often said that when building a side, you should start with the defence, but Andre Villas-Boas seems to be doing things in reverse.
Chelsea barely evolved from the Jose Mourinho days to Carlo Ancelotti's final season. The spine of Petr Cech, John Terry, Frank Lampard and Didier Drogba remained intact – Chelsea were an old side depending upon players who, whilst still capable of good performances, were probably all four or five years past their peak.
The revolution started with Fernando Torres arriving a year ago (before Villas-Boas), meaning a younger, fresher striker, even if his form has been poor. Juan Mata and Daniel Sturridge operate behind him on the flanks – Mata was a summer signing, while Sturridge was already owned by Chelsea but is very much a Villas-Boas man, having started 14 league games this season, compared to just two in 18 months under Ancelotti.
Deeper in midfield, Ramires was at the club already but still represents an element of change from Mourinho's era, while Raul Meireles was brought in from Liverpool. Next, in late November, Oriel Romeu started to play at the base of midfield. It means that Chelsea could play a front six of: Romeu, Ramires, Meireles, Mata, Sturridge and Torres. None were a part of the side that won the league in 2009/10.
But the defence had remained almost untouched from Ancelotti's first season. David Luiz is the exception (he arrived a year ago) but he has started fewer league games this season than Branislav Ivanovic. At right-back there's the Ivanovic / Bosingwa / Ferreira choice that Chelsea have had since 2008, while at left-back Ashley Cole has no real deputy, and has started every single one of Chelsea's 49 league games since the beginning of 2010/11, partially explaining why his form has dipped – he needs to be rotated.
There's an argument that the front-to-back overhaul sums up Villas-Boas' style of football. His main tactical preference is the use of pressing from the front and a high defensive line, although that has been reined in slightly. Still, Villas-Boas wants to play that way, his defenders aren't comfortable with it.
The signing of Gary Cahill is fascinating in this respect. Chelsea need a covering defender for John Terry, who looks uncomfortable without an intelligent defender like Ricardo Carvalho or Rio Ferdinand alongside him. The positionally aggressive David Luiz is clearly a similar case.
Cahill is a very interesting player in statistical terms, and there is one particular thing he does more frequently than any other player. That is in the 'offsides won' category – which is recorded by taking the deepest defender when a side catches an opponent offside. Cahill has been the deepest defender when an opponent has been caught offside 1.9 times per game, more than any other Premier League player.
And his previous club, Bolton, had the most prolific offside trap in the league.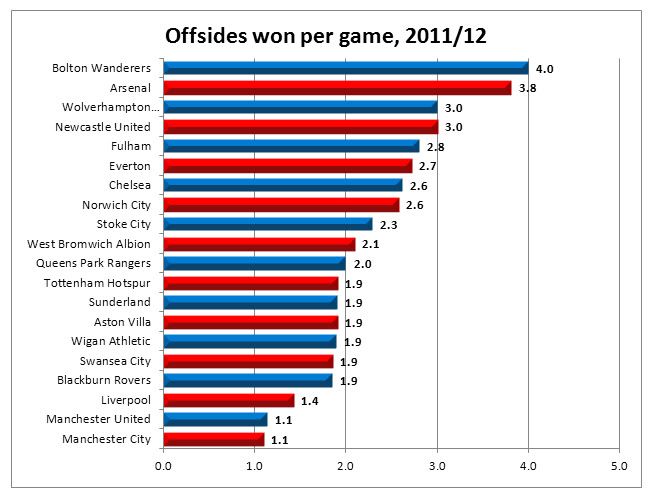 The two are clearly linked, but this relatively obscure statistic is crucial for a side like Chelsea, looking to play a high line. We've previously looked at how that means they're catching opponents offside 160% more than last season (though the stats may have changed since that article).
It's not beyond the realms of belief that Villas-Boas is aware of the above statistic. If so committed to playing with a high line but without a defender to sweep behind Terry or Luiz, why not go and buy the covering defender in a side most accustomed to catching opponents offside?
Equally, the 'covering' part is crucial, and Cahill naturally stands off opponents. Another interesting statistic is that, of players who have played in more than the average number of Premier league games this season (WhoScored's parameters, not ZM's), Cahill makes the second fewest tackles of any centre-back, more than only Gary Caldwell of Wigan:
However, he makes the fifth most clearances of any player in the league: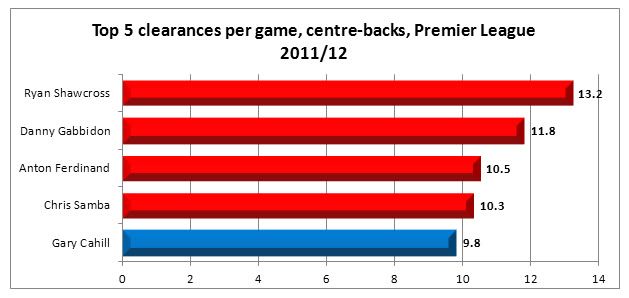 And also the joint-second most blocks:
Defensive play is largely about positioning and therefore is difficult to record in numbers, so it is often hard to paint a picture of a defender's style – but these stats do it perfectly. Cahill wins offsides (making him suitable for a high line), doesn't get drawn into many tackles, but does make clearances and blocks (making him a covering defender).
This is an argument purely in terms of style rather than ability. Whether Cahill has the pure ability to play for Chelsea is up for debate – he is yet to convince that he's a top-class defender and is now 26 - but stylistically he makes sense. Cahill alongside Luiz, Terry or Ivanovic also seems a better fit than any of the other three combinations.
It's particularly interesting that Chelsea's first game with Cahill is against Norwich; in the reverse fixture between the sides in August, Norwich caused Chelsea's high line plenty of problems, with Grant Holt giving Ivanovic a difficult afternoon. It seems an appropriate game to assess how Cahill will fit in.
Related articles on Zonal Marking: